17 January 2023
4 min read
If you're restyling your bathroom and are seeking to inject a bit of modern and contemporary style, one of the most effective ways of doing this is by installing a black heated towel rail. The most common heated towel rails come with a chrome-plated finish, however more and more people are turning to black because of the different feel and atmosphere it creates. People are now not afraid of installing black taps, black show heads and black tiling, so finishing the look with a black rail is a great way of introducing contemporary luxury into your bathroom.This article will show you some black heated towel rails you can install in your bathroom, ensuite or cloakroom.
---
TRADE DIRECT NEVO BAR HEATED TOWEL RAILS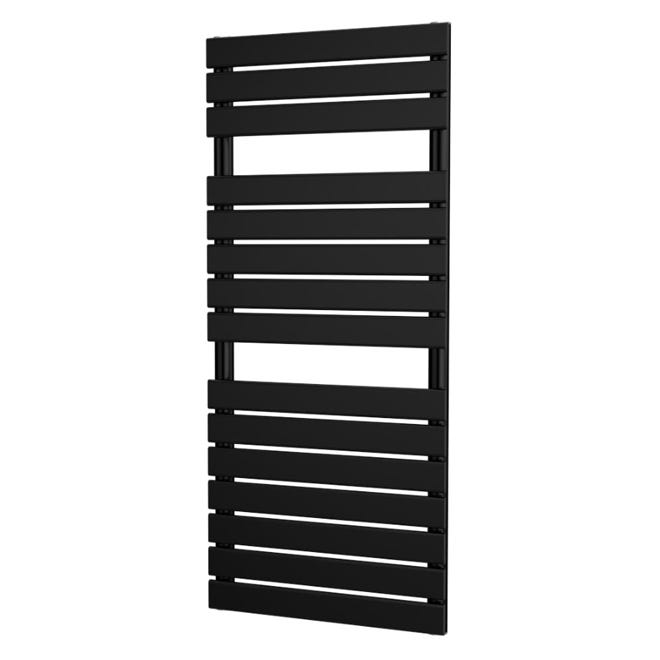 Our very popular Nevo range of 'bar' heated towel rails come in 3 different sizes and are suitable for conventional, electric or dual fuel central heating systems. Complete with an opulent black finish these rails will add a real air of
modernity to your bathroom heating
and would look great in a monochrome design scheme or with cream, beige or wood finishes. The Nevo Bar rails emit a large amount of heat and are very practical for doing the important job of drying your towels. The sleek 55mm horizontal panels provide a nice contemporary twist to the traditional 'ladder-style' rail and these beauties are perfect for lifting a bathroom's decor into the realms of elegance.
---
TRADE DIRECT NEVO TRIPLE HEATED TOWEL RAILS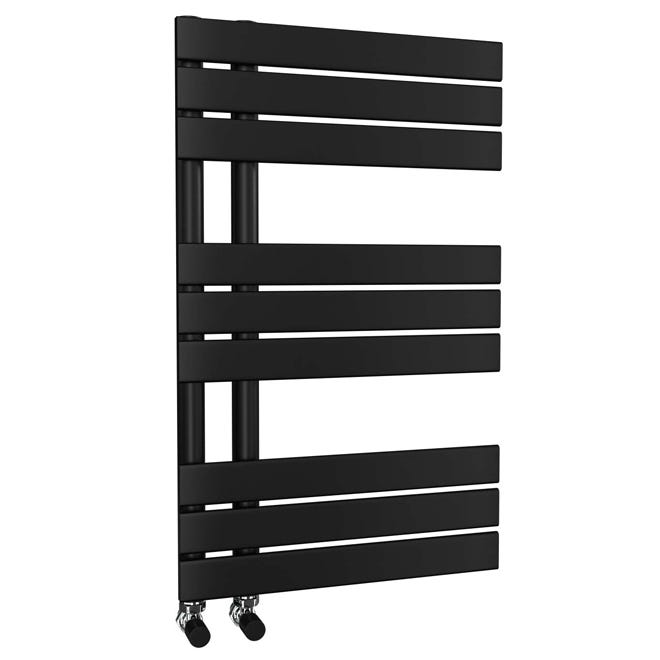 Our Nevo Triple range of towel rails have a unique 'offset' design that sees one sidebar brought in from the edge of the rail to the other side, right up close to the opposite edge. The large 55mm horizontal bars remain, providing a large amount of surface area to kick out impressive BTUs, but the offset style is sure to be a head turner every time you walk into the room. Suitable for conventional, electric or dual fuel heating systems, the New Triple should be a serious consideration if you want to be bold and make a heated towel rail a focal point of your bathroom. These lovely rails are provided with everything your need to fix them to the wall and they come with free UK delivery and comprehensive guarantees.
---
TRADE DIRECT SATURN OFFSET HEATED TOWEL RAILS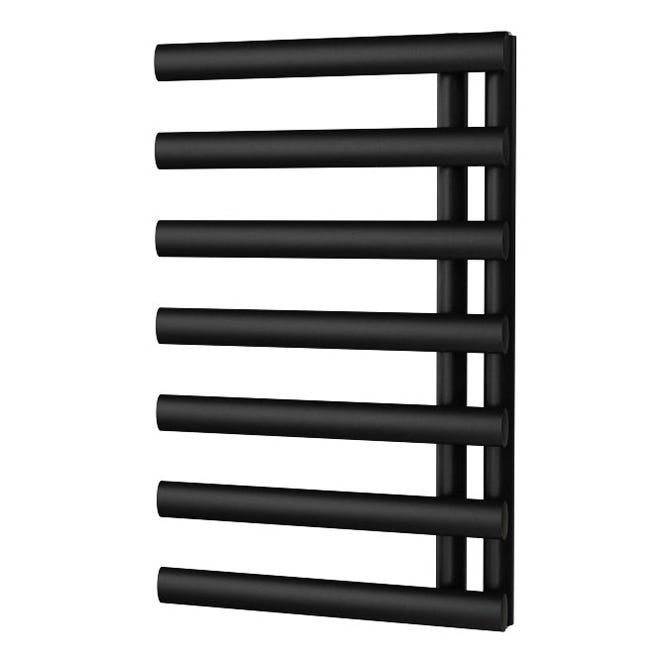 Our Saturn Offset range of radiators come with a stunning matt black finish that's more than capable of taking away the limelight from any other fixture of fitting in your bathroom. This is a nice variation on the traditional ladder rail, again bringing the sidebar in from the edge so that it runs closely parallel to the other side bar. The rounded horizontal bars are evenly spaced out which means you can hang several towels on them at once - great if you have a big family or a bathroom towel situation that's desperately in need of organisation. Suitable for standard hot water heating systems (or electric or dual fuel), our Saturn Offset rails could be the extra spark your bathroom needs, offering practicality and impeccably stylish design.
---
TRADE DIRECT PISA CURVED HEATED TOWEL RAILS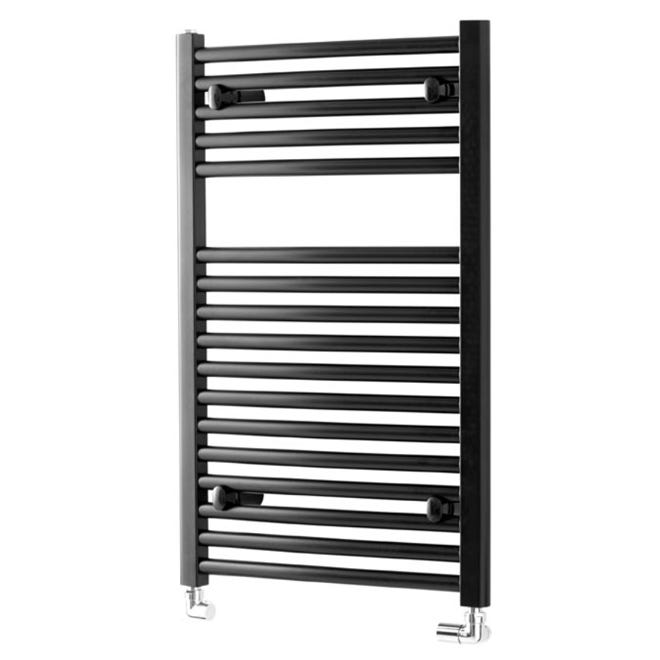 Although these are perhaps the most 'traditional' on our list, the Pisa Curved Heated Towel Rails should definitely not be underestimated. The curved, laddered design gives you the functionality of a typical bathroom towel warmer, yet the sophisticated matt black finish definitely provides you with a modern and contemporary twist that you could be looking for in your bathroom. Pair this with some black traditional taps and stick it on a white, black or stone tiled wall and you've got yourself an absolute blockbuster of a finish. Suitable for all types of heating system, the Black Pisa Curved Rails come with all wall fixings, free delivery and comprehensive guarantee.
---
TRADE DIRECT SATURN BAR HEATED TOWEL RAILS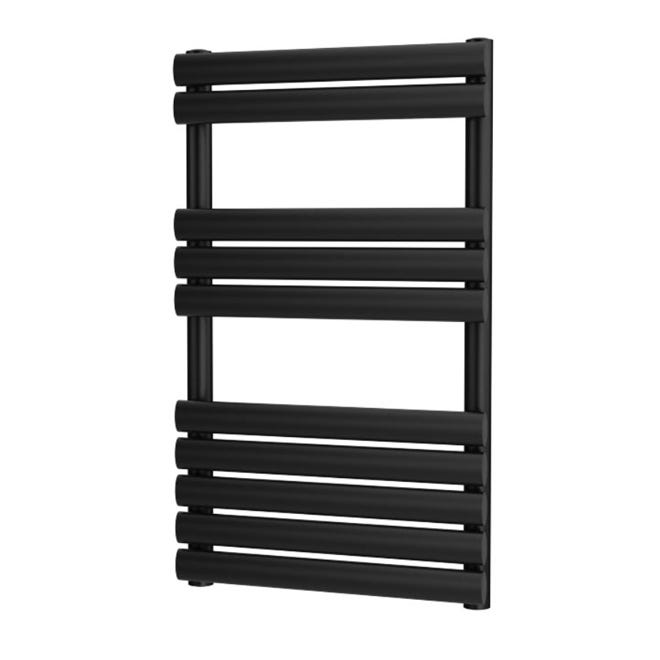 Our Saturn range of radiators are among the most popular in our catalogue and suffice to say, the
black heated towel rails
do not disappoint either in terms of their high quality manufacture and their incredible stylishness. The Saturn Bar rails come in 3 sizes - 830x500mm, 1120x500mm, 1595x500mm - which means you're sure to find what you need for your bathroom. Manufactured from the highest quality mild steel, these heated towel rails come with lovely 55mm oval bars which are capable of great heat outputs for their dimensions. The luxurious matt black finish and practicality of being able to hang multiple towels on them makes the Black Saturn Bar Heated Towel Towel Rails a very worthwhile contender for being installed in your new modern and contemporary bathroom.
---