Your bathroom (or ensuite) is one of the most used and most important rooms of your house. It's where you prepare yourself at the start of the day, destress at the end of the day and very likely provides various functions throughout the day. For this reason, your bathroom is somewhere you need to feel very relaxed and comfortable. A room where you can shut out the outside world and focus on you. This can take the form of a refreshing shower, a long soak in the bath, an extended gaze at yourself in the mirror or even a good old read on the toilet. However you choose to relax in your bathroom, an ambient temperature in the room is vital for all of these activities. It's no fun stepping out of a nice hot bath or shower and feeling the rush of cold air because the rest of the room is cold. Equally, you aren't likely to enjoy a good read on the toilet if you're shivering on a freezing cold toilet seat. And reaching out and grabbing a smelly, damp towel is hardly a recipe for luxurious living. That's why it's so important that you have a radiator or heated towel rail in your bathroom that adequately heats the room (and your towels) and looks incredible stylish. Below we provide our best ideas for a radiator or heated towel rail suitable for installation in your bathroom or ensuite.
---
1. Trade Direct Chrome Heated Towel Rails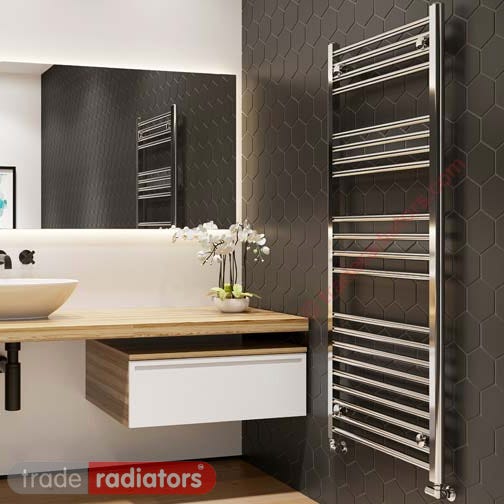 Once the preserve of exclusive 5 Star hotels, the sight of a chrome heated towel rail is now a common sight in bathrooms, ensuites and cloakrooms across the UK. Watch any home improvement or makeover show and, when it comes to renovating the bathroom, you're almost certain to see a trusty, ladder-style chrome plated towel rail installed in the finished product. The main reasons for this are that heated towel rails look great, are very functional and are incredibly affordable. There's no need to spend huge amounts on ensuring your damp towels are dry and warm, but also look good in the process. Our Trade Direct Chrome Heated Towel Rails with 22mm bars are among the most popular products on our website due to their timelessly stylish design, massive range of sizes and the ease with which they can be installed. If you're looking for that extra touch of class in your bathroom, then these chrome heated towel rails are an excellent way to achieve it. If you fancy a variation on chrome, we also offer finishes in white or anthracite, as well as having straight or curved bar options. The choice is yours!
---
2. Traditional Heated Bathroom Radiators
Whether you've got a period property or you're simply looking to inject some bygone character into your bathroom, you'll find an abundance of charm with a traditional heated towel rail. Complete with a stylish chrome bar finish as well as a brilliant white centre-tank, the traditional bathroom radiator allows you to have the best of both worlds - giving you a place to dry and warm your towels while also acting as a traditional heat-emitting radiator. Pair a 'trad rad' with some chrome radiator valves and this easy-to-install towel rail with form a superb centrepiece of your bathroom. As well as being available for traditional hot water central heating systems, our traditional heated towel radiators are also available as an electric radiator or for a dual fuel heating system.
---
3. White Nevo Vertical Radiators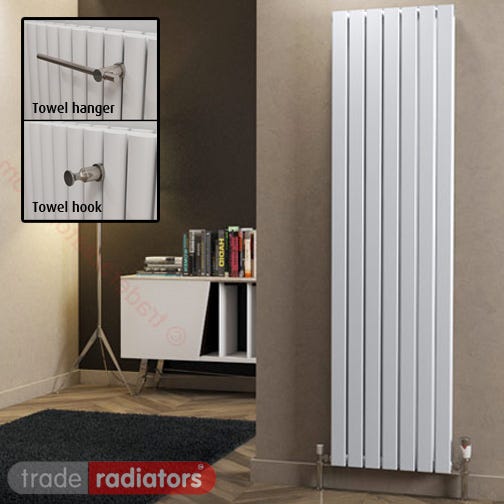 Bathrooms, ensuites and cloakrooms are rooms in our homes that need to be heated, yet are also places where we are most likely to compromise on space. In effect, this means there is often a lack of wall space to fit a traditional horizontal radiator leading people to mistakenly believe that they have no choice but to squeeze in an undersized radiator that won't adequately heat their bathrooms. However, radiator technology has come a long way and there is no need to compromise on heat output due to the fantastic range of vertical radiators that are available on our website. It can easily be forgotten that there is usually an abundance of vertical space in small rooms, so why not make the most of it by installing a vertical radiator, such as the Nevo? Our white Nevo vertical radiators come with in high quality 1.5mm thick steel and a sleek powder coat finish. Their smooth bars make them very easy to keep clean, lending themselves perfectly to a high-usage space like the bathroom. In addition to saving horizontal space, the Nevo radiators are compatible with our towel hooks and hangers, which are incredibly useful accessories enabling your radiator to double up as a heated towel rail. This means there's no need to compromise on anything - you get the benefits of a heat output that will keep your bathroom nice and warm, while also having the ability to dry and warm your towels! The Nevo vertical radiators are also available in black, anthracite and silver, as well as a wide variety of sizes, so it's truly possible to get the exact vertical radiator you want for your bathroom.
---
4. Anthracite Saturn Vertical Radiators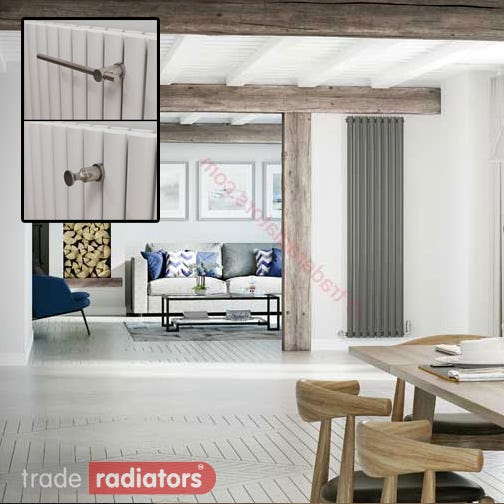 If you've established that your bathroom is in need of a vertical radiator in order to make the most of vertical space, then there are an abundance of choices for you to pick, not least the sophisticated Anthracite Saturn Radiator. If you're unsure what anthracite is, it's a colour often used in interior design phraseology and it's best to think of it as a kind of charcoal or dark grey, slightly lighter than black with a tiny touch of silver. It's a lovely shade and it's an incredibly popular radiator colour, increasingly in bathrooms too. The Saturn radiators have long, oval-shaped bars which are easy to keep clean but are capable of creating a real focal point in your bathroom. With huge heat outputs, they will more than adequately heat your room, but are also compatible with our optional
towel hooks and hangers
which will transform them into a heated towel radiator - meaning no more damp towel of having to hang them on the back of the door. If you like the Saturn radiator style, but aren't sure about anthracite, we also offer them in black, silver or white finishes and in a huge range of sizes.
---
5. DQ Vela Aluminium Radiators with Towel Bar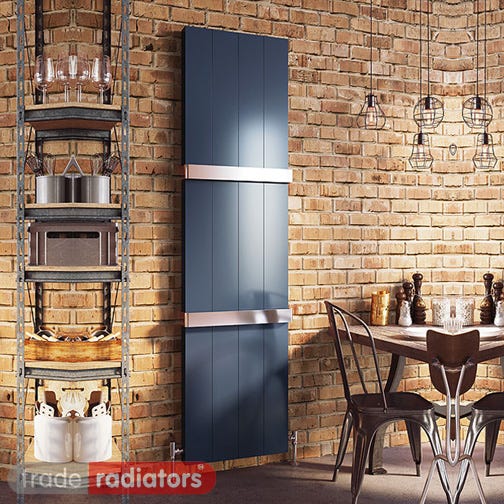 If you're seriously thinking of taking your bathroom to the next level (and we're talking intergalactic proportions) then what better way to make a massive design statement than by installing a Vela Aluminium Vertical Radiator? Not only will you be making the most of your upward space, but you'll also be taking advantage of the unique properties of aluminium - it's brilliance as a heat conductor. Aluminium radiators are popular because they heat up very quickly meaning your central heating is not wasting energy on bringing the radiator up to the desired temperature. This makes aluminium radiators a very efficient type of rad and may well cause a reduction in your heating bills. Aluminium radiators also work very well with low temperature systems and are very easy to install due to the lightweight nature of the metal. The Vela Aluminium Rad comes in a range of sizes and a choice of anthracite or white finishes, so you'll have an iconic radiator that will fit your bathroom no matter what the colour scheme. The Velas also have the option of adding a stylish, polished towel bar so you can get those wet towels off of the floor and warmed and dried on this super-efficient radiator!
---
6. Reina Nerox Stainless Steel Radiators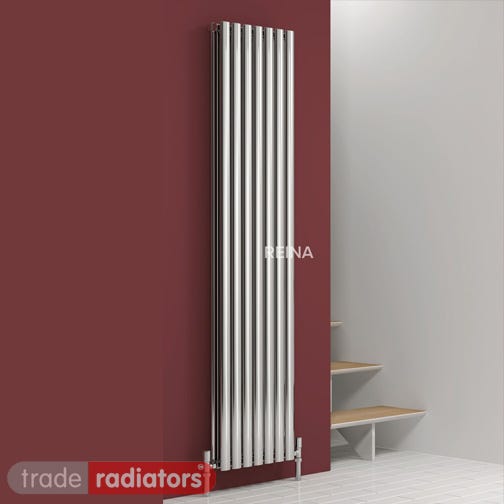 Having a radiator with a stainless steel finish is a simple but effective way of injecting some elegance into your bathroom. Well-polished stainless steel not only reflects the light but also co-ordinates with other shiny surfaces in your bathroom such as taps, shower heads, flush handles, toilet brushes and toilet roll holders, creating a sense of uniformity and tying the decorative elements together. Stainless steel is also very simple to clean, actually getting shinier the more you clean it and responds really well to a straightforward combination of hot soapy water and a non-abrasive cloth. And because stainless steel is so durable and doesn't rust, it makes the Nerox the perfect candidate for installation in a wet room. The Nerox radiators are available in horizontal or vertical orientations and with single or double panels, so you really are able to choose exactly what is right for your particular bathroom. Additionally, if you want a variation from the traditional polished stainless steel, the Nerox radiators can also be chosen with a satin finish, providing a slightly softer look to the more mirrored polished alternative.
---
RELATED ARTICLES
•
The benefits of choosing a vertical radiator
•
VIDEO - How to fit a vertical radiator
• How to get the most out of your en-suite bathroom
---