Best living room radiators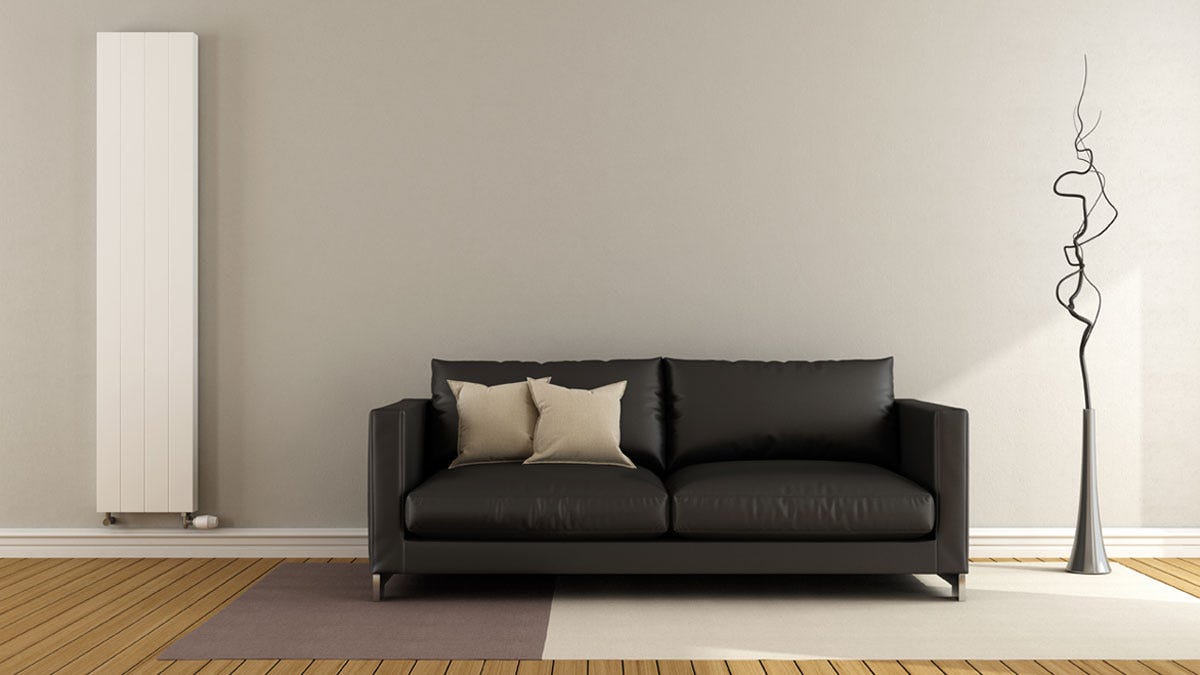 The vast majority of us tend to make our living rooms the most attractive room in the house. It's where we like to unwind after a hard day at work and it's also the most likely room to entertain guests. For those reasons, a living room needs to be warm, cosy and have the best-looking radiator in the house!
Whether you're undergoing a full refurb or simply replacing an outdated rad, we've got a huge variety of horizontal and vertical radiators in stock that are suitable for any traditional or modern home.
Living room radiator considerations
Before looking at new radiators, it's always worth stepping back and looking at your living room objectively to make sure you make the right decision.
Room size
Consider the size of your room and what BTU heat output you'll need to ensure your living room is comfortably warmed up. An easy way to do this is to use our heating calculator to put in your room's dimensions, along with a few other simple bits of information, and you can work out the appropriate heat output need for your room. All of our radiators are clearly marked with their heat outputs in BTUs and Watts so you can be confident about choosing exactly what you need.
Location
Also think about where in your living room your new radiator(s) could be installed. Keep in mind that radiator manufacturing has come a long way since the days of white, horizontal radiators being the only option for householders. There's a massive choice of sizes and designs to help you get the right radiator for your living room. Vertical radiators are a particularly popular option these days as they can take advantage of upward space where horizontal space is limited, still getting heat in to areas where it was previously not possible.
Colour scheme
Look at the colour scheme and interior design of your living room and consider if you want your radiator to match up with it or provide some sort of contrast. While white convector radiators are still a very popular and affordable choice, many people are now incorporating radiators into their rooms, making their rads a stylish focal point rather than just a functional way of heating the room.
At Trade Radiators we have lots of options for styles, designs and finishes of radiators that would look great in all sorts of living rooms.
The 5 best living room radiators
Below we list 5 of our favourite designer living room radiator to give you food for thought. You can click through to see these radiator ranges in more deal on the Trade Radiators website.
#5 - Trade Direct Nevo Designer Radiators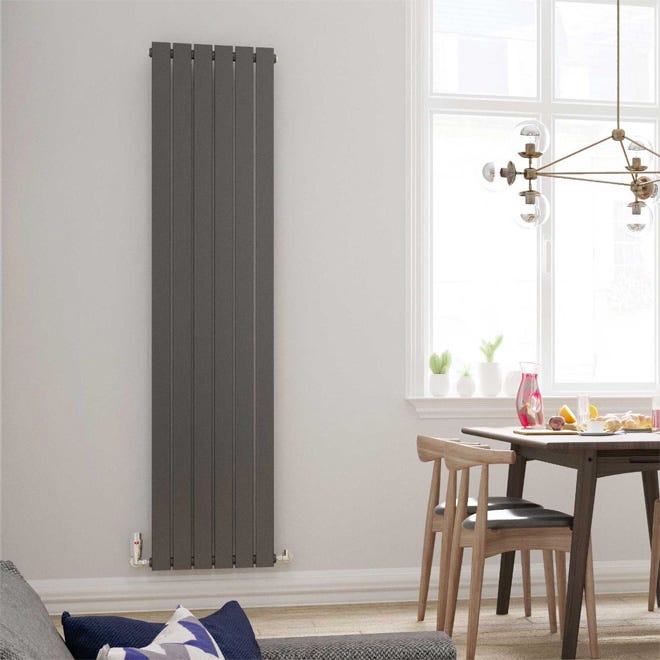 The Nevo, from our affordable Trade Direct range, is an incredibly stylish radiator that is consistently one of our best sellers. Available in a large range of sizes, the Nevo is also designed in vertical and horizontal orientations. This makes it a very flexible radiator and would be a very sensible choice whatever the size and shape of your living room.
The closely packed, narrow flat panel design of this radiator makes it an incredibly stylish option for any modern and contemporary living room and has great heat outputs to match. The fact the Nevo is available in white, black or anthracite also means you can really narrow the purchase process down to enable you to get exactly what you want for your space.
View full radiator range here >
#4 - DQ Modus Designer Column Radiators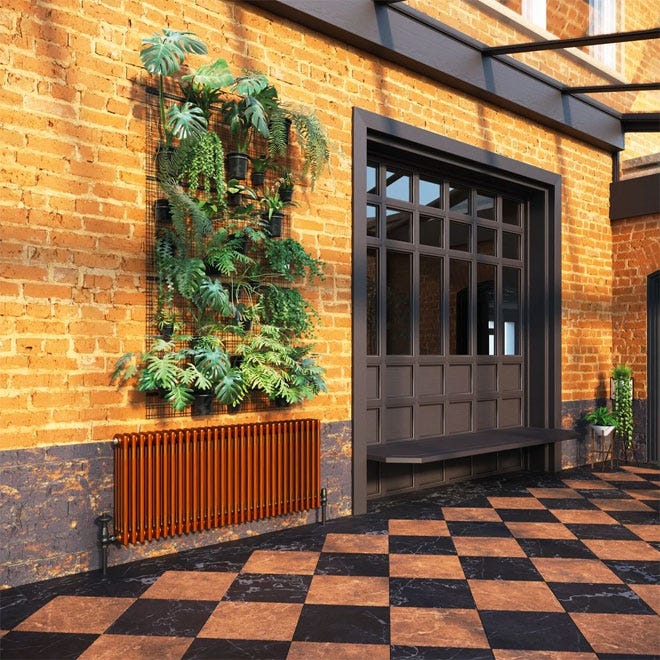 Column radiators have been a very popular choice over the last decade due to their amazing ability to look traditional and contemporary at the same time. They aren't limited to old period properties, like a cast iron radiator might be, nor do they look out of place in a minimalist, modern apartment. It's little wonder that column radiators are loved by those who want to add some subtle sophistication into their living rooms, whatever the style type.
The Modus, by the well-established radiator manufacturer DQ Heating, is made in Germany and has the kind of robust and durable build we've come to expect from German engineering. Available in a range of horizontal sizes, the Modus also comes in some unique finishes, not often provided as a choice with other manufacturers. Colours such as Historic Copper, Brass Lacquer cater for the more traditional side of things, while Matt Black and Stone Grey are well-suited to contemporary tastes. The Modus is also able to be provided in a colour of your choice, so please contact us if you would like more details.
View full radiator range here >
#3 - Reina Colona Designer Column Radiators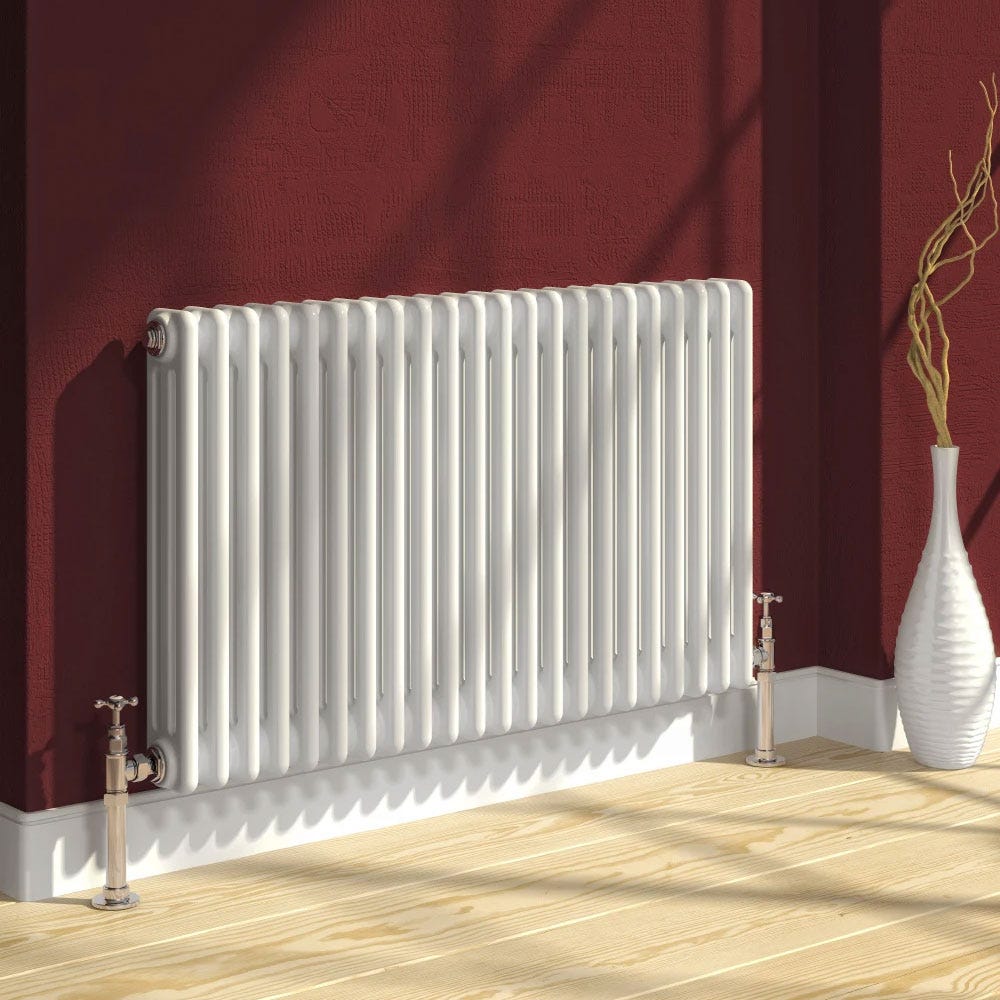 If you like the idea of column radiators for your living room, but you want something simple, these Reina Colona column rads are available in white could be the option for you. The Colona looks really good and maintains the subtle-yet-effective column style, while also being very affordable. These horizontal radiators come in a variety of different sizes, including as small as 500 x 605mm which i great for living rooms with limited space. They also come in the useful size of 300 high by 1370mm, fantastic for fitting into the area underneath large windows.
Being available only in white, the choices you would have to make with the Colona are the dimensions and whether you want 2, 3 or 4 rows of columns. This is a great choice to have as you have the option of increasing the heat output of your existing radiator without necessarily needing to change the dimensions (and therefore avoiding any associated amendments to the pipework). Choosing the Colona 2 column os right for a small space while a 4 column would provide a really good amount of heat in a larger area.
View full radiator range here >
#2 - Stelrad Compact Convector Radiators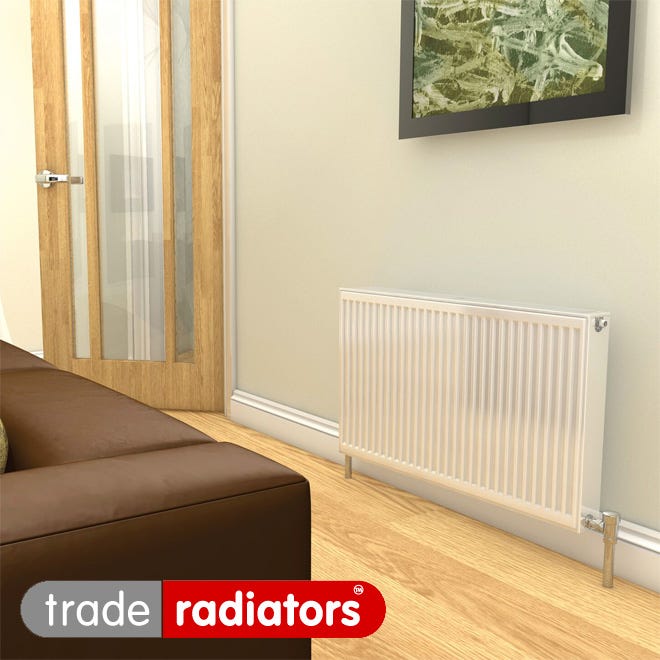 We're well aware that some people aren't interested in making a design feature out of a radiator and simply want something that will efficiently and effectively heat the living space without having to spend a fortune. That's totally understandable, which is why no list of the best living room radiators would be complete without some good quality convector radiators.
Stelrad are a solid radiator manufacturer who make a great range of rads including these white convector ones. Available in a good range of sizes, you also get the choice of single or double panels and convector fins, allowing you to maximise the heat output for your room. These are well-built, affordable radiators who want no frills but something that will reliably heat the room they're installed in. These Stelrad convector radiators also come with atop grill and side panels to conveniently hide the convector fins behind the front panel. A wise and sensible living room radiator choice.
View full radiator range here >
#1 - Trade Direct Saturn Designer Radiators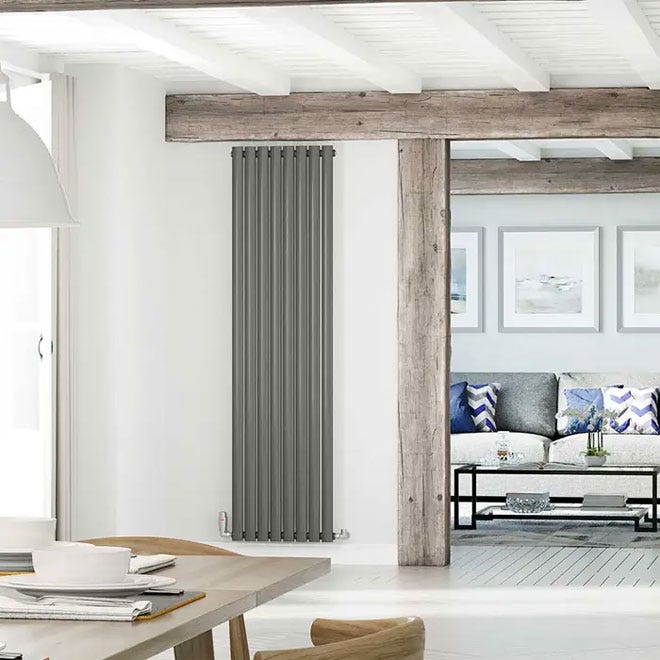 Encompassing all of the radiator qualities we hold dear, our Trade Direct own-brand range of rads are well-known for providing low-cost radiators using high quality materials. Among the most affordable and versatile in our catalogue, no radiator encapsulates these traits more than the Saturn selection of living room radiators.
With an eye-catching oval bar design, the Saturn rads are available in horizontal or vertical options, allowing you to fit these into virtually any space in your living room that needs heat. You also get the most common radiator colours to choose from - Anthracite-Grey, Contemporary Black or a simple Powder Coat White. With very affordable prices, durable and long-lasting finishes and free, fast delivery, the Trade Direct Saturn rads will provide a sleek and sophisticated style to any type of living room.
Consistently among the most popular radiators in our entire catalogue, the Saturn provides a superb balance between style and functionality, making them the perfect choice to heat your living room comfortably and efficiently.