If you're considering your options when it comes to installing a heating system in your property, then it's very likely you've thought about putting in electric radiators. The popularity of wall-mounted electric radiators has hugely increased in recent years as manufacturers have released a massive variety of stylish designs suitable or all types of properties. In this article, we'll take a look at the best wall-mounted electric radiators and panel heaters available in the UK.
Why choose electric heating?
More and more people are opting to have wall-mounted electric heaters in their homes for a number of reasons.
Less disruptive to install
Electric radiators are easy to install (for qualified electricians) and the process of fitting is much less disruptive than a conventional hot water central heating system. There are no pipes involved so floorboards do not tend to be needed to be prized up in order to install electric rads. This is particularly useful for getting heat into rooms such as attics, conservatories, garden offices or other rooms that may not be connected up to the mains central heating system.
Easy to maintain
A major reason many choose electric radiators and panel heaters for their homes is due to the low amount of maintenance needed to keep them working to their optimal level. Radiator-based heating systems are reliant on pipes, hot water and expensive components like pumps and boilers - all of which require regular maintenance in order to keep them running smoothly. Electric radiators on the other hand, have very few moving parts, relying on an element to convert electricity into heat. In the unlikely event an electric radiator does require maintenance, it doesn't impact on the heating in the rest of the home. The lack of moving parts and need for regular maintenance makes wall-mounted electric radiators particularly popular for buy-to-let properties.
Efficient form of heating
At the time of writing, gas prices have sky-rocketed and there has been a lot of uncertainty about just how high they will continue to rise in future. While electricity prices are also impacted, there is anticipated to be less fluctuation in prices. This can help many people who like to plan their energy costs to have slightly more control over their monthly outgoings and as a result, many people will be choosing electric radiators over gas powered-boilers.
The best electric wall-mounted radiators & panel heaters
Here at Trade Radiators, we have a massive choice of electric radiators in stock, with prices you won't find anywhere else. Our range promises simple but effective electric heaters that will match the décor in any room. With excellent efficiency as well as high BTU outputs, our electric radiators allow you to get the best of both worlds. The best of these wall-mounted options are listed beow.
1. Reina Arlec Designer Electric Radiators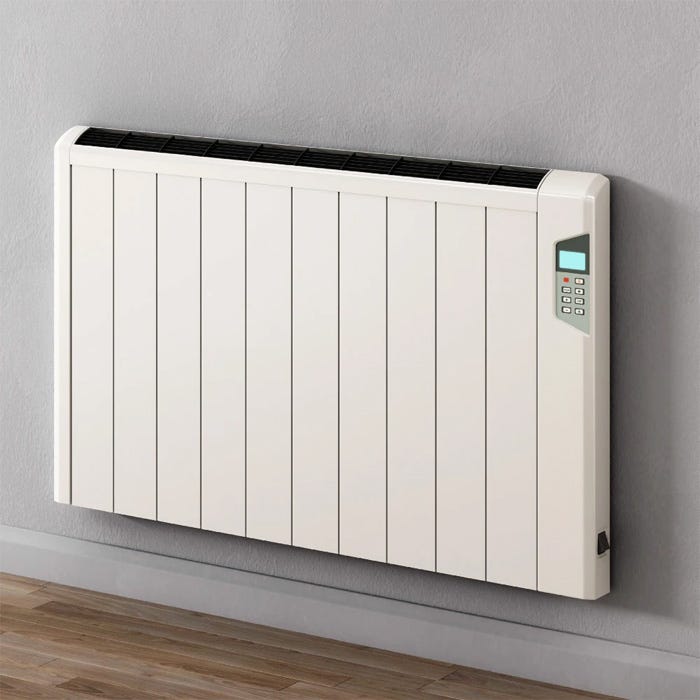 Reina is a very well-respected radiator manufacturer, and the Arlec Radiator model is a top quality electric radiator option. These are made from aluminium, finished in white, meaning these electric radiators are incredible conductors of heat. This ensures you start to feel warm very quickly at a very energy-efficient rate.
The Arlec range of electric radiators come with a programmable thermostat and timer resulting in greater control of when your heating comes on and off. Not only does this help you heat your home exactly when you need it, you also ensure that energy is not wasted heating empty or unused rooms.
Available in a wide range of sizes, the Arlec by Reina is a fantastic wall-mounted electric radiator that is suitable for any home.