Electric radiators haven't traditionally been the most attractive way of heating a home, so if you have some old electric rads in your property, you may well be wondering if it's possible to cover them up. In this article we'll answer that question and make some suggestions for alternative ways of improving the visual appeal of your electric radiators.
Is it safe to cover electric radiators?
You might have been inspired to cover your radiators after seeing a traditional radiator cabinet in another person's home. They were quite popular in decades gone by and were good at disguising what was usually an uninspiring white convector radiator lurking behind. These cabinets are typically made of wood with a patterned front and often a useful storage shelf on top. On the surface, they seem a practical idea.
While such radiator covers usually covered up a radiator connected to a conventional, hot water central heating system, there's no particular safety reason why you couldn't use one to disguise an electric radiator.
The main factors to use radiator covers safely and responsibly are:
Leave a gap above the electric radiator to allow air to circulate
Allow space to enable access to the fittings and components of the radiator
Open radiator cover and clean or dust regularly
Be mindful that the radiator cover will get hot
So while there's nothing inherently unsafe with putting a radiator cover over an electric radiator, you have to ask yourself if you are comfortable with putting a cover over something with an electrical component that gets very hot. Even though the electric element is sealed within the radiator, many people simply aren't comfortable with the worry or the perceived fear of something going wrong.
Alternative methods to cover an electric radiator
Even if you are not concerned by the safety of a radiator cover, it might not be a surprise to learn that putting a barrier between a heat source and the rest of your room, is not the most practical way or efficient way of heating a room. While a radiator cover may look nice, it is actually stopping the hot air from circulating freely around your room.
There are other ways of disguising electric radiators without curtailing their ability to do their job:
Place a table in front of the radiator - A well-placed table would allow the hot air to flow around your room, but would enable you to distract the eye from the radiator by making a feature of the top of the table.
Install a shelf above the radiator - Similarly, a shelf would allow you to place something eye-catching on top without limiting the amount of air that goes into the room, unlike with a traditional, enclosed radiator cover.
Create a feature wall - Painting the wall that the electric radiator sits on a different colour is a really easy way of hiding the radiator in plain sight. There's no concerns about safety or about restricting airflow and painting (or wallpapering) one wall is economical and imaginative.
Fit an attractive electric radiator
Of course, the best solution to this issue is to install a modern and stylish electric radiator that is so amazing to look at that there is no way you would want to cover it up with anything. You may be under the impression that there is less choice of electric radiator designs to choose from when compared to those designed for hot water central heating systems. However, we are happy to state those days are long gone with electric radiators now available in a massive range of styles, sizes and finishes.
Here at Trade Radiators, we have a large selection of electric radiators in stock and are prices you won't find anywhere else. Our range promises simple but effective heaters that will match the décor in any room. With excellent efficiency as well as high BTU outputs, our electric radiators allow you to get the best of both worlds. We also offer a big range of electric heated towel rails, for those who are looking for extra flexibility with their electric heating systems.
Our electric heaters only require a plug outlet, so you can have it installed in a flash. Once it is installed, it does not require a large amount of maintenance due to their incredible standard of robustness and the premium materials used in their construction.
Our electric radiators come with a minimum five years guarantee so rest assured that your radiator will be beautiful, robust, and reliable. If you have any questions about our electric heaters, other products, or any other queries before, during or after shopping with us, please do not hesitate to contact us. We have a team of dedicated experts who would be delighted to assist with any questions regarding electric heating solutions and other products on site.
Shop the range and see which electric heating option is right for you.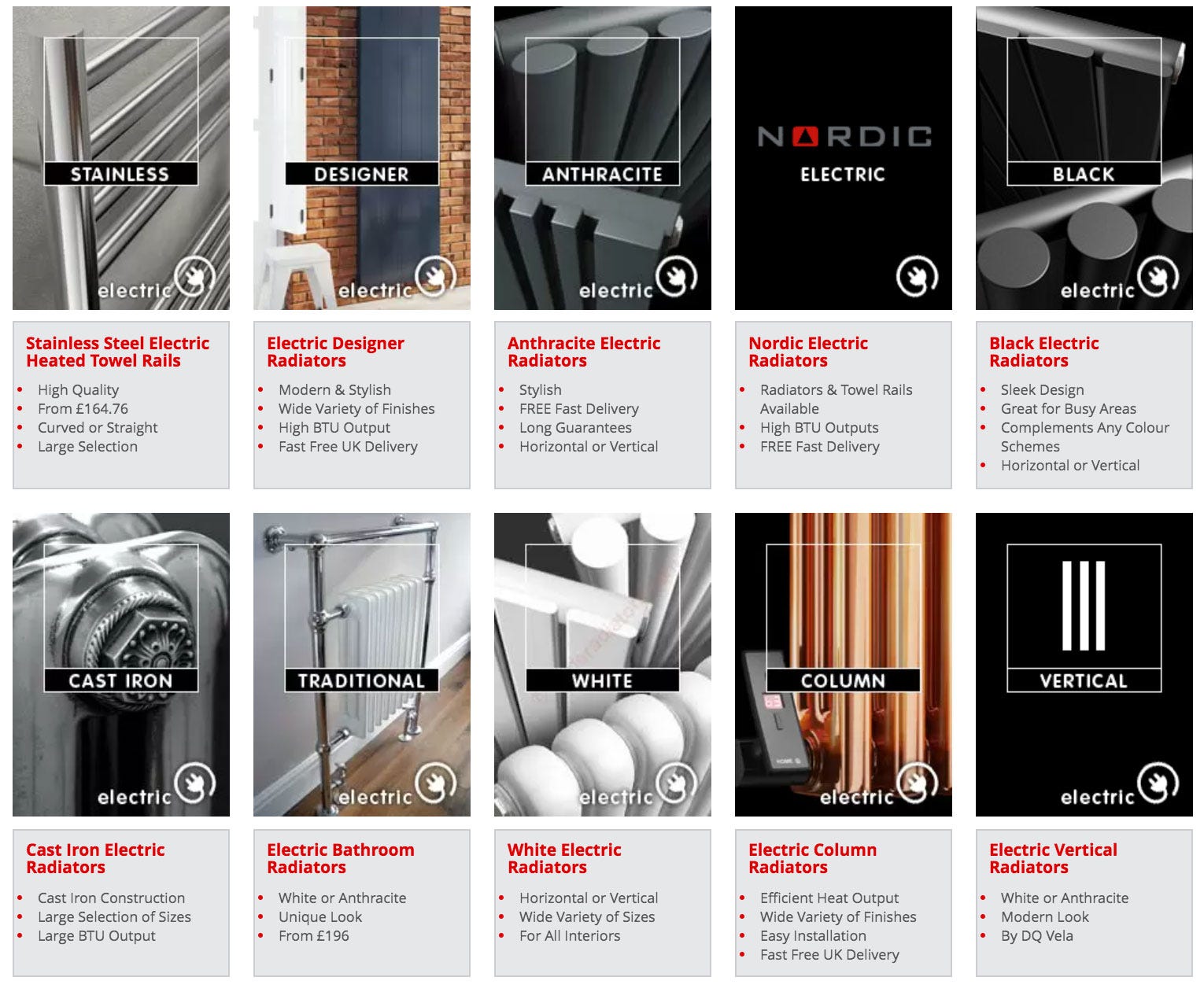 View All Our Electric Radiators
RELATED ARTICLES
• The complete guide to electric heating
• How to hide an electric radiator