Selecting the right radiator valves to go with your radiator is an often overlooked part of your interior design plan. However, if you get the wrong valves, or ones that don't match up with your radiator, then you could be left with a small but very annoying feeling of something being not quite right. In this article, we will show you the different options for radiator valves in order to help you make a decision that you can be proud of.
What type of pipework do you have?
Manual or thermostatic valves?
Making a style choice
---
WHAT TYPE OF PIPEWORK DO YOU HAVE?
If you are making the decision to buy your own valves rather than leaving it up to your plumber, then it's important to take a look at the radiator you are buying and at the pipework it will be fitted to. The reason for this is because radiator valves come in 3 different styles: straight, angled or cornered. What you need depends on whether your pipes come out of the wall or the floor and where the connection points are on your radiator. The image below helps establish what you need.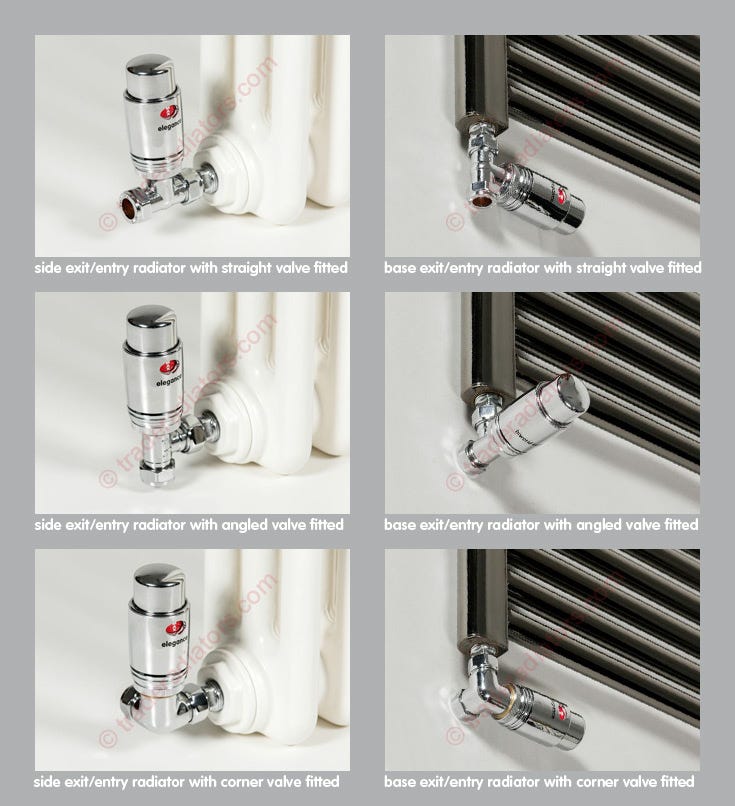 ---
MANUAL OR THERMOSTATIC VALVES?
It's important to decide ahead of time what degree of control you want over the temperature of your radiators, as this can impact your initial budget but can also have long term effects on your heating bills, depending on which option you choose.
Manual Valves
Also known as non-thermostatic valves, these types of valve are very easy to use, operating as a simple on/off switch. Leaving the valves open (on) means that the radiator will fill with hot water regardless of the room temperature and according to the temperature set on your wall thermostat. This means that the radiator will continue to get warm until it hits the temperature set on the wall thermostat or until it gets turned off. It's recommended that the radiator closest to your thermostat is fitted with manual valves. Manual valves are very cheap to buy and require no understanding of how a heating system works. However, there are various disadvantages when compared with the next type of valve.
Thermostatic Radiator Valves (TRVs)
TRVs are a slightly more sophisticated type of valve, but are thankfully still very easy to use and operate. Instead of relying on the wall thermostat to set the temperature of the radiator, the valves contains its own thermostat that monitors the ambient temperature of the room. Depending on your settings, if the room gets colder, the valve will allow more hot water into the radiator. If the room starts to get too warm, the valve will stop the flow of hot water into the radiator. What this means is that the valve is constantly keeping the heat of the room at a balanced temperature and is therefore much more efficient than a manual valve. For example, if the TRV detects that the room is up to the desired temperature, it won't continue to pump hot water into the radiator, as a manual valve would. This means that you are not wasting valuable energy and racking up your heating costs for no good reason. TRVs also allow you the ability to keep radiators off in rooms that are seldom used, saving you from the expense of heating up a room that is empty and unused.
The ultimate guide to thermostatic radiator valves
For a comprehensive explanation on how TRVs work and how they can benefit you, please see our video below with a step-by-step guide given by Jimmy, a professional plumber.
---
MAKING A STYLE CHOICE
When it comes to making a decision on style, it's really a case of choosing something that matches your radiator and something that you will be happy to look at month after month, year after year. We have a huge range and variety of radiator valves and they come in a multitude of colours, enabling you to get a pair of valves that are exactly what you want and fit in perfectly with your interior design plan. We offer a selection below for your to think about.
CHROME TRADITIONAL RADIATOR ANGLED VALVES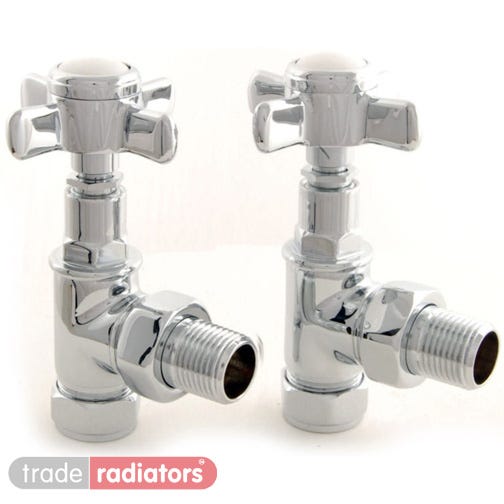 ---
BLACK NICKEL BELGRAVIA TRADITIONAL RADIATOR CORNER VALVES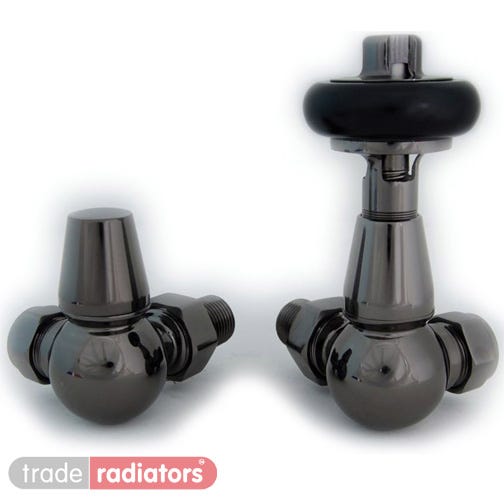 ---
MINIMALIST CHROME STRAIGHT VALVES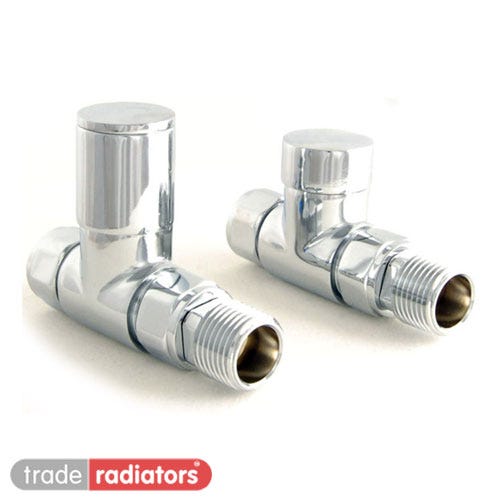 ---
WHITE THERMOSTATIC CORNER VALVES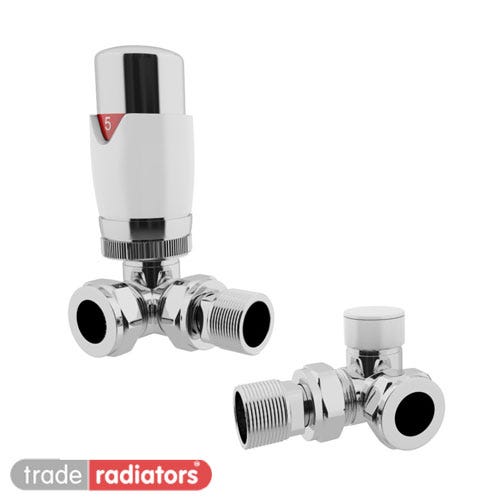 ---
ANTIQUE BRASS THERMOSTATIC ANGLED VALVES
---
RELATED ARTICLES
•
Our top 5 most stylish traditional radiator valves
•
VIDEO: How to change a thermostatic radiator valve
•
Why it's not worth sacrificing energy efficiency for aesthetics