Welcome to the Complete Guide to Bathroom Heating from Trade Radiators.
In this article, we've compiled all the most common questions our customers have regarding heating in the bathroom. With our many years of experience, we're sure that you'll find this guide the number one reference point for everything you need to know about bathroom heating.
Below you'll learn about all the different types of heating options you could have in your bathroom. We'll also give you a comprehensive buying guide covering everything from size, style and finish to ensure you get exactly what you need.
Should you decide to go the DIY route, the second part of this article provides you with hints and tips for installing your bathroom heating yourself.
By the end of this article, we hope you'll feel much more informed about bathroom heating and confident enough to choose the perfect radiator or heated towel rail for your bathroom.
PART 1 - BUYING GUIDE
The Importance of Choosing the Right Radiator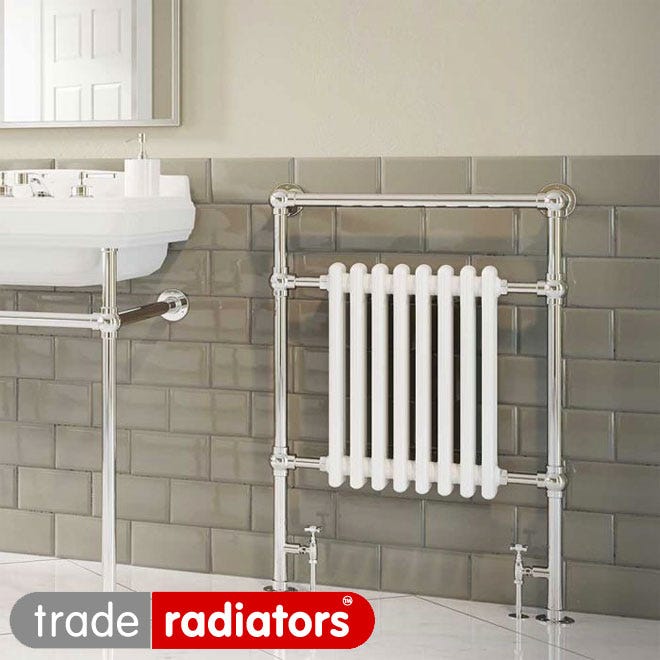 The bathroom is one of the busiest rooms in the home and is a place that needs to be accessible, comfortable and ready for action at any time of day. For this reason it's very important that you get the heating right.
While ensuring your bathroom is warm in the morning and looks visually pleasing, it's also vital to choose a good heating solution to avoid issues like damp and mould, which can cause health issues.
You also need to consider the size of your bathroom and how much heat it requires to heat it comfortably. Will you get away with just having a heated towel rail, or would you benefit from additionally installing a small radiator?
Heat output is measured in British Thermal Units (BTUs), so make sure you use our heating calculator to establish the right amount of heat you need for your bathroom.
Types of Bathroom Heating
The first step when upgrading the heating in your bathroom to decide what type of heating you need.
For example, if you have an existing , the simplest option would be to get a new radiator of similar dimensions to replace it.
Equally, if you have an electric heater, it would be simpler to replace it rather than having a central heating system installed in your home.
Below we go through the most common heating options for bathrooms.
Central Heating
A gas-fired central heating system is the most common type in the UK and is what the vast majority of new houses contain.
A gas-powered boiler will heat up hot water and send it out to the radiators and your taps around the home through a series of copper pipes.
If a radiator or heated towel rail in your bathroom is connected to pipes at either end, your bathroom is currently heated using this system.
Electric Heating
This type of system uses electricity to power the heating system rather than gas.
Electric heating is common in places where there there is no access to a mains gas supply, such as somewhere remote, large tower blocks, or mobile homes.
Electric radiators and towel rails can simply be wired up to the mains electrical system (by a qualified professional) without the need for any pipework.
This makes electric heating cheap to install and often a popular choice for rooms not connected up to the central heating system like attics, conservatories and sheds.
Dual Fuel
A duel fuel heating system is one that uses two different forms of fuel to power the heating. This is often in the form of gas and electricity.
In terms of bathrooms, the most common dual fuel set -p is having a heated towel rail that is connected up to the central heating system and wired into the mains electrical supply.
This allows the user the flexibility of having their towel rail come on with all the other radiators in the home, or to switch on the rail without using the central heating.
Underfloor Heating
This is a type of heating system installed in the floor allowing radiant heat to be generated evenly underfoot.
It typically comes in two main forms.
Dry underfloor heating - Cables in the floor that are powered by electricity. Generally the cheapest and easiest type of UFH to install.
Wet underfloor heating - Pipes are laid into the floor that are connected up to your boiler and have hot water running through them. Very effective but quite expensive and disruptive to install.
Underfloor heating is often installed instead of radiators, so if considering this option for your bathroom you may still wish to have a heated towel rail for drying your towels.
View All Our Heated Towel Rails
Finding the Right Size & Style for Your Bathroom Radiator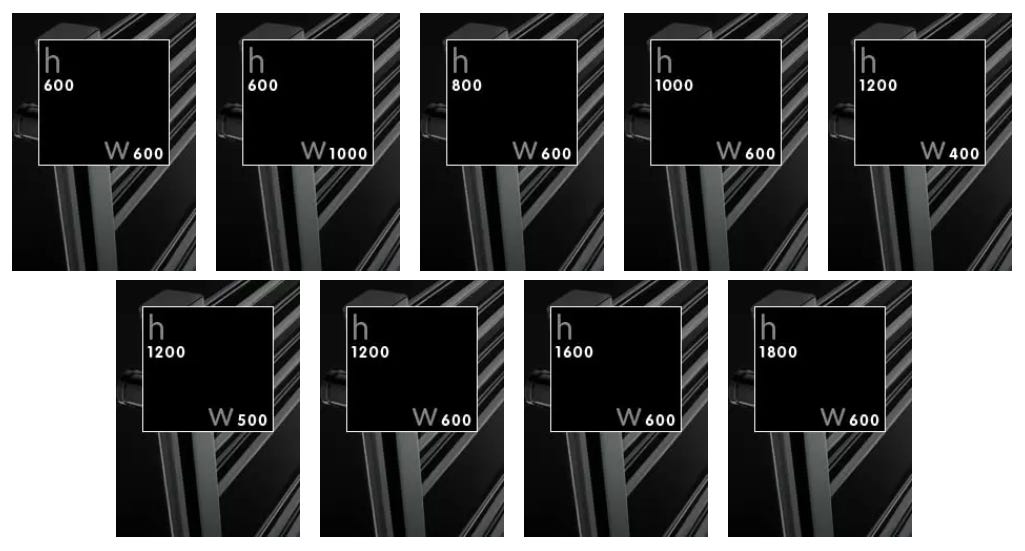 Getting a radiator that looks good is one of the most enjoyable parts of choosing a radiator for your bathroom.
Just as important is ensuring that your new radiator is the right size and has a suitable heat output to warm your bathroom comfortably. You can use our Heating Calculator to help you understand what heat output your bathroom needs.
Of course, much depends on the space you have available when making your choice. Dimensions for bathroom radiators tend to range from 600 - 1800mm in height to 400 - 1000mm in width, giving you a huge variety to choose from.
Vertical Bathroom Radiators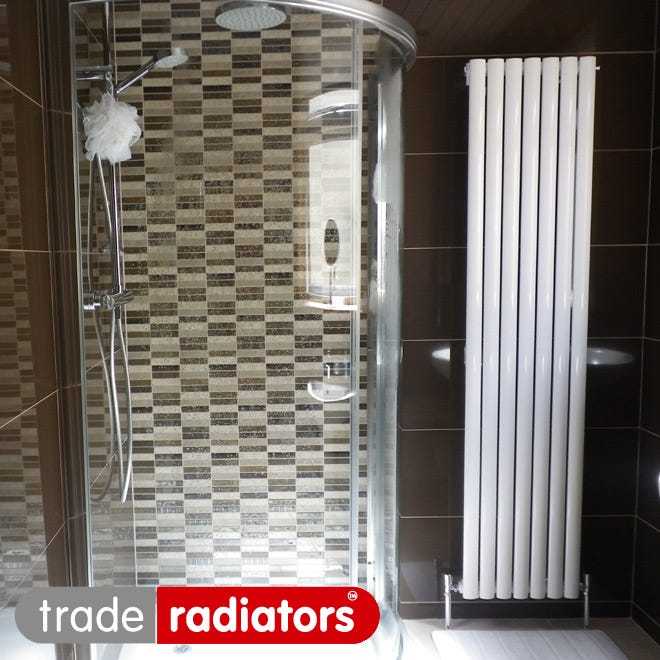 Vertical radiators have really transformed the possibilities of radiator placement over recent years.
Rooms with limited wall space, that might previously have suffered from underpowered horizontal radiators, can now be heated fully thanks to making the most of upward space.
With the increase in small, ensuite bathrooms being incorporated into many houses and apartments, vertical radiators often provide the perfect solution to a lack of space.
A narrow vertical radiator can be installed, providing enough heat for the bathroom, but without compromising space for toilets, basins and showers.
View All Our Vertical Radiators
Horizontal Bathroom Radiators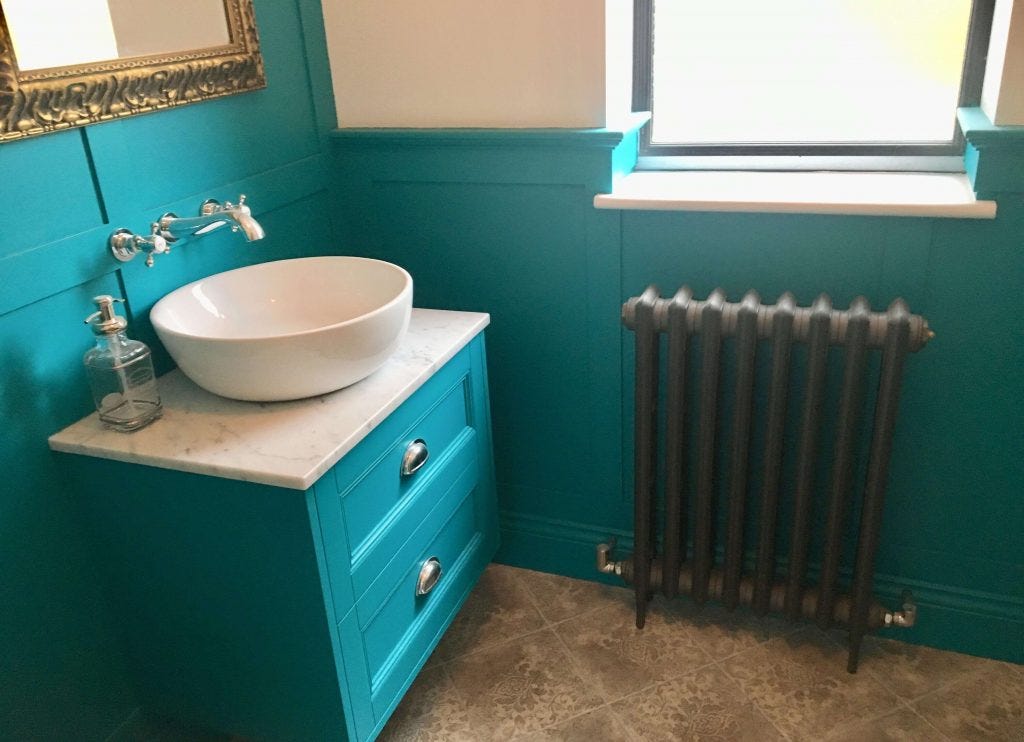 If you've got a well-proportioned family bathroom, then a horizontal radiator is a classic choice that will always look fantastic.
For spaces underneath windows or storage cupboards, installation of a horizontal radiator is a great way of ensuring your bathroom is well-heated.
Radiators that are equal vertically and horizontally (e.g 600 x 600mm) often slot beautifully in small spaces, providing a nice sense of symmetry.
If your bathroom is small or oddly-shaped, then you might find that horizontal radiators take up too much wall space without providing adequate heat to the room.
Make sure you measure the space you have available, do your heat calculations and consider a vertical rad if you think it will be more suitable.
View All Our Horizontal Radiators
Panel Bathroom Radiators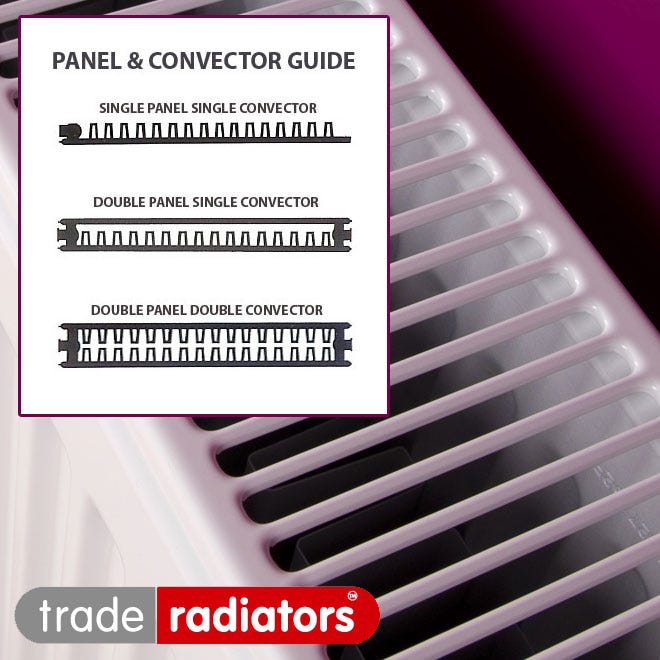 Many types of bathroom radiator come with panels that form the front (single panel) or the front and back (double panel) of the radiator. The panels fill with hot water and emit heat out into the room.
Because of the greater surface area, a double panel radiator will emit more heat than a single panel radiator of the same height and width. Which one you choose depends on your budget and the size of your bathroom.
While double panel bathroom radiators emit more heat, they also tend to be more expensive.
Additionally, they are chunkier than single panel rads and stick out further from the wall. If you have a particularly narrow bathroom, a single panel radiator might be the better option to allow adequate space to pass by it.
View All Our Double Panel Radiators
Cast Iron Bathroom Radiators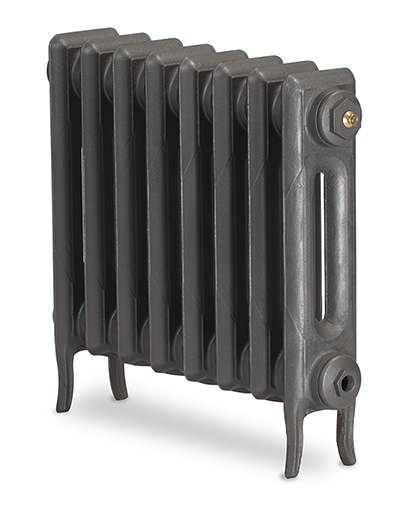 If we go way back in history to the origins of the modern central heating system, then cast iron radiators were the way homes lucky enough to have that type of heating system were kept warm.
If you have a period property, such as Georgian,Victorian or mock Tudor in style, then there's no doubt about giving serious consideration to installing a cast iron radiator in your bathroom.
Durable and excellent heat emitters, cast iron radiators help to provide an aesthetic that is completely in keeping with the style of your period property. In the right type of property 'Casties' usually look amazing.
On the other hand, if you have a modern apartment or a new-build home, a cast iron radiator would likely look out of place and a bit of a strange addition to your bathroom.
Another factor to consider is that they are very heavy and cumbersome, making transportation and installation potentially more stressful and costly.
View All Our Cast Iron Radiators
Towel Rails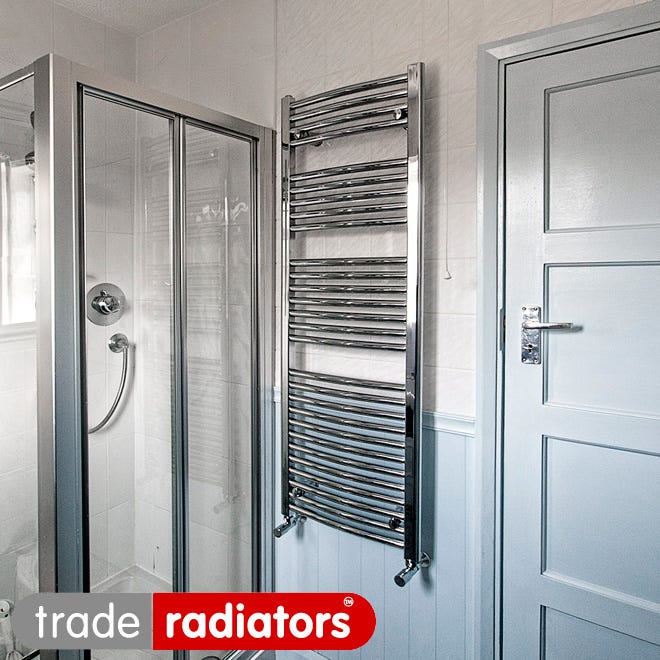 Heated towel rails are an excellent addition to a bathroom and are now a common sight in bathrooms up and down the UK.
Often installed within handy reach of the shower or bath, towel rails look great and provide the useful function of drying and warming towels. The days or smelly damp towels will be consigned to history in any bathroom that has a heated towel rail installed.
Coming in a massive variety of sizes, styles and finishes it's really easy to get the perfect heated towel rail for your bathroom at an incredibly affordable price.
One important point to consider however, is if you have enough space for a large enough towel rail to heat your bathroom comfortably.
Because of their design and smaller surface area, a heated towel rail will emit much less heat than a radiator of the same height and width. This means you need to decide if you can get away with just a heated towel rail or if you'll also need a radiator in the bathroom too.
View All Our Heated Towel Rails
Choosing a Colour and Finish
The days of only being able to choose a radiator in white are long gone and you'll be delighted to know there are a massive variety of radiator colours and finishes available to choose from.
Also of note is the fact that you can choose from a selection of materials that your bathroom radiator is manufactured from.
For example, radiators made from stainless steel are incredibly durable and actually get shinier the more you polish them.
Aluminium radiators are really energy efficient due to the fact that aluminium is a great conductor of heat.
Rads made from mild steel with a power coat or chrome plate finish are the most economical to buy. So it's worth taking the time to consider which type of material you'd like.
Popular Bathroom Radiator Colours
When planning out your bathroom design, it's good to know that there are a range of different colours to choose from.
Radiators no longer have to be something that simply heats the room. With the right use of colour, it's perfectly possible your bathroom rad to be eye-catching and the focal point of the room.
Popular Bathroom Radiator Finishes
The type of finish you want for your radiator should also be something you take into consideration when making your choice.
While the finish doesn't really have an impact on the way the radiator works, it is something that affects the aesthetics, so below we've included our most popular radiator finishes.
POLISHED RADIATORS - If you plan on having a bathroom that has many reflective surfaces and gleaming fixtures and fittings, you may want to continue that trend by having a polished radiator. Usually similar to a mirror, polished rads reflect the light beautifully and always look superb.
ALL POLISHED RADIATORS
CHROME RADIATORS - Chrome plated radiators and heated towel rails are an incredibly economical choice, whilst adding a touch of luxury to your bathroom. Especially popular for towel rails, chrome always looks smart, classy and often more expensive than it actually is.
ALL CHROME RADIATORS
SATIN RADIATORS - Perhaps you want something modern and contemporary in your bathroom that doesn't come with the gleam of a chrome or polished finish. If that's the case, then a super stylish satin (or brushed) finish could be the subtle vibe you have been looking for.
ALL SATIN RADIATORS
Bathroom Radiator Brands

We've come to expect a lot of choice when getting our interiors perfect and that's no different when it comes to bathroom radiators.
At Trade Radiators, we have a huge range of brands, each containing a massive choice of sizes, styles and prices.
Below we've selected our most popular brands to help your get the radiator you want, for a price that suits.
Trade Direct Bathroom Radiators
Radiators and towel rails under the Trade Direct brand are the highest-value option, as these are Trade Radiators own brand offered to customers at trade prices.
Made from high quality materials, Trade Direct is the most versatile brand on the site and includes column radiators, aluminium radiators, convector radiators and heated towel rails.
All come in a variety of sizes and styles and are specifically designed to suit all kinds of bathroom interiors.
View All Our Trade Direct Radiators
DQ Heating Bathroom Radiators
Well known for using the very best materials, DQ have been manufacturing top quality radiators for over 20 years.
Modern, contemporary and stylish are just three of the many superlatives we could use when describing the six types of DQ Rads we stock.
Some favourites include the DQ Vela - beautiful designer radiators with an immense heat output. The DQ Delta and Dune models are manufactured from the highest quality stainless steel making them incredibly durable and efficient.
View All Our DQ Heating Radiators
Reina Bathroom Radiators & Heated Towel Rails
From any angle you look at them, Reina radiators ooze style, sophistication and modernity. We stock over 20 different Reina models, each with a wide range of sizes, styles and finishes.
Reina are particularly popular with our customers because of the choice and the ability to make traditional design contemporary.
Available in horizontal or vertical orientations and in chrome, white and anthracite finishes.
Reina also offer a fantastic range of heated towel rails, meaning you could get everything you need to provide heat in your bathroom from just one brand.
View All Our Reina Radiators
Lazzarini Heated Towel Rails
Specialising in contemporary styling, our Italian-designed heated towel rails by Lazzarini are a massive hit with our customers, and rightly so.
With powerful heat outputs and superb designs, Lazzarini rails serve as both functional and excellent wall decoration.
The Palermo rail, finished in contemporary chrome is a must for any modern bathroom, while the sleek Todi rail looks particularly fetching in anthracite.
Lazzarini also offer dual fuel and electric options, so no matter what type of heating system, you're sure to find something perfect for your bathroom.
View All Our Lazzarini Heated Towel Rails
Pisa Heated Towel Rails
Whether you're searching for a petite towel rail for a small ensuite or something large for a family bathroom, the fashionable Pisa heated towel rail are worthy of your consideration.
Designed in Italy, these radical rails are available in chrome, white and black and with the choice of flat or curved bars.
Sleek, durable and powerful, our Pisa rails range from 400mm to 1000mm wide and can go as high as 1800mm. So whatever the shape or size of your bathroom, you're very likely to get a Pisa rail to fit the required space.
View All Pisa Heated Towel Rails
What Radiators are Not Recommended for a Bathroom?
There's no particular radiator that we would say is absolutely not suitable for a bathroom, as a lot depends on your personal taste.
Because a bathroom is often damp and humid, you may want to avoid a convector radiator with grooved frontage and exposed convector fins. But this is mainly due to ease of cleaning rather than anything to do with safety.
The main thing is that your radiator or heated towel rail is the right size for your bathroom and can emit enough heat to make things comfortable. Plus, it's important to choose a design you enjoy looking at multiple times per day.
Manual or Thermostatic Heating in a Bathroom?
If you have a bathroom that is not well insulated and can become quite cold, you might find you benefit from the temperature being controlled by a thermostat.
Likewise, if the bathroom is the main family one and is used for extended periods multiple times per day. Having the temperature set to come on at particular times per day can help to keep the room at a consistent temperature.
For lesser-used bathrooms or ones that don't suffer from low temperatures, a manual heating solution should be more than adequate.
Is Bathroom Heating Expensive to Run?
Use of the bathroom contributes to a high proportion of monthly energy bills, but this is mainly due to the amount of hot water used for showering rather than radiator usage.
Common sense should apply with bathroom heating to ensure that bills don't become unnecessarily expensive. Ensuring that you have the right sized radiator for the room is a good place to start.
Also, don't leave a window open for too long while a radiator is on. Of course it's fine to open a window for a short period to allow for ventilation, but for an extended period is a real waste of energy.
Buying Bathroom Heating with Trade Radiators
Buying a radiator or heated towel rail for your bathroom couldn't be easier with Trade Radiators.
We lay out everything on our website as simply and transparently as possible. All of the measurements, styles, heat outputs and prices are set out clearly to help you make the best choice when it comes to selecting your heating solution.
You are welcome to order via our easy-to-navigate website, or you can call 0141 225 0430 to get further information and place an order with our helpful and friendly team.
Some important reasons to purchase from us are:
Comprehensive guarantees on all products
Free and fast delivery
Finance options available
Top-rated customer service
Competitive prices
Many of our bathroom radiators and heated towel rails are available with next day delivery, while others can be delivered in just a few working days.
All orders are packaged securely and we only use the most professional courier services to unite you with your order. We'll notify you with all details of despatch and delivery after you've placed your order.
View All Our Bathroom Radiators
PART 2 - INSTALLATION AND MAINTENANCE ADVICE
How to Install Bathroom Heating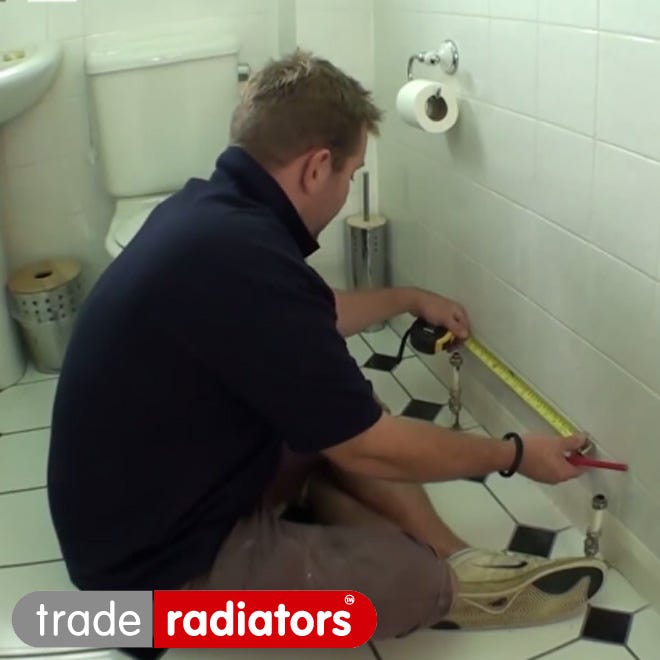 If you don't have any DIY experience, then you might find it's a good idea to call in a plumber or heating engineer to do your bathroom radiator installation for you.
If you plan to have an electric radiator or towel rail installed, then you must get it done by a qualified electrician.
However, with a little bit of experience under your belt, installing a standard, central heating bathroom radiator is a fairly easy job. Replacing an existing radiator with a new one of exactly the same dimensions is not particularly difficult as there's no need to install or reroute the copper piping.
Below we've included some helpful resources for those of you who are going to tackle this job yourself.
Installing a Radiator in a Bathroom
If you have to remove an existing radiator, you'll need to ensure that the radiator has been drained and your heating system is switched off before lifting it off the wall.
Check that your new radiator has arrived without any damage and contains the necessary wall-fixings and bungs.
Using a spirit level, you'll need to measure out where you will fix the radiator to the wall. This will ensure that the holes you drill are level allowing the radiator to hang correctly on the wall.
The video below shows a professional plumber going through this process step by step. Please watch the video for full instructions on how to install a radiator.
Installing a Heated Towel Rail in a Bathroom
Fitting a heated towel rail in your bathroom is not only great for your towels but also provides a very simple way to add chemical inhibitor into your central heating system in the future.
The process of connecting a heated towel rail to a standard central heating system is much the same as a radiator.
Markings and measurements for hanging the towel rail should be made in the same way, and they are similarly connected to the copper pipework via radiator valves.
The vide below shows a professional plumber going through the process of installing a heated towel rail in a bathroom.
How Much Does It Cost to Get a Bathroom Radiator Fitted?
Having a qualified professional install your bathroom radiator or heated towel rail is always a sensible idea.
Not only will an experienced plumber do a quality job, they may also be able to offer invaluable advice tailored to your particular situation.
This kind of advice has the potential to make the most of your bathroom space and ensure that you heat it with maximum efficiency.
Below we've provided some estimated costs, but please keep in mind there are always variables that could increase or decrease the amount you have to spend.
Quality of materials, how complicated the job is and even where you live in the country could all cause the estimate to vary.
Standard installation of a conventional hot water bathroom radiator or heated towel rail
around £200 - £300 for labour
around £150 for rad or rail
Standard installation of an electric heated towel rail
around £200 for labour
around £150 - £200 for towel rail
Standard installation of a dual fuel heated towel rail
around £300 - £500 for labour
around £150 - £200 for towel rail
• Further reading: How much does it cost to fit a heated towel rail?
How to Adjust or Replace Valves
If you're installing a new radiator or heated towel rail, then it's likely you'll need to fit some new radiator valves as well.
Valves help to control the flow of water into the radiator so are an important component of a central heating system. There are a huge variety of radiator valves available, allowing you to get exactly what you need to complement your stylish rad or rail.
In the videos below, you'll discover a full guide on how to install radiator valves plus a full explanation on how they work.
• Further reading: How to fit thermostatic radiator valves
View All Our Radiator Valves
Maintaining a Bathroom Radiator
Much like a car, keeping on top of your bathroom radiator maintenance will ensure that it serves you well for years to come.
Keeping the exterior clean will help your radiator continue to look good, while making sure that your heating system is looked at by a heating once a year will keep it running smoothly internally.
Below we've included links to helpful articles on how to keep your bathroom heating working correctly and efficiently.
• Further reading: How to fix common radiator problems
• Further reading: How to fix a leaky radiator
• Further reading: How to bleed a radiator
• Further reading: How to stop the sound of trickling water inside your radiators
Get Advice & Order Online with Trade Radiators
Here at Trade Radiators, we're always on hand to help.
Should you need some additional information or advice, then our helpful and knowledgeable customer support staff are happy to help as much as they can.
You are welcome to contact us on info@traderadiators.com or 0141 225 0430. We are open 8.30am - 5.30pm Monday - Friday.
View All Bathroom Radiators and Towel Rails