Welcome to our comprehensive guide to electric heating. This guide contains everything you need to know about heating your home with electric radiators and electric heated towel rails.
We'll take you on a complete journey including explaining what electric heating is, the different types you might want to consider, the styles and finishes available to you and what works best in different rooms.
Finally, we'll answer some common questions and provide detailed advice on electric heating. You can access each step via the table of contents below.
We hope this guide will provide you with a complete and well-rounded view of electric heating, enabling you to make the best possible decisions when choosing your electric heating.
PART 1 - BUYING GUIDE
In the first part of our guide to electric heating, we'll recommend what you should consider when purchasing your new electric radiator or heated towel rail.
Being aware of the various electric heating options available will help you define exactly what you need for each room of your house.
The Different Types of Electric Heating
Electric Radiators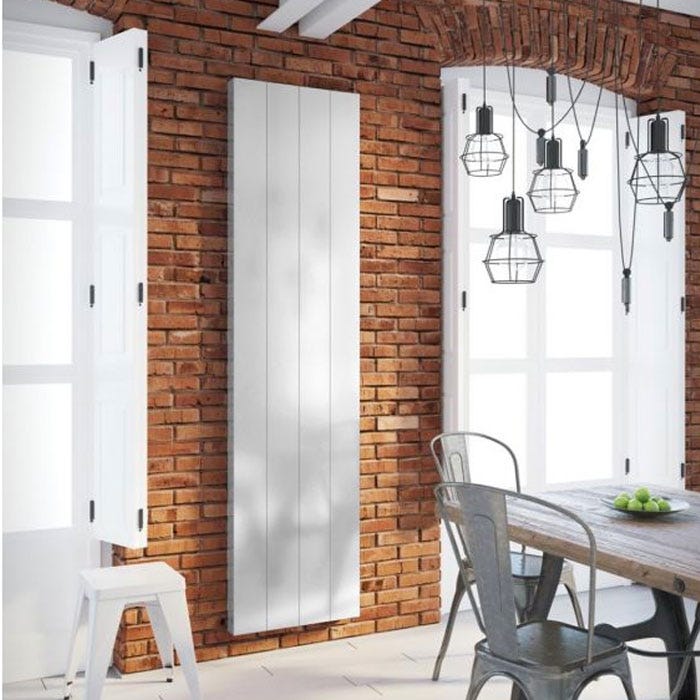 Electric radiators are the most common form of electric heat emitter and are the most popular form of electric heating we sell on our website.
Radiator manufacturers have hugely expanded the types of electric radiator designs over the last decade, so there now are a fantastic range of styles available.
Below are some of the most popular electric radiator designs.
Electric Heated Towel Rails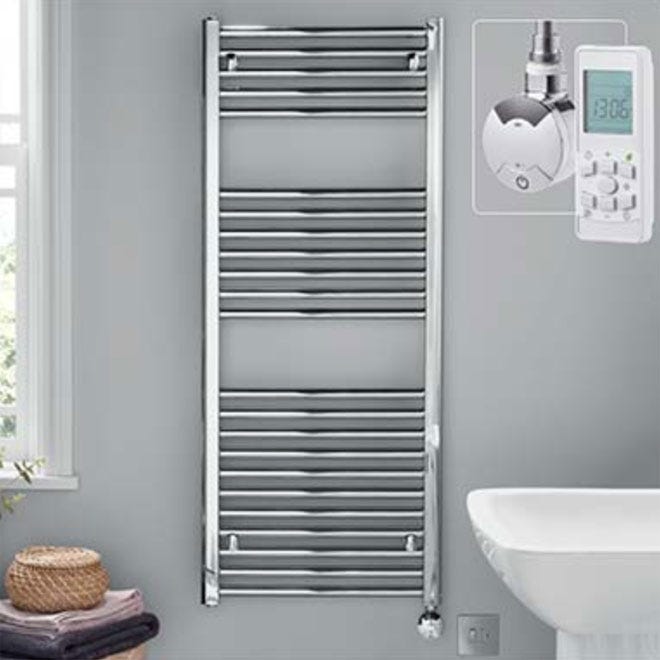 The most popular rooms to install an electric heated towel rail are bathrooms, kitchens or utility rooms.
Not only do they provide the convenience of warming towels and drying laundry or coats, heated towel rails can also serve as an extra source of heat in those areas.
Even if you have a conventional hot water central heating system, installing an electric heated towel rail can be a convenient way of adding a towel warmer without the upheaval of connecting up pipework.
Further reading: The Complete Guide to Heated Towel Rails
Infrared Heating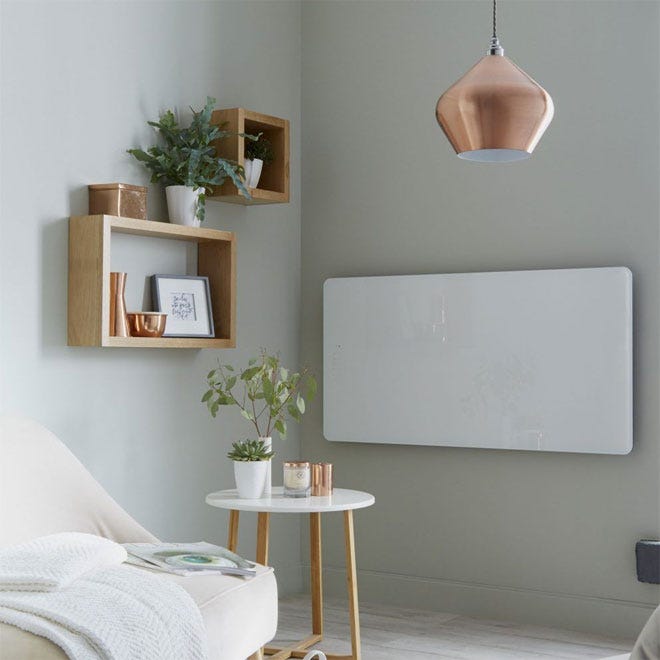 Heating your home by infrared panels is an exciting alternative heating solution that requires virtually no ongoing maintenance.
Infrared waves make the molecules in an object vibrate, causing them to give off heat and warm up the room. This is different from regular radiators which rely on heating the air in the room to keep up the temperature.
As long as there is a power point in your room, an infrared panel can be installed easily and free from stress and often takes up less room than a radiator.
Combined with the fact that 100% of the energy is converted into heat, heating your home via electric infrared panels is a great way of being more environmentally friendly and reducing your carbon footprint.
Further reading: Trade Radiators Infrared Heating Range
Electric Underfloor Heating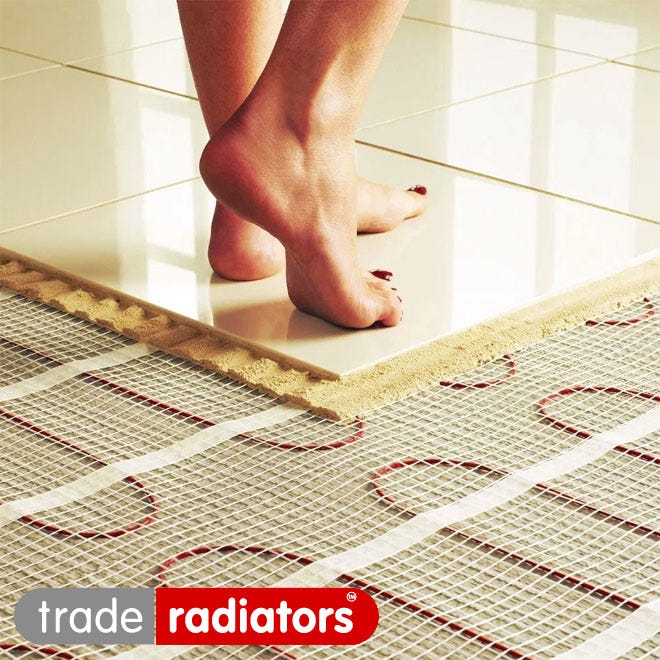 Installing electric underfloor heating can feel lovely underfoot when getting out of bed or the shower on a cold winter morning.
Especially popular for those with tile, stone or wooden flooring, electric underfloor heating can fit into a very small space. This allows the heating to be installed with minimal disruption and without drastically changing the appearance of your floors.
As safety is the most important feature of a home, many people are choosing to install electric underfloor heating as it doesn't use gas or internal fuel. Additionally, this electric heating system is more efficient than a gas powered system because all the energy is converted into heat.
We give you the choice of foil, mat and wired-based underfloor heating systems, meaning you'll be able to find an option that suits your needs and budget.
Further reading: Electric Underfloor Heating at Trade Radiators
Electric Radiators / Heated Towel Rail Sizes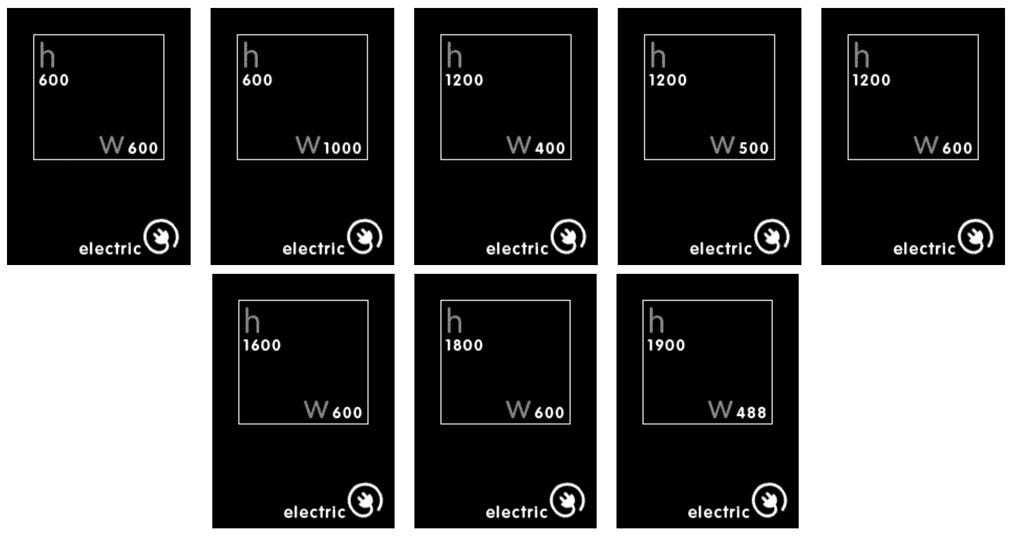 Choosing the right size electric radiator or towel rail is an important decision and depends on the space you have available, the size of the room and the heat output required to bring the room to a comfortable temperature.
Heating Calculator
The easiest way to work out what size radiator you need is to use our simple Heating Calculator.
You can enter the measurements of the room where your radiator or heated towel rail will be installed and our Heating Calculator will tell you the heat output (in BTUs and WATTS) you need to heat your room.
You can then browse our electric radiator range and choose a radiator with dimensions and heat output that matches your requirements.
Use our Heating Calculator to check your heat output requirements
Popular sizes
The size of electric radiator or towel rail you choose is unique to your room. However, below are some of our best selling sizes which you can use as a benchmark and see if they are appropriate for you.
Also consider that an electric radiator will give out more heat than a similarly-sized electric heated towel rail. This is because a radiator has a greater surface area from which it can emit heat.
Most Popular Electric Heating Sizes
Horizontal and vertical radiators
Specifically for electric radiators, don't forget that you have a great range of choice of rads in horizontal or vertical orientations.
This is useful because you may encounter a situation where you have limited horizontal wall space and are struggling to find a horizontal radiator that both fits the space and has enough heat output to warm the room.
Choosing a vertical radiator instead makes use of the upward space and gives you a greater heat output, effectively solving the problem.
If you're considering electric column or cast iron radiators then also take depth (distance from wall) into account. These types of radiators often come with extra rows of columns, making the radiators chunkier. A small but chunky radiator will often fit into a small space but give the same output as a larger, slimmer radiator, which is very useful if your space is limited.
All Electric Vertical Radiators
Popular Colours and Finishes for Electric Heaters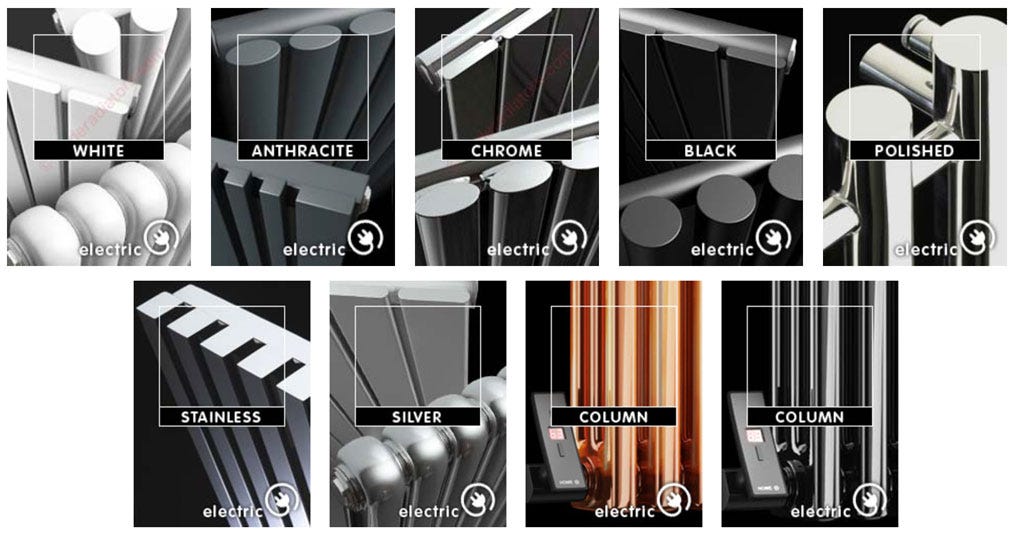 Choosing a Colour
Getting the right colour for your electric heater is important, so it's well worth taking your time when choosing what you want.
There are a huge variety of colours of electric radiators and heated towel rails available. This means it's perfectly possible for you to create a genuinely personal design for the rooms in your home.
Choosing a Finish
Not only can you select the colour you want, but you also choose from a range of finishes for your electric radiator or heated towel rail. Desired finish is a very personal choice and really depends on your interior design plan. We've included some of our most popular finishes below.
Chrome - Chrome is a very popular choice for an electric heater because of the way it catches the light and often matches with things like taps, handles and light fittings. Chrome is a top seller and will look great anywhere.
Polished - Often associated with stainless steel electric radiators and heated towel rails, a polished finish is often considered the height of sophistication. A polished finish usually has the unique ability to look shinier the more it's buffed.
Satin - Also referred to as a 'brushed' finish, satin electric radiators are completed by hand and provide a slightly muted finish when compared to chrome. Satin finishes work really well in kitchens, matching with brushed stainless steel kettles, toasters and hobs.
All Electric Heating Colours & Finishes
Electric Radiators / Heated Towel Rail Brands Available

There are a number of well-respected brands and manufacturers that produce electric radiators and heated towel rails. These brands provide a great choice so you're in capable hands when it comes to making a decision on an electric heater.
Trade Direct
Created by the team here at Trade Radiators, our exclusive Trade Direct brand offers the choice and luxury of designer electric radiators and heated towel rails, but with an economical price tag. Massive range of styles and sizes to choose from.
All Trade Direct Electric Rads and Rails
Lazzarini
A uniquely Italian design, our Lazzarini electric heated towel rails are some of the most stylish you'll find. Anyone looking for an electric towel rail for their bathroom or kitchen should consider Lazzarini, especially a there's choice over 50 styles and sizes.
All Lazzarini Electric Heated Towel Rails
Pisa
A great example of high quality electric heated towel rail manufacture, Pisa is a brand we've been stocking for a very long time. If you're looking for a combination of simplicity and quality for your towel rail the Pisa will provide you with everything you need.
All Pisa Electric Heated Towel Rails
Paladin
You may be surprised to learn that it's possible to have electric cast iron radiators. If you want the ornate look of a cast iron radiator adapted to fit an electrical system, then a Paladin radiator is totally recommended. A efficient and more stylish alternative to plug-in electric heaters.
All Paladin Electric Cast Iron Radiators
Towelrads
Our Towelrads electric radiators use the most up-to-date technology to create electric infrared glass radiators. These sleekly designed heaters give you the freedom to hang them halfway up the wall like a mirror or painting, providing more space at ground level.
All Towelrad Electric Infrared Panels
Yandiya
Also specialising in infrared heat sources, Yandiya provide a range of eye-catching and stylish designs, the likes of which you may not have encountered before. With choices including aluminium and mirrored heating panels, we're very proud of our unique Yandiya range.
All Yandiya Electric Infrared Panels
DQ Heating
One of the UK's best designer radiator brands, DQ provide a top quality range of aluminium electric radiators. Offering a selection of horizontal and vertical electric radiators with modern and contemporary styling, choosing DQ will give you dependable electric heating for years to come.
All DQ Electric Radiators
Best Electric Heating Brands
Electric Heating for Bathrooms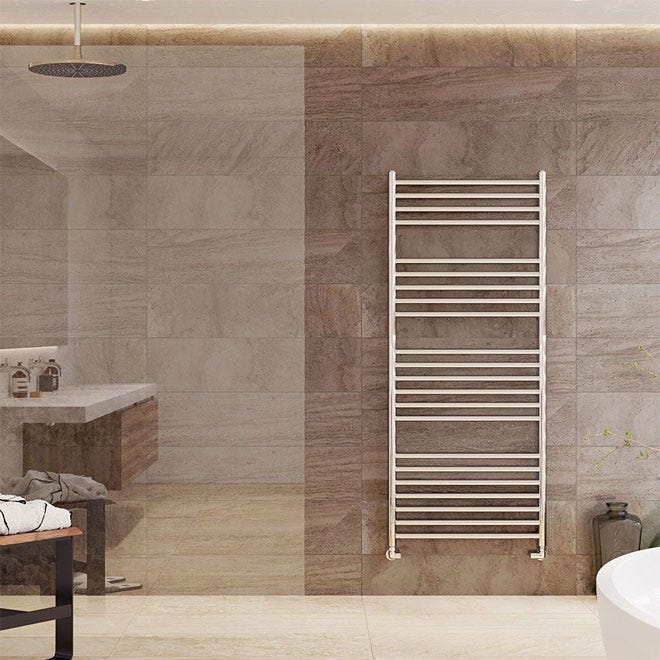 The bathroom is the most common place where people choose to have some sort of electric heating, even if they've got central heating in the rest of the house.
A typical example is someone wishing to add a heated towel rail to their small bathroom. Adding a electric towel rail provides you with all the convenience of warming your towels without the disruption and expense of installing new copper pipework to connect it to the central heating.
Electric towel rail installation is usually a very quick and easy job for a professional electrician.
Electric Heating Accessories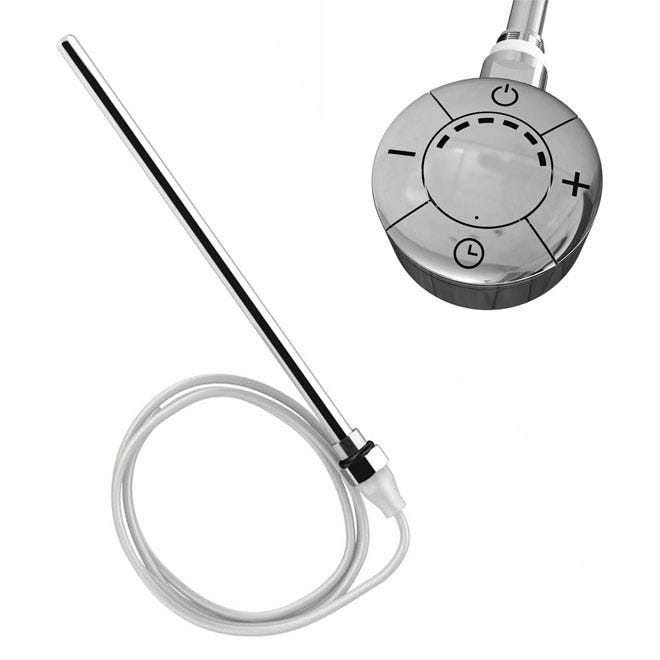 All of our electric radiators and heated towel rails come with everything you need to install them and hang them on the wall. However, there are some additional accessories you can consider to help you get the most out of your electric heating.
Electric Elements - With electric heating, you can have the choice of an electric element that heats up to a single temperature or one that allows you to vary the heat. It is possible to change from one to the other at a later date.
Smart Heating Controls - With some of our electric elements you can choose to add smart controls to them. This means you can decide when you want your electric heating to come on and off and control the temperature of individual heaters to maximise efficiency.
Dual Fuel Conversion Kit - If you have a heated towel rail that is connected to your central heating system, one of our dual fuel kits will allow you to also to connect it to the mains electricity supply. This gives you the ability to switch on your towel rail independently of the main heating system.
Rail Hangers – If you need more hanging space for your towels, you can purchase additional hangers or hooks that stylishly fit onto your heated towel rail for extra versatility.
All Electric Heating Accessories
Electric Heating on Trade Radiators
At Trade Radiators, we have a huge range of electric heating options to choose from. We make the ordering as easy as possible and take great pride in our top quality customer service.
When purchasing electric radiators and heated towel rails from us, you can expect:
Wide Choice Available
Trusted Brands
Comprehensive Guarantees
Free & Fast Delivery
Finance Options Available
Top-Rated Customer Service
Competitive Prices
PART 2 - FAQS AND ADVICE
How does Electric Heating Work?
Electric heating can be defined as radiators and/or heated towel rails that are connected to the mains electricity supply that runs around your home, office, or area you wish to heat.
Every form of electric heater contains an electric element that causes the fluid or tubes inside to heat up and emit warmth.
This is different from a standard central heating system which relies on a network of copper pipes to transfer hot water from a gas-powered boiler into the radiators and heated towel rails around your home.
Electric boilers
Though the most common type of boiler is by far the gas combi boiler, you might be surprised to learn that there are such things as electric boilers.
Electric boilers are a great hot water solution for small and medium-sized homes that don't have access to gas. However, they are limited in the amount of hot water they can produce at any one time so are less suitable for large homes and large families.
The main types of electric boiler are:
Direct Acting - The most common electric boiler, these use a heat element to provide hot water on demand. It's the closest thing to a gas combi boiler in the electric boiler world and is usually cheap and easy to install. Unfortunately these cannot store water overnight.
Storage - These boilers can store water overnight as they come with a water tank. However, they are more expensive than direct action boilers and need much more space due to the large water tanks.
CPSU - This is a large type of boiler that is capable of storing a lot of hot water, enabling it to meet demand as and when needed. However because these Combined Primary Storage Units are so big, they are normal installed at commercial rather than domestic properties.
Dry Storage - Dry storage boilers are useful as they can heat storage bricks overnight when electricity tariffs are cheaper. This heat is then transferred into the water to provide the user with hot water.
Calculating Electric Heating Running Costs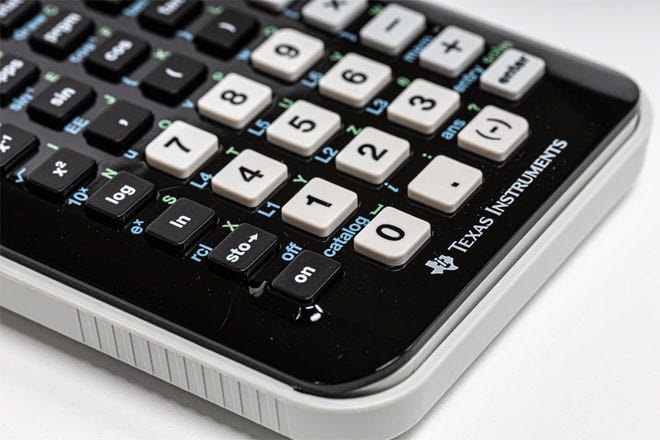 When calculating the financial implications of having an electric heating system, the first thing to establish is how much you pay to your electricity supplier per kilowatt hour (kWh).
This cost can vary from supplier to supplier and can also be affected by factors such as how old your contract is, whether you've recently changed suppliers and if you prepay or not.
Checking your bill should indicate how much you pay per unit of energy. The current UK average cost of electricity is around £0.14 per kWh.
Working out how much electricity your radiator or heated towel will use is not a simple calculation. You need to also consider:
The size of the radiator
How long it will be switched on for
For example, a 1000 Watt (1kW) radiator would cost £0.14 per hour if running at full power.
However, it's likely your electric radiator will have a thermostat which means the power will cut out once it reaches a certain temperature. The thermostat will ensure that the heat emitted keeps your room at the desired temperature.
Let's assume your desired temperature is 20°C and your room loses heat at a rate of 200 kWh. You radiator will emit 200kWh of heat in 1 hour to compensate for the heat loss and so will be running for 12 minutes in that hour.
Therefore, the cost of your electric radiator will be:
£0.14 / 60mins X 12mins = £0.0028 (2.8p) per hour.
There are other factors that will influence heat loss and how much electricity is needed to heat a room, such as:
Insulation - A home with cavity wall and loft insulation will be more energy efficient than a house without insulation.
Room size - A large room with lots of windows will take longer to heat up than small rooms.
Temperature preference - The warmer you like your home, the more energy will be consumed.
Property location - A detached house up a mountain is likely to require more electricity for heat than a terraced house in an urban area.
Changing from Gas to Electric Central Heating
If you have a fully functioning gas central heating system, then it's unlikely you'll be making the change over to an electric heating system.
While one of the main benefits of electric heating is that it is very simple to install, the removal of a gas central heating system is a costly and laborious process.
The system would need to be drained of all water before the complete removal of pipework, radiators and the boiler. It would require the services of a professional and would probably not be a cost effective way of heating your home.
Having electric heating is especially useful for people who don't have access to a mains gas supply, or for those who want to add a radiator or towel rail into rooms that don't have the necessary pipework.
Is Electric Heating More Efficient?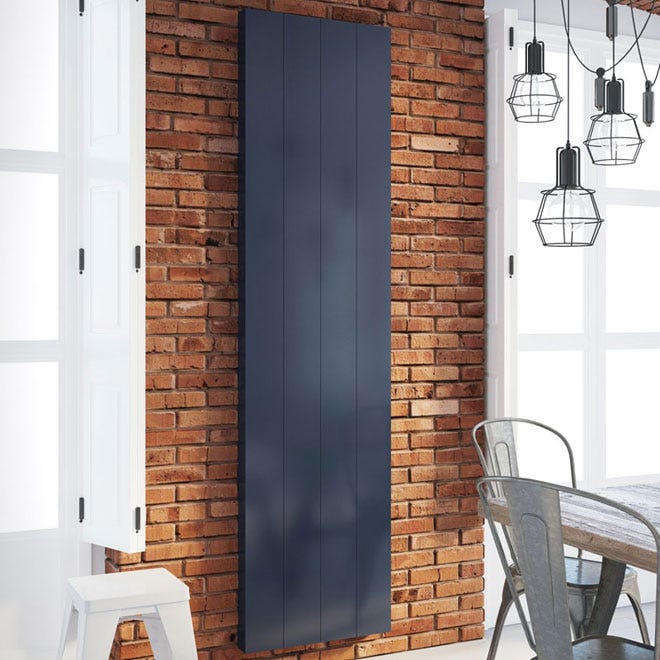 Installing an electric heating system can be a very efficient heating method, especially if your home is well-built, well insulated and has double glazing.
While you must have a qualified electrician to install your electric radiators and heated towel rails, you do not have to face the disruption of pulling up flooring or drilling holes in walls to fit copper piping.
You also don't need to worry about costs associated with gas boiler expenses, such as annual maintenance or replacements.
The manufacturing material of your electric heater can also impact efficiency. For example, aluminium is an excellent conductor of heat and will get up to its optimum temperature much quicker than a radiator made of steel.
We also provide the option of having smart heating controls on many of our electric radiators and towel rails. Smart controls allow you to control the temperature of every radiator in your home.
In effect, this enables you to micromanage your heating, turning down rads in rooms that aren't being used and having them come on and off exactly when you want them to.
Is Electric Heating Bad for You?
Many people have concerns about too much Carbon Monoxide (CO) being produced in their homes and choose to fit carbon monoxide detectors to alert them to dangerous levels of the gas.
However, as electric radiators and towel rails do not burn a combustible fuel (i.e. gas) and therefore do not produce Carbon Monoxide.
Care should be taken not to leave your electric heater on permanently (even though our heaters have safety cutouts) and they should not have furniture, curtains or drapes placed too close to them. Small children should also be kept away to avoid hurting themselves.
When it comes to electric heating and safety, standard common sense should be applied.
Get Advice & Order Online with Trade Radiators
We hope you have found this guide to electric heating informative and helpful. If you need any further guidance or assistance, you are welcome to contact us and our friendly customer support team will be happy to help.
We also have some fantastic articles on our website that can help with all aspects of the heating process.
Browse Our Electric Heating Ranges