Welcome to our comprehensive guide providing you with everything you need to know about heated towel rails.
We'll cover the whole process of choosing, buying and installing a heated towel rail, so that you can get the perfect size, style and finish for your room.
You'll also learn some vital maintenance tips, helping you to increase the longevity of your heated towel rail and to keep your heating running smoothly for years to come.
Please refer to the quick links below to access the most important heated towel rail information for you.
PART 1 - BUYING GUIDE
Types of Heating
The type of heating system you have in your home will determine the kind of heated towel rail you need to install.
Below we cover the three main heating types in UK homes. This will ensure that you choose a towel rail that is compatible with your heating system.
Central Heating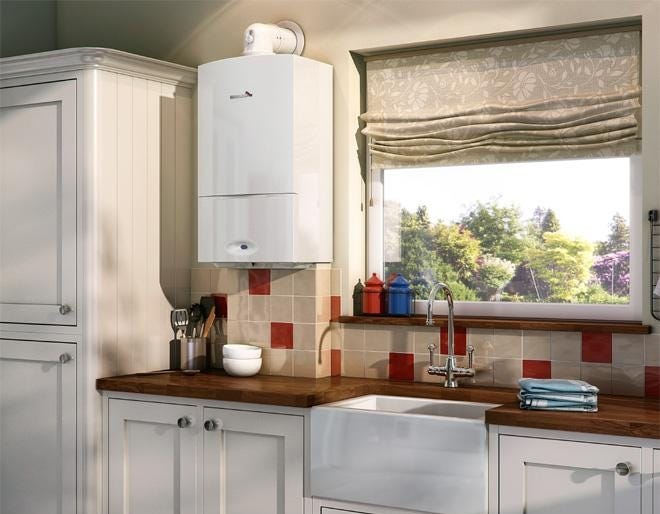 The most common type of heating system in the UK.
A central heating system is powered by a gas boiler connected to a thermostat. The boiler heats up water and pumps it through a network of pipes into your radiators which give off heat.
With a central heating system you'll need a 'standard' heated towel rail. Much like a regular radiator, standard heated towel rails are connected up to your central heating system and have hot water flowing through them to make them hot.
View All Our Central Heating Towel Rails
Electric Heating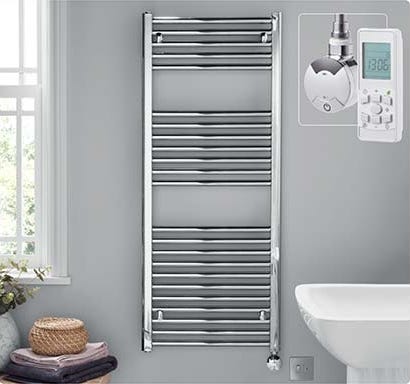 Electric heating systems are powered by the mains electrical supply rather than by a gas boiler. Each radiator or towel rail can be turned on individually as and when you need them.
If you have an electric heating system, you'll need an 'electric' heated towel rail. This type of towel rail should be installed and mains-connected by a qualified electrical engineer.
When choosing an electric heated towel rail, you can choose whether you want it to be non-thermostatic/single heat (the temperature remains the same) or thermostatic/variable heat (you can adjust the temperature settings). A heated towel rail with adjustable temperature settings tends to be slightly more expensive.
View All Our Electric Heated Towel Rails
Dual Fuel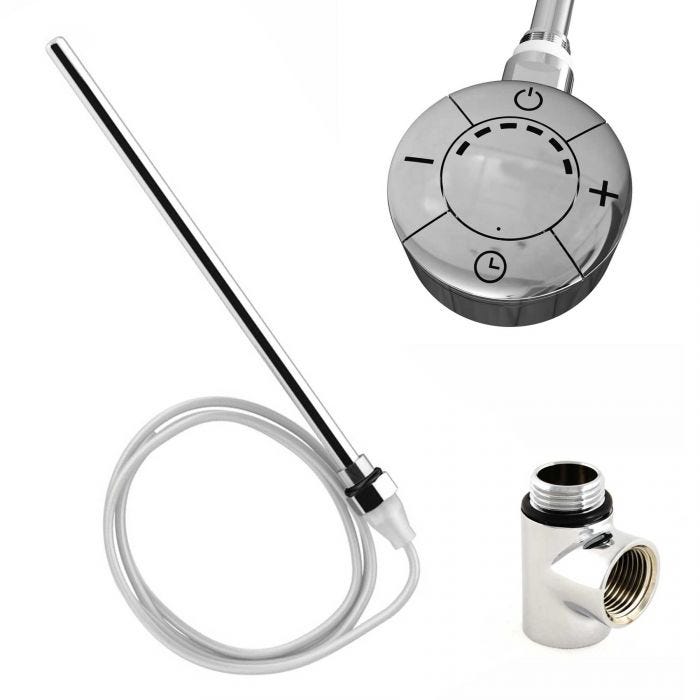 A dual fuel heating system is a combination of the two systems above. It gives you the ability to run your heating via a conventional, gas-powered central heating system or via the mains electricity supply.
While it's fairly uncommon for a whole house to be set up and heated this way, many people choose to install dual fuel heated towel rails in their bathrooms, en-suites or kitchens.
A dual fuel heated towel rail allows you to choose whether or not you want it to come on independently of the central heating system. This can be useful in summer when switching on your central heating would be expensive and unnecessary, but you still want to be able to dry your towels after washing. You can simply switch the towel rail on at the mains and it will run on electricity instead.
View All Our Dual Fuel Heated Towel Rails
Finding the Right Size for Your Heated Towel Rails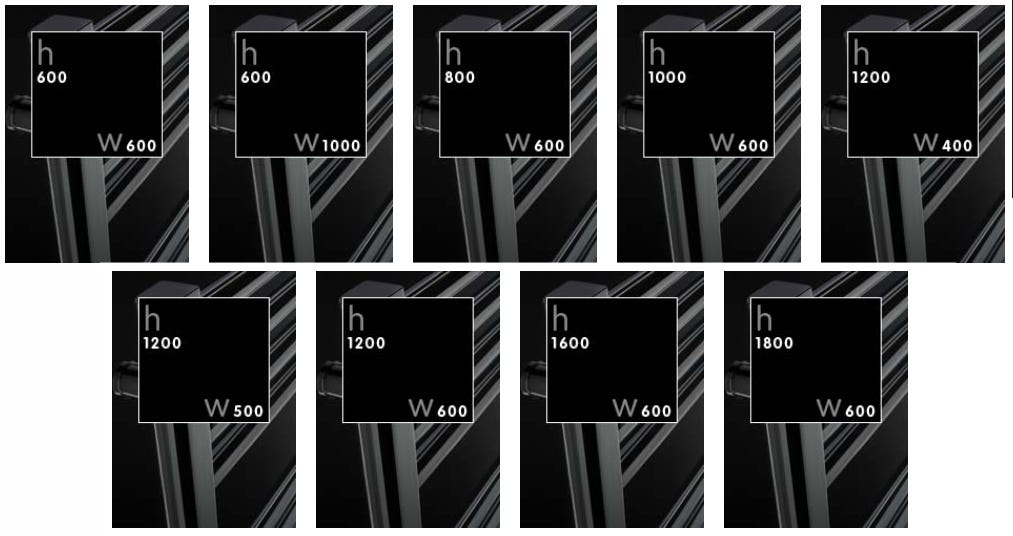 Before thinking about the style and finish of your heated towel rail, it's important to consider what size towel rail you need for your room. This will obviously depend on the space you have available and the heat output needed for your room.
The dimensions of heated towel rails generally tend to be between 600 - 1800mm in height and between 400 - 1000mm in width. Other measurements to consider are the projection (how far the towel rail sticks out from the wall) and pipe centres (the distance between the inlet and outlet pipes).
The size of heated towel rail you choose should also take into account the heat output needed to heat your room adequately. To make this calculation easy, you can measure the dimensions of your room and put them into our handy heating calculator. This will provide you with your heat requirements in BTUs and Watts.
Most Popular Heated Towel Rail Sizes
Choosing a Heated Towel Rail Style
For many people, deciding on the style of heated towel rail that you want to install in your home is the most exciting part of the process.
If this is the first time that you've delved into the world of heated towel rails then you might be pleasantly surprised at the amount of choice. We break down the most common types below to help you make the best heated towel rail decision for your home.
Ladder Towel Rails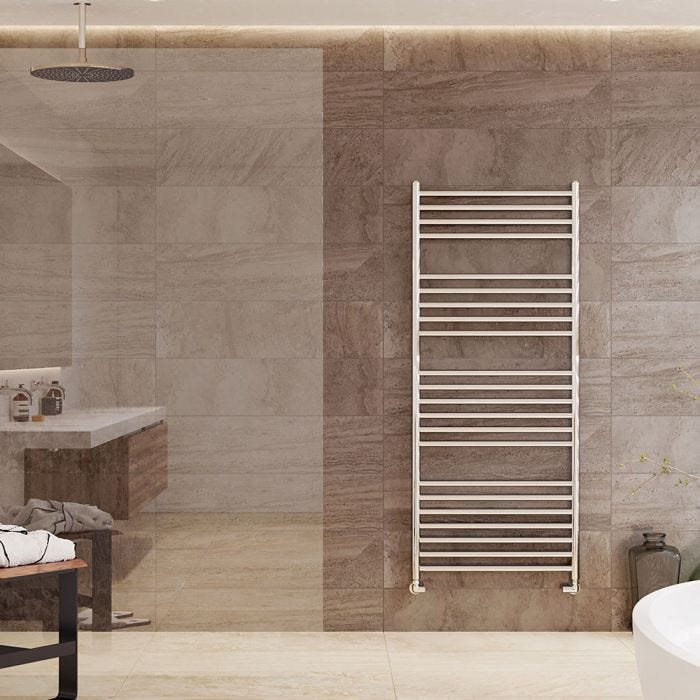 Ladder-style heated towel rails are the most common and popular type of towel rail in the UK.
Known for their stylish simplicity, ladder rails have made a seamless transition from 5 star hotels into bathrooms up and down the country and, as a result there's a massive range of sizes available.
Not only practical, ladder heated towel rails look fantastic in any room they're installed in, including bathrooms, en-suites, and increasingly kitchens.
Horizontal Towel Rails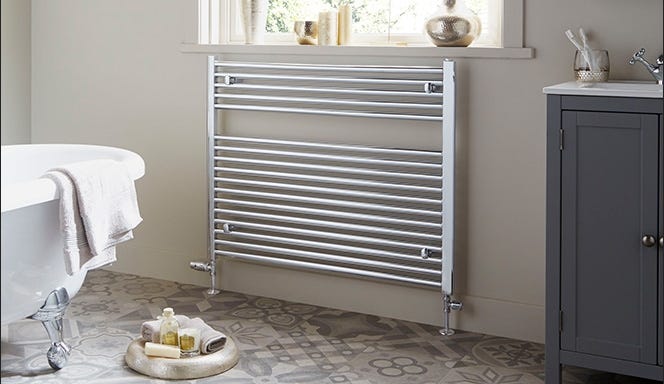 Heated towel rails are often thought of as only being available in the vertical orientation, however, this is not the case.
Not everybody has the space to install a vertical ladder towel rail, especially when working with small bathrooms, en-suites and downstairs toilets.
In these types of room where space is at a premium, horizontal heated towel rails really come into their own and provide a very useful function. Horizontal rads are also very popular for under bathroom windows or cupboards.
Curved Towel Rails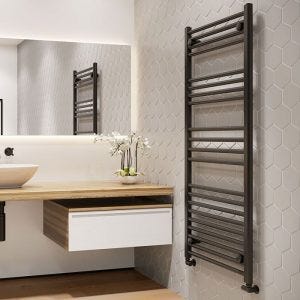 Another popular type of rail, which is a clever variation on the ladder-style, is the curved heated towel rail.
The ingenious design can best be seen when looking at the towel rail in profile, where you can clearly see the horizontal bars curved outwards.
The reason curved heated towel rails have become popular is because the curvature of the bars allow extra space behind the rails. This makes it easier to tuck and hang thick towels, ensuring that they are dried and heated evenly every time.
Traditional Towel Rails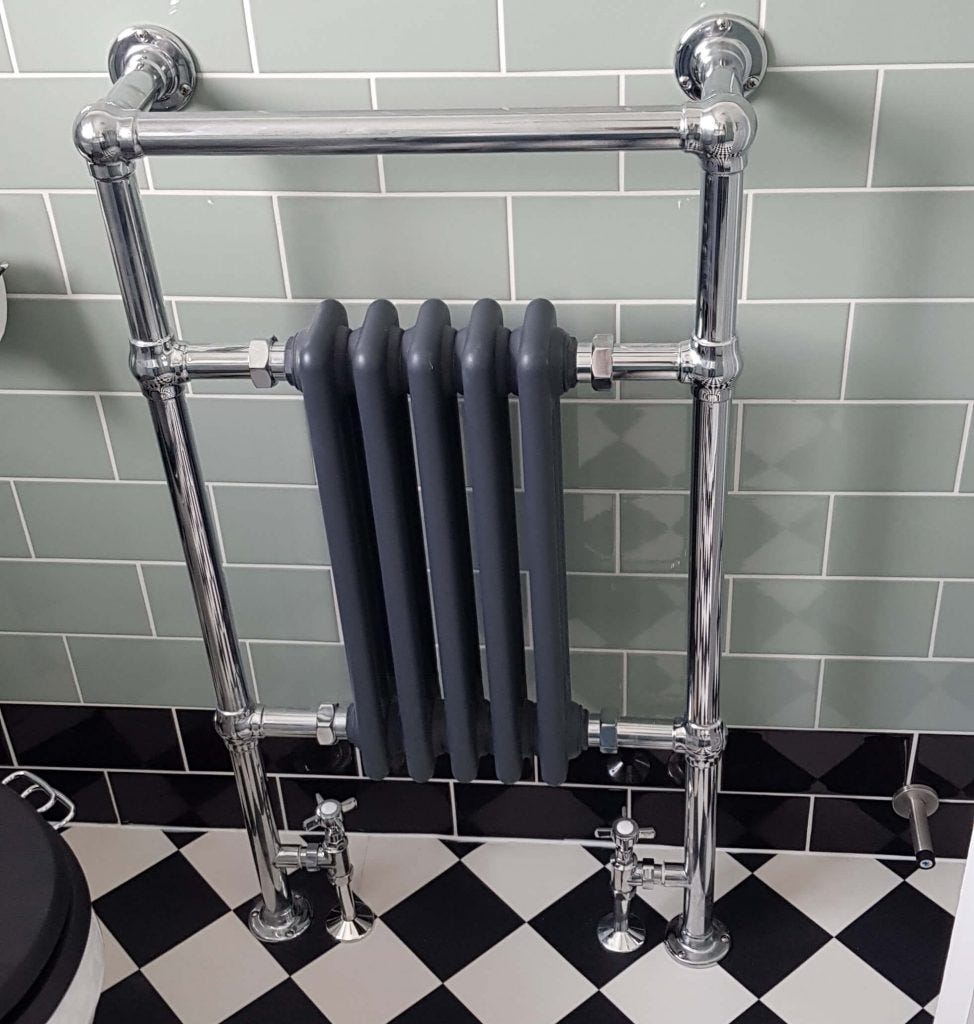 Whether you've got a period property or are simply wanting to inject some homely character into your bathroom, an option worthy of your consideration is the traditional towel.
As well as providing some rustic charm, traditional heated towel rails are also very practical in nature.
Bearing the closest resemblance to a typical radiator, the traditional towel rail emits a high heat output thanks to their large chamber. The chrome heated bar across the top provides ample space for a towel, resulting in the best of both worlds for your bathroom.
Designer Towel Rails
For those with a higher budget looking to achieve a top-end, luxury finish, look no further than the wide variety of design heated towel rails.
Not only do designer towel rails look amazing in high specification homes, but you can also find innovative designs that are not available at lower price points.
The amount of stylish craft and imagination that goes into manufacturing designer heated towel rails is staggering. A towel rail range that must be investigated further by all current and aspiring interior designers.
Choosing a Colour and Finish

There are a huge variety of colours and finishes of heated towel rails available, so it's important to take your time when choosing what you want. This fantastic range of choice means it's perfectly possible for you to create a truly personal design for your bathroom or kitchen.
The most common material in the manufacturing of heated towel rails is mild steel with a chrome or powder coat finish. The towel rails are very popular and tend to be the most economical option.
It's also possible to purchase stainless steel towel rails made from 304-grade stainless steel; a high quality and durable material that is usually at the upper end of the cost scale.
All Heated Towel Rail Colours & Finishes
Popular Towel Rail Colours
Popular Towel Rail Finishes
Polished - For the height of sophistication, nothing can beat the mirrored finish of a nice, clean polished heated towel rail. A polished finish is usually associated with stainless steel rails and they have the unique ability to look shinier the more they're buffed.
Chrome - The most popular type finish is a chrome heated towel rail and is the immediate choice for the majority of people renovating their bathrooms. Other fixtures like taps, light fittings and shower heads are chrome plated, so a matching towel rail always works well.
Satin - Also known as a brushed finish, satin heated towel rails are completed by hand and provide a slightly muted finish when compared to chrome. Satin rails actually work well in kitchens, matching with brushed stainless steel kettles, toasters and hobs.
Heated Towel Rails Brands Available

There are several well-respected brands and manufacturers that operate in the heated towel rail space. These brands provide a large choice in terms of style and budget, so everyone can find the right heated towel rail for the right price.
Trade Direct
Our own-brand heated towel rails, the Trade Direct heated towel rail range provides high quality for an affordable price. These rails come in a wide variety of styles, colours and dimensions, meaning you can get exactly what you want economically.
All Trade Direct Towel Rails
Lazzarini
We offer a handful of these Italian-designed designer heated towel rails. Spilling over with class and sophistication, Lazzarini is a contemporary brand that specialise in producing a varied range of elegant and high quality towel rails.
All Lazzarini Towel Rails
Pisa
Powerful heat outputs and no-nonsense white, black and chrome colour options, Pisa are a well-respected heated towel rail manufacturer designed in Italy. Spanning the petite to the very large, you'll have no trouble finding a Pisa towel rail to fit any bathroom, en-suite or kitchen.
All Pisa Towel Rails
Reina
This stylish brand is the cream of the crop when it comes to designing modern heated towel rails for bathrooms. The variety of innovative designs makes these towel rails a serious consideration for anyone installing a cutting edge wet room in their home.
All Pisa Towel Rails
Best Heated Towel Rail Brands
Best Heated Towel Rails for Small Bathrooms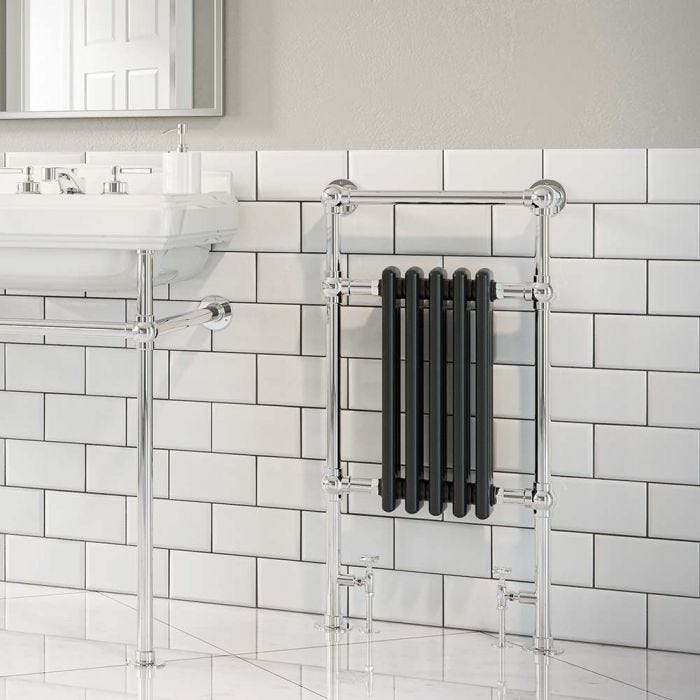 When planning the remodelling of a small bathroom or the creation of an en-suite, it can be quite challenging to fit in a full size heated towel rail.
However, just because you are working with a small space, it certainly doesn't mean you have to miss out on luxuries normally associated with bigger bathrooms.
For example, our Trade Direct 600 x 400mm chrome heated towel rail is a fantastic option for small spaces at a very affordable price. If you wanted something slightly more luxurious, there is a stainless steel rail option with the same dimensions - perfect for injecting big style into a small space.
Where Should You Place Your Heated Towel Rails?
For those with small bathrooms, it may be a case of squeezing one in where you can or where the existing pipes come out of the wall or floor.
If you have space then installing your heated towel rail within reaching distance of the bath or shower is always a practical option.
An electric towel rail provides more flexibility as you aren't reliant on any pipework. The most important thing is that placement is convenient for you and the heat can radiate out into the room without being blocked by doors or furniture.
Can You Heat a Bathroom with a Heated Towel Rail?
A heated towel rail emits less heat than a similarly-sized radiator due to its smaller surface area, so in an ideal situation, we'd recommend you also install a radiator to ensure your room is adequately heated.
In reality, however, this is not always practical, so it's important you use our heating calculator to establish what heat output your room requires.
An 'average' family bathroom in the UK measures approximately 2.5m(H) x 2.5m(W) x 2.5m(L). In order to heat the room to a comfortable temperature, the heated towel rail would need to emit around 1150 BTUs.
Stainless steel heated towel rails provide high heat outputs relative to their size, so this 650 x 500mm Trade Direct Rail would be a suitable example for our family bathroom.
Heated towel rails connected to the central heating system are fine to leave on all the time, just like a radiator. If you have an electric heated towel rail, be vigilant about any damage to the power cord and perhaps limit usage to when you need it rather than leaving it on continuously.
Towel Rail Accessories You May Need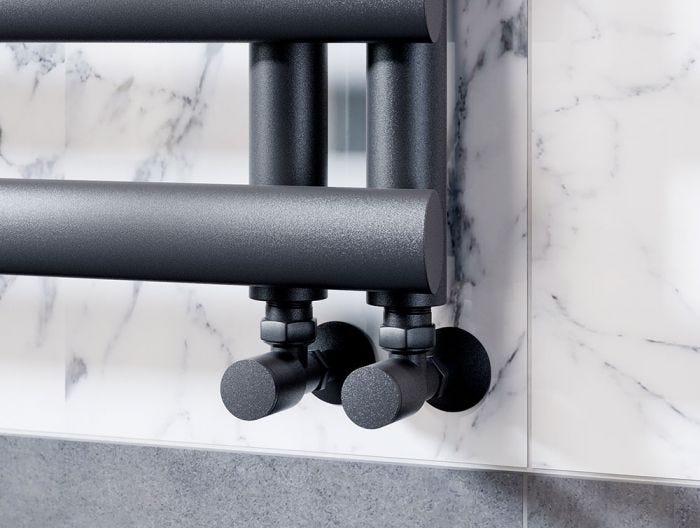 Our heated towel rails come with everything you need to install them and fix them to the wall. However, there are some additional accessories you may want to consider to ensure that you get the most out of your towel rail.
Valves - If you have a conventional central heating system, then you will need a pair of radiator valves in order to connect your heated towel rail to your heating system's pipework.
Heating Element - If you have an electric or dual fuel towel rail you will need to select a heating element. You will have the choice of single or variable heat elements with optional smart controls.
Rail Hangers - If you need more hanging space for your towels, you can purchase additional hangers or hooks that stylishly fit onto your heated towel rail for extra versatility.
Tail Extensions - Radiator tail extensions are needed when a radiator cannot attach securely to the pipework. The standard for a UK radiator connection is 15mm but some older pipes are narrower. Tail extensions are a simple way to solve this problem.
Chemical Inhibitor - Inhibitor helps to prevent corrosion in standard central heating systems. The easiest way to top up your inhibitor levels is via the valve in a heated towel rail.
Handy Heated Towel Rail Accessories
Buying Heated Towel Rails with Trade Radiators
At Trade Radiators, we have a massive range of heated towel rails to choose from. We make the order process as easy as possible and take pride in our high-quality customer service.
When purchasing a heated towel rail from us, you can expect:
Long, comprehensive guarantees
Free and fast delivery
Top-rated customer service
Competitive prices
Finance options available
PART 2 - INSTALLATION AND MAINTENANCE ADVICE
How to Install Heated Towel Rails
If you don't have any experience of DIY or plumbing then we recommend you avoid doing this job yourself and employing the services of a plumber.
That being said, if you have tackled DIY jobs at home in the past and have a conventional central heating system, then installing a heated towel rail is often one of the less complicated tasks.
An excellent starting point is to make sure your central heating system is fully switched off and drained down. Below we include some step-by-step videos for you to follow along to ensure you're doing everything correctly.
Please note, for installation of electric and dual fuel heated towel rails, you must use a fully qualified electrician to connect the rails to the mains electricity supply. This is a very important point and should not be attempted by anyone other than a qualified professional.
How Much Does it Cost to get a Towel Rail Fitted?
The type of heating system you have, whether new pipes need to be installed, who's doing the work and even what part of the country you live in are just some of the many variables that can affect the final cost of your heated towel rail installation.
That being said, here are some approximate figures that you can expect to pay a professional to do the work:
Standard Heated Towel Rail
£200 – £300 for labour, £150 for the towel rail
Electric Heated Towel Rail
£200 - £300 for labour, £150 – £200 for the towel rail
Dual Fuel Heated Towel Rail
£300 – £500 for labour, £150 – £200 for the towel rail
How to Adjust or Replace Heated Towel Rail Valves
There may come a time when you need to replace the valves attached to your heated towel rail.
Sometimes this can be due to a valve that has developed a fault, while at other times it can be for aesthetic reasons. However, the most popular reason for changing heated towel rail valves is to upgrade to thermostatic radiator valves.
TRVs, as we call them in the trade, are a very effective way of having extra control over your heating. They allow you to set your radiators or towel rails to come on when rooms drop to a certain temperature.
If the room gets too cold, the TRV will allow water to flow into the radiator and when the room reaches the optimal temperature, it will cut off the supply of water to stop the room getting too hot.
Thermostatic radiator valves help regulate central heating usage and therefore can be a useful tool in keeping down heating bills for conventional central heating systems.
Below we include some step by step guides on how TRVs work and how to install them.
How to Bleed Heated Towel Rails
Just like taking a car for a service or an MOT, keeping your heating system well maintained is very important in ensuring it runs smoothly especially when you need it most.
One of the simplest maintenance tasks you can do yourself is bleeding a heated towel rail. If your towel rail is on but isn't getting hot at the top, the most likely reason is there's air in the system.
This can sometimes be caused by not having the central heating on for a long time, such as at the end of summer or if air has worked its way into your system another way.
Whatever the reason, bleeding your towel rail is very simple and can solve a non-functioning heated towel rail without needing to call on a professional. The video below takes you through this process step by step.
HOW TO BLEED A HEATED TOWEL RAIL
How to Clean Heated Towel Rails
As well as making sure that your towel rails and central heating system are healthy on the inside, it does no harm at all to keep those rails clean on the outside.
The most common rooms to install heated towel rails are in bathrooms, kitchens and utility rooms.
All of these are busy areas and inevitably result in dirt, dust and grime, so its important to keep your rails looking their best with regular cleaning. Indeed, stainless steel often looks even better with regular polishing, providing you with more incentive to keep them clean.
Not only will you feel more proud of your well-maintained heated towel rails, but regular cleaning will also help preserve the quality of the finish, keeping your towel rails looking fantastic for years to come.
Get Advice and Order Online with Trade Radiators
We hope you have found this guide to heated towel rails helpful and informative. If you require any further help or assistance, please do not hesitate to get in touch with us and our friendly customer support team will be happy to answer any questions or provide guidance.
We also have some fantastic articles on our website that can help with all aspects of the radiator and heated towel rail order process.
Our full range of radiators and heated towel rails is available at TradeRadiators.com
Browse Our Heated Towel Rail Ranges