The Complete Guide to Radiator Valves

Welcome to Trade Radiator's Complete Guide to Radiator Valves.
Consider this your one and only guide in understanding anything and everything you'd ever need to know about radiator valves. We wanted to provide our customers with a specialised guide which can help with every aspect of finding, buying, installing and maintaining the most appropriate radiator valve for any radiator installation.
In this guide, we'll help you understand why there are different types of valves, which styles and colours to buy for your radiators, how valves work, when you'll have to change or buy a new valve, and other important radiator valve topics you'll need to consider with any purchase.
Whether this is your first time buying radiator valves, or you're looking to learn more about how they work and what you can do at home to make them perform without any issues, you'll find it here.
In this guide, we're going to cover two specific areas; buying a valve and advice on using valves. Here is everything we'll be looking at:
Part 1 - Buying Guide
How to Find Which Radiator Valves You Need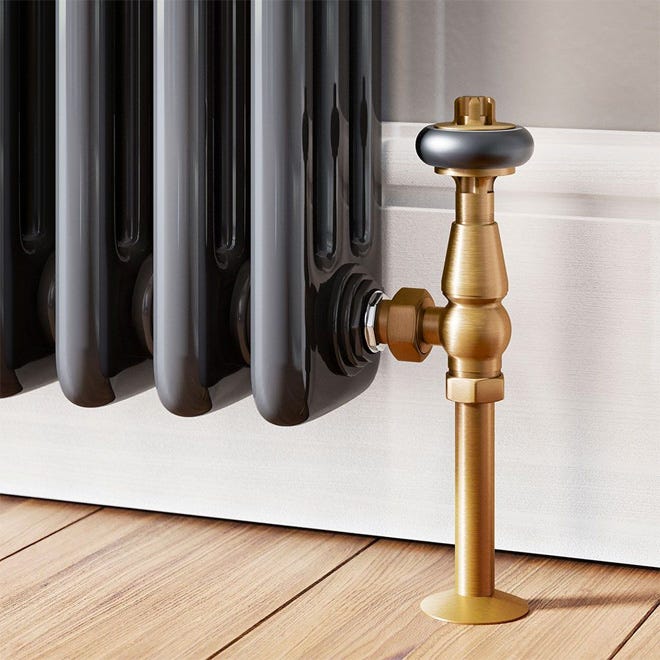 So you need to buy a new radiator valve and don't know where to start. A bit like buying a new radiator, knowing how to find which radiator valves you need can be confusing if you don't know what to look for, the role your valves need to play, and how you want them to look when installed.
When buying a new radiator valve, you'll want to consider:
Size
Shape
Finish & Colour
Functionality
The brand
Price
If you need accessories
It might sound like a lot to consider, but it's incredibly easy when you have the information and resources from Trade Radiators to help you find the most suitable products (and this guide of course).
For example, someone looking for radiator valves which complement their home interiors can get inspiration from our blog here, while those looking to impress can look at the latest radiator products we have in stock and find a striking design which matches their décor to perfection.
You'll also want to think about whether you want your valves to match the look of your radiator, or if you want a unique design that adds some character to the installation.
The Different Types of Radiator Valves
Did you know that there are generally eight different types of radiator valve you can choose from? It's something most people wouldn't be able to recite from memory, or even know how to categorise when shown each valve.
We think having the knowledge to differentiate between valve types is the most crucial aspect in helping to buy new valves. It helps customers avoid making the mistake of buying a valve that looks great but doesn't work with the existing heating system at all.
Having the correct type also provides a user with a better level of control in each specific radiator unit.
The different types of radiator valve are:
Thermostatic Radiator Valve
Manual Radiator Valve
Dual-Fuel Radiator Valve
Traditional Radiator Valve
Modern Radiator Valve
Straight Radiator Valve
Angled Radiator Valve
Corner Radiator Valve
Here is some information about each of these valve types.
Thermostatic Radiator Valves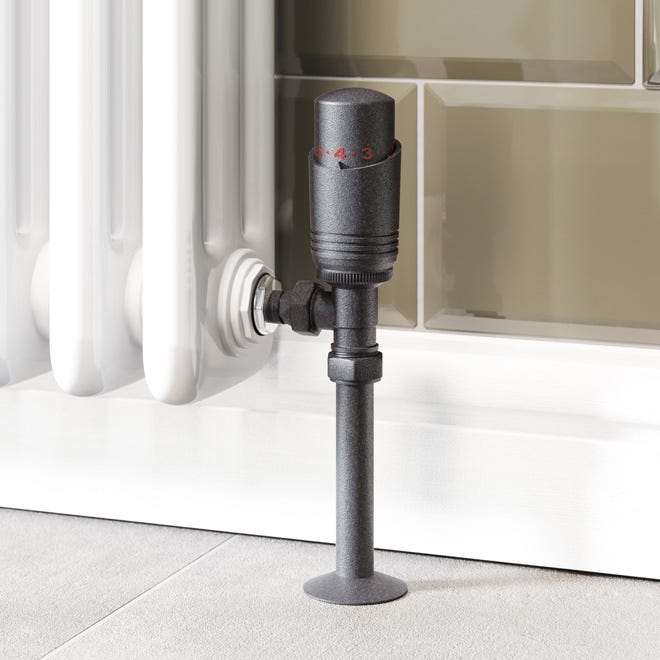 Now the most common type of radiator to be installed in the UK, thermostatic radiator valves offer the user a level of flexibility that makes it easy for the user to have a space heated just how they like it. They typically are made with a dial on top which can be turned from 1 to 5.
The numbers on the valve react to the temperature of the room, not the internal temperature of the radiator, allowing for a specific level of water to enter your radiator. You can read this guide to get a rough idea of what temperature the numbers relate to, but it can differ depending on the manufacturer.
Browse Our Thermostatic Radiator Valves
Manual Radiator Valves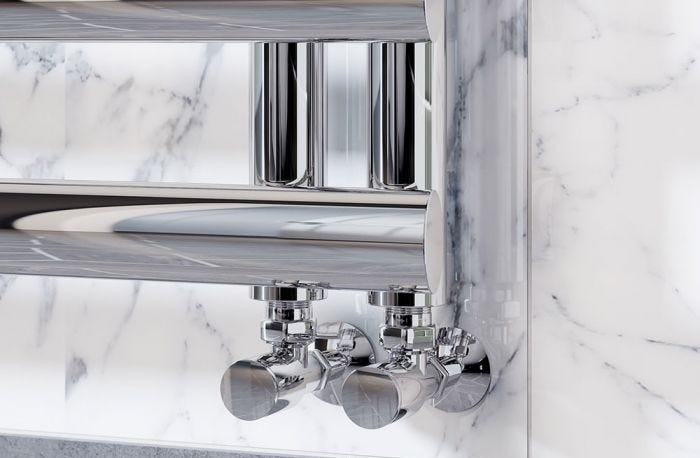 The simplest to operate and the most discrete, if you're handy with a manual radiator valve you are practically a master with any heating system.
Manual radiator valves have a simple on/off internal system at play. You adjust them manually to let the desired level of hot water needed into the radiator. They are typically small valves.
Unlike a thermostatic valve where you can adjust the valve to a certain number and leave it alone, a manual valve requires you to get familiar with where a valve's "sweet spot" is, so it may take a few attempts to get it right in every room. Manual valves are standard when you have a separate thermostat in the room, or want to work off a central thermostat.
Browse Our Manual Radiator Valves
Dual Fuel Radiator Valves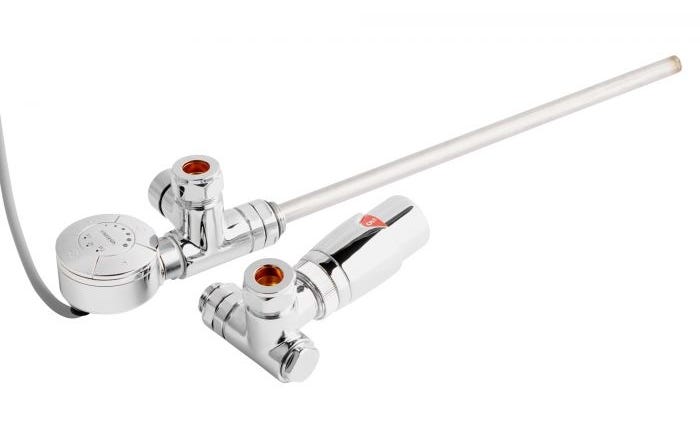 Sometimes you'll find that you need a radiator that can be used with your existing central heating system while also acting independently.
That's what dual-fuel radiators do. With the radiator having an internal element that operates separately, a dual-fuel radiator valve needs to be able to adjust to the heat output from your standard heating and provide the right level of heat when the electric element is in use.
The main benefit of these valves is that they negate the need to have new pipework carried out.
Browse Our Dual Fuel Radiator Valves
Traditional Radiator Valves
The valve type most commonly confused with manual radiator valves, the "traditional" refers to the shape and style of the valve.
Traditional radiator valves typically have a polished round or lever handle on top, with a similarly designed lockshield. They can come as a thermostatic or manual valve type depending on the level of control you want from the radiator.
Browse Our Traditional Radiator Valves
Modern Radiator Valves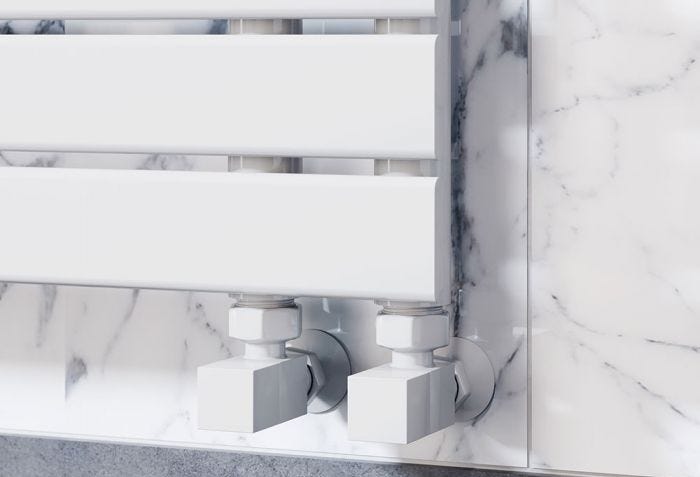 While a traditional radiator valve has an ornate feeling to it, modern radiator valves tend to have a more minimal and less-imposing look to them. Modern radiator valves are usually smaller and have as few design features as possible.
They are ideally suited to spaces where you want to create a contemporary décor and simply need a valve that looks the part.
Browse Our Modern Radiator Valves
Straight Radiator Valves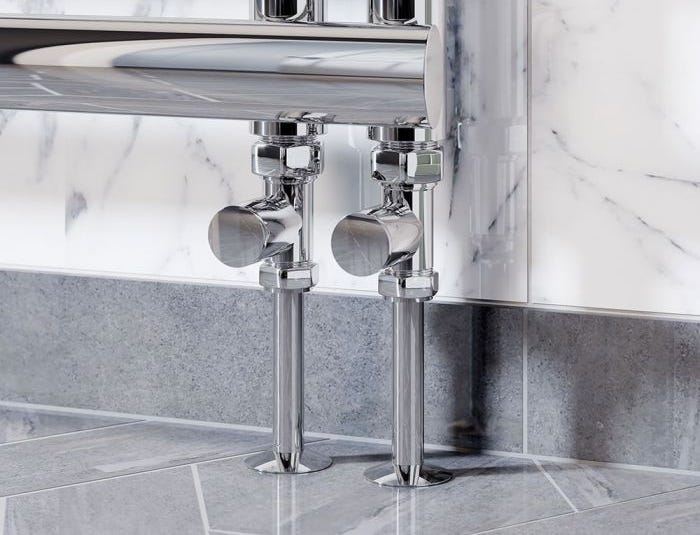 Pipework will traditionally come straight out of the floor and meet a radiator at a 90° angle. In some instances, the pipework has to meet the radiator in a straight line without any bends. This is when you need a straight radiator valve.
They provide a clean vertical connection that is a common sight when dealing with towel rails and some radiators which need to be hung higher up on walls.
Browse Our Straight Radiator Valves
Angled Radiator Valves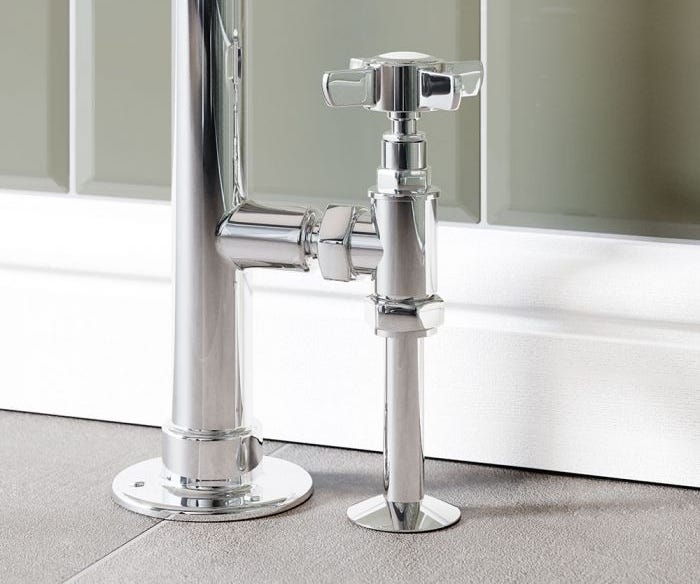 Angled radiator valves are the most common set-up you'll find. Anywhere your radiator has to make a 90° connection on the vertical plane, an angled radiator valve is needed.
A quick rule of thumb is this: If the right angle is up and in, you need an angled valve. If the right angle is out (i.e. protrudes towards you) and in, you need a corner valve.
Browse Our Angled Radiator Valves
Corner Radiator Valves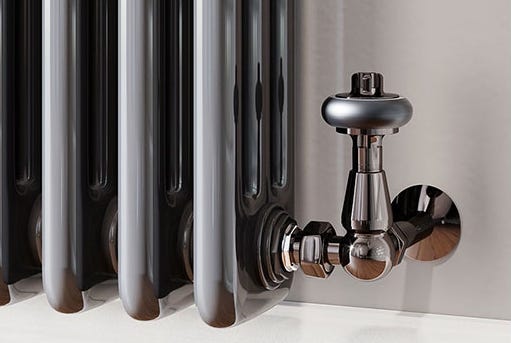 While most radiators will see valves meet the pipework at a 90° vertical angle, corner radiator valves are made for use on a horizontal plane, i.e. when pipes come out from the wall and not the floor.
You mustn't accidentally buy corner valves for a traditional radiator installation as they can't be adapted.
Browse Our Corner Radiator Valves
Radiator Valve Sizes Available

Most people don't know that they can get different sizes of radiator valves. Mistakenly buying the wrong size could see you end up with a valve that won't go on no matter how hard you try.
Now the issue isn't because your radiator has a weird valve size but will be due to the pipes your radiator is connecting to being out of the ordinary. Most rooms in the UK have 15mm pipes as standard, but you may find a pipe to be 8mm,10mm or 22mm. The size can tell an interesting story about the history of a house, and changes made throughout the years.
22mm radiator valves are needed for your radiator to attach to a wider pipe. Wider pipes are generally used when the position of the radiator means it needs a higher flow of water. Sometimes you'll find 22mm entries in the bathroom, as wider pipes were fitted to allow greater flow from your hot water tank to the bathroom.
10mm radiator valves are usually needed when you have a single radiator which was added to your existing heating system. It's not common for an entire house to have 10mm pipes but having a radiator in the likes of a conservatory can sometimes see these pipes (and valves) needed.
8mm radiator valves are needed when a room or home has had microbore pipes installed. This was quite common in houses built in the mid to late 20th century, as it was seen as a cost and space-saving measure. The thinking was that smaller pipes minimise heat loss as water as you're working with a smaller volume of water. Rather annoyingly, microbore pipes are more susceptible to blockages and kinks in the pipe.
Always check the size of the valve you need before buying (it's the diameter).
View All Our Radiator Valves by Size
Choosing a Colour or Finish for Your Valves
The great thing about radiator valves is that they are just as customisable in colour and finish as your radiator can be. There is nothing worse than having a lovely new radiator installed, only to have the installation look a little out of place, with valves (for lack of a better phrase) sticking out like a sore thumb.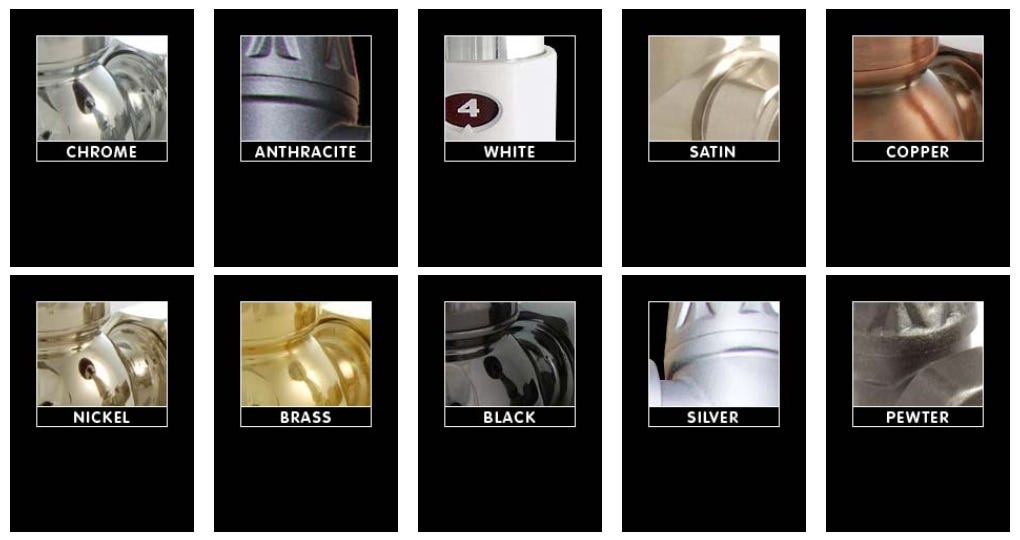 Having a specific finish from your radiator valve can help to add some style, especially if you're working with a unique radiator or a heated towel rail.
Popular Colours
Some of the most popular radiator valve colours include:
Anthracite
Black
Brass
Chrome
Copper
Nickel
Pewter
Satin
Silver
White
An exceedingly popular colour now with people who are making a point of incorporating more greys and slate finishes in their kitchens and bathrooms.
Best to keep things simple when you have a black radiator or towel rail. They can also make for a unique look on darker cast iron radiators.
A surprisingly hard look to pull off, it lends itself best to rooms where you have other brass fitting and fixtures or are looking for a valve colour to juxtapose a black or anthracite radiator.
Extremely popular in bathrooms, the chrome valve is your best friend when buying a new towel rail.
Fantastic when you have copper pipes in a similar shade and want to have a radiator unit that seems to stand alone.
Some people shy away from nickel because they think it is high maintenance. A reliable valve though won't require any special cleaning or sprucing up to give a good shine.
Looks great when you have a tiled floor and darker colour radiator. It's more common to opt for a pewter valve with the traditional screw head on top.
Unlike nickel or silver, satin has a deeper brushed finish which lends itself well in spaces use a lot of greys or neutral tones.
Want a valve with a touch of sparkle? Silver works well in rooms that rely on a lot of light, like your bathroom.
Ideal for when you want a traditional looking valve to match a traditional white radiator.
View All Our Radiator Valves by Colour
Radiator Valve Brands

Unlike the wide range of brands in the market, creating high-quality and designer radiators, there aren't many who would be well-known for making radiator valves.
Often seen as the last thing to think about, the valve is the most important component of a radiator installation, so it helps to know which brands can be depended upon for a high-quality product.
Radiator valve brands you should consider include:
Trade Direct
Trade Direct is a bit of a surprise name in the valve world, as it is a brand the team at Trade Radiators developed in house. Working with radiators every day, we realised that most of the market didn't offer a wide variety of valves unless the customer was forced to pay a premium.
Things are a little bit different (for the better) with Trade Direct. Dealing primarily with modern styled valves, to help customers find matching valves for designer radiators, it is a good choice when you want a designer product without the designer price tag.
You can shop the Trade Direct radiator valve range here.
West
West is arguably the standard-bearer of the valve world. They build resilient and long-lasting products that work a dream. When it comes to finishes and shapes, they are the most comprehensive brands in the UK by a long stretch. Anyone looking for a high-quality pewter, anthracite or polished copper valve can't go wrong with West.
You can shop the West radiator valve range here.
View All Our Best Radiator Valve Brands
Tools and Radiator Valve Accessories

While the radiator valve is an essential accessory you need to complete a radiator installation, there are a few tools and radiator valve accessories you should know about to help finish off a new radiator in style.
Radiator accessories you will want to consider include:
Reducers
Extenders
Plugs & Caps
Pipe sleeves
Pipe sleeves are undoubtedly the best valve accessory you can buy, especially if you're popping a new valve onto an older unit. Radiator pipes are something that people won't take much care of and are prone to getting paint and marks on them over the years. New sleeves can be cut to length and popped over the pipe to look brand new; a much cheaper alternative than getting them stripped and recoated.
Reducers are great to have when you've purchased radiator valves which don't match the pipe sleeves. Instead of buying another valve, reducers work as an adaptor between your pipe and valve without flow disruption.
Extenders are there to help a hand when you get a lovely new radiator and valve ready to go, only to realise they can't meet up and have a space you need to join together. Most extenders are made from brass and have a chrome finish.
When buying new valves, check out all accessories here to make sure you have everything you need for the perfect installation.
View All Our Radiator Valve Accessories
Buying Radiator Valves with Trade Radiators
The best way to shop for a radiator valve is to use a store that has a wide range on offer and can provide customers with new valves as quickly as possible. That's what you can expect when shopping at Trade Radiators.
We are the UK's best online store for anything and everything radiator related, and our valves are no different. Every customer of ours is guaranteed:
Free & Fast Delivery
Finance Options Available
Top-Rated Customer Service
Competitive Prices
When you order a new radiator valve before 2 pm, we will aim to have your new valves delivered by next working day, so you never have to wait around for a valve.
If you need help finding the right radiator valve, or don't know where to start with getting the ideal valve for your radiator, you can always get in touch with our sales team who are happy to help. Visit our contact page, or click the small chat icon on the corner of the page to chat directly with the team.
Part 2 - Advice and How-to Guides
For being such a small and simple looking piece of kit, there's a lot to learn when working with radiator valves.
While most of us will only ever have to use a valve when getting a room nice and toasty, knowing what's going on when you use a radiator valve & how to fix common problems valves can create help a lot.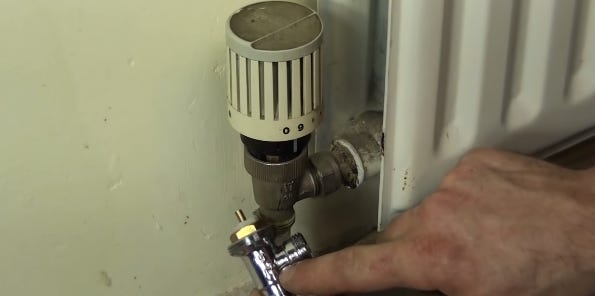 We'll be looking at:
How radiator valves work
How to fit a radiator valve
How to change a radiator valve
When to do when a radiator valve leaks
Thermostatic radiator valve settings explained
If there's a particular issue you're facing, we recommend visiting our blog's DIY & Troubleshooting section, where we have articles and videos that cover many standard radiator and radiator valve problems at home.
And for anyone who likes to get savvy with their home heating, our blog's Energy & Heating section is where you'll find all the tips and tricks usually reserved for those working in the trades.
How Radiator Valves Work
Think of the radiator valve as the small but mighty piece of kit that controls everything your radiators does.
Good knowledge of your radiator valve can be the difference between a room heated just the way you like it and space where you're always frustrated by a radiator that won't work how you want it to.
Radiator valves work by regulating the level of hot water passing through the radiators in your central heating system. The valve acts as the control in varying degrees depending on the valve you use.
In the most basic sense, hot water flows through a pipe and meets your radiator. It goes to the valve to see if it can get in. If the valve is closed, it moves on. If the valve is open fully (or controlled by a thermostatic valve), the water comes in, and the radiator gets warm.
When you have a manual radiator valve attached, it works like an on/off switch. How hot the radiator is supposed to get will be determined by the thermostat you have in the room or your central thermostat.
Thermostatic radiator valves provide the same on/off function, but also allow for you to control the temperature of an individual radiator in more detail. While the central thermostat dictates the thermostat, the dials on a thermostatic valve are your way of choosing how hot you want the room to be.
Some people get confused over the function of the numbers of the dials. It's all too common to have a cold room where the radiator is warm, but the valve is set to 2 or 3. Most people will crack it to 5 in the hopes it gets warm, when in fact, they're not helping at all.
This video helps explain why in more detail:
The type of valve you need will depend entirely on the system you have, and what functionality you need from a valve. That's why there are different types like dual-fuel for integrated systems, and different shapes for angled, corner, and straight connections.
How to Fit a Radiator Valve
Fitting a radiator valve can be easy if you know the process and what precautions to take.
If you're installing a valve on a new radiator, you can get the valve fitted before the radiator is hung on the wall, (some people will tend to hang the radiator first and then fit in situ, but it can be quite tricky).
Here are the steps you need to take to fit a new radiator valve:
With the radiator secured, remove the plastic caps
Your valve will usually come in a box in separate parts. Familiarise yourself with each one.
Find the thread which will be going into the radiator, and wrap a few layers of PTFE tape around it (anywhere from 4 to 8 rotations). You're doing this to avoid any leaks.
Insert the taped thread and tighten it in place. You want to avoid overdoing it to prevent the tape from snapping, or the inside thread getting damaged.
Install the valve and secure the nut, making sure the spindle is facing up.
You should have a pipe nut and olive on the bottom of the valve. Remove them and pop them on the pipe.
Get help lifting the radiator and placing the valve on top of the pipe.
Tighten the nuts on both sides of the valve to ensure a secure connection.
If it's a manual vale, pop the cap on. If it's a thermostatic valve, install the thermostat unit and double-check the valve can turn when in place.
Turn the heating on and let the radiator get to work.
We do recommend getting professional help if you don't have the right tools or are unsure about any of the steps in the process.
How to Change a Radiator Valve
While there is slightly more work involved than fitting a valve, changing a radiator valve can be easier to carry out. This is in large part due to the fact you'll already have the radiator in place and won't need to move anything about.
Most people will change a radiator valve because it is damaged. This video shows how to change a damaged or broken valve:
If you're fitting a radiator valve to an existing radiator as a replacement, you can do the job without having to take the radiator off the wall. You'll need to follow a few steps, but the process goes as follows:
Close off the radiator from the heating system & turn off your water supply
Drain the radiator fully (putting down sheets or towels to protect the floor). In some cases, you may have to completely drain your heating system by finding the drain off and letting all the water out before being able to change the valve
Carefully unscrew the old valve, making sure to remove the tail connecting the old valve to the radiator. You also might want to take off the screw and olive of the pipe
Give the pipe and radiator entry a quick clean if you're changing on an existing radiator
Wrap PTFE tape around the tail of your new valve and fit it to the radiator entry. Make sure you don't overtighten as the tape will snap, or you'll damage the radiator thread
Attach a new nut and olive to the tail and (if you need to) the top of the pipe
Take the main section of the valve and connect it to the pipe and tail, before screwing it all together in a tight seal
Turn on the water supply and let the radiator fill up again
The process can be a little fussy and does require you to deal with the inner mechanisms of the valve and radiator entry, so please get professional help if you're not confident in having a radiator valve installed.
If you're changing a thermostatic radiator valve, this video walks you through the process in detail:
What to do when a Radiator Valve Leaks
Walking by a radiator to find water coming out can be an alarming sight. In some cases, the leak can come from the radiator valve when it is acting up.
A radiator valve can leak if the internal workings are wearing out and knowing the source of the leak is the only way to get it fixed. Now, a leak won't see water squirting out of the system but more of a slow drip.
You can figure out where the leak is coming from by grabbing a towel and drying the area around the valve completely. Once you see where the first few drops are coming from, you'll know the source and where to isolate.
The most common places to check include:
The nut attaching the valve to the radiator
The nut attaching the valve to the pipe
The underside of the radiator to check for holes
The top of the radiator
The gland (cap) if you have a manual valve
If you have a thermostatic valve which is leaking, turn the valve to zero and see if the dripping stops. If it does, then the leak is being caused by a worn-out spindle, and the valve needs replacing.
If you find the water is seeping out from the nut connected to the radiator, the threading has issues, and you'll most likely have to take the valve off, drain the system, and get some new PTFE tape on the valve tail before popping it back in.
If you have a manual valve/cap and water is coming out of it, turn the valve off and dry the area. If water is still coming out, turn the lockshield off and unscrew the valve nut. You're looking to get some PTFE tape and winding it around the valve entry before gently pushing it in with a screwdriver and tightening the valve back up again. This can be quite hard to pull off, and we recommend getting a professional to do the job.
We recommend reading our blog post on what causes radiator leaks for more information on specific leaks and what to do if you see brown water leaking out.
Thermostatic Radiator Valve Settings Explained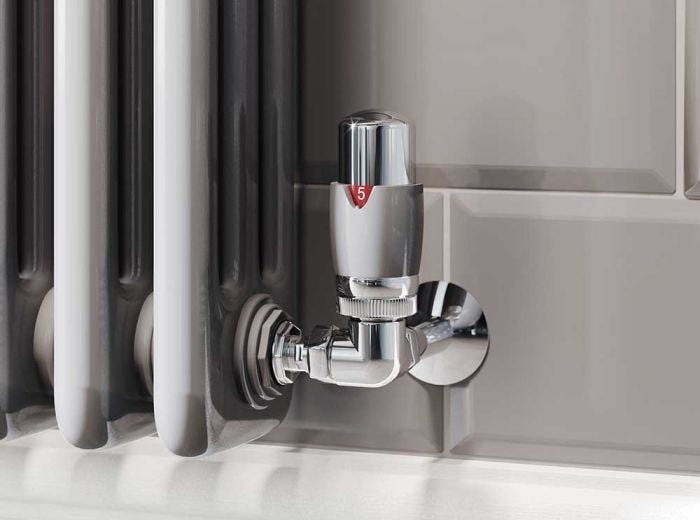 The dial on a thermostatic valve has the same level of mystery surrounding it as the dial on your toaster or fridge. Most of us don't know how to use these valves, and so we assume that having them turned up full is the best way to heat a room.
Having a thermostatic valve turned up is usually a waste of time. Here's why.
What the Numbers on a Radiator Valve Mean
While the valve is allowing a certain level of water into the radiator, turning it from a 3 to 5 won't do you any favours. The numbers on a thermostatic valve refer to specific temperatures. This varies by make and model, and you'll see these value on the back of the box the valve comes in.
When you turn a thermostatic valve to a certain number, you're allowing the valve to expand to a certain length. That means the opening for the hot water is adjusted and will allow water into a radiator until the capsule thinks the room has reached the desired temperature. When it does, the capsule expands and reduces the pipe intake.
Should Radiator Valves be Fully Open?
Only when you want a room to be scorching hot. As soon as you turn a valve on, even at one, the whole radiator should be warm to the touch.
If you were to walk into a room which feels cold, but the radiator is hot to touch, then there's no need to adjust the valve. If you turn the valve up, it's not going to make the room warmer suddenly.
It's essential to remember that a thermostatic valve is trying to pick up on the temperature in the room and match it before the valve contracts. So if you're in a cold room, and the radiator is hot, turning the valve up won't do anything, as the radiator is already working.
Why it's Wrong to Turn a Thermostatic Valve to 5
If your room is cold and you have all the valves turned up to five, you're asking the system to continually pump hot water in until the room gets upwards of 30°C.
In most cases, you only need a room to get around 15°C to feel warm, which is why it is best to set the valve to 2 or 3 and make minor adjustments. Setting it high all the time is just an excuse to use more fuel.
Get Radiator Valve Advice & Order Online with Trade Radiators
We hope you found this thorough guide on radiators to have all the information you needed on buying or fixing up radiator valves at home, or anywhere you're trying to sort out a valve problem.
If you still need help with your radiator valves, we're more than happy to point you in the right direction; whether you're looking for a specific product or don't have a clue what clue to buy.
Get in touch with us via our contact page, let us know your problem, and we'll see how we can help.
We also recommend reading some of these other helpful radiator valve posts on the blog:
Our full range of radiator valves and heating solutions is available at Traderadiators.com.