If you're upgrading your radiators and central heating system, it's very likely that you're considering getting some compact convector radiators for your home. However, unless you're in the trade, you might not be aware that there are several types of convector radiator available. Which one is right for you depends on your individual situation, such as how big your room is and how much room you've got available. In this article, we'll look at the differences between convector radiator types so you can make an informed decision on which rad is best for you.
What are convector radiators?
Convector radiators are the most common types of radiator in the UK and you've probably seen them countless times without realising what they were called. Convector rads are traditionally white and typically have front panels that have a grooved or indented design. Behind the front panel there are rows of metal convector fins which get hot and transfer heat up and around the radiator, ultimately emitting the hot air into your room.
Because the convector fins are not the most visually appealing (and can attract dust), many radiator manufacturers now tend to hide them behind top grills and side panels, giving convector radiators a squarer and more attractive aesthetic.
Type 11 convector radiators

Also known as 'single panel, single convector', 'single, single' or 'K1' radiators, Type 11 radiators have a front panel and one row of convector fins behind. These radiators are very thin, making them perfect for narrow spaces like hallways or under-the-stairs toilets where space is tight.
Because of their slimline design, they also don't emit a huge amount of heat, so if you have a small rom in need of some heat or a large room that needs small additional radiator, Type 11 radiators are a fantastic option to consider.
Type 21 convector radiators

Also known as 'double panel, single convector' , 'double, single' or 'P+' radiators, Type 21 rads differ from Type 11 in that they have a front and back panel with a single row of convector fins in between. The back panel allows these radiators to have a higher heat output than Type 11s and also have a greater depth as a result.
If you have a room that is is need of more heat than a Type 11 can provide, but you still want to keep an eye on how much a radiator projects from the wall, then a Type 21 will suit your needs perfectly.
Type 22 convector radiators

Also known as 'double panel, double convector' , 'double, double' or 'K2' radiators, Type 22 convector radiators have the front and back panel, plus two sets of convector fins running down the centre of the rad. These radiators are able to emit more heat than the others and are also chunkier, with a greater projection from the wall.
If you have a large room that needs to be well-heated, then the Type 22 is probably going to be the most suitable. If you have plenty of space then the additional distance the rad juts out from the wall won't be a problem.
Which type should you choose?
Now you know the difference between the types of convector radiator, you'll need to decide which one os best for you.
The first step is to use the Trade Radiators Heating Calculator to establish how many British Thermal Units (BTU) you need to heat your room to a comfortable temperature. You can put the dimensions of your room into the calculator and it will tell you the BTU figure, allowing you to search for a radiator(s) than can emit that type of heat.
The next step is to work out the space you've got to work within your room. If you're planning to replace existing radiators with new ones of the exact same size, then you'll need to make sure the ones you choose will emit the right amount of BTUs. This method can make things easier as you can use existing pipework without any need for lifting up floor boards. All of our convector radiator listings contain a 'pipe centres' measurement, to enable you to get a radiator that will slot onto your existing pipes.
You should also consider how much your new radiator can come out from the wall. This measurement is known as the 'projection' measurement, which essentially measures the distance from the wall to the front of the radiator. All of our convector radiator listings contain the projection measurement to help you make the right decision.
Convector radiators at Trade Radiators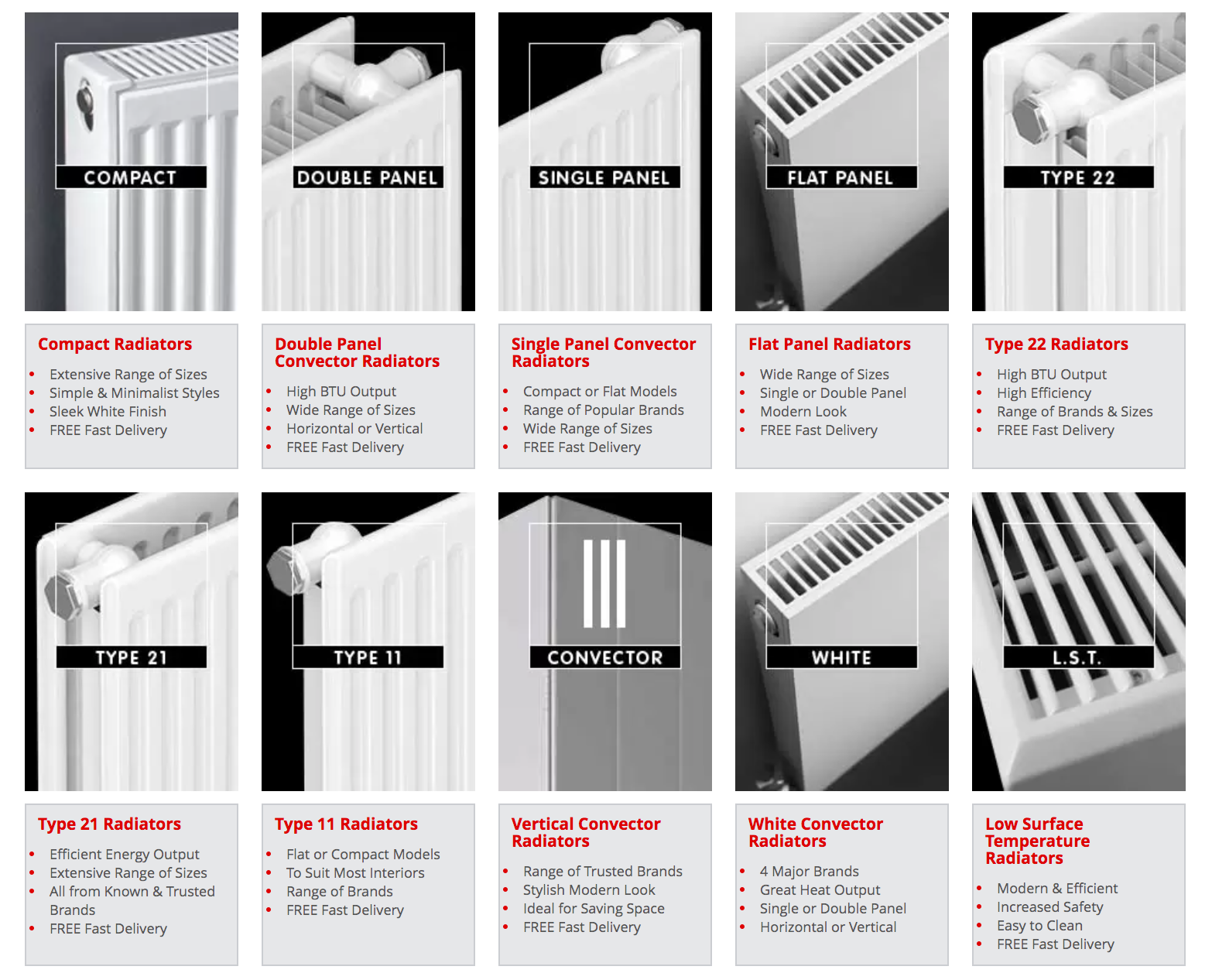 At Trade Radiators, we believe our selection of Type 11, Type 21 and Type22 convector radiators is unsurpassed. With many styles and sizes available from a number of choice manufacturers we are sure to have one to suit your applications. Using our price match guarantee, we ensure that you won't find a better convector radiator for a cheaper price.
We have selected the below ranges which have the largest heat outputs of convector radiators on the market. These radiators require a low water content which enables them to run on a low temperature heating system using ground source heat pumps. Alongside efficiency, we know that style is important when it comes to radiators. When selecting our convector radiators, we ensured we chose brands which look good as well perform to a high standard. We have categorised them into three distinct groups - own brand, premier and specialist.
The own brand ranges are made to the same high quality as the premier radiator ranges but have a lower heat output for a given size. The cheapest convector radiators on the site, our own brand radiators, come with a 10-year guarantee and free delivery. With our price match guarantee, we ensure you won't find a convector radiator of the same quality for a better price.
View All Our Convector Radiators
RELATED ARTICLES
• Where should I be putting my radiator?
• How to clean dust from your radiators