Energy efficiency is an increasingly important part of how we design our homes, particularly with regards to heating.
One of the main ways seek to make their heating systems eco-friendly is by installing electric radiators. If you don't have a conventional hot water central heating system then fitting electric radiators should be of particular interest.
No need for natural gas
One of the major benefits of having electric radiators is that you don't need to rely on gas to heat your home.
If you've been following the news even slightly over the last few years, you'll probably be aware that natural gas is not an infinite resource. Hence the headlines regarding Russian pipelines and controversial fracking.
Using low energy electric radiators instead of rads connected to a gas-powered boiler is a great way to reduce your environmental impact and turn your heating situation a bit more green and eco-friendly.
No need for wood or fossil fuels
There has been an upturn in people installing wood burning stoves in their homes in order to provide heat. In fact, the UK Government estimated that about 2.5 million homes in the UK have wood burning stoves or open fires.
There's no doubt that such heating devices provide a homely, comforting and traditional environment. However they are thought account for a high proportion of damaging particulate matter into the air.
Additionally, coal is a finite resource and also contributes to lowering air quality, so it's use in open fires is also being actively discouraged.
At Trade Radiators, we offer a fantastic range of electric radiators to suit all tastes. Being energy-efficient, you'll know that choosing one of our electric rads will help your home to heat itself in a more environmentally friendly way.
---
Eco friendly electric slimline radiators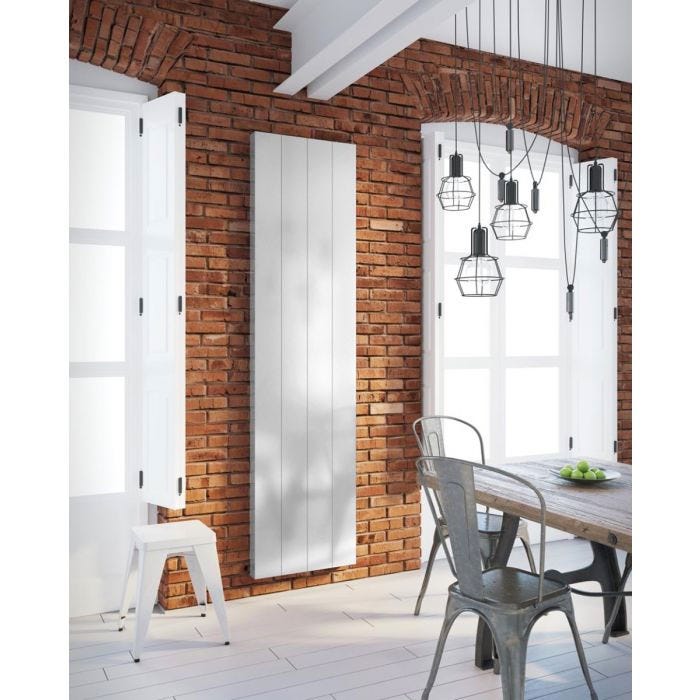 The DQ Vela Designer Electric Radiator is a fantastic example of electric radiator technology.
Designed to go easy on use of electricity, yet with the ability to kick out some serious heat, the DQ Vela range of rads enables you to have all the benefits of a well heated home without the complicated pipework.
The slimline design of the body means it doesn't stick out far from the wall, striking the right balance between practicality and stylishness.
The Vela electric rads coming in a range of sizes and in vertical or horizontal orientations.
---
Green traditional bathroom radiators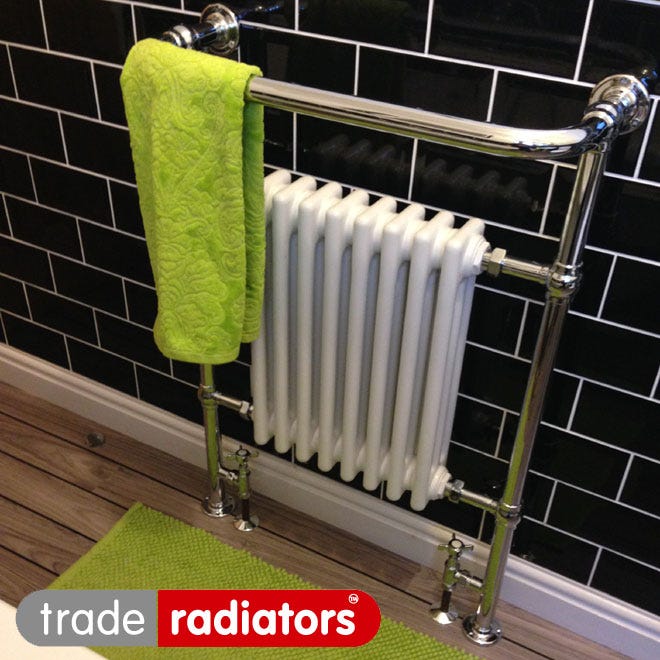 It was once the case that there was little choice in electric radiator styling. Thankfully, that has now changed and there are a wonderful amount of electric radiator models to choose from.
A very popular one is the electric traditional bathroom radiator, which looks great in all kinds of properties but especially period ones.
The combination of chrome and white lends a traditional air to the bathroom and would become a centrepiece of the room.
Add in the fact that you've got a radiator and a heated towel rail in one, then you've got a brilliant eco-friendly, electric radiator solution for your room.
---
Low energy heated towel rails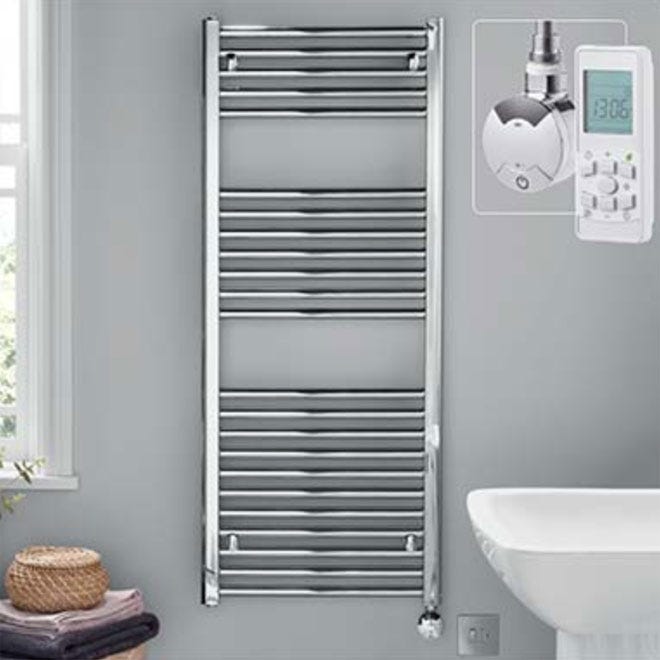 Installing an electric heated towel in your bathroom has become almost as common as replacing the bathroom suite. However, a trend of putting them in kitchens and utility rooms has also started to take hold.
Having an electric towel rail that you can switch on and off when needed is a great way of being energy conscious. They are also a perfect place to hang any wet coats or clothing that have been caught outside in the rain and need drying off.
One of our standard, chrome electric towel rails is pictured above, however we offer a huge variety of styles, finishes and sizes to enable to to have the perfect electric heated towel rail for your eco-friendly home.
---
RELATED ARTICLES
• What is the best radiator position in a room?