Deciding to put a heated towel rail in the bathroom is one of the most common home improvements to make. You don't have to spend much to do it (though you certainly can if so inclined), but it's a practical addition that looks great. Having the ability to hang up your towels and get them dry before they need to be used again is a simple, but important luxury. We've all had that horrible experience of using a still-damp towel on a cold winter's morning. Installing a heated towel rail gets rid of that problem once and for all.
---
What size heated towel rail do I need?
Before getting into the exciting details like styling and finish, it's very important to establish what size heated towel rail you need for your bathroom. Wherever possible, we advise having both a regular radiator and a heated towel rail in your bathroom. The radiator will provide the heat for the room, the heated towel rail will dry and warm the towels. Working out where in your room is best to install your heated towel rail will help to establish the dimensions you need. Most heated towel rails come in a vertical orientation, so even if you have a lack of horizontal space, you can make use of upward space that isn't normally used. Even if you have limited horizontal
and
vertical space, you may be surprised at the small sizes of heated towel rails available, so don't write off small spaces too quickly.
Dimensions, pipe centres & projections
Get out your tape measure and compare your selected area of wall space to the dimensions of the towel rails on our website. Height and width measurements are hopefully self-explanatory. The 'pipe centres' measurement is the distance between the pipe inlets on the heated towel rail. It's important to know the pipe centres if your heated towel rail is going to be installed onto existing pipes. The distance between your pipes should be as close as possible to the pipe centres measurement listed on our website. The pipe centres measurement is less important if your plumber is going to put brand new pipes in your bathroom to accommodate the heated towel rail, as they will usually install the pipework after the heated towel rail has been chosen. You'll also see a 'projection' measurement on each heated towel rail listing. This is the distance that the heated towel rail sticks out from the wall. If your bathroom is particularly small or narrow, it's best to select a heated towel rail with a small projection. The smaller the projection, the less it sticks out from the wall.
---
What type of heated towel rail do I need?
This is not a question related to style or finish. Rather, it is to do with the type of central heating system that you have.
If you have a standard central heating system
Most people have a standard, or conventional, hot water central heating system. This is where a gas boiler is connected to a thermostat and heats up water that gets pumped around your home via pipework into radiators. Chances are you have this type of heating system, in which case you need a 'standard' heated towel rail. This will be connected up to your central heating system and will have hot water flowing through it to make it hot.
If you have an electric heating system
Not everyone has a gas-powered boiler central heating system. There are many people who have central heating provided by their electrical system. An electric central heated system typically takes the form of storage heaters that are wall-mounted, connected to the mains and heat up when you switch them on. There is no gas-powered boiler and hot water doesn't flow the home into traditional radiators. If you have this type of heating system, then you will need an 'electric' heated towel rail that is plugged into your mains electricity supply and can be switched on or off when needed. Electric heated towel rails come with a couple of options. You can either get a non-thermostatic (or single heat) heated towel rail or a thermostatic (variable heat) heated towel rail. A
non-thermostatic
rail operates at a single temperature, while a
thermostatic
towel rail allows you to vary the temperature. Some electric heated towel rails also have timers, whereby they can be set to come on and off at certain times or operate at different temperatures, depending on your choice.
If you have a dual fuel heating system
This is a heating system that operates both via a conventional, gas boiler, hot water central heating system but also has heating that connects to the mains electrical supply. An example might be where a house has standard, hot water radiators in all the main rooms that are used all year round, but an electric storage heater in the conservatory which doesn't get used all year. This means that the conservatory can be heated up only when needed, rather than automatically coming on when the rest of the house is heated up and wasting heat on an empty, unused room. Many people choose to use this approach when installing heated towel rails. A 'dual fuel' heated towel rail is connected to the hot water system as normal, but it also has an electrical element so that it can be used without needing to switch on the whole central heating system. This is a particularly useful option in summer, when it may not be necessary to switch on the full central heating system, but your towels still need to be dried. Dual fuel heated towel rails also come with the choice of thermostatic and non-thermostatic options.
---
What colour heated towel rail should I choose?
Deciding on the aesthetics of your heated towel rail is the most exciting part of the process. Once you've done the very important (but also mundane) tasks of working out dimensions and location, you can reward yourself by selecting a heated towel rail that fits in to your interior design plan. There are a select few colours of heated towel rails that manufacturers produce and the range is pretty standard across the industry. The colour you choose is entirely up to your individual taste and is entirely dependent on the type of look that you want to achieve in your bathroom, ensuite, kitchen or any other place you're considering adding a towel rail.
---
MIRRORED/SHINY HEATED TOWEL RAILS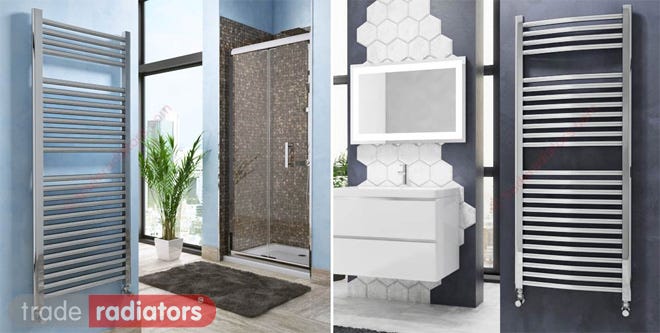 The mirrored-finish heated towel rail was the first type of mass-produced heated towel rail on the market when they made the jump from exclusive 5 star hotels into our homes about 25 years ago. Towel rails with a shiny finish remain very popular today, mainly because they match up with other fixtures and fittings traditionally found in bathrooms. Taps, shower heads, flush handles and toilet roll holders often have a chrome-style finish, so a chrome-plated or polished stainless steel heated towel rail matches up well, lending a stylish uniformity to the room.
---
WHITE HEATED TOWEL RAILS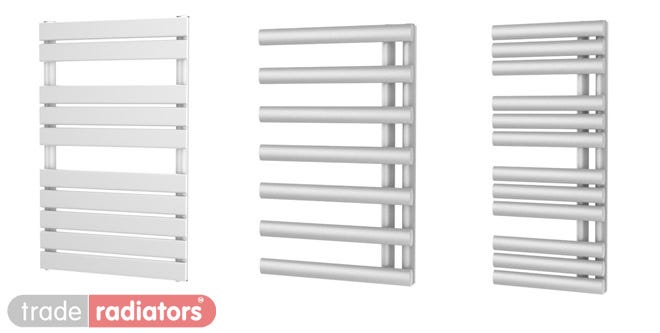 Heated towel rails with a sophisticated white finish are a very popular choice, especially for bathrooms. One of the main reasons for this is because bathroom suites also tend to be white. The extravagant days of avocado baths and basins are well and truly gone, with people usually opting for a classic white look for the rooms where they perform their ablutions. A white-themed bathroom or ensuite gives the impression of crispness, cleanliness and hygiene, with a white heated towel rail bringing the white tiles and suite together into a coherent whole.
---
BLACK HEATED TOWEL RAILS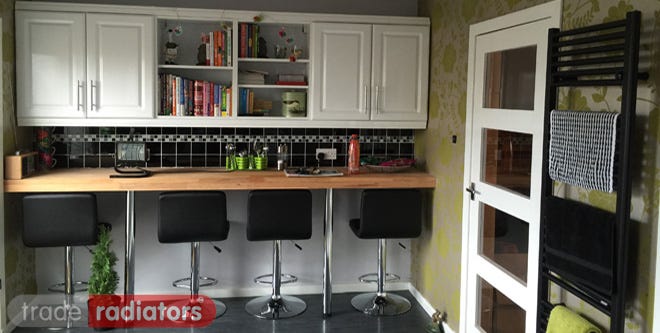 Because bathrooms are so often finished in white, installing a black heated towel rail on the wall provides a stylish counterpoint to break up the otherwise clean lines. It's also very popular to have a white bathroom with a black (or black and white) tiled floor and a black towel rail helps to make that aesthetic connection between wall and floor. As an alternative to white bathroom tiling, many people choose to decorate their bathrooms with a stone-coloured finish, which helps to achieve the affect of a wet room or steam room. A black heated towel rail set against a white suite and stone tiling is an incredibly appealing and seductive combination.
---
ANTHRACITE HEATED TOWEL RAILS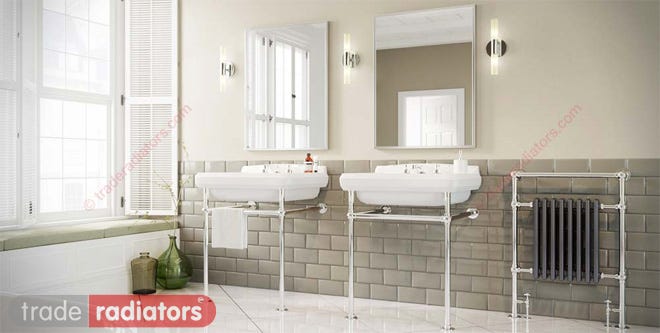 Very quickly becoming a customer favourite, the popularity of an anthracite finish has been accelerated by its inclusion on many interior design shows over the last few years. Anthracite heated towel rails are able to slot into an interior design plan in much the same way as a black rail, but have the added bonus of containing a charcoal and silvery quality about them. Under the bright lights of the bathroom, where light is reflected off tiling and mirrors, the anthracite finish gives off an ever-so-slight and subtle sparkly effect, transforming any wall it's installed on into a real focal point of the room.
---
SILVER HEATED TOWEL RAILS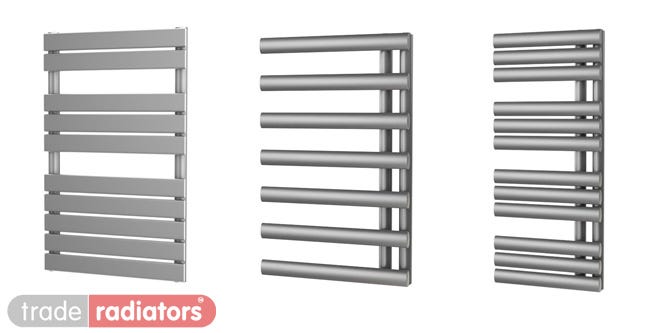 A heated towel rail with a silver finish is an excellent alternative to the traditional mirrored or shiny towel rail. Some people prefer the slightly toned-down effect that a silver finish provides, plus it is far less prone to showing off fingerprints - an important consideration for those with young children. We are also seeing an increase in people choosing bathroom fittings that have a matt, 'satin' silver finish, which makes a corresponding silver heated towel rail the perfect matching option.
---
What metal should my heated towel rail be made of?
You may now have an idea of what colour would look best in your bathroom or living space, but you also need to decide what material (or metal) your heated towel rail is made from. Not all metals are created equal. For example, an anthracite aluminium heated towel rail is a different proposition to an anthracite heated towel rail manufactured from mild steel.
---
MILD STEEL HEATED TOWEL RAILS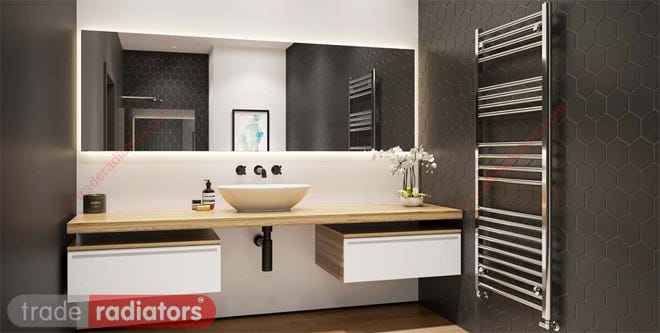 These are among our best selling heated towel rails because of their affordability, efficiency and availability in a massive range of sizes. If you have a low budget and want a simple, good value towel rail to add to your bathroom, we'd recommend a mild steel heated towel rail as an excellent starting point. Our mild steel range of heated towel rails are available with chrome-plating, or in white, black, anthracite or silver powder coat finishes.
---
STAINLESS STEEL HEATED TOWEL RAILS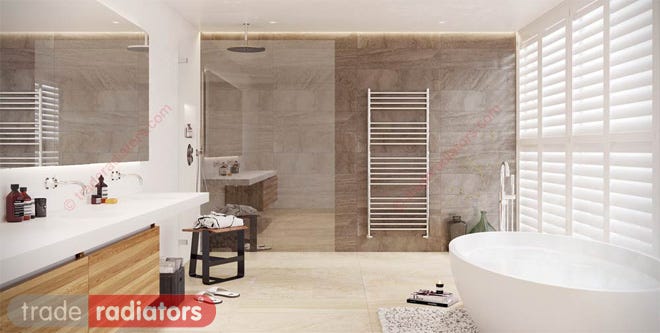 Stainless steel is a material that provides a shiny finish similar to a chrome-plated, mild steel heated towel rail but with a large variety of benefits. They're also available with a 'satin' finish, similar in style to a panted silver coating. All of our stainless steel towel rails are made from 304 grade stainless steel, which is of incredibly high quality. It is able to conduct heat up to 15% more efficiently than mild steel, meaning that less energy is required to provide the same amount of heat. This upgrade in efficiency means that heating bills will be lower as a result. Stainless steel is also very resistant to rust, giving it a longer lifespan than the more ferrous mild steel. This is important as water can cause corrosion inside heated towel rails over time, which can eventually lead to a heating system breakdown if untreated. With stainless steel heated towel rails, this is rarely a problem, hence their popularity.
---
ALUMINIUM HEATED TOWEL RAILS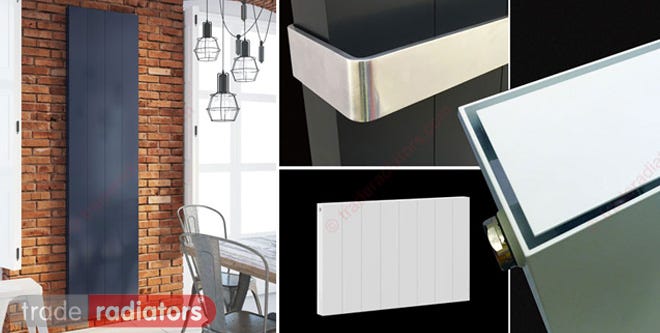 Aluminium is a very popular radiator and heated towel rail choice for a large number of reasons. It's a very pliable metal, which means it can be manipulated in a variety of ways while still maintaining its strength. This results in more extravagant designs that simply aren't possible with other metals. Aluminium is a superb conductor of heat and can get up to its required temperature very quickly. This means that less energy is expended in heating up the towel rail which is reflected in lower heating bills. It's also a very light metal, easily to transport and install. You'll often see a reduction in delivery and installation costs for aluminium heated towel rails as much less effort is required to move them around.
---
Can I install my heated towel rail myself?
If you have some experience with DIY and plumbing then installing a heated towel rail in your home is not a particularly difficult task. All of our heated towel rails are provided with everything you need to mount the rail to the wall, so if you have the necessary tools, the confidence and the expertise to install your heated towel rail, then please feel free to go ahead. You may find the instructional videos below helpful:
---
---
---
If you aren't experienced in DIY or plumbing then we strongly advise that you do not attempt to install a heated towel rail yourself. There are quite a few things to be aware of and it's very easy to make a costly, or even dangerous, mistake if you don't know what you're doing. If you don't have the necessary experience to do this job, it's simply not worth the risk and we recommend you employ the services of a professional.
---
How much will it cost for a plumber to install my heated towel rail?
When bringing in a plumber to fitting a heated towel rail, there are several variables to think about that could affect the final price of the installation. These are things to bear in mind when searching for a quote. The plumbers will want to know this information from you too:
What type of central heating system do you have? A electric heating system will also require the services of a qualified technician?
Can the towel rail be added straight onto existing pipes or will new pipework need to be installed?
Are you buying the heated towel rail yourself or will you get the plumber to source it for you?
What part of the country do you live in? For example, it will probably be more expensive in London than in Carlisle for exactly the same job.
As a general rule of thumb, the figures below are an approximate guide to the figure you can expect to pay for this task, those as discussed, the costs can vary depending on the nature of the individual job. • Standard installation of a conventional hot water heated towel rail – around £200 – £300 for labour – around £150 for towel rail • Standard installation of an electric heated towel rail – around £200 for labour – around £150 – £200 for towel rail • Standard installation of a dual fuel heated towel rail – around £300 – £500 for labour – around £150 – £200 for towel rail
You can read more in our article How Much Does it Cost To Install a Heated Towel Rail?
---
In conclusion, we hope you have found this guide to choosing a heated towel rail of use. It's a fun process and with all the options that are available to you, it's absolutely possible to get a heated towel rail that's exactly what you want, in terms of colour, finish, material and size.
You can view our entire range of heated towel rails here >>
---
RELATED ARTICLES
•
Like anthracite? View our anthracite heated towel rail range
•
Fantastic photos of traditional heated towel rails
•
Our customers' heated towel rail photos on Pinterest
•
Interior design inspiration: White heated towel rails
---