Heating an old apartment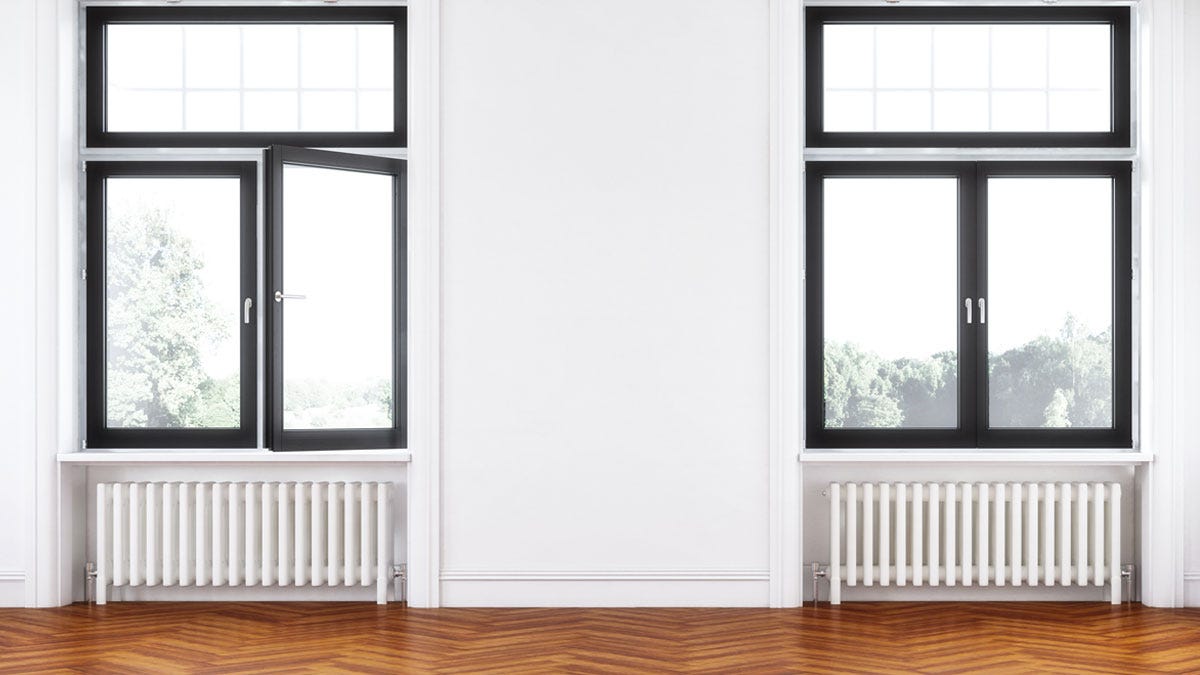 The UK has a lot of old housing stock which was built before the current building regulations demanded that new-build homes were constructed with heat and energy efficiency in mind. There are many apartments that have been converted from single dwellings, with many of these dating back to Victorian times (and earlier).
If you live in one of these high-ceilinged and draughty flats, you'll know that they can be incredibly tough to keep warm without sending your energy bills sky high. In this article, we'll show you some ways you can heat your old apartment to a comfortable temperature without breaking the bank.
Type of heating system
The method by which you can heat your apartment often depends on the freeholder or how your building as a whole is et up to provide heating. Some buildings will rely solely on the electricity supply while others will also be connected to the mains gas system. This will affect the way in which you heat your old apartment.
Gas central heating
If you live in a apartment block that has a gas connection then the best way of heating your flat will be with a gas-fired combi boiler and a series of radiators in each room.
Combi boilers are great for apartments because the central heating boiler and water heater are combined into one unit (as opposed to having a water storage tank elsewhere in the building), so make for an excellent space-saving option.
This type of boiler are really efficient, providing you with central heating whenever you need it and hot water for your taps and shower on demand. This means that you won't run out of hot water and you don't have worry about a large water tank heating water that isn't being used.
Below we recommend some quality gas central heating radiators that are suitable for old apartments.
Double panel convector radiators

Perhaps the most common type of radiator you'll see in the UK, convector radiators are a fantastic choice for heating up a old apartment with large, open spaces or high ceilings.
The double panel styling results in incredible heat outputs for their dimensions and they are cheap to purchase and install. They're also easy to maintain and are incredibly efficient and reliable. Their humble design and simplicity makes double panel convector radiators the preferred choice for many old flats that need a new radiator, and with over 200 makes and models currently available at Trade Radiators, you're guaranteed to get a double panel radiator that meets the measurements and heating requirements for your space.
View all double panel convector radiators >>


Column radiators

If you want something slightly different from standard convector radiators, then a really sleek alternative are column radiators. Not only do they look very stylish but they also have huge heat outputs, coming in designs with multiple rows of columns. The more rows of columns (i.e. the chunkier the radiator), the greater the heat output so it's possible to get column rads that can really pack a punch and would be perfect for heating old apartments.
With a huge range of sizes available, you are also not necessarily restricted to white in column radiators. Anthracite grey, black and polished metal are other popular finishes so you really could get a column radiator that would look great in your space.
Vertical radiators
If you have a high-ceilinged apartment, then you could really take advantage of that upwards space by installing some large vertical radiators. A common misconception is that vertical radiators are not as powerful as their horizontal counterparts, but that is simply not the case. Vertical radiators are great for apartments as they can provide a large amount of heat while also freeing up more space for furniture placement.
Our vertical radiator range is very large, with a huge variety of dimensions, finishes and styles available. Seen as a modern approach to radiator installation in many spaces, especially when wall space is at a premium, a tall radiator is a fantastic idea if you're looking for a new hallway, bathroom or kitchen radiator and don't want to sacrifice space. These are becoming more and more popular as people become more accustomed to going upwards.
View all vertical radiators >>


Electric heating
If your building is not connected to the gas network then you will be reliant on electricity for your heating system. The benefit of an electric heating system in an apartment is that you do not need to worry about finding space for a boiler - electric radiators can simply be installed in each space that requires heat, connected to the electricity supply and switched on and off when necessary (often with an automatic timer).
While electric heating has typically been a more expensive way to heat a home, advances in technology mean that electric radiators are more efficient than ever before and the gap in costs between electric and gas heating has narrowed by quite a significant amount.
Below we recommend some of our favourite electric radiators suitable for an old apartment.
Electric cast iron radiators
Many people believe that you need a gas-powered central heating system to be able to install cast iron radiators, but this couldn't be further from the truth. At Trade Radiators we have a tremendous range of cast iron rads that can be used in old apartments that are not connected up to the gas network.
Because many apartments are very old, they are actually very well suited to having cast iron radiators installed - these types of rads look best in period properties and the fact they come in an electric version opens up the possibilities for those in non-gas flats.
Some of our electric cast iron radiators have huge outputs and many come with a 240V plug, allowing them to be simply plugged into a plug socket. These come in a massive variety of styles and can also be customised to any colour you like, making them a great option for heating your apartment and for matching your interior design style.
View all electric cast iron radiators >>


Electric vertical radiators
Maybe you like the idea of using upwards space but thought that vertical radiators were only for those with gas central heating. Fortunately this is not the case as we have a select few vertical rads that are suitable for electric systems.
The great benefit of having an electric radiator is that It doesn't need to be plumbed into the existing heating system at home. These radiators have a filling inside that will heat up in no time at all when plugged in.
These radiators come with the option of an Anthracite or Gloss White finish. If you are planning on having the radiator on an exposed brick, bathroom wall or lightly painted wall, the Anthracite finish would look good, though it's entirely up to your personal preference.
View all electric vertical radiators >>


Electric column radiators
Again, many people love the look of column radiators but don't think they are an option if they don't have a gas central heating system. However, due to popular demand, Trade Radiators now offer a stunning range of electric column radiators that work really well in old apartments.
With electric radiators taking no time at all to get to work, they are tremendous at quickly heating up a room, whatever the BTU range of your room needs to be. Even though these radiators use the latest radiator technology to provide heating in a modern manner, the designs in this range lean on traditional looks to provide a simplistic looking radiator that matches quality with performance.
A fantastic option for anyone in an old apartment looking for a stylish and efficient way to heat up their flat with an electric radiator.