1 - Brass Radiator Valves
If you're thinking about upgrading and remodelling your bathroom, then you really need to give some serious consideration to brass radiator valves.
Brass is a fantastic material that is used in some of the swankiest hotels around the globe.
Brass valves in particular lend an air of luxury and high quality to any bathroom they're installed in. In addition, brass is incredibly durable, making it a perfect choice of metal for a fixture that gets a huge amount of use.
Adding any sort of metallic finish to your home helps to create a feeling of industrial chic, and the shiny, clean lines help to create an atmosphere of minimalist organisation.
Below we display a selection of some of our finest brass radiator valves which would look great in your bathroom.
Trade Direct Thermostatic Valves, Modern, Antique Brass Angled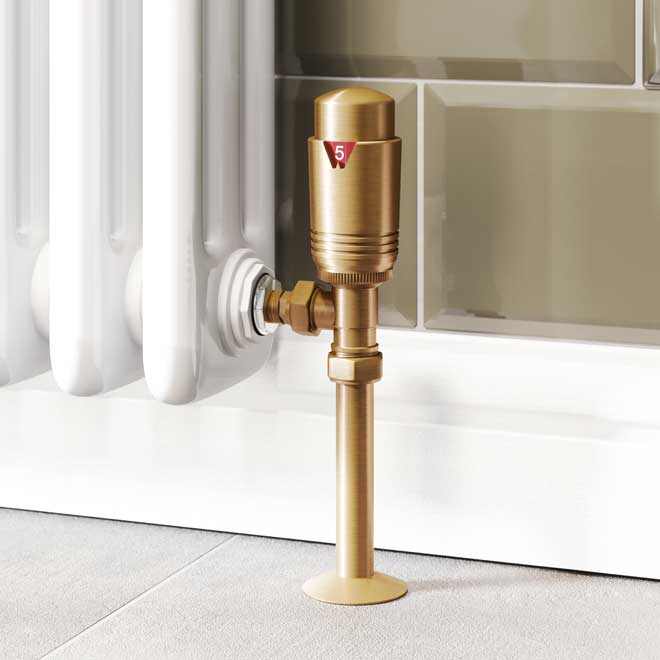 These beautiful angled thermostatic radiator valves sacrifice nothing in durability, being manufactured from brass and weighing a meaty 1kg. The quality of their construction is reflected in their comprehensive 10 year guarantee.
They combine a contemporary design with traditional aesthetics and are finished in a subtle 'Antique Brass' colouring.
The soft polished finish provides a unique presentation that could be the missing link in your bathroom design scheme.
Trade Direct Thermostatic Valves, Traditional Wooden Head, Antique Brass Angled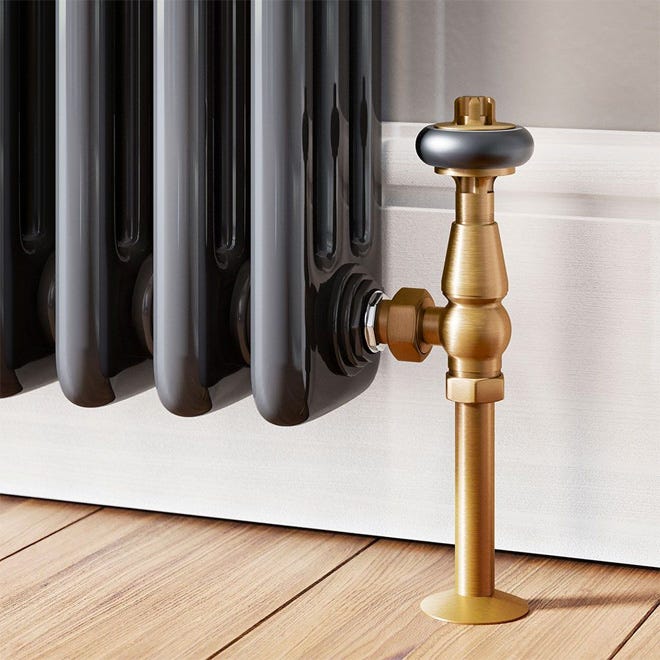 These stunning brass valves are presented in a tremendous 'Antique Brass' finish, absolutely perfect for pairing with designer radiators styled with a traditional or industrial aesthetic.
The design of these valves is definitely traditional and is enhanced by the genuine wood handle. Complete with a brushed finish, these valves are definitely eye-catching and would raise the luxury stakes in your bathroom.
Each valve is precision-engineered from brass, and designed for compatibility with micro-bore reducers. High quality and very durable.
Trade Direct Thermostatic Valves, Traditional Metal Head, Polished Brass Angled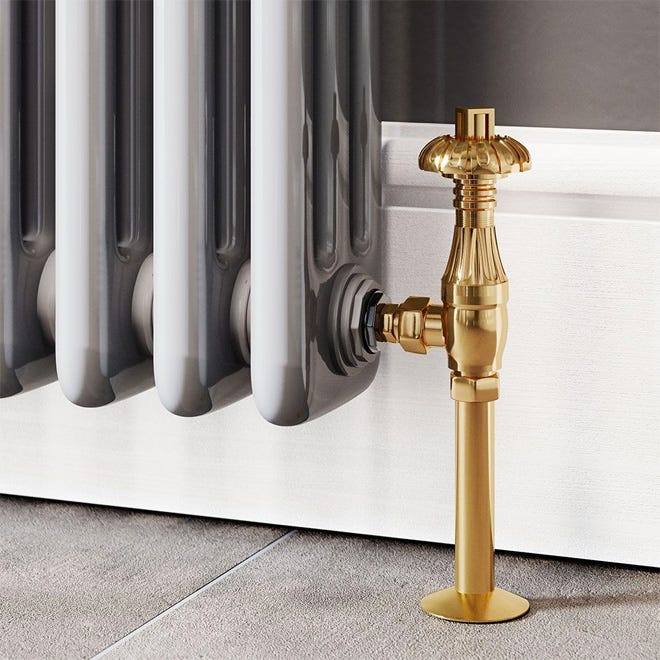 For those looking to upgrade their radiator valves to something fashionable and practical, these brass TRVs might be the ideal choice.
Styled using high-quality brass, these 90mm x 105mm polished brass thermostatic valves are incredibly elegant and are perfectly suited to fit traditional-style radiators while providing a large amount of control over water flow and heat.
Weighing just over 1kg, these stylish offerings are built to last and are virtually guaranteed to generate positive comments for visitors to your bathroom!
2 - Metallic Finishes
A super-stylish way to upgrade your bathroom in 2020 is by incorporating metallic finishes into your design plan.
Over the last decade or so, chrome-plate finishes have been the go-to way of modernising bathrooms.
The shiny finishes on heated towel rails for example has been popular in making a bathroom look minimalist and contemporary.
However, in the words of George Harrison, 'all things must pass' and trends are leaning towards other types of metal finishes like pewter, copper and nickel.
In terms of central heating, these alternative metal finishes are really coming to the fore on radiator valves!
Pewter Radiator Valves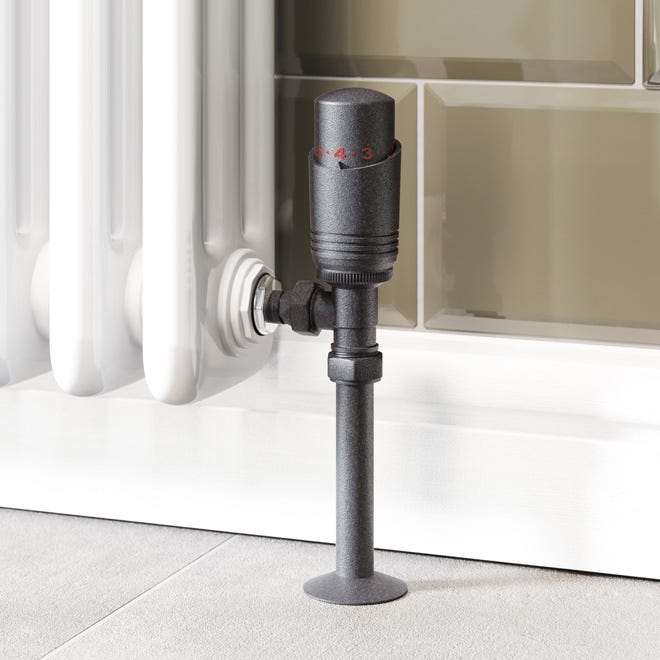 If you're into cast iron or raw metal radiators, then they look absolutely amazing when paired with pewter-finished radiator valves. Likewise, if you have a grey, dark blue colour scheme then our pewter valves would look fantastic.
Radiator valves can often be an afterthought, but we starting to see customers be really particular about the valves to match their radiators. Our pewter valves are definitely for those who are looking for an added bit of class and want their radiators to stand out from the crowd.
Available in thermostatic or manual valves, modern or traditional, you can really get the perfect valve if pewter's what you're after!
Copper Radiator Valves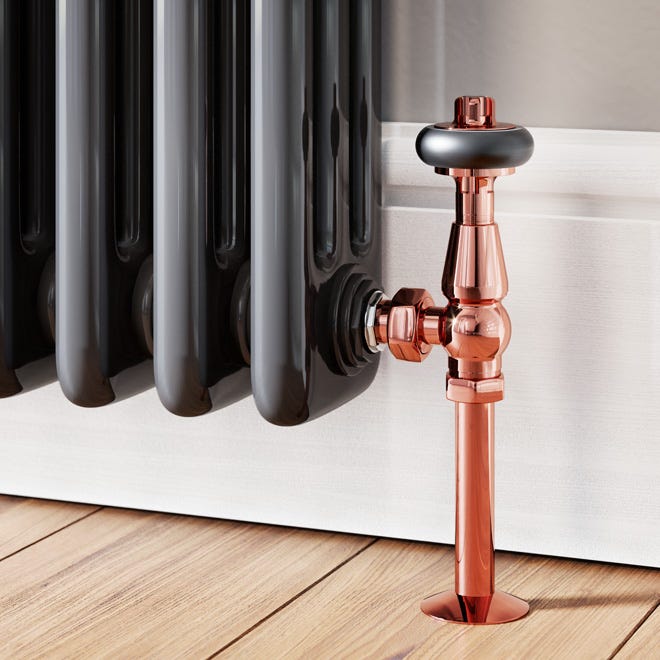 Copper valves are considered by many to be the best way of creating an ornate look to a modern radiator.
In fact, we believe copper to be one of the most distinctive tones you can get on a radiator valve. They also match copper central heated piping as an added bonus too.
We've noticed that our copper valves are particularly popular with owners of bars, cafes and restaurants. Many establishments are featuring a raw traditional look, featuring open pipework, filament bulbs and copper wiring, so our copper valve range fits in perfectly with this trend.
Nickel Radiator Valves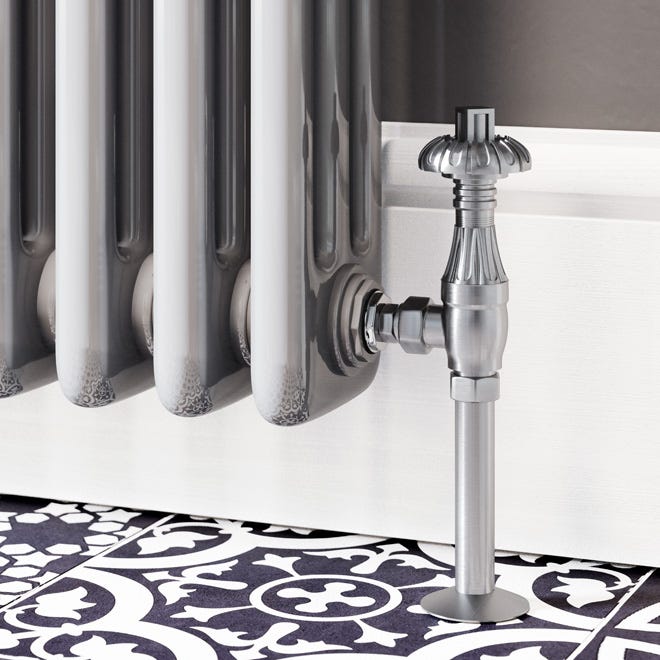 Satin nickel is the most common radiator valve finish and one that's proved to be a top seller with our customers. Indeed, many who go for an aluminium radiator like to pair them up with a satin nickel valve because they fit like a hand in glove.
A nickel radiator valve doesn't just refer to a shade of grey. Our black nickel valves look great when paired with black or anthracite heated towel rails or radiators. There are becoming increasingly popular because of their stylish finish.
Copper Radiators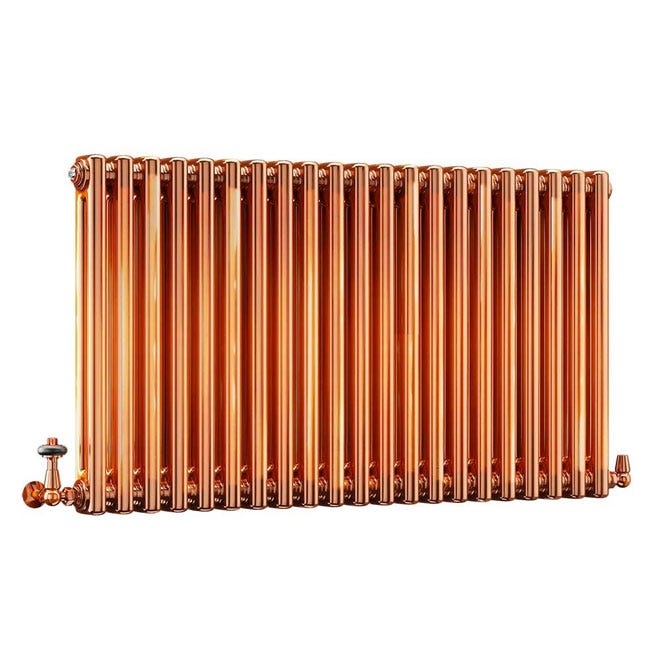 Copper has become a really fashionable colour choice for fixtures and fittings in the home. So we're really pleased to announce that we've recently expanded our range of copper column radiators.
With a huge range of sizes and heat outputs, copper radiators no longer need to be considered as specialty items. Whatever the size of room in your home, we're sure you'll be able to find a column radiator in our range that will suit you perfectly.
Black Nickel Radiators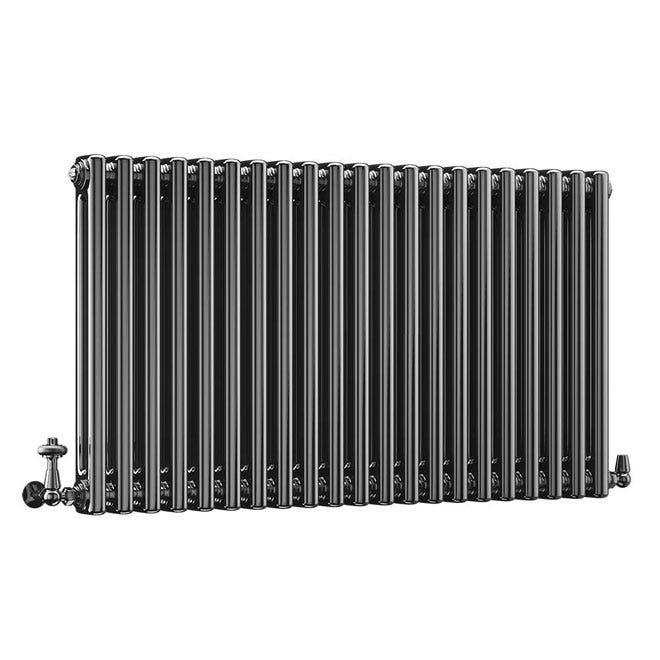 Black radiators can be an excellent way of introducing some eye catching contemporary style into your interior.
Looking particularly good with white or magnolia walls, these stunning black nickel radiators offer a fantastic alternative to a standard white radiator.
Coming in the classy column style, we've introduced a wide variety of sizes in this black nickel range, and these radiators are available in vertical or horizontal orientation.
These rads could be a great option if you're determined to do something a little bit different with the radiators in your home
Copper Heated Towel Rails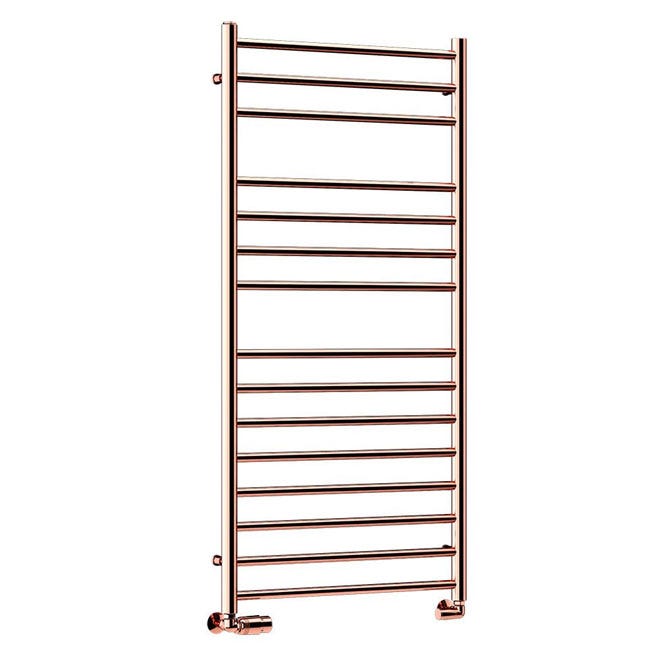 Hot off the press are our fantastic new collection of copper heated towel rails. If you were planning out the renovation of your bathroom, then you will be really pleased to know that you can consider incorporating the traditional shade of copper into your plans.
Copper is becoming an increasing popular finish in homes, especially in bathrooms and kitchens where many people are seeking to recreate a traditional Victorian feel.
Available in a wide variety of sizes, finding a copper heated towel rail for your bathroom or kitchen has never been easier!
Black Nickel Heated Towel Rails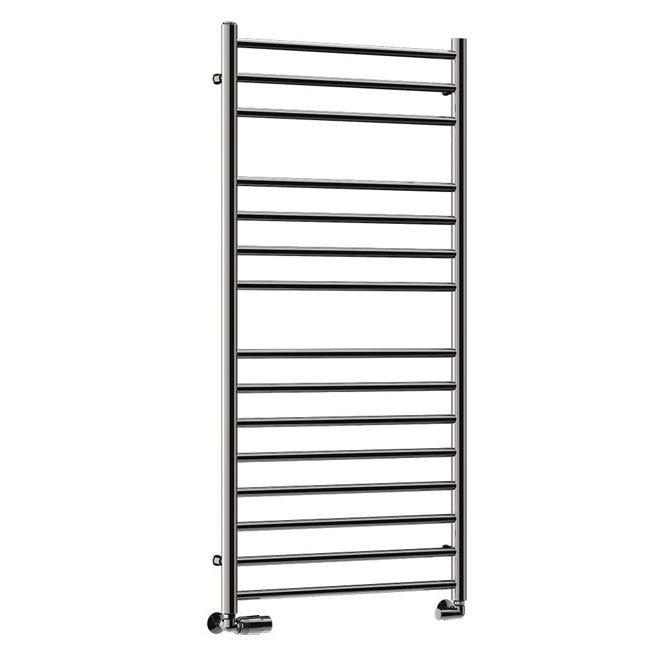 When it comes to installing a heated towel rail in your bathroom or ensuite, you're now no longer restricted to white or chrome colour choices.
Our DQ Siena heated towel rails look absolutely amazing in a swish black nickel finish and are guaranteed to be a head turner in any room they're installed in.
The ladder styling and considerable gaps between the bars means you have plenty of room to manoeuvre when hanging up your towels.
RELATED ARTICLES
• How to choose the right radiator valves
• Our top 5 most stylish traditional radiator valves