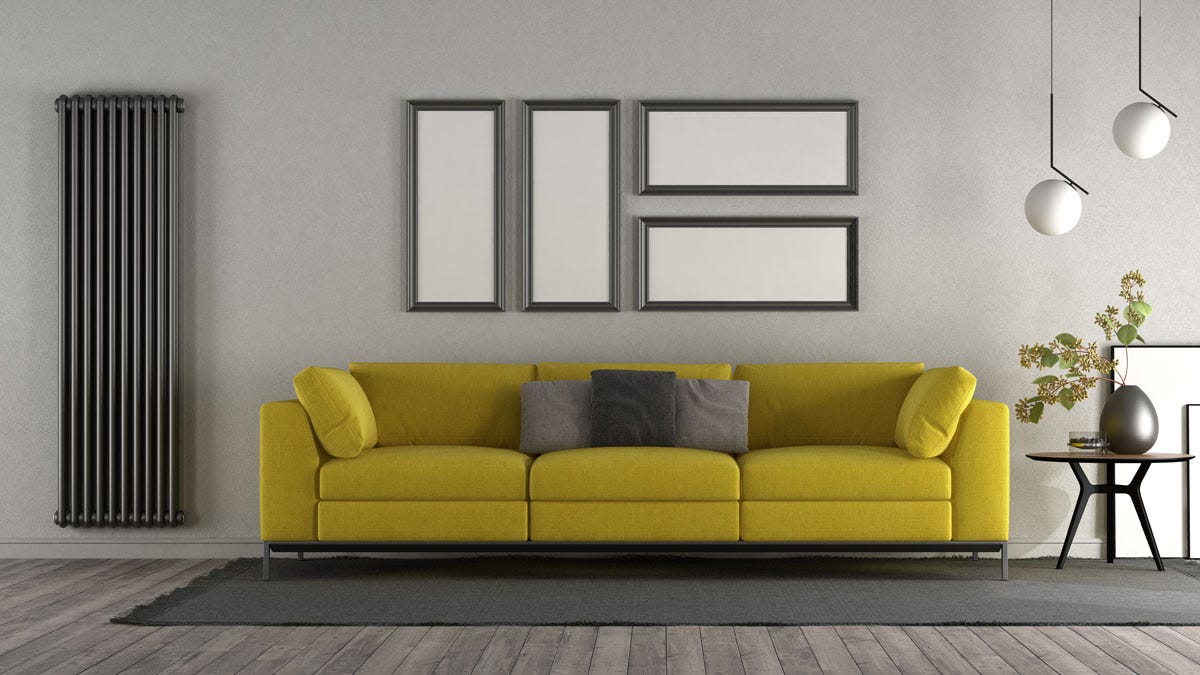 Many people are living in increasingly small spaces where horizontal wall space is very limited and jostling for position with furniture. In the past, people simply had to accept that the back of the sofa was going to be heated up before the rest of the room, as it was placed in front of a horizontal radiator.
Utilise upward space with vertical radiators
However, with the huge increase in the availability of vertical radiators, we can now make the most of upward wall space. This ensures that living spaces are comfortably heated no matter what the size of the room or where furniture is placed.
The trusty vertical radiator also allows us to install a heat emitter in narrow areas previously out of bounds to the traditional horizontal convector radiator. Narrow bits of wall space next to french windows, either side of large windows or in small bathrooms or ensuites are now very accessible and are, in fact, the perfect places to fit a vertical rad.
No loss of heat output with vertical radiators
A common misconception is that vertical radiators do not have such a high heat output as their horizontal counterparts. However, we would like to dispel that myth once and for all.
Just because a radiator is of a vertical orientation, this in no way affects the amount of heat it emits into your room. Indeed, a vertical radiator can often emit heat more efficiently straight out into a room, as it's not hidden behind large pieces of furniture that may absorb a lot of the heat.
We have a wide range of vertical radiators, including:
Below we have listed 5 of our favourite vertical radiators, which all have heat outputs more than capable of heating your room to a comfortable temperature.
1. Trade Direct Aphex Aluminium Radiators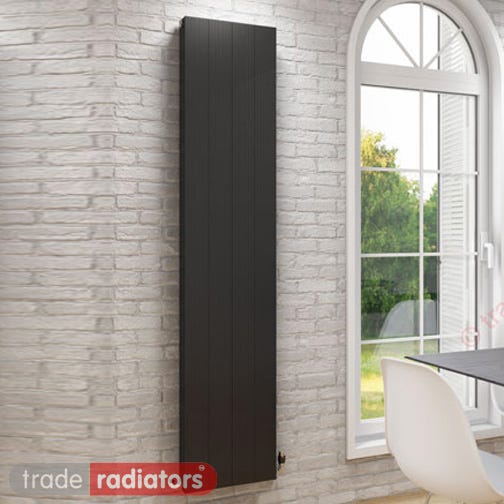 HEAT OUTPUT: 5496 - 8850 BTUs
Aluminium is a very popular material for manufacturing radiators because it's highly recyclable, very pliable and incredibly lightweight, which makes these types of rads easy to transport and install. However, the biggest benefit of aluminium is that it is an excellent conductor of heat.
In terms of aluminium radiators, this means that your room will get up to the desired temperature much quicker than other types of radiators, using less energy and resulting in lower heating bills.
The Aphex Vertical Aluminium Radiator is suitable for most modern heating systems and comes in a nice variety of sizes and styles for your to choose from. Available in white, black or anthracite finishes, the Aphex also comes with choice of smooth or grooved front panelling, enabling your to really make a design statement anywhere you choose to install them.
2. Trade Direct Vertical White Column Radiators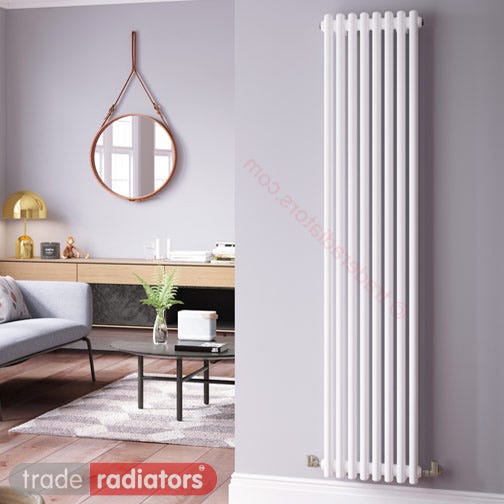 HEAT OUTPUT: 2186 - 7087 BTUs
Classic column radiators add a touch of class to any room and are especially popular because they look great regardless of the type of property they're installed in. Many people like the traditional look of old cast iron radiators, but are reluctant to install them because of their weight and a perceived lack of efficiency. However, these white classic column radiators provide a modern and efficient alternative with incredibly affordable prices.
Our Trade Direct White Vertical Column Radiators are among our best sellers, and the fact that they're available in a wide variety of sizes means your are sure to find a vertical radiator to fit any space in your home. These vertical radiators also come with 2 or 3 column options so they will have more than enough heat output to warm any room in your house comfortably.
3. Reina Neva Chrome Vertical Radiators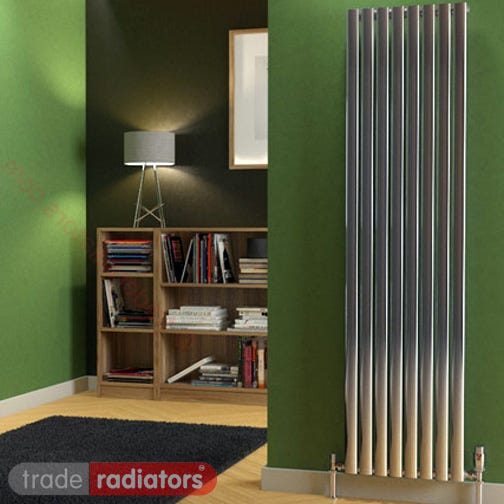 HEAT OUTPUT: 1931 - 3090 BTUs
If you're looking for a stylish but modern look, then selecting a radiator with a chrome finish could be the answer you're looking for. Polished chrome gives a lovely mirrored effect, nicely reflecting light around the room and providing a slightly industrial vibe. Great for making a beautiful design statement in your home.
These Reina Neva Vertical Chrome Radiators come in 3 sizes: 1800 x 295mm, 1800 x 355mm, 1800 x 413mm, which is perfect if you have some tall, narrow areas in your home that would benefit from some vertical heat.
Reina are a very well-known and respected manufacturer within the radiator world and these chrome vertical offerings are manufactured from the highest quality mild steel complete with a polished chrome plating on top.
These vertical rads also benefit from the fact that they can have chrome robe hooks or towel bars fitted to them, making them both very stylish and incredibly functional.
4. Apollo Ferrara Vertical Stainless Steel Radiators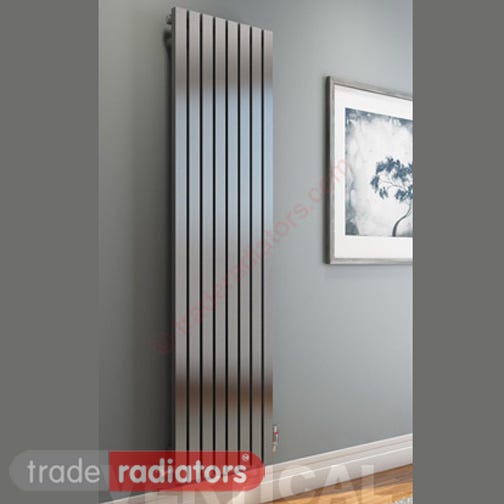 HEAT OUTPUT: 2240 - 7236 BTUs
Stainless steel is a fantastic material for constructing radiators. It looks amazing from an interior design point of view, because of the polished finished that helps to reflect light around the room. Stainless steel is also very durable and less prone to corrosion that naturally takes place inside radiators than most other materials.
The Apollo Ferrara Stainless Steel radiators are beautifully finished with uniform, clean lines that add an air of sophisticated modernity to any living space they're installed in.
These sturdy vertical radiators are actually well-suited to smaller rooms due to their projection from the wall of only 70mm. However with a wide range of sizes available, you can find an Apollo Ferrara Vertical Stainless Steel Radiator that will be suitable for any room or space in your home.
5. Trade Direct Vertical Anthracite Saturn Radiators
HEAT OUTPUT: 2253 - 8068 BTUs
Anthracite has become more and more popular as a colour choice for radiators, thanks to it being increasingly featured in many interior design shows. Anthracite provides a lovely alternative to black and can be compared to a charcoal grey with a hint of sparkling silver. This allows it to add a modern twist to any room it's placed in.
Our Trade Direct Vertical Anthracite Saturn Radiators feature a contemporary design and are manufactured with the highest quality 1.5mm thick mild steel. Available with single or double panels and in a wide variety of sizes, you're sure to find a vertical anthracite radiator that will look great in any room in your home.