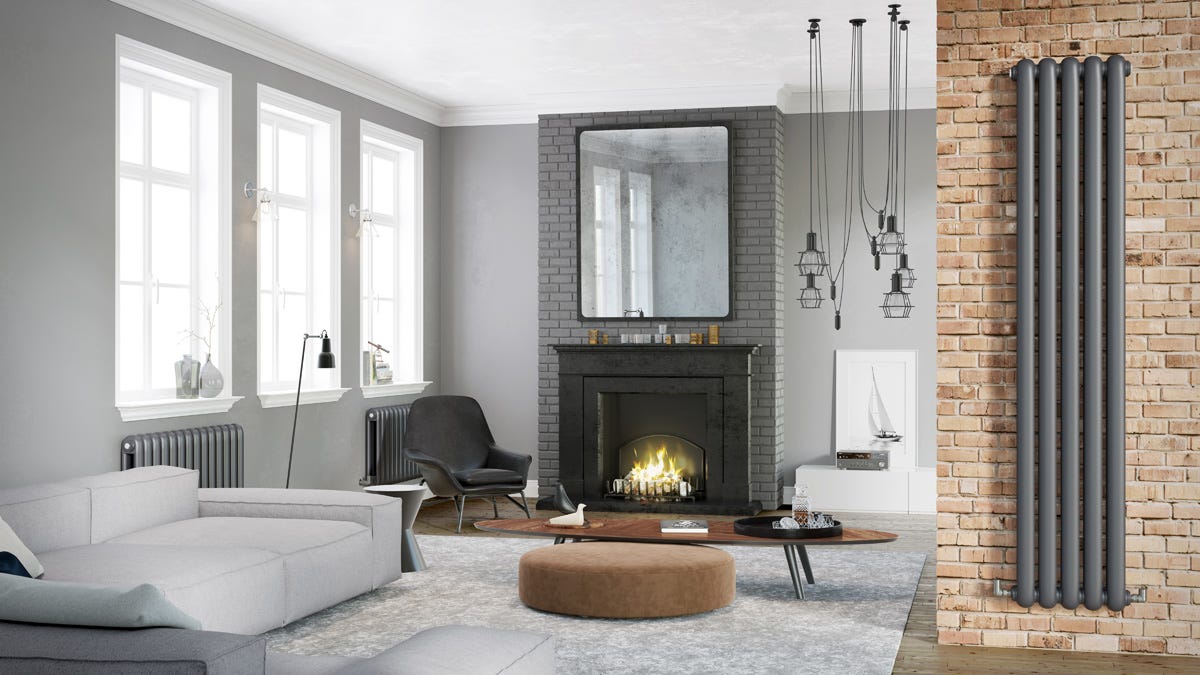 Buying a new radiator for your home may not be the thing you get most excited about during the redecoration process, but it is one of the most important purchases you'll ever make for your interior.
A good quality radiator will keep you and your family warm throughout the coldest months for around 15 years.
For this reason, it's very important you choose wisely to get the perfect radiator for your home, both in terms of style and heat output. Making the extra effort up front will result in you having a high-quality radiator doing the business for many years to come so we hope you'll read on.
Buying a radiator is not something the ordinary person does on a regular basis, so you might be tempted to go straight to Homebase, a well-known brand that caters for DIY projects. However, while Homebase do many things well, they are a bit of a jack of all trades and do not have the vast array of choice that a specialist radiator retailer, such as Trade Radiators, will have.
Therefore, it's worth investigating a little further to see if you will actually get a better deal from Trade Radiators than you would at Homebase.
In this article, we'll look at some of Homebase's most popular radiators and show you exactly why some of Trade Radiators comparable products are more likely to be suited to your needs.
Our Review Process
We've done our homework and know our radiator competitors really well. We've been researching on the Homebase website and have noticed quite a few vertical radiators that are comparable in size and style with radiators that we stock on the Trade Radiators website.
Naturally, we think it's quite obvious that the radiators we offer to our customers are far superior to Homebase and we think you'll be in agreement when you see the comparisons below.
In order to ensure you are receiving the best information possible, it's important for you to know that we are comparing like-for-like products, rather than two radiators that are completely unrelated to each other. All radiators discussed are vertical radiators and are similar in a range of imortant ways.
Some of the factors we've taken into account when comparing our radiators with Homebase's are:
Size / Dimensions
Colour
BTU heat output
Length of guarantee
Delivery cost
Price range
Comparing Homebase vs Trade Radiators Vertical Radiators
Below, we put some of Homebase's top selling vertical radiators under the microscope and compare them directly with our equivalents at Trade Radiators. After having a look at what we are offering, we reckon you'll be pleasantly surprised at what you see!
---
Homebase Henrad 2 Column vs Trade Radiators TD 2 Column - White Vertical Radiator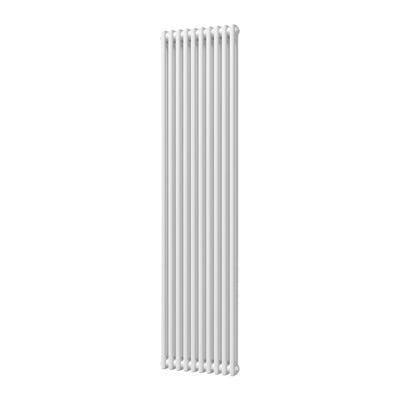 Column radiators have become increasingly popular in recent years and we're seeing more and more people opting to install them in their homes. It's likely because radiator manufacturers are providing more choice than ever before and people are coming around to the fact that radiators can be stylish as well as functional. No longer do you have to choose the standard convector radiators (unless you want to) as there are so many other styles available for great prices. The long, sleek columns, that make up the main chamber of a classic column radiator, look incredibly graceful and offer some of the presence previously only associated with cast iron radiators, at a much cheaper price.
The Henrad 2 Column at Homebase is a lovely-looking radiator, beautifully finished in a white powder coating and provides a great example of the classic column style. The '2 column' in the name of the radiator refers to the depth of the radiator radiator, rather than the number of horizontal columns. The Henrad is a pretty good quality radiator with a solid BTU heat out put for its dimensions, but you'll notice from the comparison below that the Trade Radiators alternative is clearly superior.
Our 2 Column vertical radiator is from our well-respected Trade Direct (TD) range. Trade Direct is our own brand that helps us offer superb designs at incredibly low prices. Our radiator beats the Homebase Henrad on heat output by a considerable margin and massive;y undercuts it on price! In addition, as a display of the durability and high quality of our radiators, our colun rad also comes with a 15 year guarantee, far outdoing Homebase's by ten years! That means you get the reassurance of longer, trouble-free heating, with a better heat output and power price.
The TD 2 Column from Trade Radiators is a fantastic choice for anyone wanting to make use of upward space. These column radiators look great either side of a window or on a narrow wall where a wide radiator simply isn't possible to intall. A discerning choice for anyone looking for good value vertical heating.
(H) 1800mm x (W) 440mm

White

3809 BTU

5 Year Guarantee

Free delivery subject to min spend

£430
Trade Radiators TD 2 Column
(H) 1800mm x (W) 460mm

White

4415 BTU

15 Year Guarantee

Free delivery

£237.23
---
Homebase VURTU Double Panel vs Trade Radiators Reina Neva Double Panel - Anthracite Vertical Radiator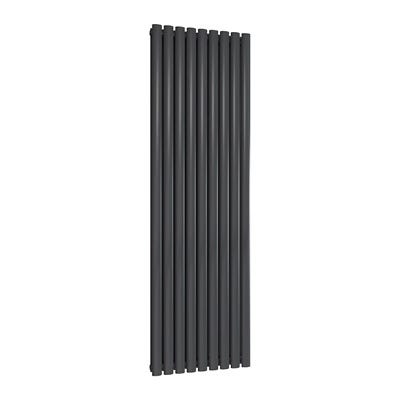 There's no doubt that Homebase's VURTU Double Panel radiator is a gorgeous piece of heating design that looks amazing in any type of property. It's contemporary and sophisticated, so it's not suprising that this rad is a popular option for those in the market for a good looking vertical radiator.
However, here at Trade Radiators, we've got a virtually identical design in the form of our Reina Neva Vertical Radiator. Reina are a well-known radiator manufacturer who have a great reputation for building efficient, great-looking and highly durable designer radiators. The anthracite finish on our Neva is also stunning and, just like the Homebase VURTU, it's also a double panel design allowing you to get double the heat output for similar dimensions.
Just look at the specifications of our Reina Neva compared to what Homebase are offering! We give you a higher heat output, the same guarantee, free delivery on any order and, perhaps most important in these difficult economic times, we beat them on price!
Click the Shop Now button to see further details and order our Reina Neva Anthracite Vertical Radiator, which included free, fast delivery. Additional sizes and colours available if required.
(H) 1800mm x (W) 480mm

Anthracite

6267 BTU

10 Year Guarantee

Free delivery subject to min spend

£400
Trade Radiators Reina Neva
(H) 1800mm x (W) 531mm

Anthracite

6710 BTU

10 Year Guarantee

Free delivery

£388.79
---
Homebase VURTU Ladder vs Trade Radiators TD Ladder - Chrome Vertical Heated Towel Rail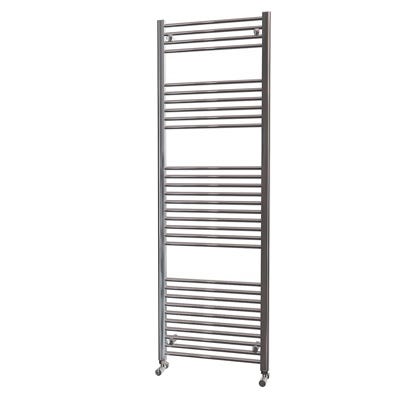 Heated towel rails have become a mainstay of British bathrooms over the last decade or so, due to their stylishness and functionality. The days of a heated towel rail being confined to luxury hotels are long gone and people are increasingly installing them in bathrooms, cloakrooms, kitchens and utility rooms. These rooms often have limited horizontal wall space and a heated towel rail provides the dual purpose of providing heat and somewhere to hang and dry damp towels.
The Homebase VURTU Heated Towel Rail is in the ladder style with a chrome plating, which is always the top-selling type of heated towel rail. It's a solid choice and is guaranteed to look good whether you're installing it in a bathroom, or elsewhere. At 1800mm high, it provides a good amount of heat and has space to store several towels, making it ideal for a busy family bathroom.
However, while it initially seems great, you'll see that our equivalent chrome heated towel rail is simply better value all round. The dimensions are exactly the same at 1800 x 600mm (the most popular heated towel rail size), yet our rail emits more heat and will save you a considerable amount, compared to Homebase's sellng price.
Our brilliant quality chrome ladder heated towel rails are from our economical Trade Direct line, which means we can offer you fantastic value at a fraction of the price of our competitors. We're sure you'll be totally satisfied by choosing our towel rail and will be delighted with the additional heat output for a much lower price. You could probably get yourself a new set of towels with the money you save purchasing from us!
Homebase VURTU Ladder Towel Rail
(H) 1800mm x (W) 600mm

Chrome

1915 BTU

10 Year Guarantee

Free delivery subject to min spend

£199
Trade Radiators TD Ladder Towel Rail
(H) 1800mm x (W) 600mm

Chrome

2006 BTU

10 Year Guarantee

Free delivery

£144.04
---
Homebase VURTU2 vs Trade Radiators Reina Vicari Aluminium - White Double Panel Vertical Radiator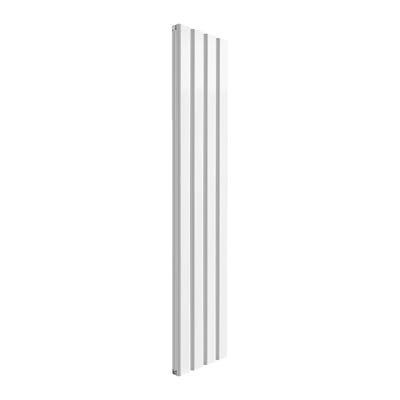 With its elegant vertical-barred frontage, the Homebase VURTU2 Double Panel is very much a stunning sight to take in. It's a contemporary design that would look fantastic in any type of property and would be a real focal point of any room it's installed in.
However, here at Trade Radiators we have a beautifully similar design by the name of the Reina Vicari, and we believe that our designer radiator is more than a match for Homebase's offering The white, grooved finish on our Vicari is very striking, and you'll notice that it is made of aluminium rather than mild steel construction of the Homebase VURTU2. This is an important feature because aluminium is a better heat conductor than steel. This means the REina Vicari will heat up to temperature really quickly and will use much less energy while doing so. Aluminium radiators are a super efficient way of heating your home because they are so energy efficient. This efficiency is likely to be reflected in your energy bills, which is nice to know in this era of eye-wateringly high energy prices.
The two radiators are very similar in their stats, with heat outputs and guarantees virtually identical. However, where our Reina Vicari streaks ahead from its Homebase competition is in price. Not only is the purchase price lower than at Homebase, the aluminium construction of the radiator will also help to ensure that you're spending less while running your heating and keeping more money in your pocket as a result.
If you've got limited horizontal wall space and you'd benefit from installing a tall and thin white radiator, definitely take a look at this amazing Reina Vicari Aluminium vertical designer radiator. The Reina Vicari is also available in anthracite, which is an increasingly popular alternative to white.
(H) 1800mm x (W) 480mm

White

6267 BTU

10 Year Guarantee

Free delivery subject to min spend

£400
Trade Radiators Reina Vicari Aluminium
(H) 1800mm x (W) 400mm

White Aluminium

6129 BTU

10 Year Guarantee

Free delivery

£357.49
---
Homebase VURTU5 Ladder vs Trade Radiators TD Ladder - Anthracite Vertical Heated Towel Rail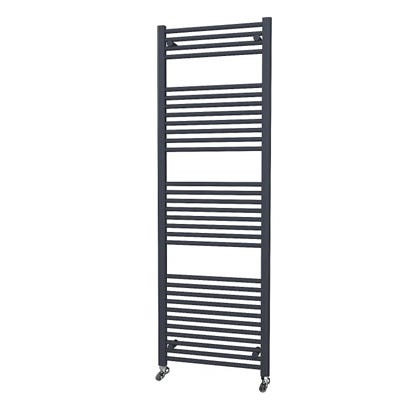 Homebase actually sells very few heated towel rails, which is quite surprising, give the fact that they are such a popular addition to bathrooms, cloakrooms, kitchens and utility rooms. They also don't offer many sizes, so you really don't have much choice if you were looking to buy one from Homebase. Fortunately for us, it makes it very easy when it comes to comparing our products and value for money.
As people get more and more creative and confident with their interior design choices, they are increasingly choosing anthracite-grey as a stylish and contemporary colour for their heated towel rails. Chrome and white used to be the only towel rail colours available, but since anthracite was introduced, people have been jumping onboard and opting for this popular colour.
If you compare our TD ladder-style rail to the Homebase VURTU5, you'll see they are identical in appearance. However, our rail massively beats it on heat output and is a much lower price, so there really is only one winner in this comparison. Throw in the fact that we offer a whole other range of options for these towel rails, including different sizes, straight or curved bars, plus they're available in electric and dual fuel options if required. The guarannte we provide on this towel rail also beats Homebase's by 5 years.
If you are in the market for a high quality, good value, anthracite heated towel rail, then gran yourself a bargain with Trade Radiators!
Homebase VURTU5 Ladder Towel Rail
(H) 1800mm x (W) 600mm

Anthracite

2424 BTU

10 Year Guarantee

Free delivery subject to min spend

£199
Trade Radiators TD Towel Rail
(H) 1800mm x (W) 600mm

Anthracite

3057 BTU

15 Year Guarantee

Free delivery

£125.23
---
Homebase vs Trade Radiators Conclusion
We hope that in the comparisons above, we've clearly demonstrated that Trade Radiators is more than a match for Homebase and usually comes out on top when the whole radiator package is taken into account. This is perhaps not surprising, as we are a specialised business focused entirely on the radiator niche, whereas Homebase offer a broader range of Home & Garden options and don't actually have too many radiators to chose from in their catalogue.
At Trade Radiators, we have the specialised knowledge to handpick the very best in radiator design and manufacture. We're able to offer them to our customers for unbelievably competitive prices due to the fact we don't have expensive showrooms or premises to upkeep around the country.
Radiators are what we do best, and providing heating solutions that satify our customers' needs and budgets is always at the forefront of our minds. We hope you agree and decide that an energy-efficient and well-priced radiator is the right option for you!
---
Shop Our Range of Vertical Radiators
The exciting news is that, in homes and offices across the UK, the installation of vertical radiators is massively on the rise. They're seen as a modern approach to radiator installation in many spaces, especially when horizontal wall space is limited. A vertical radiator is a great idea if you're looking for a new hallway, bathroom or kitchen radiator and don't want to sacrifice space or have a support wall you could make use of.
For those on a budget, you can get fantastic value on vertical radiators by shopping our Trade Direct range. Trade Direct vertical column radiators offer some of the best value within the vertical range.
Take a look at our superb range of vertical radiators to see which works best for you and your living environment.
If you need any help with making a decision, choosing your order or specific questions regarding our radiators, please do not hesitate to contact our friendly and knowledgeable team at 0141 225 0430 or info@traderadiators.com.
---