We have long argued that the increased choice of column radiators has been a massive boost to all homeowners who have central heating in their properties. Column rads strike a beautiful balance between the stylishness of a traditional, cast iron radiator and the pure, functional efficiency of a standard convector radiator.
In this article, we'll look at the positives of column radiators and why they could be the most efficient choice for your home.
High surface area
If you've ever wondered if column radiators give more heat than other types of radiators, then the great news is that they really do emit a significant amount of heat.
The amount of surface area created by the classic column design means that a great amount of heat is able to be produced and pushed into the room when compared to other radiator types of similar dimensions.
Quite simply, the larger the surface area of a radiator, the great the heat output - and column radiators have surface area in abundance.

Great heat circulators
When choosing a radiator to get the most efficient heat outputs, it's important that your rad has the ability to circulate heat around the room. The long, tightly packed chambers that form an integral part of column radiator design means that heat is let out from every part of the radiator.
When compared with a standard convector radiator that has one or two rows of convector fins down the back of the main body of the rad, you'll find that a column radiator emits a greater amount of heat much more efficiently and is arguably more effective at heating the room.
Stylish and popular
Because of the versatility of column radiators, they have become among our best selling radiators. Whereas cast iron radiators are mainly suited to period properties, and can look strange in new-builds, the classic column design has no such restrictions.
Whether you've got a minimalist city centre apartment, a recently built starter home or a traditional country cottage, column radiators look fantastic wherever they're installed.
The flexible and stylish design allows you to make your column radiators part of the design of the room, rather than simply a functional white rectangle whose only purpose is to heat the room.
Large selection to choose from
At Trade Radiators, we are very proud of our huge range of column radiators that we can offer our customers. No matter what size you need, in vertical or horizontal orientation, with single or double panel options, we'll have a suitable column radiator for you.
You're certainly not restricted to white either as we have a range of colours to choose from, including anthracite, black, polished metal and even mirror-finish copper.
If you've got a room that needs heating, we'll have a column radiator more than capable of doing it!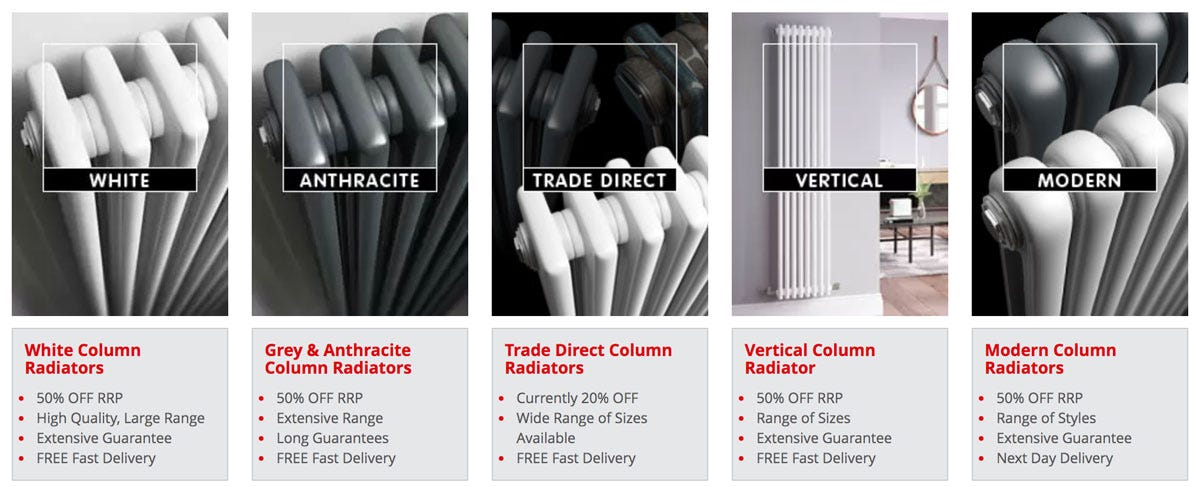 View All Our Column Radiators
RELATED ARTICLES
• Make a design statement with column anthracite radiators
• How to install a column radiator