With the vast majority of us spending a lot of time at home at the moment, we're also having to use the heating much more.
For those who don't have a conventional, hot water central heating system, it's common to wonder how efficient electric radiators actually are.
In this article, we'll take a look at the efficiency of modern electric radiators and heaters.
Often cheaper to install
While gas is usually cheaper than electricity per kWh, this doesn't help you if you have no gas powered central heating to begin with.
To install a full central heating system, you would need to factor in the cost of such things as boiler, copper pipework, heat pump, radiators and the disruption to your home caused by the installation.
Also, you'd need a professional, Gas Safe registered heating engineer to fit it all for you. In total, this will require a large outlay of money up front, plus you need to consider the annual maintenance a central heating system requires.
Installing electric radiators doesn't require a boiler or pipework running around your home. They are simply mounted on your wall and connected to the mains electrical supply, which you'd need a qualified electrician to do. All in all, installing an electrical heating system would be cheaper and much less disruptive.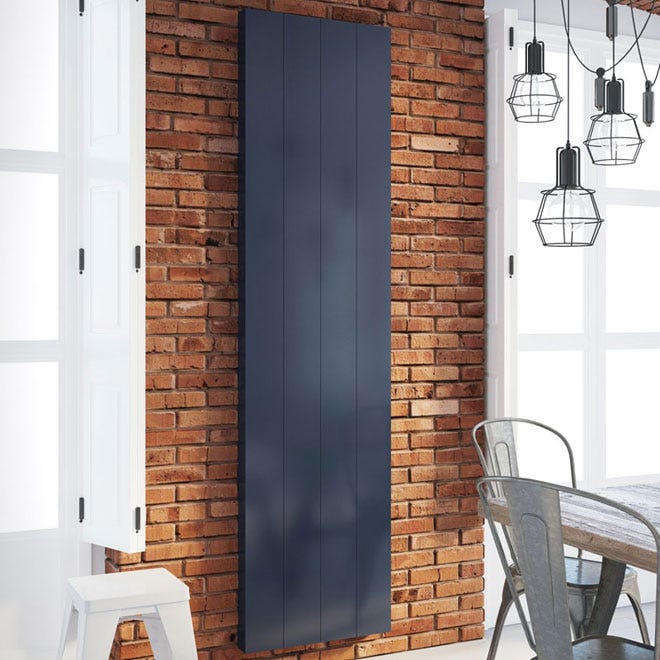 Make use of heating controls
Most electric radiators come with the option of temperature controls that can increase the efficiency of heating your home.
WiFi controlled electric radiators are a very popular way of keeping your electric heating cost-efficient. By simply downloading an app to your phone or tablet, you can control your radiators whether you're at home or not.
This is particularly useful if you want to make sure the heating is at the perfect temperature when you're about to get home, or if you've accidentally left the heating on and gone out.
Even if your electric radiator doesn't come with WiFi, it will likely come with 24/7 timer control. This allows you to set when you want your radiators to come on and off, fitting around your lifestyle and ensuring an empty home is never heated unnecessarily.
Self-learning detection systems
Electric radiator design has become more and more sophisticated over the years to enable predictive and detective behaviour for maximum energy efficiency.
Many electric rads have an open window detection which basically recognises a sudden drop in temperature, typically caused by an opened window or door.
Instead of wasting energy by continuing to pump out heat, the radiator will stop emitting warmth until the temperature has stabilised when the window or door is closed.
Another popular feature is known as adaptive start. Over a short amount of time, the electric radiator will 'learn' when you like to have the heating come on every day.
Instead of coming on from cold at your specified time, an adaptive start radiator will gently come on a little earlier, ensuring your desired temperature is achieved at the correct time.
Electric Radiators at TradeRadiators.com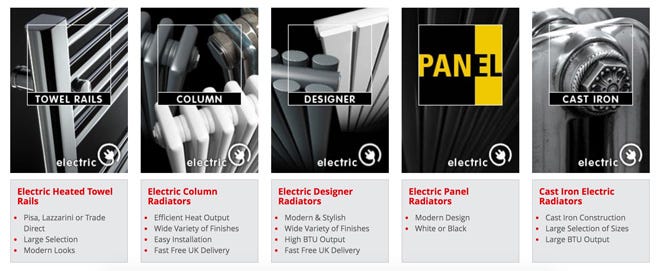 At Trade Radiators, we stock a vast range of electric radiators. Whether you want something conventional like a panel radiator, or fancy updating old storage heaters with designer electric rads, we've got suitable options for you.
Even if you have a standard, hot water central heating system, it's very common to add an electric heated towel rail into a bathroom or ensuite. If this is the case, then we've got a massive variety to choose from.
All of our electric radiators have great energy efficiency and high BTU heat outputs. Every electric radiator is manufactured to the highest safety standards and come with free delivery and comprehensive guarantees.
Adding electric radiators to your home is a fantastic option if you don't want the expense and intrusive inconvenience involved in a hot water central heating system.
---
RELATED ARTICLES
• Why electric heating is more attractive than ever