The radiators in our homes are incredibly important pieces of equipment and we heavily rely upon them to keep us warm, particularly in the coldest months. Radiators generally have a long lifespan, but inevitably after years and years of constant use, they can become less efficient and eventually need to be replaced.
Much of the UK's housing stock have radiators that are many decades old, so it's a very real possibility for many to buy a house with incredibly old rads that simply aren't up to the job. Years and years of water running through pipework and radiators can cause internal rust which sits at the bottom of radiators in the form of sludge. This rusty sludge makes your boiler have to work hard to get your radiators up to temperature and can cause unnecessarily high gas bills as a result.
A common symptom of an old, sludge-filled radiator is when it gets hot at the top by remains cool/cold at the bottom. If you've got old radiators that you think are suffering from this problem then it time to look into upgrading them.
DIY or professional?
If you have some DIY experience, then replacing a radiator is not in and of itself as difficult task. If you have a single radiator that needs replacing and you're confident you have the skills to replace it, then this is something you can do yourself and would certainly save you money on labour costs. You'd just need to pay the price of whichever radiator you choose.
However, if you have more than one radiator that needs replacing then it's probably worth your while calling in a professional. In many older homes, it might be the case that the pipes need rerouting to make better use of available space in order to accommodate the new radiators and this kind of job would be better dealt with by someone in the trade.
Additionally, if radiators haven't been replaced in a long time, the gas-fired boiler may also be very old and need looking at. A Gas Safe Registered Engineer will be able to inspect your boiler to see if it is still functioning safely and efficiently and can make any repairs or recommendations if necessary.
Please note, if you are replacing electric radiators, you must get a qualified electrician to fit them for the work to be legal. This is not a job you can do yourself.
Who chooses the new radiators?
Most professional tradespeople will be able to advise the best type of radiator for the room and will perhaps give you ideas you hadn't previously thought of. If you don't have any particular preference in terms of design and just want something that heats the room efficiently, then leaving it up to the tradesperson could be a great, low-stress choice.
But if you do have something special in mind then you may find it preferable to order your chosen radiator yourself and simply get the professional to install it. Many tradespeople have a favoured brand or style of radiator that they like to install and these may not necessarily be to your taste. Choosing your radiators yourself means you'll get exactly what you want and for a price you have control over before getting the labour costs from the professional.
What are the labour costs?
There are variables involved with replacing radiators that can affect the final cost, such as how many radiators need replacing, how large your home is and if pipework needs laying or re-routing. Another important variable that can affect the labour costs is where in the country you live. For example, a professional fitting a radiator in London is likely to be more expensive than in Carlisle.
The costs below are from Checkatrade who provide 'ballpark averages' on a per radiator basis
| | | |
| --- | --- | --- |
| Remove a small radiator | 1 hour | £80 |
| Remove and repair radiator | 1-2 hours | £125 |
| Remove and replace a double panel radiator | 1-2 hours | £200 |
| Replace a large radiator | 2 hours | £300 |
| Move a radiator | 2 hours | £275 |
Courtesy of Checkatrade.com
A wide choice of radiators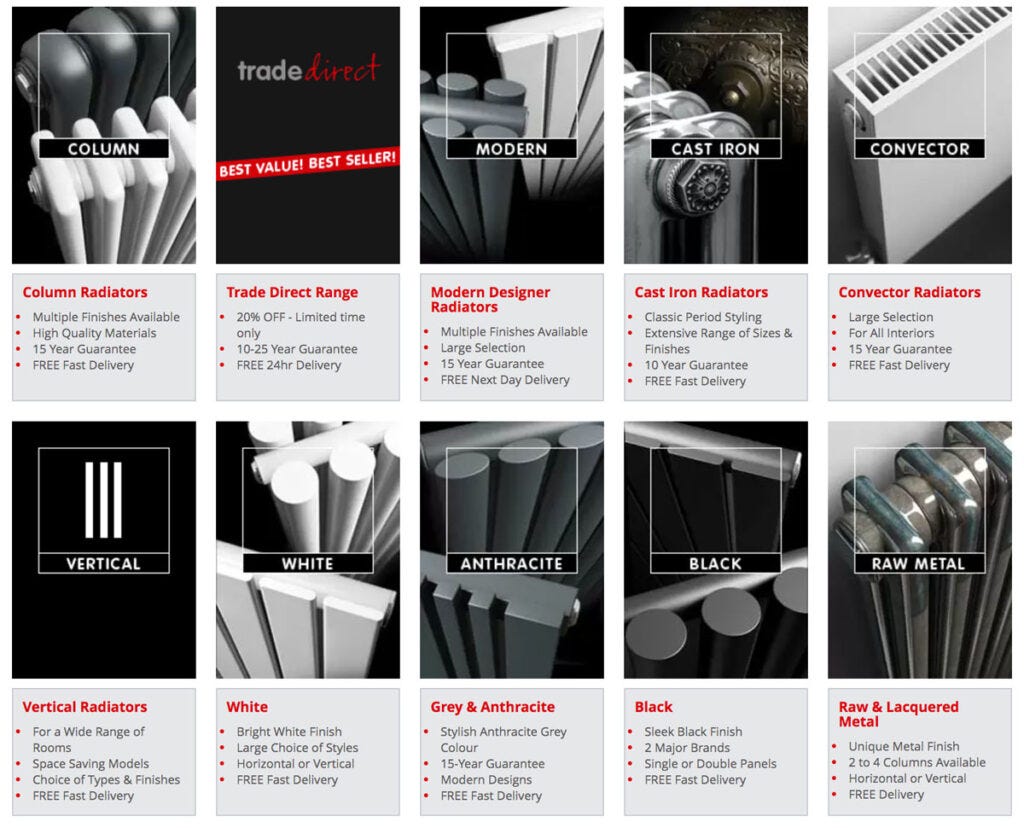 If you want to choose a specific radiator stye for your home, rather than just leaving it up to the professional tradesperson, then make sure you check out the massive range at Trade Radiators.
Trade Radiators has been supplying the UK's most comprehensive range of radiators, heated towel rails and electric heating options at trade prices for over a decade, becoming the largest independent retailer of our type anywhere in the UK in the process.
Whether you're looking for a new designer radiator, or simply need a small accessory to help finish the installation, Trade Radiators has what you're looking for.
All our products come with free delivery across mainland UK, with the majority of radiators qualifying for next day delivery, so you'll get your order within 24 hours.
View Our Full Radiator Range
RELATED ARTICLES
• How much does it cost to fit a heated towel rail?
• VIDEO - How to install a column radiator