How to keep your loft warm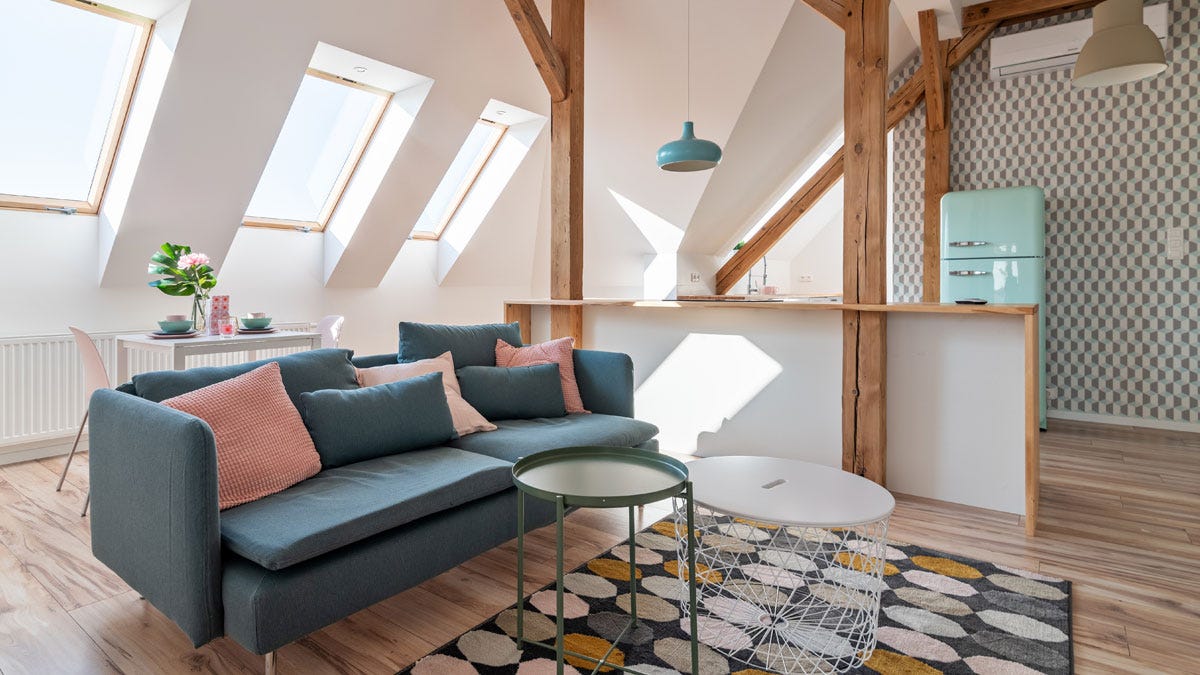 Rooms up in the attic are a fantastic way of maximising the space in your home. They tend to be quite a flexible option as a loft conversion can serve as a spare bedroom, a play area or an office, so it's little wonder that more and more people are converting their lofts.
However, it's worth noting that attics were not originally intended to be part of the main living area, so if you've ever been up in an unconverted loft, you'll know they get very cold in winter. Therefore, getting the heating right is a crucial part of turning an attic into a comfortable and useable living space. In this article, we'll look at some of the best ways you can ensure your room at the top of the house is a pleasant place to be.
Tips for choosing the right attic radiator
If you've had your loft professionally converted then it's probably safe to say that the room has had all the necessary insulation fitted. Insulation is an integral part of any home, making sure that the heat stays in the building and keeping your energy bills down to a manageable level.
Here are some points to think about when selecting the best radiator to heat your loft space.

The size of the loft room
With any room that is having a radiator installed, it's always best to measure the size of the room and then use a heating calculator to establish the amount of heat output (BTUs) you need your radiator to emit in order to comfortably heat the room.
This is particularly important in attics because they are usually an unconventional shape when compared to the rest of the rooms in your house. You may have less space or options on where you can actually fit a radiator, so it's very important that your rad has the right dimensions and heat output for the space.
The height of the walls
Related to the previous point is the height of your walls. Wall height is rarely a consideration when it comes to choosing a radiator to install in a room, but it definitely is for lofts.
This is because it's common for the vertical walls to be very low with the rest of the space taken up by the sloping eaves. In many cases, this rules out the use of vertical radiators, so you'll likely to want to look for low but wide horizontal radiators that can fit nicely onto the available wall space yet still circulate warmth around the room.
If you have a Dormer or Mansard-style loft conversion then obviously you'll have much more choice of radiators that will fit the room because more wall space will be available.
Lack of central heating
For many loft conversions, it may simply not have been practical or cost effective for central heating pipes to be extended up into the loft. If this is the case then your best option is to install one or two electric radiators up there instead.
Electric radiators can be easily connected up to your mains electrical system without the complication and disruption of laying pipes to transfer water to and from the radiators and boiler. If your attic room is only used occasionally (such as in the case of a spare bedroom) then an added bonus of having electric radiators is that you can completely switch them off when the room is not being used. This will ensure you don't waste energy heating an empty room when the rest of your central heating comes on.
Great radiator options for your loft
Measuring your wall space and using our heating calculator will set you up nicely for knowing what dimensions and heat output you'll need for your loft. Once you've got that sorted, here are some of our recommendations for radiators that work best in attic rooms.
Compact convector radiators
Frequently in our best-selling list, compact convector radiators are a really simple solution to heating up your loft. Being restricted by space doesn't mean you're limited to getting a tiny radiator that struggles to heat the room.
Here at Trade Radiators, we have a superb range of compact convector rads ideal for any loft space. Whether you've only got 300mm under a window to work with, or 500mm behind a door, we've got a convector radiator to slot in and heat the room to perfection.
View all compact convector radiators >>
Flat panel convector radiators
The aesthetic qualities of radiators have become more and more important for many people installing new radiators in their homes. Attic rooms are increasingly becoming a place where people feel they can unleash their inner interior design skills, choosing a stylish radiator that doesn't compromise on efficiency.
Flat panel convector radiators do just that by providing all the practical and efficiency qualities of a standard convector radiator, but with an extra injection of style. The flat panel frontage is perfect for keeping clean and lends a nice minimalist styling to any attic they're installed in.
The vast range of sizes available in our flat panel range gives you the flexibility of finding the perfect sophisticated rad to heat your loft.
View all flat panel radiators >>
Low level radiators
Because many loft conversions have very low side walls, the best options is often to install low and wide horizontal radiators in the available wall space. This range of radiators starts at 230mm tall and goes up to 300mm, which generally considered the industry standard height for low level radiators.
These type of rads operate just like any other and don't require any special treatment when installing. As these radiators tend to be placed in rooms where space is at a premium, such as attics, it's advisable to keep the area around the radiator free from furniture wherever possible to maximise heat output.
Shop our current range and find a low level radiator which is the right fit for your loft, and remember that all the products you see come with free delivery across mainland UK.
Attic radiator troubleshooting
A common problem for radiators in the loft is it not getting hot when you switch the central heating on. If you've got a radiator in your attic that isn't working, try watching the videos below before you call in a professional.