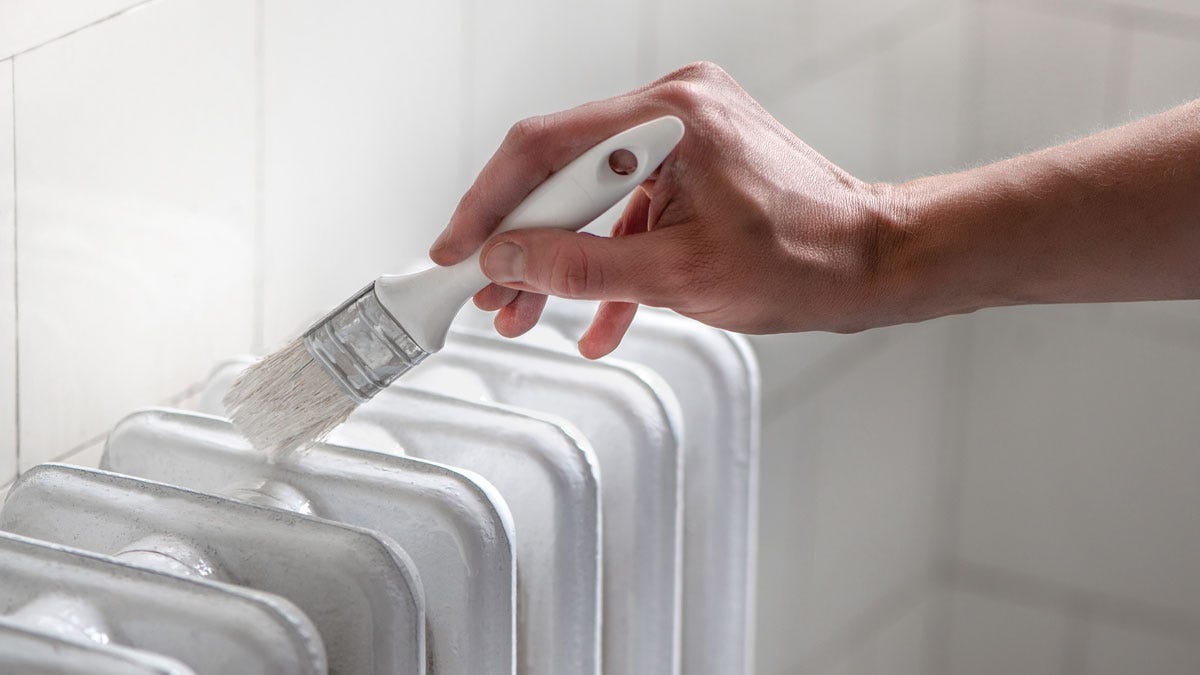 If you are planning on doing some decorating in your home, then you'll probably want to do the best job you can. One of the most common difficulties people face when painting walls is reaching the area behind a vertical radiator. Many will see this as no big deal and treat it with an 'out of sight, out of mind' perspective, but for those who are perfectionists, an unpainted or scruffy patch of wall behind a vertical radiator will give them sleepless nights.
In this article, we'll go through some of the main options available if you want to ensure that the hard-to-reach area behind the radiator is painted properly.
Remove the radiator
The absolute best way to paint behind a vertical radiator is to completely remove the radiator from the wall. This will make that area of wall as simple to paint as everywhere else and you won't be straining to reach past the radiator with a paint-covered brush or roller.
Though this may seem like a lot of hassle, there is a way for you to take the radiator off the wall without having to drain down your central heating system or even disconnecting it from the valves. The wall will be completely accessible to paint, but your vertical radiator will be easy to put back up on the wall once you're done.
In the video below, James the professional plumber, goes through the entire process of gently removing a radiator off the wall without it being too time-consuming. Follow along with your radiator and see if you can do the same to get unrestricted access to paint behind your vertical radiator.
Use a mini paint roller

If taking your vertical radiator off the wall seems like too big a job for you, then you could consider getting a mini roller to apply paint to the wall in that tight area behind the rad.
While standard paint rollers are great for getting a smooth, even finish on walls, they can be a bit chunky for tight spaces. Paint brushes may also be a bit cumbersome, as you'll be trying to reach behind the rad trying desperately not to splash paint on the main chamber of the radiator and spoiling the finish.
Fortunately, it's possible to get mini rollers that are perfect for a job such as this. They're much slimmer than standard rollers and make it really easy to paint narrow patches of wall or areas that are tight on space.
They can also be bough with a range of different types of handles, depending on what you're using them for. Because you are reaching behind a tall, vertical radiator, you will probably want to get a handle that conatins a long stem. A longer-stemmed handle will really help you with reaching deep behind your vertical rad and getting as much of the wall painted as possible.
Install a radiator conversion kit
Normally when painting a wall, you'll only be doing it once every few years so getting behind it to paint is not going to be a problem you'll encounter very often. However, it can get very dusty behind vertical radiators which means many people like to get behind them on a regular basis to clean the wall and the back of the rad.
A conversion kit allows your vertical radiator to swing away from the wall using brackets and harnesses, enabling you to get behind the radiator whenever you need to with ease. Conversion kits are simple for a professional or experienced DIYer to install and are available in a variety of sizes to accommodate a wide range of radiator types.
Vertical radiators at Trade Radiators
The only way is up for many homes and offices across the UK as the use of vertical radiators is on the rise. Seen as a modern approach to radiator installation in many spaces, especially when wall space is at a premium, a tall radiator is a fantastic idea if you're looking for a new hallway, bathroom or kitchen radiator and don't want to sacrifice space or have a support wall you could make use of.
Customers working within a dedicated budget can get a new vertical radiator for a better price when they shop the Trade Direct range. Trade Direct vertical column radiators offer some of the best value within the vertical range, with a two-column 1800mm tall radiator starting at just £90 and a 15-year guarantee that it will work for you without a hitch.
If you're considering getting more vertical radiators for your home, then you might be surprised at how simple it is to install one yourself, presuming you have a little bit of DIY experience.
In the useful video below, James the plumber goes through a step-by-step process of removing a standard, horizontal radiator and replacing it with a nice new vertical column radiator.
A fantastic way to save space as well as look great, our range of vertical column radiators is ideal for anyone looking to get new radiators at an affordable price.