17 January 2023
4 min read
How to remove a radiator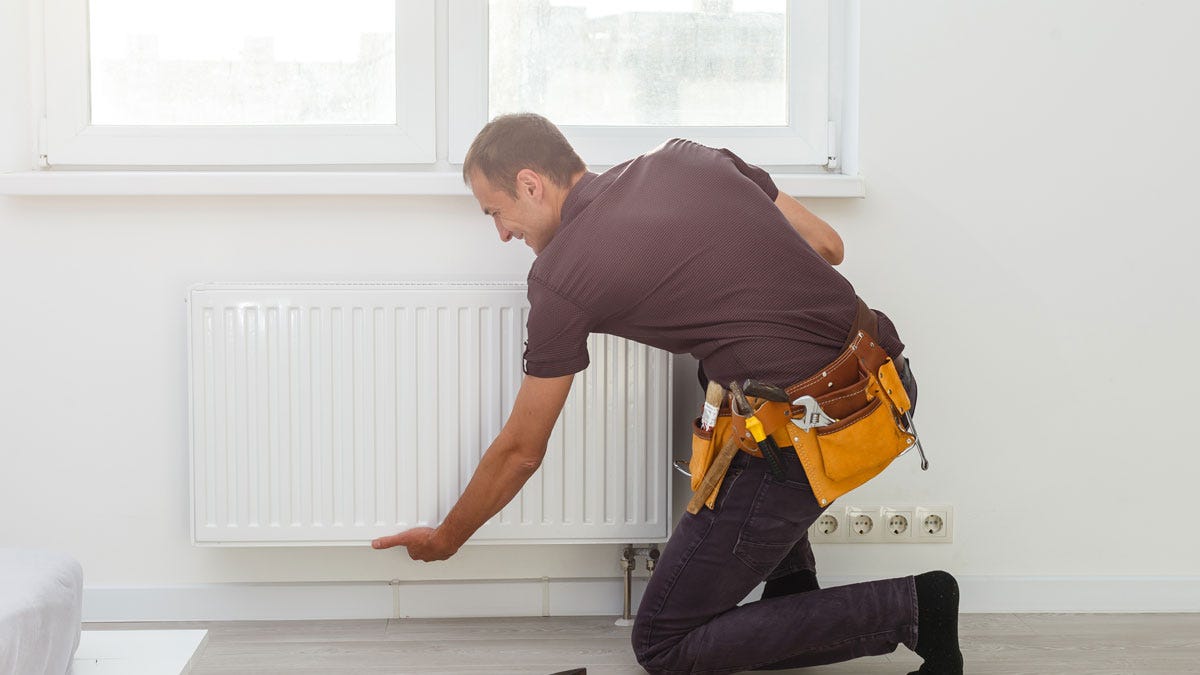 Whether you're planning to install a new radiator or whether you want to take your existing one off the wall for decorating puposes, knowing how to remove a radiator is a great thing to know how to do. It's not a particularly difficult DIY job once you know how, but it's worth following some simple instructions if you've never done it before. This will ensure you do the job properly and don't create any unnecessary problems for yourself.
In this article, we'll run through the steps of how to remove a radiator. For the puposes of simplicity, we'll describe how to do it without needing to drain down your central heating system.
Helpful tools you'll need
If you're going to tackle the job of removing your radiator properly then the task will be much easier if you have the following tools to hand:
Bleed key
Adjustable grips
Adjustable spanner
Old cloth, towel or rag
Plastic bucket or washing up bowl
Removing your radiator
The first thing to do is to switch off your heating system and allow it to cool. This will ensure that your radiator is cool to the touch and won't burn you when you remove it from the wall.
The next step is to close both valves on your radiator. This will likely to be your lockshield valve and your thermostatic radiator valve. Close your valves by turning them clockwise.
Take your radiator bleed key and attach it to the bleed valve. Undo the valve and if there's some air trapped in the rad, you'll hear hissing as it escapes. Have your old cloth or rag on hand to catch any drops of water whiich may come out once the air has been released.
Take your grips and spanner and hold the one of the valves while you loosen the nut. Tip the water from your radiator into your bucket and get rid of the dirty water. Continue to do this until the radiator is empty. You may want to put your old towel on the floor to protect it from any spilling water.
You'll next need to loosen the other valve in preparation for removing the radiator. Try tipping it towards your bucket again in case there is any water left inside. You can then gently lift the radiator off the wall and place it somewhere out of the way.
You should now have successfully removed your radiator and can now prepare to put on the new one or decorate the exposed wall.
Below is a video on gow to install a new radiator.
How to choose a new radiator
The simplest way to replace your old radiator is by choosing a new one that has the exact same distance between pipe inlets as your old one. You can find this by measuring the distance between your pipes and make a note of the number. All the radiators on our website display the 'pipe centres' measurement, which you can use to match up as closely as possible to the measurement you've just taken. Doing such a like-for-like replacement makes fitting your new radiator really easy as there is no need to extend or reroute your existing pipework.
Another really useful thing to do before selecting your new radiator is calculate how much heat you need to ensure your room is heated up to a comfortable temperature. You can do this by putting your room's dimensions into out Heating Calculator, which will tell you how many BTUs you need to adequately heat your room. All of our radiators on our website clearly display the BTU (British Thermal Units) output so you can be sure you are getting the right radiator for your room.
Of course, if you find a radiator that has the correct BTU heat output but does not match your pipe centres measurement, you'll need to get in a professioanl to make the necessary adjustments to your pipework. This is not something to be attempted yourself if you do not have any plumbing or DIY experience.
Radiators at TradeRadiators.com
At Trade Radiators we want everyone to find the ideal radiator for any space, whether you're looking for a no-fuss simple heating solution to the box bedroom upstairs, or fancy updating your old bathroom panel radiator for a sleek new chrome towel rail.
With the best range of radiators you'll find from any UK store, better delivery and our unique price promise, we aim to help any room across the country get the radiator it deserves. It all starts with knowing what you need from a new radiator.
Shop our extensive range of quality radiators by what matters to you most. Whether you're looking for a specific style of radiator, such as column or designer, or a particular colour to suit your home's interior, Trade Radiators has something to suit you.