Mastering the art of radiator removal is a fundamental skill for homeowners venturing into DIY projects. Whether you're upgrading your heating system or redecorating, understanding the process is key. In this guide, we'll provide a streamlined, step-by-step approach to safely remove a radiator from your wall. Follow these instructions to confidently tackle the task without creating unnecessary complications.
Whether you're a seasoned DIY enthusiast or a novice, this guide is designed to meet your needs. Proper radiator removal is really important, not just for immediate goals like renovation, but also to avoid potential leaks and heating system damage in future. By the end of this guide, you'll know how to successfully remove a radiator and have gained valuable information into your heating system.
How to remove a radiator to decorate
Radiator professional, James Auckland, lists the numerous benefits of taking a radiator off the wall when you're decorating, but he also offers an important word of caution:
"Removing a radiator for decorating purposes offers real practical benefits and will make the job much simpler. By removing the rad, you'll have better access to the wall, preventing potential damage from decorating materials, and enabling a more thorough and efficient decorating process. This temporary removal will allow you to reach behind the radiator for a more professional finish, avoid splatters or drips onto the radiator, and even consider upgrading to a more visually appealing model that complements the overall decor, such as a vertical radiator.
It's worth noting that while this task is definitely manageable, care must be taken to follow proper procedures to avoid water spills and ensure the safe disconnection and reconnection of the heating system. If you're not sure you want to do this as a DIYer then, seeking guidance from a professional is recommended to enure you don't damage your pipework and maintain the integrity of the system."
Tools you'll need
Adjustable spanner
Flathead screwdriver
Radiator bleed key
Old towel or sheets
Plastic bowls or containers
Step 1 - Switch off your heating system
Start by turning off your central heating system. This will help to reduce pressure in the radiator and minimises the risk of you burning yourself during the radiator removal process.
Step 2 - Protect the floor underneath
Place an old towel or sheet on the floor underneath the radiator to protect it from any water spills. You can also put a coupe of plastic containers underneath each valve to cathc any esacping water. Not only will this prevent a mess but will also make cleaning up easier when you've finished.
Step 3 - Close the radiator valves
To prevent the flow of water to the radiator, it's important to close both radiator valves. Identify the radiator valves situated at each end of the radiator. Rotate your manual or thermostatic radiator valve clockwise to switch it off. Move on to the lockshield valve, take off the plastic cap, and use an adjustable spanner or screwdriver to shut the valve in a clockwise direction. This ensures a secure closure, preventing any further water supply to the radiator.
Step 4 - Bleed the radiator
Use your radiator bleed key (or flathead screwdriver) to open the bleed valve on the radiator to release trapped air and alleviate pressure. The audible hiss signifies the air escaping, and you should continue until this sound subsides and a small amount of water is released. This will indicate that you've let all of the air out of the radiator.
Following the air release, it's important to quickly close and tighten the bleed valve. This prevents the reintroduction of air into the radiator, minimising the risk of water being forced out from the bottom when the radiator is eventually removed.
Step 5 - Loosen the valve nuts
You now need to undo the nuts that connect the radiator to the valves. Be cautious of any residual water that may come out during this step. Undo them to the point that you can hear the nuts clicking, indicating they are at the end of their thread.
Step 6 - Lift the radiator off the wall
Once the nuts are loosened, carefully lift the radiator off the brackets or supports. Depending on how large the radiator is, it could be quite heavy. If you do have a large radiator then consider having a second person to help you with lifting the radator away from the wall.
Step 7 - Empty the water (optional)
If you have a second person helping you, then as you lift the radiator of the wall, you might want to tilt one end and empty the dirty water into your plastic bowel or container. If you don't have additional help or don't want to do this then move onto the next step.
Step 8 - Block the valve ends
If you aren't tipping out the water then you can, cap or block the valve ends to prevent the water from flowing out. This can be done using radiator valve caps or improvised solutions like plastic bags secured with rubber bands.
Step 9 - Move the radiator out the way
Place the radiator in a safe location away from the work area, ensuring any water won't cause damage to the floor. It will also give you some extra space and ensure the radiator isn't damaged while you decorate.
Step 10 - Secure valve openings
Once you've removed the radiator, the entry points to the valves will be exposed. Cap or block those just to be on the safe side, preventing any unwanted decorating debris from entering your heating system.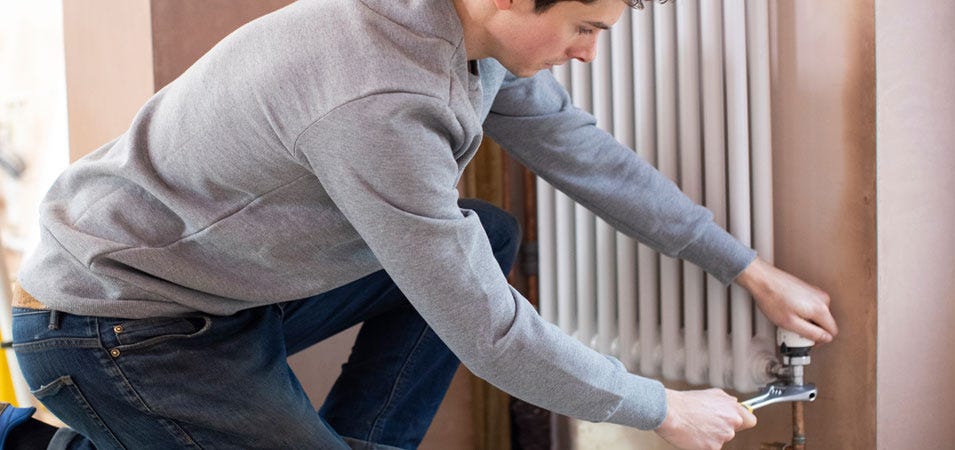 How to remove a radiator without draining the system
If you need to get behind your radiator to clean, repaint, remove wallpaper or do some plastering, it's not always practical to drain down your entire central heating system in order to remove it. There is actually a much more convenient way of removing your radiator, which makes this task much easier and doesn't require draining the system of water.
Tools you'll need
Adjustable spanner
Bleed key
Flathead screwdriver
Old towel or sheet
Plastic water recepticle
Step 1 - Turn off your heating
Before you start this job, it's important that you switch off your central heating system and allow the radiator to cool down. You are going to be handling the surface of the radiator, so ensuring the rad is cold will stop you from burning your hands.
Step 2 - Turn your valves off
It's important to shut off both of the radiator valves to ensure that no more water can come through to the radiator. Locate the radiator valves at both ends of the radiator. Turn your manual or thermostatic radiator valve clockwise to the off position. Go to the lockshield valve, remove the plastic cap and close the valve (clockwise) with your adjustable spanner or screwdriver.
Step 3 - Prepare the floor
Lay out your towel or sheet under the floor in case of any spillages. You can also place your plastic recepticle underneath the valves to catch any water that might escape during the removal process.
Step 4 - Bleed the radiator
Using your radiator key or a flathead screwdriver, gently open up the radiator's bleed valve to release the air and depressurise the radiator. You'll hear the hiss of the air escaping and will know all the air has been released once this noise stops.
After bleeding out the air, it's important you close/tighten the bleed valve again. This will stop air getting back into the radiator and potentially pushing water out the bottom when you remove it.
Step 5 - Unscrew the valve nuts
You now need to loosen the nuts that connect the radiator to the valves. Undo them to the point that you can hear the nuts clicking, indicating they are at the end of their thread. This will allow you to prise off the ends of the valves, making it easier to lift the radiator off the wall and flop it down onto the floor without spilling water.
Step 6 - Lift the radiator off the wall
Lay a towel down on the floor to act as a cushion and floor protector when rotating the radiator off the wall and onto the floor. Very slowly and carefully lift the radiator off the wall brackets and rotate it down so that the top end of the rad is touching the floor.
The radiator will still be connected at the valves, so there should be a slight slope down to top of the radiator, which should now be resting on your towel on the floor. Depending on the size of the radiator, it might be quite heavy so getting someone to help you could be a good idea.
Step 7 - Disconnect the radiator from the valves
All the water will have flowed to the top of the radiator, so you can now fully unscrew the nuts connecting the radiator to the valve.
At the same time you can pop the radiator out from the valves and lift the bottom of the radiator up, so that it is in effect upside down. A little bit of water may escape out of the radiator at this point, so ensure your towels are properly protecting your floor. You can now move your radiator away and carefully lean it somewhere while you do your work on the wall. To reconnect the radiator when you're finished, simply follow the instructions in reverse.
The video below shows a professional plumber going throug the process of removing the radiator without draining it step by step.
---
How to permanently remove a radiator
If you're planning to remove a radiator permanently, whether it be for practical or aesthetic reasons, then the actual removal will be a similar process to removing a radiator to decorate, as described above. However, there are some other considerations that you need to keep in mind before you remove a radiator for good, as it can have some implications for your central heating system as a whole.
Heating expert, James Auckland, advises that permanently removing a radiator, while perfectly possible, is not a decision to be taken lightly and without careful consideration.
"Removing a radiator permanently can have some great benefits. It can really free up wall space, giving a clean and streamlined aesthetic, and could also allow for more flexibility in furniture placement. However, it's not always straightforward, so assess the impact on your heating efficiency and consult professionals before taking any action. This will ensure proper adjustments are made to maintain an optimal and effective heating distribution throughout your home. It's important to always prioritise safety and the long-term functionality of your heating system if you're planning to remove a radiator permanently."
Heating system impact - It's important to note that removing a radiator permanently will have a knock-on effect to the balance of your heating system. Your system will have been designed with a specific number of radiators in mind, so if you are removing one and taking it out of the chain, you may alter your system's efficiency and distribution of heat.
Sealing up the pipes - After removing the radiator, you'll need to decide what is happening with the exposed pipes. At the very least, it's important to cap off or seal the open pipe ends securely, which will prevent water and air from entering the system.
Legal considerations - If you're permanenty removing your radiator and wanting to remove all trace of the pipes, this could require rerouting of the pipework. It's recommended you consult the services of a professional plumber for this task to ensure the work is done safely and in line with Building Regulations.
Balance the system - When completely removing a radiator from the system, you'll need to balance the heating system before you start using it again. This involves adjusting the flow of water to each radiator to ensure even heating throughout the remaining radiators in your home.
How to remove sludge from your radiator
A build-up of radiator sludge is a common problem in heating systems, particularly ones that are not regularly maintained. Over time, as water circulates through the system, it carries along impurities such as rust, dirt, and corrosion that settles at the bottom of radiators. This accumulation forms a thick, muddy substance commonly known as sludge.
Radiator sludge can cause problems with the efficient running of your heating system. The main symptom of radiators filled with sludge is an uneven heat distribution, with the bottom of the radiator feeling cooler than the top. In order to compensate, your heating system will have to work much harder in orde to heat your home. This places increased strain on the system's components, increasing the likelihood of a system breakdown. It will also reduce the energy-efficiency of your heating, resulting in an increase to your gas bills.
If you've noticed that your radiators are cool at the bottom then you'll need to remove the sludge from your radiator, probably by having them powerflushed. Powerflushing is a cleaning process for radiators and heating systems specifically designed to remove internal sludge and other debris. It involves circulating a specialised cleaning solution at high velocity around the system, dislodging and flushing out contaminants to improve heating efficiency and overall system performance. This is best performed by a professional plumber or heating engineer.
In order to minimise the build-up of sludge and internal corrosion in your radiators in future, it's important to keep your chemical inhibitor levels topped up in your system. Inhibitor is a specially-formulated solution that helps to prevent the metal components within your heating system from reacting with the hot water and rusting. Having your inhibitor levels checked as part of an annual boiler and heating system maintenance check will keep your heating syste running efficiently and your radiators warming up evenly.
What is the cost to remove a radiator?
According to Checkatrade, engaging a plumber for radiator removal typically costs between £100 and £150, covering not only the extraction but also addressing any potential leaks or identifying underlying issues.
While you may choose to remove the radiator yourself for painting during redecoration (as described above), please be cautious, especially with older radiators, as this may necessitate additional repairs due to the risk of leaks.
If your goal is to entirely eliminate the radiator, the removal alone by a plumber usually comes with a price tag of around £80. Opting for a comprehensive service, such as removing radiators for central heating system flushing, often entails a bundled cost, typically quoted at approximately £350 for six radiators.
Prices may vary depending on where you live in the UK, the time of year and how urgently you need the work doing.
Frequently Asked Questions about removing a radiator
There are quite a few things to keep in mind when removing a radiator, particularly if you're doing it for the first time. For that reason, we've provided a list of some of the most commonly-asked questions about removing a radiator below. Hopefully you'll find the answers useful and will be able to make a more informed decision about whether you think you're qualified enough to do the job yourself or if it would be better to call in a professional.
Do I need to turn off the heating system before removing a radiator?
Yes, it's essential to turn off the heating system and allow the radiator to cool before attempting to remove it. This minimises the risk of burns and prevents water leakage.
How do I drain the water from the radiator?
Radiators typically have a bleed valve at the top. Attach a radiator key to this valve and turn it counterclockwise to release air. Place a container underneath to catch any water. Alternatively, use a hose connected to the drain valve (if available) to redirect water to a suitable drainage point.
Can I remove a radiator without draining the entire heating system?
Yes, you can isolate and drain individual radiators without draining the entire system. Use the radiator's isolation valves to shut off water flow to the specific radiator you want to remove.
What tools do I need for removing a radiator?
Common tools include a radiator key, an adjustable spanner, an old towel or sheet, a flathead screwdriver, a pipe cutter or adjustable pipe wrench, and a container for draining water. You may also need valve caps to block up any exposed valves.
How do I disconnect the radiator from the pipes?
Use an adjustable spanner to disconnect the nuts connecting the radiator valves to the pipes. If the valves are seized, applying penetrating oil and using a pipe wrench may help.
Do I need to cap or seal the pipes after removing the radiator?
Yes, it's advisable to cap or seal the open pipe ends to prevent water leakage and maintain system pressure. Use blanking caps or plugs suitable for the pipe size.
Can I reinstall the radiator later?
Yes, you can reinstall the radiator later if needed. Ensure that you label or remember the radiator's position in the heating system, and cap the pipes securely to maintain system integrity.
Should I hire a professional to remove a radiator?
While removing a radiator is a DIY task for those with plumbing skills, if you're unsure or uncomfortable with the process, it's recommended to hire a professional plumber or heating engineer to ensure the job is done correctly and safely.
Are there any tips for avoiding water spillage?
Place towels, sheets or absorbent material around the area where you're working to protect the floor from water spills. Having a bucket or plastic container nearby is also helpful.
What should I do if I encounter difficulties?
If you encounter challenges, such as seized valves or stubborn fittings, it's advisable to seek professional assistance. Using excessive force can lead to damage or leaks.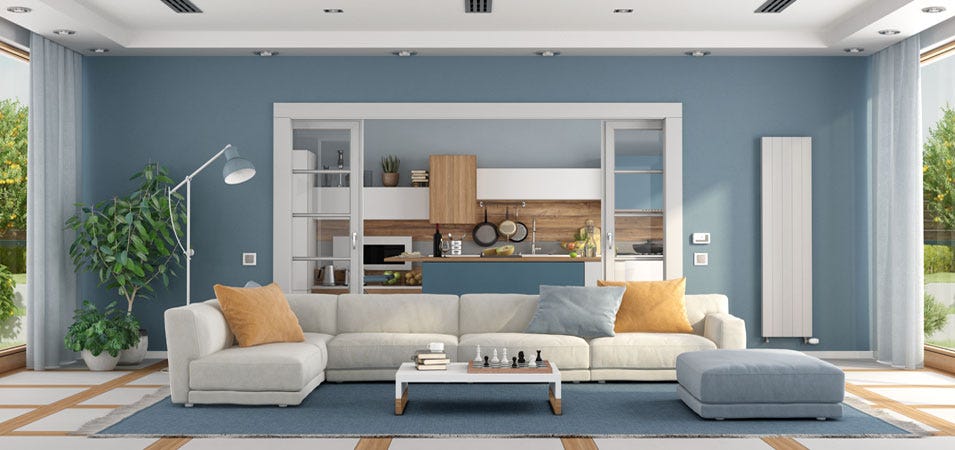 How to choose a new radiator
Nicholas Auckland, radiator expert at TradeRadiators.com has this advice when it comes to selecting a new radiator for your home:
"The simplest way to replace your old radiator is by choosing a new one that has the exact same distance between pipe inlets as your old one. You can find this by measuring the distance between your pipes and make a note of the number. All the radiators on our website display the 'pipe centres' measurement, which you can use to match up as closely as possible to the measurement you've just taken. Doing such a like-for-like replacement makes fitting your new radiator really easy as there is no need to extend or reroute your existing pipework.
Another really useful thing to do before selecting your new radiator is calculate how much heat you need to ensure your room is heated up to a comfortable temperature. You can do this by putting your room's dimensions into our Heating Calculator, which will tell you how many BTUs you need to adequately heat your room. All of our radiators on our website clearly display the BTU (British Thermal Units) output so you can be sure you are getting the right radiator for your room."
Of course, if you find a radiator that has the correct BTU heat output but does not match your pipe centres measurement, you'll need to get in a professional to make the necessary adjustments to your pipework. This is not something to be attempted yourself if you do not have any plumbing or DIY experience.
Radiators at TradeRadiators.com
At Trade Radiators we want everyone to find the ideal radiator for any space, whether you're looking for a no-fuss simple heating solution to the box bedroom upstairs, or fancy updating your old bathroom panel radiator for a sleek new chrome towel rail.
With the best range of radiators you'll find from any UK store, better delivery and our unique price promise, we aim to help any room across the country get the radiator it deserves. It all starts with knowing what you need from a new radiator.
Shop our extensive range of quality radiators by what matters to you most. Whether you're looking for a specific style of radiator, such as column or designer, or a particular colour to suit your home's interior, Trade Radiators has something to suit you.
---