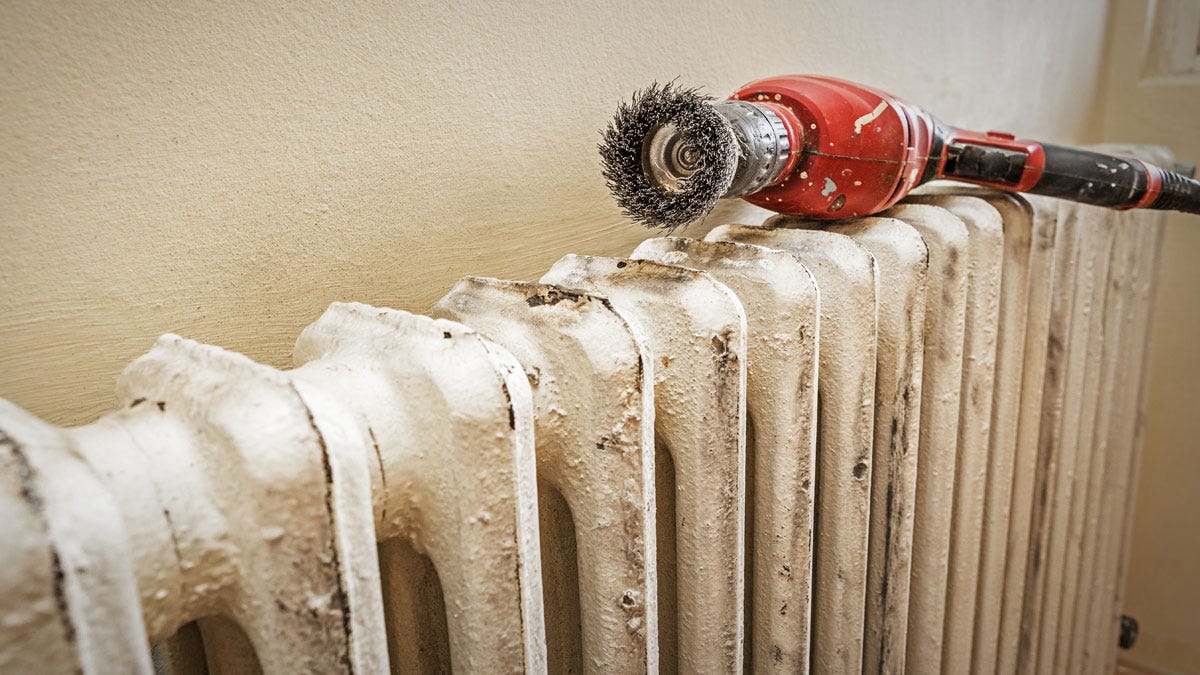 A great way of giving a new lease of life to some old radiators is by painting them. The finish on a radiator can deteriorate over time as a result of being knocked or chipped, and also due to water constantly heating up and cooling down the metal. Eventually, this takes its toll on the quality of the gloss finish and a good refresh can make a huge difference.
Painting a radiator a new colour can have a transformational impact on your interior design plan. For example, you can paint your radiator a bright colour if you want to make it stand out or you can paint it the same colour as your walls for a more subtle effect.
Whatever your reason for painting your radiator, one of the most time-consuming jobs is to remove the old, existing paint first. In this article, we'll go discuss the easiest way for you to remove paint from your radiator.
Use sandpaper and paint stripper
The first thing you should do when you tackle removing paint from your radiator is to use sandpaper. The sandpaper will roughen up the surface of the paint and will enable paint stripper to penetrate deeply into the paint. It will also help remove any rust that has built up over the years.
Sandpaper comes in many different grades known as 'grits'. The grit numbers go from low (the coarsest) up to very high (the finest). For sanding the paint off a radiator, you should get some very coarse sandpaper, usually with numbers 40 - 60.
If you've got an electric sander then the job will be considerably easier, but you can also use a good old-fashioned cork block and wrap the sandpaper around it. This will still get the job done and will be good for getting into any nooks and crannies on the surface of your radiator, though you will need to be prepared for putting in some serious effort.
Sand up and down the surface of the radiator and get as much paint off as you can. Then give the surface a quick wipe to remove any loose paint particles.
You can then use some paint stripper off your choice to get rid of the rest of the paint. Pay attention to the manufacturer's instructions for apllication, how long to leave and how to remove. Some manufacturer's will recommend applying it with a paint brush and removing it with a scraper or brass brush. If your radiator has several layers of paint, you may need to apply paint stripper several times to ensure a satisfactory amount of paint has been removed.
Choose your paint
When you've removed the paint from the surface from the surface of the radiator you can be pleased that the hard graft is over. That doesn't mean that you should be overly casual when it comes to applying paint but the more tedious part of the job is behind you.
Colour is usually the main priority when people paint their radiators, so you may well have a colour already in mind that will match your interior. Many well-known brands produce radiator paints that are heat-resistant and only require one or two coats. If you are planning on painting your radiator a common colour, like white or grey then choosing a dedicated radiator paint will be the easiset option for you.
On the otherhand, if your chosen colour is something a little more specific and is not available as a radiator paint, it's recommended to paint your radiator with an oil-based primer first. This will lay a nice base coat on which you can apply your coloured paint and will improve the quality of the finish.
For extra protection against chipping, it's possible to by a clear enamel coating to be pinted over the top. This will help protect the paint underneath and will give you a longer lasting, high-quality finish.
Buy new radiators
If the hard work of sanding, stripping, priming, painting and clear coating sounds like too much hard work, you might want to consider simply buying new radiators for your home. Though the outside of your radiators may look better after being painted, old radiators can be very rusty and corroded on the inside. Unchecked, this can lead to a brown sludge resting at the bottom of radiator, a very common symptom of which is rads that are hot at the top but cold at the bottom.
If you feel that you'd be better off investing in some new radiators then we've got a massive variety for you to choose from at Trade Radiators. We want everyone to find the ideal radiator for any space, whether you're looking for a no-fuss simple heating solution to the box bedroom upstairs, or fancy updating your old bedroom panel radiator for a sleek new classic column one.
With the best range of radiators you'll find from any UK store, better delivery and our unique price promise, we aim to help any room across the country get the radiator it deserves. It all starts with knowing what you need from a new radiator.