18 August 2020
7 min read
There's no doubt that utility bills in the UK can be very expensive, especially when we're at home a lot using more gas and electricity.
A common question many people have is whether electric heating is cheaper than gas central heating. In this article we'll explore this issue further and provide with some electric radiator options.
The costs of electricity vs gas
If we do a direct comparisons of the costs of two energy sources, then the answer to whether an electric radiator is cheaper than a standard gas powered, hot water radiator initially seems simple.
One unit of mains gas costs around £0.04 per kWh.
One unit of electricity costs around £0.15 per kWh.
Electricity is the more expensive energy source, therefore an electric radiator must be more expensive to run than a gas-powered one, right?
The answer is not always as simple.
For example, an electric radiator operates at 100% efficiency, whereas the most efficient gas powered boiler will only operate at around 90% efficiency. This means that all of the electricity consumed by the electric radiator goes to heat output, but with a gas powered system, some energy is lost.
There are other factors to keep in mind too.
Installing a new conventional central heating system is expensive
If you have electric radiators in your home at the moment and are considering installing a gas-powered central heating system, then you need to consider the costs involved.
A new central heating system will require a boiler, all the radiators and installation of copping piping to deliver hot water around the home. The cost of labour also needs to be factored in.
Installing a new gas-powered central heating system can cost several thousands of pounds, so if you currently have electric heating, it might not be the cheapest option to change the way you heat your home.
Upgrading your existing electric radiators would probably a more cost-effective way of improving your heating.
Easy to install an electric radiator
If you currently have a gas-powered, conventional heating system, it's sometimes easier to add an additional electric radiator than plumbing in a new hot water one.
For example, if you decide to put heating in the loft, a conservatory, ensuite or cloakroom, the cost of lifting up the floor, drilling through walls and laying copper piping maybe much more expensive than simply installing an electric radiator.
Your house may have changed considerably from when it was originally built and areas that previously were not designed with central heating in mind may now benefit considerably from having it.
In these cases it's worth getting the advice of a professional to establish whether adding a standard radiator is worth the cost and if it would actually be cheaper to install an electric rad instead.
Annual maintenance
Another serious consideration when weighing up the costs between electric and conventional heating is that of annual maintenance.
An electric radiator is a fairly simple piece of heating technology with minimal maintenance required, other than an occasional wipe over with a cloth to remove dust and dirt.
They contain an element which is connected to the mains electricity supply and heats the inside of the radiator, whether it be a chemical fluid, stone blocks or convector fins. There's very little to go wrong.
On the other hand, a standard central heating system consists of many components (boiler, pump, pipes, radiators, valves etc...) that need to be maintained, much like a car having a service.
While the costs of having a heating engineer perform maintenance on your system every 12 months is not expensive in and of itself, it still needs doing and parts sometime will need to be replaced.
Failure to have your heating system regularly maintained can lead to a very expensive breakdown, which often occurs at the coldest time of year when you most need it.
So while gas is cheaper than electricity, there are extra factors involved with gas central heating that you don't have to think about with electric radiators. You need to think about the pros and cons to decide which is best for you.
Top quality electric radiators at TradeRadiators.com
If you have decided that electric radiators are the best and most cost-effective option for you, then you'll be delighted to learn that we have a massive range to choose from.
Traditional Electric Bathroom Radiators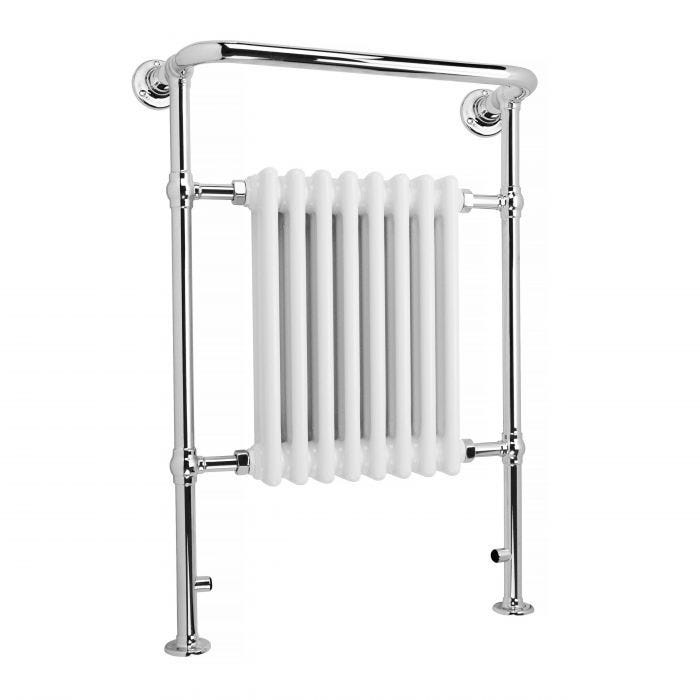 One of the best ways to introduce some classic style into your bathroom is by opting for a traditional bathroom radiator.
Pictured is the Wentworth Traditional Radiator, which is actually a dual fuel rad, meaning that it can be connected up to the conventional hot water system or via the mains electrical supply.
However, we have a fantastic range of these stunning radiators on our website.
The standard colours for these type of radiators are white and chrome, however we have recently mixed things up a bit and introduced a couple of very stylish anthracite and chrome options. Great if you want to add a contemporary twist!
Not only do these rads perform the function of heating your bathroom efficiently, but they also have a very useful bar for hanging, heating and drying towels!
All Electric Bathroom Radiators
Cast Iron Electric Radiators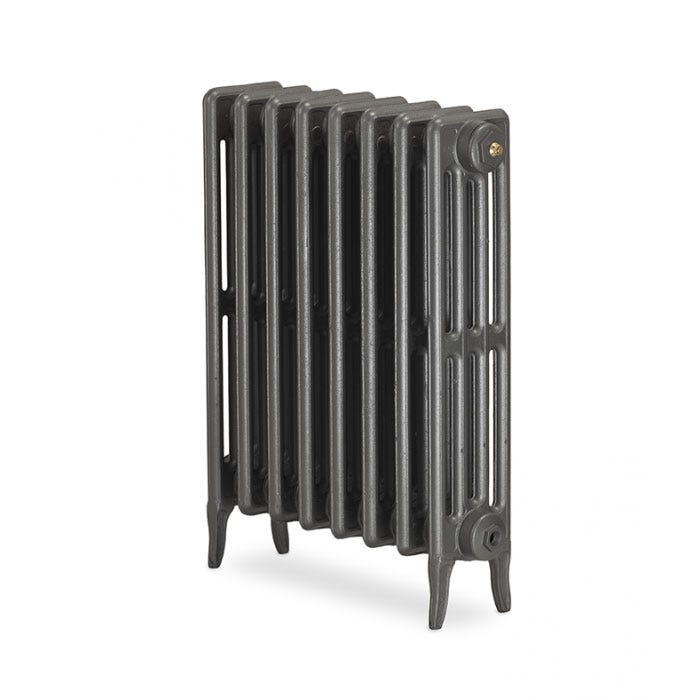 Many people believe that you have to have a conventional central heating system in order to enjoy the luxury of cast iron radiators. We are delighted to say that this is absolutely not true.
On our website, we have a vast range of electric cast iron radiators that can connect to the mains. Even if you have a standard central heating system, it's worth considering an electric rad for areas where it's not possible to run hot water pipes.
These beauties are a very efficient way of using electricity to heat your home and mean that you don't have to have a modern central heating system to be able to inject the grandeur that cast iron radiators bring to proceedings.
The Rad pictured is a Victoriana Cast Iron Radiator, but we have a lot of different styles, dimensions and finishes that we can offer you!
All Electric Cast Iron Radiators
DQ Vela Designer Electric Radiators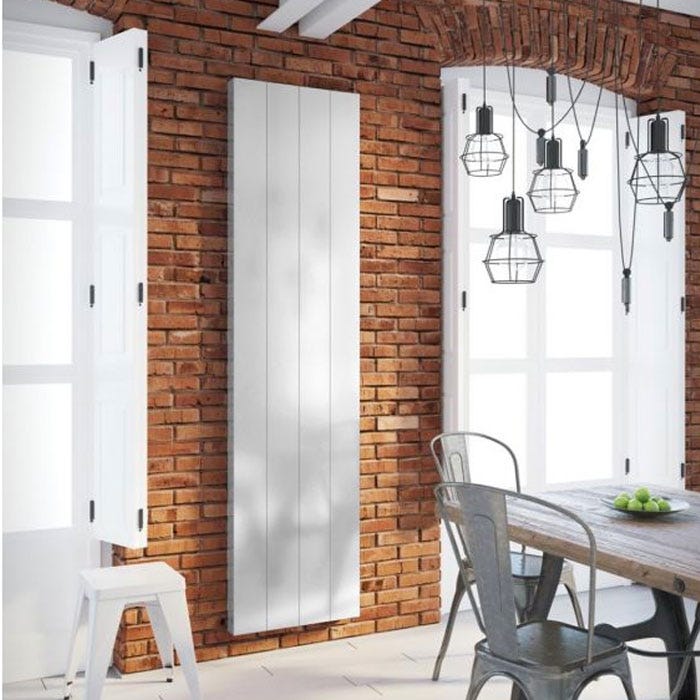 We are delighted to let you know that there are also designer radiators for electric central heating systems and we offer a lovely selection of them on our website.
The one pictured is an amazing DQ Vela electric vertical radiator that makes the most of upwards space. This is particularly useful if you have limited wall space or a small room, as it means you can still get heat in there.
The flat panel design looks incredibly stylish and shows what a long way electric radiator technology has come since the old days of plugin electric heaters.
Available in white or anthracite, vertical or horizontal, the DQ Vela range is a great place to start if you want that touch of designer class in your home and attached to your electric heating system.
All DQ Heating Electric Radiators
Lazzarini Roma Chrome Electric Heated Towel Rails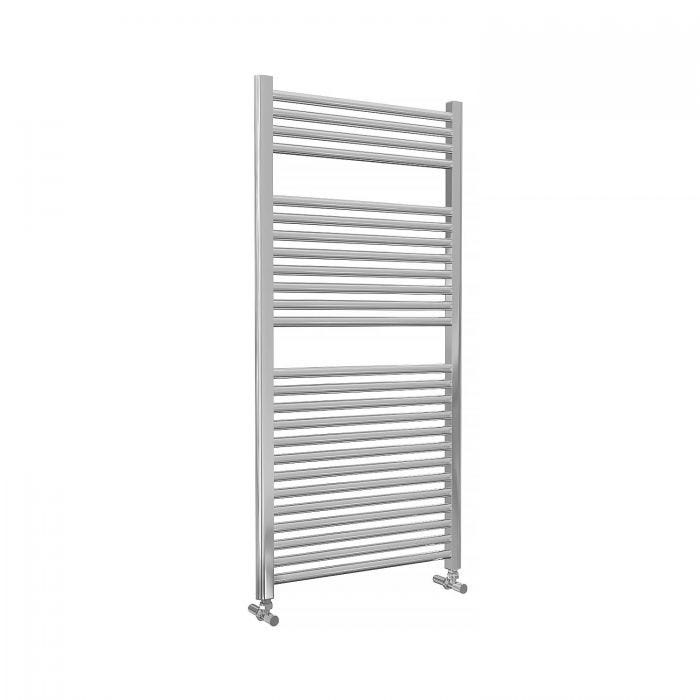 Lazzarini Radiators have a long history of high quality radiator and heated towel rail manufacture and their Roma range of towel rails are no exception.
Pictured here is the stylish straight bar design, made from the best quality mild steel and covered in a visually appealing chrome plating.
The Roma heated towel rail can be considered a quintessential towel rail design, which is why is is one of our best sellers with our customers.
With these electric radiators, we offer the option of single heat element or the luxury of a variable heat element, where you can set the temperature yourself based upon the available settings.
All Electric Heated Towel Rails
Infrared Panel Electric Radiators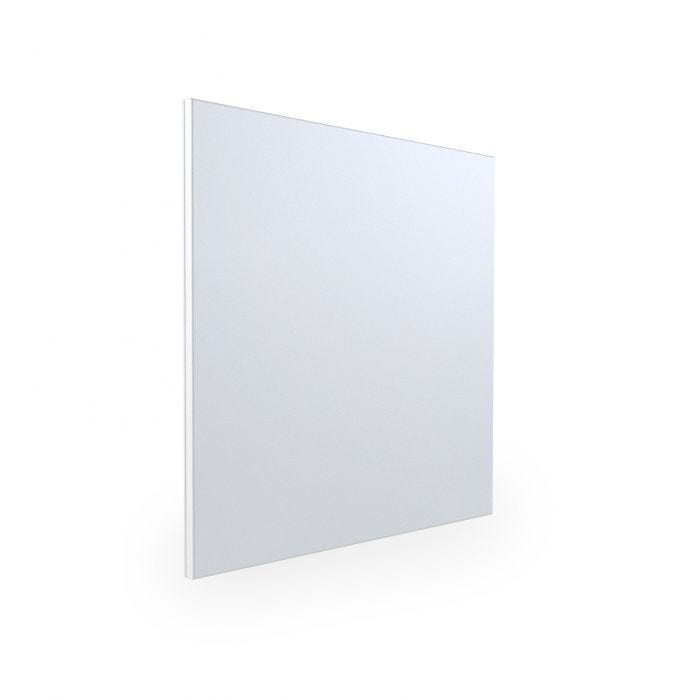 One of the great benefits of having electric radiators installed, and panel heaters in particular, is that there is minimal disruption caused and no need for major rerouting of your pipework.
They can also be quite slimline and unobtrusive, as the Infrared Aluminium Panel heater pictured above demonstrates nicely.
Electric Panel Radiators can look great in minimalist homes or offices due to their subtle styling and ability to blend into the background.
That being said, we do have a variety of electric panel heaters and radiators available, which include mirrors, black panels and curved aluminium panels. So, whatever type of electric panel rad you're looking for, we've got you covered.
All Infrared Electric Radiators
RELATED ARTICLES
• The Complete Guide to Electric Heating
• What is the cheapest heating system to run?