We all like to complain about the rising cost of heating. Every year it seems that the main gas companies announce record profits, while we, the consumer, have to pay more and more to keep our home warm.
When the summer ends, there's very often a battle between partners, or between parents and the kids regarding when is an acceptable time to start using the central heating.
One side will inevitably be concerned about the cost and insist that putting on a jumper will solve the problem. The other side will simply want to take the short cut and switch on the heating - after all, that's what it's there for, right?
However, whatever the arguments, there comes a point where the central heating must go on otherwise your home will become a freezing house of horrors. So which type of radiator is the most efficient and will give you the most bang for your buck?
Aluminium Radiators - The Kings of Efficiency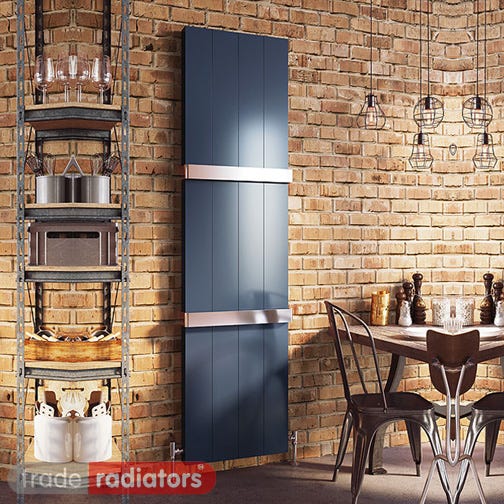 The obvious candidate for this kind of discussion is the aluminium radiator...and with good reason.
Aluminium is an excellent conductor of heat which means, when used as a radiator material, it's heats up to the desired room temperature very quickly. This means that less energy is used in bringing the material up to temperature when compared with other radiator metals.
15% less energy
Recent research has suggested that households can save as much as 15% in terms of energy saving when compared to rads manufactured using other metals. That kind of energy saving leads to a large reduction in heating bills over the course of a year.
Because of their thermal qualities, aluminium rads generally use lower amounts of water than their heat-emitting competitors. Again, this means that less energy is used to heat the water, less energy is needed to pump the water around your heating system and....you're using less water. It's a win-win situation all round.
Environmentally efficient
As well as contributing to lower heating costs, aluminium is also efficient in terms of production.
Virtually all aluminium radiators are made using recycled aluminium, and when they reach the end of their lives, the radiators can be dismantled and the aluminium can be reused. Energy efficient and environmentally friendly.
---
---
Annual Central Heating Maintenance
Aluminium radiators are not the be all and end all when it comes to heat and energy efficiency. Most modern radiators are designed with efficiency in mind and the gap has definitely become much smaller between aluminium and other types of radiator materials.
Instead, a very important factor to think about is the maintenance of your central heating system.
Sludge & limescale affects efficiency
If your boiler, water pump or other heating component is particularly old or faulty, then this is going to have a major impact on the overall efficiency of your radiators and general heating system.
If your system has high levels of radiator sludge or limescale that is blocking the flow of water through your pipes, then this is going to result in your system working harder to keep adequate amounts of hot water flowing around your system.
Gas Safe Register maintenance
A sure-fire way to ensure that your system is running smoothly is to have a Gas Safe Registered heating engineer come and take a look at your heating system every 12 months.
Not only will this help with improving energy efficiency, it will also help to identify any problems before they lead to a complete system breakdown.
Indeed, some boiler warranties only cover boiler breakdowns if you can prove that you have had your boiler maintained within the previous 12 months - an important detail that many householders are unaware of.
Worthwhile Heating Improvements
If you haven't updated your radiators in the last 15 years, we'd advise that you give serious thought to installing new radiators in order to make the most of new, efficient radiator technology. It could well be a good long-term investment due to the lower heating bills they produce.
Additionally, if you can't get remember when the last time you had your boiler looked at, or when your chemical inhibitor was last topped up, then the best and safest thing to do is get your plumber round to take a look.
You wouldn't expect your car to keep running smoothly with an MOT or service, so adopt the same attitude with your heating system.
---
RELATED ARTICLES
• Our top 5 most efficient aluminium radiators
• 5 reasons to buy an aluminium radiator