It's common to discover during the winter months, when your central heating is in full swing, that some of your radiators are scruffy, noisy and generally not fit for purpose anymore.
Equally, if you are renovating or building a property, then one of the most important factors will be to ensure the central heating is up and running, with adequately-sized radiators in every room.
It's likely that your first thought will be to install simple white radiators on your wall to upgrade your property.
However, this article is here to show you that you can be much more creative with your radiator choices and opt for a stylish and contemporary anthracite radiator.
Anthracite (similar to charcoal) has become a very popular radiator colour of choice and has the capability of transforming a simple heat emitter into a focal point of the room
Below we offer 5 of our favourite anthracite radiators from our Trade Direct range.
Nevo - Trade Direct Anthracite Radiators
Saturn - Trade Direct Anthracite Radiators
Column - Trade Direct Anthracite Radiators
Contour - Trade Direct Anthracite Radiators
Aphex Aluminium - Trade Direct Anthracite Radiators
---
1. NEVO - TRADE DIRECT ANTHRACITE RADIATORS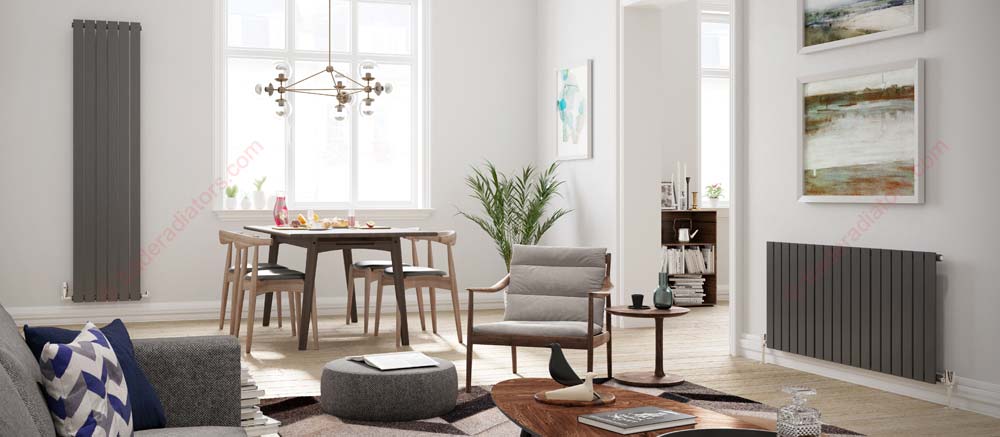 The ever-popular Nevo radiators are stylish and efficient while also performing the important task of heating your home comfortably thanks to their large BTU outputs.
Coming a a great range of sizes, the vertical orientations are particularly in demand because of their ability to slot into places where wall space is at a premium, making the most of upward space.
With high manufacturing standards, top quality 1.5mm thick mild steel and comprehensive 15 year guarantee, the anthracite Nevo rads are a fantastic choice for any type of property.
---
2. SATURN - TRADE DIRECT ANTHRACITE RADIATORS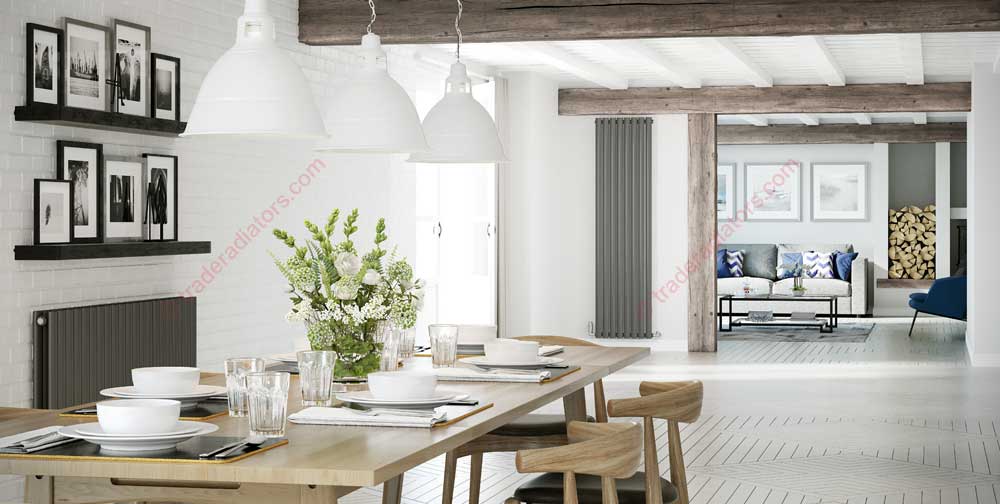 With their unique and tubular styling, the Saturn anthracite radiator helps to transform any room into a classy and contemporary living space.
Whether you have a large house on the country or a small, minimalist, inner city apartment, you are certain to find a Saturn radiator that is suitable for your property.
Not only do they have a vast range of sizes to choose from, they also come with single or double panel options, so you'll have absolutely no problem with heating your home even on the coldest days of the year.
---
3. COLUMN - TRADE DIRECT ANTHRACITE RADIATORS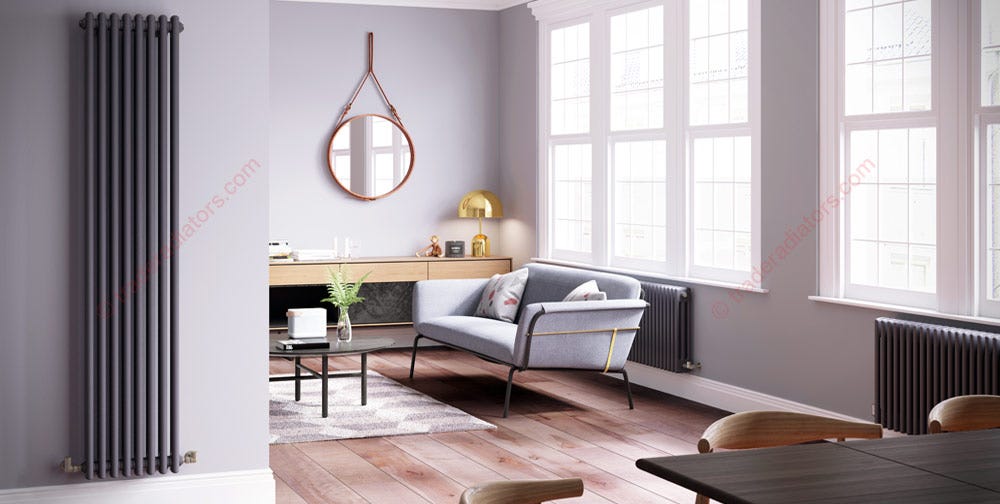 Our Trade Direct column radiators provide that perfect balance between the grand and traditional stylishness of a cast iron radiator, while having the modern efficiency and lightweight nature of a convector radiator.
Throw in the fact that you've got the unique charcoal-grey shade of anthracite and you've got yourself a seriously sleek and sophisticated way of heating your home.
The large surface area and unique matte finish makes the Anthracite Column radiator a superb choice for any heat emitting connoisseur.
---
4. CONTOUR - TRADE DIRECT ANTHRACITE RADIATORS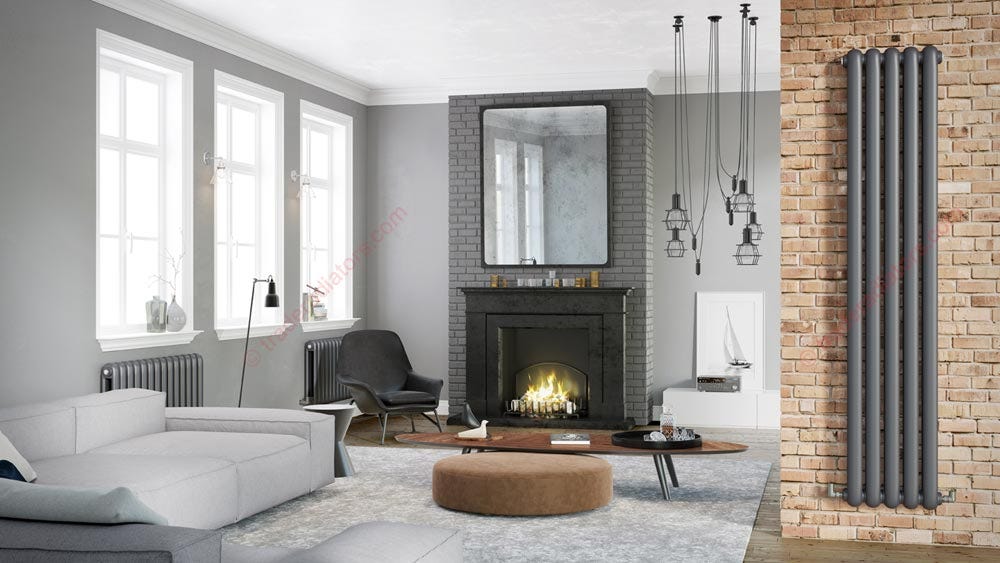 Smooth, flowing, fluid... are all adjectives that accurately describe the soft-edged design of the Trade Direct Anthracite Contour Radiators.
The gently-rounded nature of the Contour rads provides an air of warmth to an otherwise minimalist design and helps to inject a certain cosy charm to any room that they are installed in.
Provided in a range of dimensions and in horizontal or vertical orientations, the Contour is a nice, slightly offbeat choice for anyone wanting to make their radiators the talking point of their interior design plans.
---
5. APHEX ALUMINIUM - TRADE DIRECT ANTHRACITE RADIATORS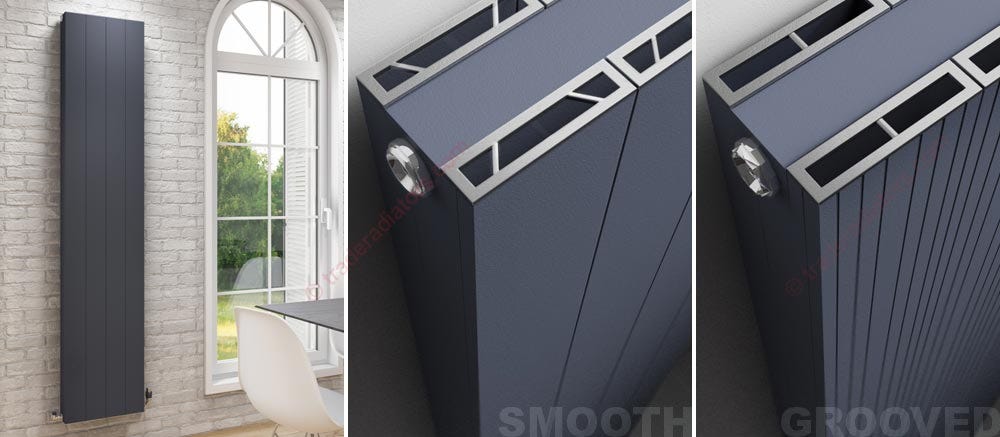 Aluminium is an incredibly efficient conductor of heat, which makes it a popular material for radiator manufacturer's and consumers, hoping to take advantage of the lower heating bills that often accompany aluminium radiators.
The Aphex has a super-trendy, design and provides the choice of a grooved or smooth panel finish for those wanting extra attention to detail.
Provided in several dimension choices, the fact these radiators are at the upper end of the price scale and more than offset by the savings made across the year on lower gas and water usage.
---
RELATED ARTICLES
• Our top 5 most efficient aluminium radiators
• Top 6 bathroom radiator ideas