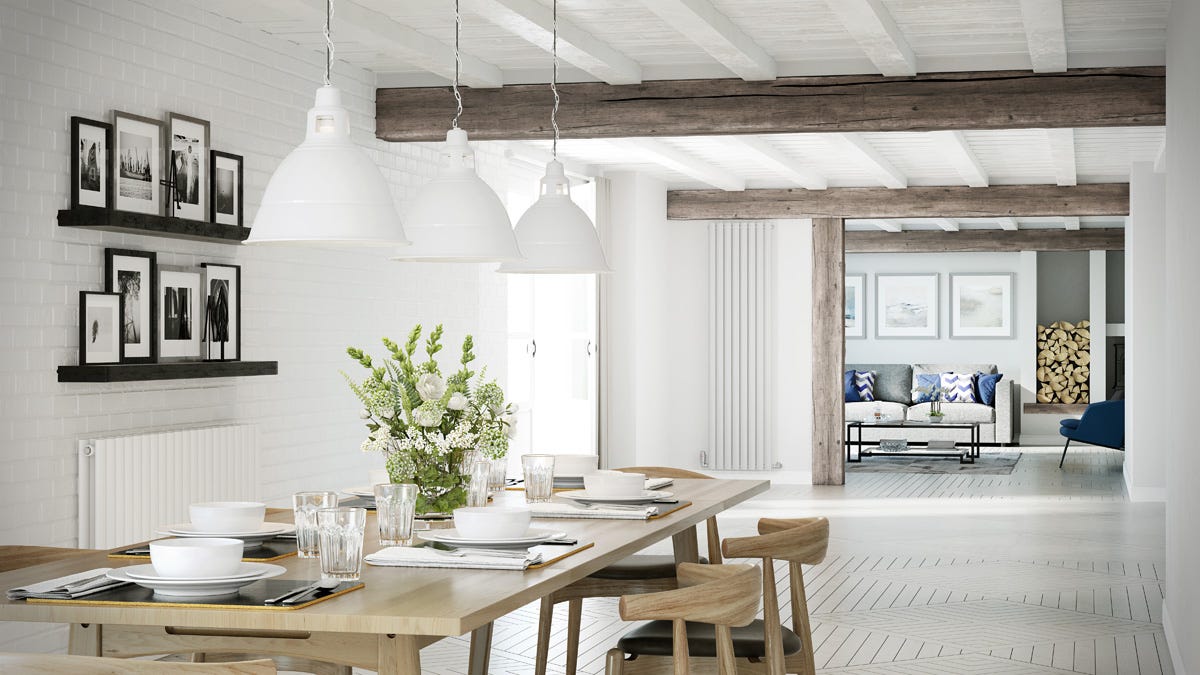 Buying a new radiator for your home may not be the thing you get most excited about during the redecoration process, but it is one of the most important purchases you'll ever make for your interior.
A good-quality radiator will keep you and your family warm throughout the coldest months for around 15 years.
For this reason, it's very important you choose wisely to get the perfect radiator for your home, both in terms of style and heat output. Making the extra effort up front will result in you having a high-quality radiator doing the business for many years to come so we hope you'll read on.
Buying a radiator is not something the ordinary person does on a regular basis, so you might be tempted to go straight to Plumbworld, a well-known brand that caters for DIY projects. However, while Plumbworld do many things well, they do not have the vast array of choice that a specialist radiator retailer, such as Trade Radiators, will have.
Therefore, it's worth investigating a little further to see if you will actually get a better deal from Trade Radiators than you would at Plumbworld.
In this article, we'll look at some of Plumbworld's most popular radiators and show you exactly why some of Trade Radiators comparable products are more likely to be suited to your needs.
Our Review Process
We've done our research and know our radiator competitors well. We've been on the Plumbworld website and have identified a number of vertical radiators that are comparable with radiators that we stock on the Trade Radiators website.
Naturally, we believe that what we offer to our customers is superior to Plumbworld and we think you'll agree when you see the comparisons below.
In order to ensure you are receiving the best information possible, it's important for you to know that we are comparing like-for-like products, rather than two radiators that are completely unrelated to each other. All radiators discussed are vertical radiators and are similar in a range of imortant ways.
Some of the factors we've taken into account when comparing our radiators with Plumbworld's are:
Size / Dimensions
Colour
BTU heat output
Length of guarantee
Delivery cost
Price range
Comparing Plumbworld vs Trade Radiators Vertical Radiators
Below, we put some of Plumbworld's top selling vertical radiators under the microscope and compare them directly with our equivalents at Trade Radiators. After having a look at what we are offering, we reckon you'll be pleasantly surprised at what you see!
---
Plumbworld Terma Rolo vs Trade Radiators DQ Cove - Mirror & White Vertical Radiator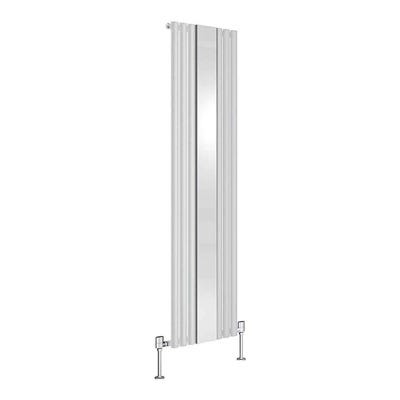 What better way to make a design statement than to combine a mirror with a radiator? If you've got limited horizontal wall space then a mirrored rad is a very practical solution to a common problem. Imagine the benefits in those cold winter months, when you're getting ready in front of the mirror safe in the knowledge you are your room are being made thoroughly cosy.
Plumbworld's Terma Rolo has been an increasingly good seller for them and with design like that, it's easy to see the attraction. The swish white bars symmetrically positioned either side of an immaculate mirror panel is a superb way of combining practicality with, dare we say it, vanity. This type of radiator would be particularly suited to a bedroom, or in a hallway or entrance area, where a mirror would be incredibly handy.
High praise indeed for this radiator, but by now you won't be surprised to learn that Trade Radiators has a radiator almost identical that we think provides much better value and would be the choice you'd be better off plumping for.
Our Cove Mirror White vertical radiator, manufactured by designer brand, DQ Heating, is a stunning piece of radiator design and actually beats the Plumbworld competition, in our humbe opinion. Not only does the DQ Cove beat it considerably on price, our radiator also provides a greater heat output! The Plumbworld Terma Rolo has a slightly wider mirror but that comes at a cost in terms of heat output. Our DQ Cove is better suited to narrower spaces, while providing the same practicality afforded by an integrated mirror, it emits more heat and is far cheaper on the wallet. We can't say fairer than that! The DQ Cove is also available in anthracite.
(H) 1800mm x (W) 590mm

Mirrored and White

2854 BTU

8 Year Guarantee

Free delivery

£374
(H) 1800mm x (W) 500mm

Mirrored and white

2900 BTU

5 Year Guarantee

Free delivery

£262.14
---
Plumbworld Park Lane 2 Column vs Trade Radiators Towelrads Windsor Plus 2 Column - White Vertical Radiator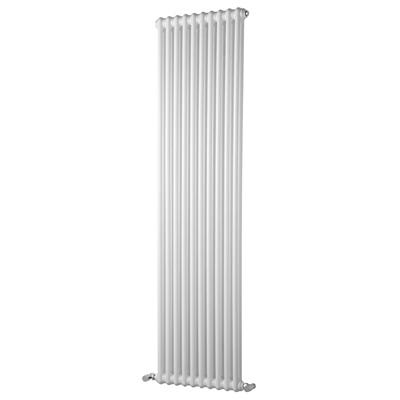 Column radiators are another style that we have noticed climbing up to the top of the radiator best-seller lists. Many people now realise that radiators can be functional and stylish, and are looking to break away from the, admittedly still popular, standard white convector radiators that we all grew up with. The long, graceful columns provide a classy alternative to convector radiators and also provide some of the authority previously associated only with cast iron radiators. Column rads provide that beautiful middle ground stylistically, while still being incredibly affordable.
Plumbworld's Park Lane 2 Column vertical rad is nicely finished in a powder coat white and leans heavily into the beauty of the classic column style. Incidentally, '2 columns' relates to the number of rows of columns, rather than how many columns are in each row. It's a good solid radiator, with a high BTU output for it's size, however we think the Trade Radiators alternative is the better choice for you.
Our 2 Column vertical radiator is from our highly-regarded Towelrads range, a respected brand that provides superb designs at super low prices. Our Windsor Plus is a very similar size to the Plumbworld rad, but ours provides more heat, a longer-lasting guarantee and all for a considerably lower price. When looking at the cold, hard facts of this comparision, it's no doubt as to which option provides better value.
The Towelrads Windsor Plus from Trade Radiators is a fantastic choice for anyone wanting to make the most of vertical space. Adding a radiator either side of a window or on a particularly narrow wall, are perfect locations for this amazing tall, classic column, vertical radiator.
(H) 1800mm x (W) 470mm

White

4369 BTU

10 Year Guarantee

Free delivery

£249
Trade Radiators Towelrads Windsor Plus
(H) 1800mm x (W) 460mm

White

4415 BTU

15 Year Guarantee

Free delivery

£225.50
---
Plumbworld DuraTherm vs Trade Radiators Ladder - White Vertical Heated Towel Rail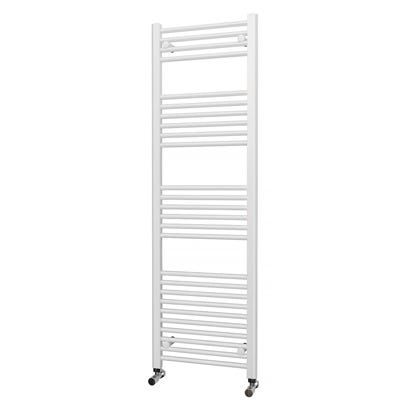 Heated towel rails have become a common sight in British bathrooms over the last couple of decades because of their combination of stylishness and functionality. The days of a heated towel rail being found only in luxury hotels are no longer, and householders are increasingly putting them in cloakrooms, kitchens and utility rooms, in addition to bathrooms. These rooms often have limited horizontal wall space and a heated towel rail provides the double function of providing heat and somewhere to hang damp towels.
The Plumbworld DuraTherm Heated Towel Rail is in the ladder style with a white powder coat finish, which is always a safe colour when when choosing a heated towel rail. It's a solid choice and is guaranteed to look good whether you're installing it in a bathroom, or elsewhere. At 1600mm high, it provides a good amount of heat and has space to store several towels, making it ideal for a busy family bathroom.
However, while that may sound like a really good deal, you'll notice that our equivalent white heated towel rail provides much better value all round. The dimensions are very similar (1600mm is a popular towel rail height), yet our rail emits more heat and will save you a considerable amount, compared to Plumbworld's sellng price.
Our brilliant quality white ladder heated towel rails are from our economical Trade Direct line, which means we can offer you fantastic value at a fraction of the price of our competitors. We're sure you'll be totally satisfied by choosing our white towel rail and will be delighted with the additional heat output for a much lower price!
(H) 1600mm x (W) 450mm

White

1573 BTU

10 Year Guarantee

Free delivery

£99.99
(H) 1600mm x (W) 500mm

White

2153 BTU

10 Year Guarantee

Free delivery

£89.17
---
Plumbworld Terma Rolo Room vs Trade Radiators Reina Neva - White Vertical Radiator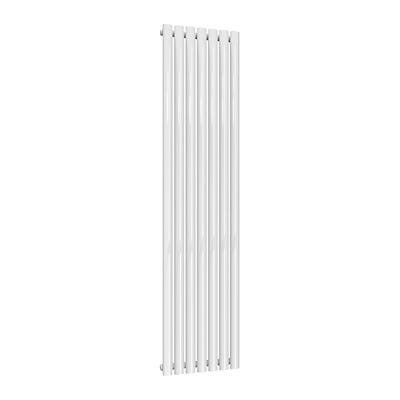 PlThere's no doubt that Plumbworld's Terma Rolo Room radiator is a lovely piece of radiator manufacture that looks amazing in any type of property or living space. It's really stylish, super sleek and slickly contemporary, so it's no wonder that it's a popular choice among those looking for a sophisticated vertical radiator.
However, here at Trade Radiators, we've got a virtually identical design in the form of our Reina Neva Vertical Radiator. Reina Radiators are a well-known manufacturer who have a very good reputation for building durable, good-looking, efficient, and low=priced radiators.
Just look at the specifications of our Reina Neva compared to what Plumbworld are offering! We give you a higher heat output, longer guarantee, free delivery on any order and, perhaps most important in these difficult economic times, our radiator is quite a bit lower in price.
Click the Shop Now button to see further details and order our Reina Nevo Vertical Radiator, which includes free, fast delivery. Additional sizes and colours available if required.
Plumbworld Terma Rolo Room
(H) 1800mm x (W) 370mm

White

2735 BTU

8 Year Guarantee

Free delivery

£253.99
Trade Radiators Reina Neva
(H) 1800mm x (W) 413mm

White

3073 BTU

10 Year Guarantee

Free delivery

£175.78
---
Plumbworld Terma Ribbon vs Trade Radiators DQ Modus - Copper Vertical Radiator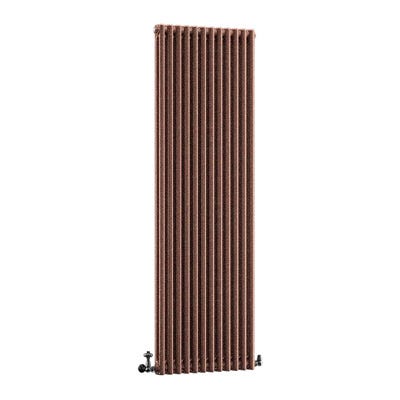 Plumbworld sell a very unique designer radiator called the Terma Ribbon. Finished in beautiful copper, it features eye-catching columns wrapped with coiled plates. It's a stunning piece of radiator design and would be the centerpiece of any room it's installed in. The trouble is, it's got a huge price tag and doesn't actually put out as much heat (which is ultimately the main job of a radiator) as you might expect. While we don't have a radiator of direct comparison here at Trade Radiators, we do have an option that is similarly eye-catching, emits more heat and is a fraction of the price.
Our DQ Modus 2 column radiator looks fantastic in Historic Copper and provides all the class and stylish design you could possibly want from a radiator. The long, graceful columns provide a classy alternative to Plumbworld's Terma Ribbon and our rad also provides some of the grace and authority previously associated only with cast iron radiators. Column rads provide that beautiful middle ground stylistically, while still being incredibly affordable.
Plumbworld do offer copper column radiators that have a similar aesthetic to ours, but they only offer them in an electric format, which is no good if you have a conventional, hot water central heating system. Our DQ Modus 2 column radiator is compatible with all standard central heating systems and enables you to have more heat, a longer guarantee and with plenty of change left over when compared to Plumbworld's, admitted stunning, expensive designer option. Take a look at the comparison table below and make your own mind up as to which provides better value for money.
Plumbworld Terma Ribbon Designer
(H) 1720mm x (W) 390mm

Copper

2974 BTU

8 Year Guarantee

Free delivery

£687.45
Trade Radiators DQ Modus 2 Column
(H) 1800mm x (W) 392mm

Column

3412 BTU

10 Year Guarantee

Free delivery

£292.86
---
Plumbworld vs Trade Radiators Conclusion
We hope that in the comparisons above, we've clearly demonstrated that Trade Radiators is more than a match for Plumbworld and usually comes out on top when the whole radiator package is taken into account. This is perhaps not surprising, as we are a specialised business focused entirely on the radiator niche, whereas Plumbworld offer a broader range of home & plumbing options.
At Trade Radiators, we have the specialised knowledge to handpick the very best in radiator design and manufacture. We're able to offer them to our customers for unbelievably competitive prices due to the fact we don't have expensive showrooms or premises to upkeep around the country.
Radiators are what we do best, and providing heating solutions that satify our customers' needs and budgets is always at the forefront of our minds. We hope you agree and decide that an energy-efficient and well-priced radiator is the right option for you!
---
Shop Our Range of Vertical Radiators
The exciting news is that, in homes and offices across the UK, the installation of vertical radiators is massively on the rise. They're seen as a modern approach to radiator installation in many spaces, especially when horizontal wall space is limited. A vertical radiator is a great idea if you're looking for a new hallway, bathroom or kitchen radiator and don't want to sacrifice space or have a support wall you could make use of.
For those on a budget, you can get fantastic value on vertical radiators by shopping our Trade Direct range. Trade Direct vertical column radiators offer some of the best value within the vertical range.
Take a look at our superb range of vertical radiators to see which works best for you and your living environment.
If you need any help with making a decision, choosing your order or specific questions regarding our radiators, please do not hesitate to contact our friendly and knowledgeable team at 0141 225 0430 or info@traderadiators.com.

---