The first thing to establish when making changes to your house is what 'renovating' actually means to you.
For example, does it involve completely stripping back and restoring an old property or are you planning to redecorate some rooms in your otherwise structurally sound home?
Working out what needs doing and what you want to achieve before you start is an excellent way to set your expectations and create a solid plan for your renovation project.
A new heating system
A very important thing to decide upon before you get started is whether or not your home needs a new heating system to be installed.
A new central heating system installation has the potential to be fairly disruptive as it can involve pulling up floor and drilling holes in walls in order to fit new copper piping.
Old boilers or water tanks may also need removing and a place found to install a combination boiler, so it's a good idea to get this worked out before you start thinking about wall colours or tile patterns.
Radiators and towel rails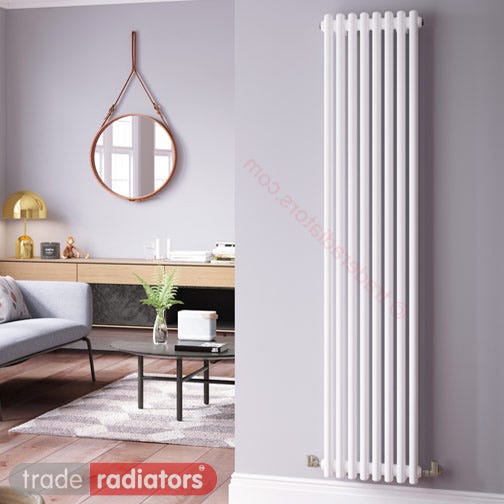 If you do need to go through the process of having a full central heating system, then the fun part is choosing the radiators for each of your rooms.
After consulting our heating calculator to ensure you know the right amount of heat output you need for each room, you've got pretty much free reign to plough through our vast selection of radiators to get exactly what you want.
If you're choosing radiators for a buy-to-let property or a house that you intend to sell on, then you might consider it best to choose to install white radiators.
However, if you're choosing for your own home you might want to make a statement and go for anthracite radiators. For bathrooms and ensuites, you got a fantastic range of heated towel rails to choose from.
The sky's the limit when it comes to your heat emitters and it's a great sense of achievement to get these decided on first.
Cavity wall and loft insulation
Another good thing to sort out early in your renovation project and related to the heating, is the the state of the insulation in your home.
Homes typically lose a lot of heat through the walls and through the roof, so installing fresh wall and loft insulation will help make your home warmer in winter and more energy efficient.
The more energy efficient your home, the lower your heating bills.
The electrical system
If you have a particularly old or rundown house, then it's very important to get a professional round to establish if the electrics are in good working order or if the wiring needs replacing.
A full rewiring of a home is not a particularly difficult job for a professional electrician, but it can be quite a disruptive job. Therefore it's a good idea to get the lay of the land before you commit yourself to other, less important cosmetic changes.
New windows
While not quite as important to establish as the previously mentioned points, thinking about whether you home needs new windows can be particularly helpful for planning your overall budget.
If your property has single-glazed windows then upgrading to double glazing is pretty much standard. Not only will it make your property smarter, it will have positive implications for heating your home, keeping heating bills down and minimising outside noise.
Another consideration would be if your property could benefit from extra light, such as a loft, converted garage or a dark room. Installing a new window in a dark area can give a whole new lease of life to a room and make it much more useable.
Speak to a professional
Before embarking on a major renovation project, it's always worth getting round a plumber, electrician and even a surveyor so that you know exactly what state your property is in before starting.
If you're home is especially old or has been neglected, then getting the opinions of a number of different professionals will ensure you go into the situation with your eyes open and help to avoid any nasty surprises later on.
RELATED ARTICLES
• Interior design inspiration: Vertical Radiators
• The best radiators for buy-to-let homeowners