A delightful and often overlooked radiator colour is silver. A nice alternative to the mirrored finish of chrome or stainless steel, silver offers a similar stylish feel but with a matt finish. It's increasingly common to want to make a design statement with a radiator, but people still want a radiator that functions efficiently as a heat emitter. Silver straddles the fine line between style and functionality beautifully and in this article we'll offer some silver radiator suggestions that you can apply in your own home.
Silver Nevo Radiators
Silver Saturn Radiators
Silver Coneva Radiators
Silver Slimline Radiators
---
SILVER NEVO RADIATORS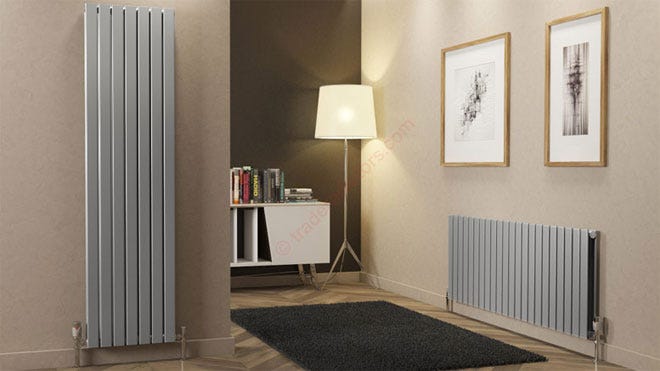 Our Silver Nevo Radiator comes in a size of 600mm in height and 1020mm in width, making a perfect size to fit on a feature wall or somewhere with plenty of horizontal space. The radiator comes with double panels, which means the heat it emits is large, topping out at an impressive 4728 BTUs. As a result, this radiator is more than capable of heating most rooms you put it in comfortably. Manufactured from the highest quality mild steel, that flat bars on the radiator lend it a stylish and contemporary feel, but without being too far away from a standard radiator. The silver Nevo radiator comes with everything you need to fix it to the wall, a comprehensive guarantee and free delivery to all mainland UK addresses.
---
SILVER SATURN RADIATORS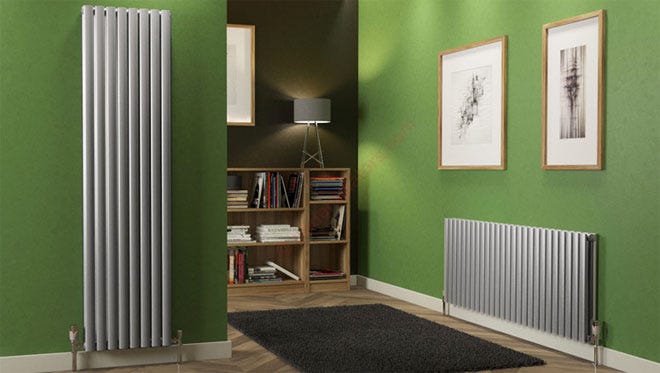 Our Saturn range of radiators are among our most popular on our entire website, and the ones we offer in silver are also very popular. The soft, oval-shaped bars provide an aesthetic that is both eye-catching and suitable for any surrounding. No matter what type of property you have, or where you intend to install them, the silver Saturn Radiators will look amazing. The radiators are available in 3 sizes: • 1800 x 348mm - Single Panel. Heat Output: 2521 BTUs • 600 x 580mm - Double Panel. Heat Output: 2913 BTUs • 600 x 812mm - Double Panel. Heat Output: 4078 BTUs The Saturns are a very contemporary looking radiator and the high quality silver powder coat finish will make your radiators get noticed by any visitor to your home. The 15 year guarantee is a testament to the high quality manufacture of these radiators and they are available with free delivery to all mainland UK addresses.
---
SILVER CONEVA RADIATORS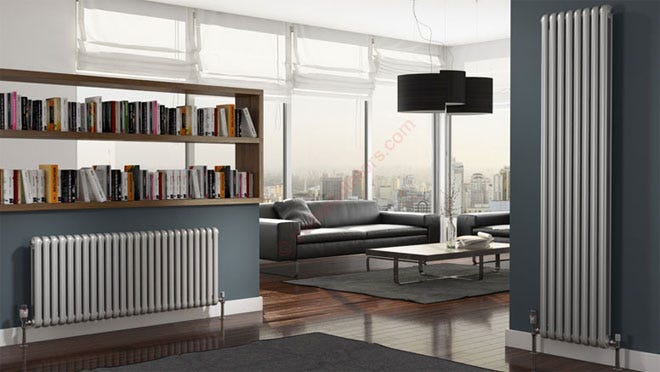 Efficient and very elegant, our Silver Coneva Radiators are everything that you expect from a quality designer radiator. The strong frame and rounded curves make a very grand statement, whilst also making a feature out of the high quality craftsmanship and attention to detail that is present in all of our designer radiators. These radiators feature lovely, evenly spaced rails that result in a sleek and sophisticated styling that would look stunning in your home, regardless of your property type or the room you choose to install it in. The Silver Coneva Rads come in two sizes, 550mm x 440mm and 550mm x 580mm, with heat outputs of 2456 BTUs and 3275BTUs respectively. These silver beauties come with long guarantees and free delivery to any mainland UK address.
---
SILVER SLIMLINE RADIATORS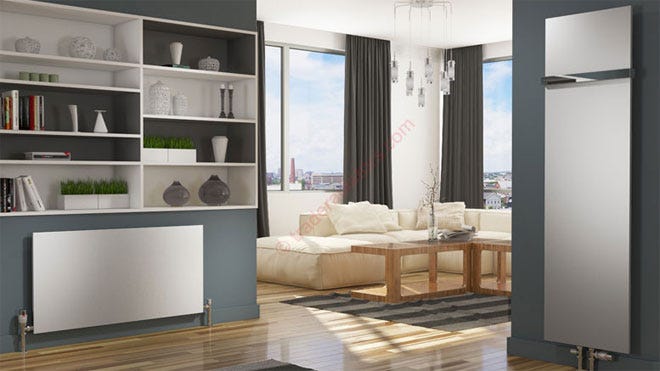 If you really want to make a statement with your radiators and go for something that is a little different from the norm, then you can't really go wrong with our super slick Silver Slimline Radiators. If you have a modern apartment or a workspace that is in need of heat, then these smooth panel rads should be a serious consideration as they look great in these environments. With a large range of sizes in vertical and horizontal orientations, and with heat outputs ranging from 631 BTUs to 3973 BTUs, you're sure to have no problem in finding exactly what you want for your space. The slimline design is one of the sleekest on the market and could be exactly what you are looking for if you want a slice of silver minimalism. Long, comprehensive guarantees display the quality of these radiators and they come with free delivery and everything you need to fit them to the wall.
---
RELATED ARTICLES
•
How to style a bathroom with black heated towel rails
•
How to use radiators to add character to a room
•
Make a design statement with anthracite column radiators
---