"White...is not a mere absence of colour; it is a shining and affirmative thing, as fierce as red, as definite as black. God paints in many colours, but he never paints so gorgeously - I had almost said so gaudily - as when he paints in white." - G. K. Chesterton
---
White looks good in all settings
Much like a black or navy suit, white radiators are something that will always look good regardless of the year, the setting or latest fads in the interior design world. Whether you hoping to achieve a look that is stylish, clean, minimalist or if you're not sure what kind of look you want, you can't go wrong with installing a white radiator. As Leonardo Da Vinci suggests, if you keep the basics simple, you can elaborate much more with a splash of colour elsewhere. For example, if you had a bright piece of artwork, patterned curtains or a colourful suite, having plain white radiators ensures that the eyes are drawn to the correct places.
---
"For those colours which you wish to be beautiful, always first prepare a pure white ground." - Leonardo Da Vinci
---
There's more to life than a convector radiator
If you were playing a game of Pictionary and needed to draw a radiator, it's highly likely that you would draw a standard, white convector radiator. That's very common and is normally the first radiator anyone thinks of - mainly due to the fact that there weren't many other designs available in days gone by. However, when you look into it, you might actually be very surprised at the wide variety of radiator designs that are available in white.
---
Nevo Designer White Radiators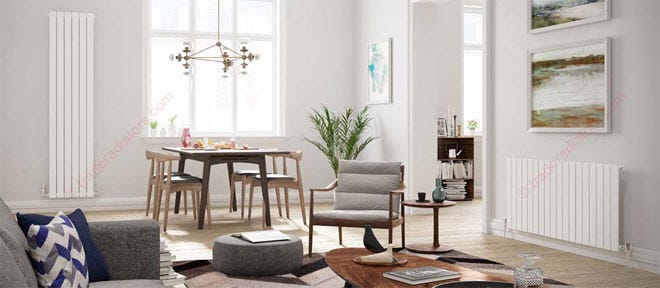 Very popular with our customers, the white Nevo radiators strike a nice balance between simple and stylish. They aren't there to distract from the bolder parts of your room, but do stand up to stylish scrutiny when studied closely. Coming with a choice of single or double panels, and in vertical or horizontal orientations, the Nevo radiators are available in a great range of sizes. They are also very efficient and put out huge heat outputs, perfect for your home no matter where you choose to install them. These white Nevo designer radiators are built to last, manufactured with a high quality mild steel, reflected in the comprehensive 15 year guarantee.
---
Saturn Designer White Radiators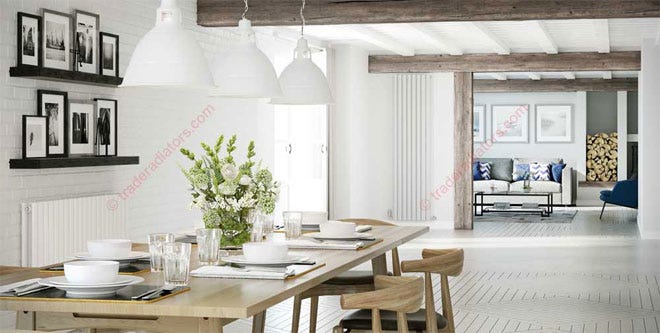 Our white Saturn radiators are fast becoming a design classic and are especially popular for installation in bedrooms, bathrooms and hallways. The curved panel design has proved to be a real crowd pleaser, with many of our customers opting for them rather than choosing a standard compact radiator. Fantastic value and suitable for any style of property, the Saturn rads are finished in a glossy 'Traffic White', which is very easy to wipe clean and keep sparking. Especially good to know if you have small children or pets. Choices of single or double panels allows you great flexibility on heat output, meaning you should be able to find a white Saturn radiator that fits your specifications perfectly.
---
Designer White Contour Radiators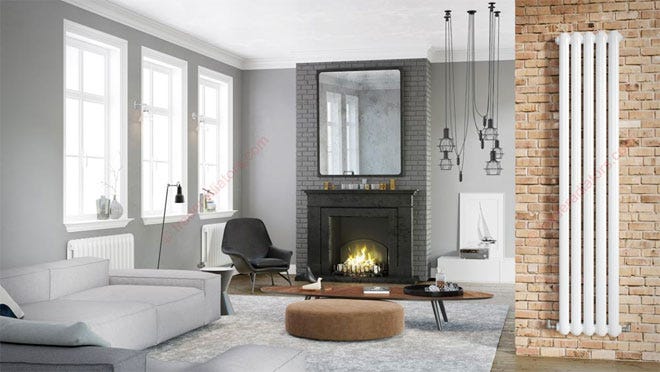 If you're looking for smooth and sexy, then our white Contour radiators could be exactly what you're looking for. The crisp finish and flowing, curved edges causes this radiator to really brighten a room and it's become a popular installation on darker backgrounds, such as brickwork or bare wooden walls The 1800 x 235mm version of this radiator has become the go-to choice for those with small narrow spaces where a conventional horizontal radiator simply wouldn't fit. The narrow dimensions makes use of vertical space and opens up new possibilities for those who thought certain areas of their homes weren't possible to be heated. Manufactured from a high quality mild steel and coming with free delivery and a 15 year guarantee, you'd be hard pressed to find better value for money.
---
Designer White Column Radiators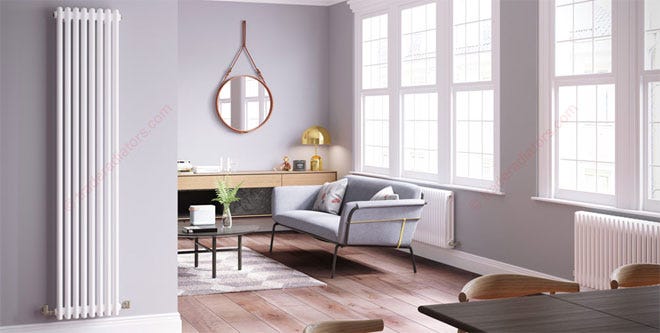 One of our all time biggest sellers, when looking at a white classic column radiator, it's really not hard to see why. Column radiators have become increasingly fashionable in recent years. This is mainly because they offer the same glamour and sophistication of the old cast iron radiators, but without the heavy weight (which sometimes impacts on delivery and installation costs.) We also stock these classic column rads in a massive variety of sizes, including the choice of 2, 3 or 4 columns. If you've got a big room that you need to keep feeling warm and cosy, then it's definitely worth considering the 4 column options which can kick out heat outputs of up to a massive 11397 BTUs.
---
Aphex White Aluminium Radiators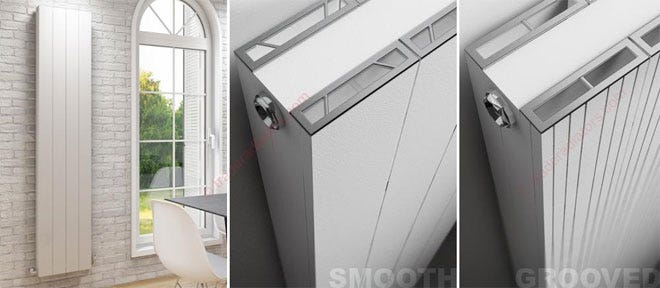 If you hear the word 'aluminium', you would be forgiven for thinking that a radiator manufactured from that metal would have to be silver. However, that is not necessarily the case, as evidenced by our beautiful Aphex White Radiator Range. These stylish beauties have a lovely minimalist design, that lends itself well to anywhere in the home or even in an office environment. Aluminium is an amazing heat conductor, which means that the Aphex rads get up to your desired temperature very quickly. Not only does this result in your room feeling warm quicker than with other radiator materials, but you also aren't wasting lots of energy in getting the rad up to temperature. This benefit can have a significant impact on your heating bills over the course of a year. Aluminium is also a very light metal. This often means that it is often cheaper to install because a plumber doesn't need assistance with lifting onto the wall, as they would with heavy metals. White, great value and efficient, the beautiful Aphex radiator range is surely worth of consideration.
---
Bonera Designer White Radiators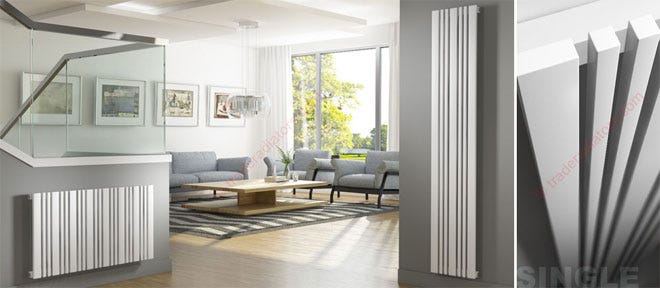 If you were thinking that radiators couldn't be both white and eye-catching, then you need to think again. The unique placement of the thick and thin panelling is a very simple idea yet completely differentiates the Bonera from the other white radiators in our catalogue. They come in vertical or horizontal orientations and look equally good in either. The smallest vertical Bonera is 1800mm x 325mm and this is especially popular for narrow areas such as either side of a large window or next to cupboards in a kitchen. Wherever you choose to install one of these beauties, you'll add a modern twist that is most definitely going to be commented upon by anyone visiting your home. Expect to be asked where you got it!
---
Sena Designer White Radiators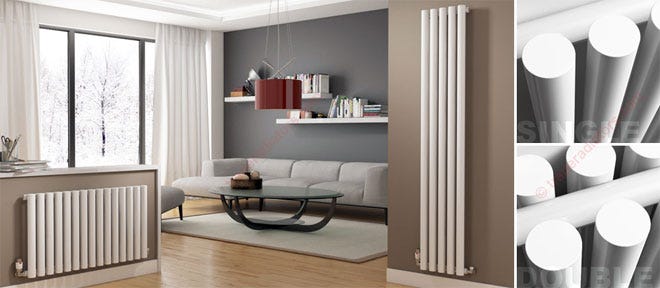 Our White Sena Designer Radiators may look quite slight at first glance, but don't be caught in the trap of thinking that they can't emit some serious heat. Indeed, the circular pipe-panel design means that the Sena rads are powerful and efficient, with BTU capability of up to 6513. They come with a choice of single or double panel, with the double panels being a popular choice for those with a small or narrow space that is still desperately in need of heat. The Sena radiators have a bright, glossy finish which lends itself well to being kept clean and fresh, helping them retain their stylish good looks for years to come. Manufactured from the highest quality 1.5mm steel, the Sena White Radiators are a high quality choice for anyone wanting to inject some flair into their interior design plan.
---
Designer White Slimline Radiators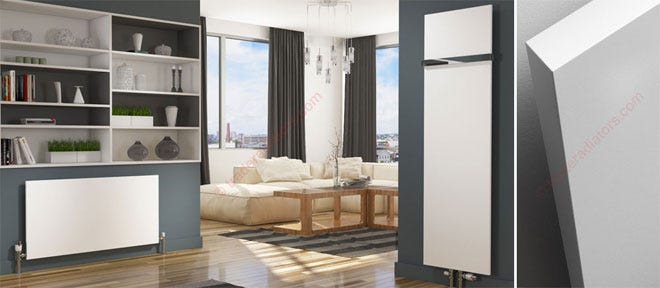 If you're a big fan of minimalism then these white 'Slimline' radiators could be your idea of heaven. They're a fantastic option if you're considering replacing all of the radiators in your home as they bring a great sense of uniformity if installed in every room. The Slimline radiators are available in 11 different sizes, so it's very likely you'll find exactly what you need to fit into any room. They're also among the most affordable of our designer radiators and provide excellent value for money. These radiators are designed for modern living, especially in newer properties or environments where space is at a premium. With projections of only 62 - 87mm, these rads don't stick out far from the wall at all. This them very practical and suitable for installation in small spaces or narrow areas. The Slimline Radiators are also compatible with our vertical towel bars, which helps break up the clean lines and turns them into a very useful heated towel rail!
---
RELATED ARTICLES
•
See our full range of white designer radiators
•
What's the difference between compact, round top & seam top radiators
•
Stunning white radiators pictured in our customers' homes
---