12 September 2023
32 min read
Knowing how to bleed a radiator of air is a really useful DIY task for you to do. You don't need get a professional to bleed your radiators as it's not dealing directly with a gas appliance, such as a boiler. Once you learn this simple skill, you'll find that you can very easily make a huge difference to the smooth running and efficiency of your central heating system, without much time or effort.
In this in-depth guide, we'll look at why you might need to bleed your radiators, give you step by step instructions on how to do it and cover a whole range of questions and scenarios that you might encounter during the bleeding process.
What does 'bleeding a radiator' mean?
Heating expert, Nicholas Auckland, explains that the bleeding process is actually very simple to understand:
"Despite the rather dramatic wording, bleeding a radiator is a simple process of allowing air that has become trapped in the radiator to escape, usually by using a small brass radiator bleed key to open up the radiator bleed valve."
When air gets trapped in a radiator, it actually stops the radiator from heating up properly. This will cause more energy to be used as your boiler has to work harder to try and heat your home to a comfortable temperature. Releasing, or bleeding, the air out of the radiator will allow hot water to reach all parts of the radiator and heat up your room more efficiently.
When should you bleed a radiator?
The most common symptom of air being trapped in a radiator is if the rad feels hot at the bottom but is cooler the closer you get to the top.
Air is lighter than water so if it gets into your radiator it will rise up to the top of the radiator's chamber and create an air pocket. Because radiators work by filling up with hot water and emitting heat out into the room, an internal air pocket will stop hot water from reaching the top of the radiator. The more air that is trapped in a radiator, the less hot water is in the radiator to heat the room.
If you have a thermostat set to a particular temperature, or thermostatic radiator valves turned to a particular setting, your boiler and pump will be constantly sending hot water into your radiator in order to raise the room temperature up to whatever you've set. A lot of trapped air will severely hinder the efforts of your boiler because the radiator is not operating to its full capacity.
How does air get trapped in radiators?
Air getting trapped in the top of radiators is definitely detrimental to the efficient running of your heating systems and there's a few reasons why it might happen:
Leaky pipes or valves
Over time, pipes and valves can develop small leaks due to corrosion or weakening of the joints. It doesn't necessarily have to be large leaks that involves water gushing everywhere as even a tiny leak is enough to allow air into the system. If you find that your boiler pressure regularly drops with the system requiring re-pressurising, you may have a leak in your system that requires further investigation.
Hydrogen build-up
If you don't keep your chemical inhibitor levels topped up within your central heating system, the internal components of your system are going to be more prone to corrosion and rust. Over time, tiny rusty parts of metal can break off and settle at the bottom of radiators in the form of a rusty, brown sludge.
This rusty sludge can release a lot of hydrogen, which will rise to the top of radiators and create air pockets. This can have a double-whammy effect of sludge preventing hot water from heating the bottom of the radiator and the trapped hydrogen (air) stopping hot water heating the top of the radiator - both of which are very bad for the efficiency of your heating.
Pump location
The pump is the component of your heating system that helps water to flow around your pipe network between the tank, your boiler and the radiators. If your pump is above your supply pipe, then it's possible for air to enter the system there. This is a common feature of older properties where the water tank may also be in the loft.
How to bleed a radiator step by step
As previously stated, bleeding a radiator is actually a straightforward process that helps remove trapped air from your heating system. When the air has been released, your radiators will heat up evenly, distributing heat efficiently around the room. Here's a step-by-step guide on how to bleed a radiator:
Tools you'll need
A brass radiator key
An old towel to protect your floor
A container or recepticle to catch any water
A cloth to clean up afterwards
A kneeling pad (optional)
Step 1. Turn off your central heating system
Before you get started, make sure your central heating system is turned off. This is crucial to avoid hot water escaping while you bleed the radiator. It also means you can lean on the radiator without risk of being scalded. If your heating has been on, switch it off and wait 30 minutes before starting.
Step 2. Decide which radiators need bleeding
Walk around your house and check each radiator to see if they need bleeding. The most common sign of trapped air is when the top of the radiator is cooler than the bottom. If you find any radiators with this issue, they're the ones that likely need bleeding. There's generally no need to bleed radiators that are heating up evenly, so save yourself time by sticking to the obvious candidates.
Step 3. Locate the radiator bleed valve
At the top of each radiator, you'll find a small valve known as the "bleed valve." It's usually located on the side or the top of the radiator and looks like a small square or hexagonal nut. Your bleed key should slot onto the nut. Some bleed valves allow you to use a flathead screwdriver instead, though as a rule you will always be able to use a radiator bleed key, whatever the type of valve.
Step 4. Open the bleed valve to release air
Turn the radiator bleed key anticlockwise (left) by about a quarter of a turn. You should hear a hissing sound as the trapped air begins to escape. Be prepared for water to come out as well, so keep your container or old towel close to hand. Slowly keep turning the valve anticlockwise until the hissing stops and water flows steadily. It could take a few seconds for the hissing to stop, or up to a minute. It depends on how much air is trapped in the radiator.
Step 5. Close the bleed valve to stop the water flow
Once water flows without any hissing air, carefully close the bleed valve by turning it clockwise (right) with the radiator key. Do it up tight enough to stop the flow of water but nt so tight that you'll struggle to open it again if you need to repeat this task in the future.
Step 6. Check the radiator temperature
After closing the valve, switch on your central heating and allow the radiator time to warm up. Check if the top of the radiator now feels as warm as the bottom. If it does, you have successfully removed the trapped air.
Step 7. Repeat if necessary
If you have other radiators around your home that feel warm at the bottom but cooler at the top, simply repeat steps 3 - 6 until all radiators are heating up evenly.
How to bleed a radiator without a key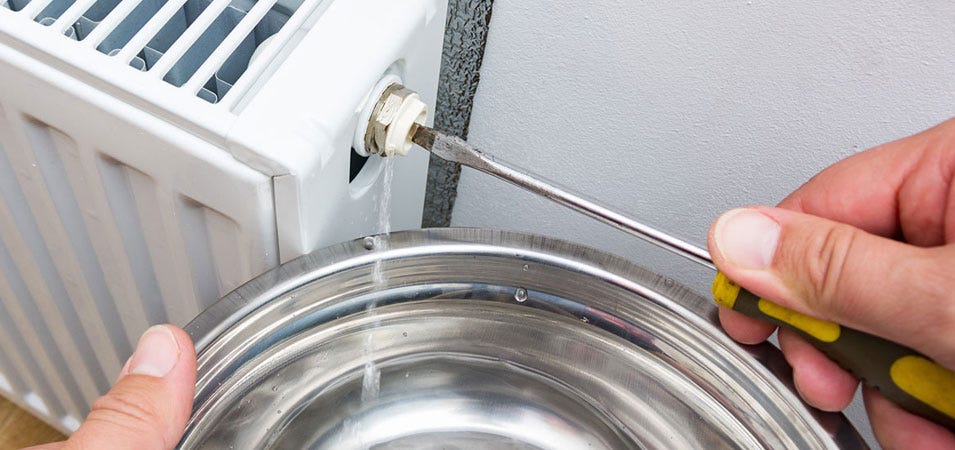 If you don't have a radiator key to hand then all is not lost as you might have something else in your toolbox that can help with bleeding your rad. This is important to know as being able to bleed your radiators can help to instantly solve the problems of a cold radiator.
The most popular alternative to a radiator key is by using a flat head screwdriver. Most modern radiators manufactured over the last 5 - 10 years will have a small indent allowing for a flat head screwdriver to be inserted into the bleed plug.
Grabbing a receptacle or a cloth to catch any drips, slot in the end of the screwdriver gently turn anti-clockwise. If you have air trapped in your radiators, you'll hear the hiss of the air escaping. Once the hissing stops and water starts coming out, you can quickly tighten up the bleed plug by turning your screwdriver clockwise.
What about old radiators?
Not all radiators will have the option for using a flathead screwdriver, particularly panel radiators that are quite old. In this situation, it is more difficult to bleed the radiator but not impossible - you can try some other tools such as an allen key, a small spanner or a pair of pliers.
However, do be very careful before using any of these implements as you may cause irreversible damage to the bleed plug. Even if you manage to open the bleed valve and allow the air to escape, you may struggle to close it again.
If you don't have a radiator bleed key and your radiator doesn't give you the option of using a flathead screwdriver, consider whether this issue can wait until your can get hold of a bleed key.
While frustrating not to be able to solve the issue immediately, a bleed key is designed specifically for this job and will help you clear the issue without causing damage to your radiator. It could really be worth the slightly longer wait rather than opting for a short-term, heavy handed solution.
Are radiator bleed keys universal?
Yes, 99% of the time. Radiators installed over the last 30 - 35 years will generally be of a standardised, metric size and you can buy a radiator key that will fit all radiators in your home. They usually have one end that is flat for you to hold between your thumb and forefinger and the other end will be square for you to slot over the bleed valve.
Heating expert, Nic Auckland, has this to say about the other 1% of the time:
"On rare occasions, some houses with very old central heating systems will have radiators that have imperial radiator bleed plugs that modern radiator keys won't fit. These older radiators can still be bled by using imperial clock keys (keys traditionally associated with winding up clocks). A clock key size 12 (4.8mm) will likely be the right size for a very old radiator, though it's worth getting keys in sizes 8 - 12 just to make sure you've got yourself covered."
Whichever type of radiator you've got, it is worth investing in one or two radiator bleed keys. They're not expensive but can be an absolutely vital tool in getting your radiators working properly and heating up your room satisfactorily again.
Which radiator should you bleed first?
It's generally best to start bleeding the radiators that are furthest from your gas boiler. You should then work your way through back until you get to the closest radiator to the boiler.
The radiators that are furthest away are often upstairs (in a standard two-storey dwelling). These radiators are more likely to have trapped air since air tends to rise and collect in the upper portions of the system.
The radiators closest to the boiler are typically the last in the sequence since they are closer to the boiler and often have less trapped air insdie them.
By bleeding the radiators in this order, you ensure that any trapped air in the system is pushed towards the radiators that are closest to the boiler. This allows for more efficient removal of air from the entire heating system.
How to bleed a heated towel rail
Bleeding a heated towel rail is a very similar process to bleeding a standard radiator. Heated towel rails, also known as towel radiators, provide both warmth and a convenient place to hang towels and have become a common feature in homes across the UK.
In many cases (though certainly not all) a towel rail may be located in an upstairs bathroom, with the boiler being a long distance away downstairs. This makes the towel rail a prime candidate for getting air trapped in it, so it's worth knowing the simple process of how to bleed a towel radiator of air.
Tools you'll need
Brass radiator key or flathead screwdriver
An old towel to protect your floor or carpet
A container to catch any escaping water
A cloth to clean up afterwards
Step 1. Turn off your heating system
Before you start, ensure your central heating system is turned off. This is essential to avoid hot water spilling out while you bleed the towel rail. It also means it doesn't matter if you accidentally touch the towel rail as it won't be hot.
Step 2. Locate the bleed valve
Find the bleed valve on the heated towel rail. It's usually a small nut located at one end of the rail, most commonly on top of one of the vertical side bars.
Step 3. Open the bleed valve
Turn the radiator key or screwdriver anticlockwise (left) by about a quarter turn. As you do this, you should hear a hissing sound as the trapped air begins to escape. Be prepared for water to come out as well, so have the container at the ready. Keep turning the valve slowly until water starts to flow steadily, and no more air is coming out. This may take a few seconds to a minute, depending on the amount of trapped air in your towel rail.
Step 4. Close the bleed valve
Once water flows out without the sound of hissing air, carefully close the bleed valve by turning it clockwise (right) with the radiator key or screwdriver.
Step 5. Check the temperature of the towel rail
After bleeding the towel rail and closing the valve, turn your central heating system back on and wait for the rail to warm up. Check if all bars or sections of the towel rail are now heating evenly. If so, you've released the trapped air and sucessfully bled your heated towel radiator.
How to bleed a vertical radiator
Vertical radiators are commonly installed to maximise vertical space, but this can add an extra challenge the bleeding process. Often the bleed valve is located at the top of a tall vertical radiator, which means reaching it safely becomes a priority.
The additional height of vertical radiators often requires the use of a step ladder to reach up to the bleed valve. While a ladder (or stool) can make the valve easier to access, it introduces an element of complexity and potential risk to the task. Safety precautions, such as ensuring the step ladder is stable and positioned on a level surface, are important to prevent accidents. Additionally, caution should be exercised when leaning over the radiator to reach the bleed valve, as any slip or imbalance could lead to injuries or damage.
As long as you are careful when accessing the bleed valve high up on your vertical radiator, the actual process of letting the air out is the same as described earlier in this guide.
Is your radiator still cold after bleeding?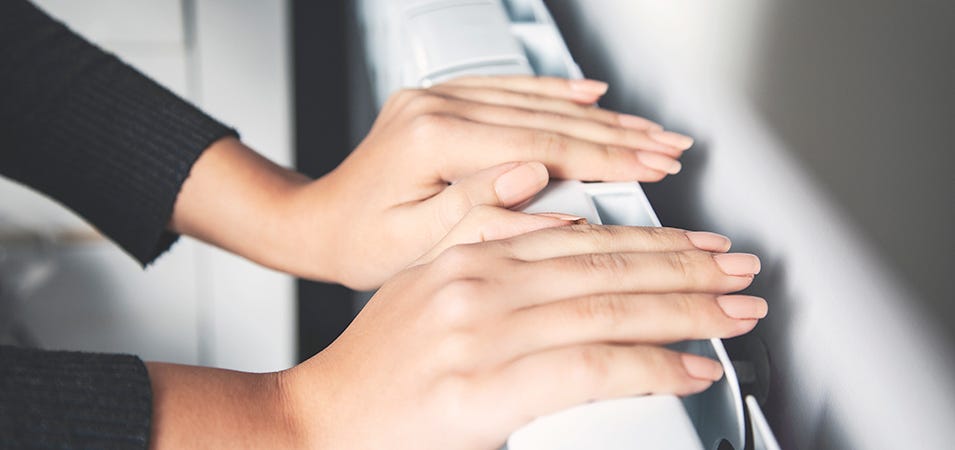 While bleeding your radiator will solve a lot of heating problems, it won't always solve them all. If you've bled your radiator of air but it still won't get hot then read on for some additional solutions.
Check your thermostatic radiator valve (TRV)
A common problem that might stop your radiator from getting hot, even after bleeding, is due to a stuck pin on your thermostatic valve .
You can check if the problem is with the TRV yourself by doing the following:
Remove the cap/head on your TRV. (The TRV is the chunkier of your two radiator valves with the temperature control numbers on.)
Locate the exposed TRV pin. The pins can often get stuck in the shut position, meaning that water is not able to flow into your radiator.
Loosen the stuck pin. Grab a adjustable spanner or set of grips and gently use it to grasp the pin and move it up and down. This should loosen and slacken off the pin, freeing it up and allowing it to allow hot water back into the radiator.
Switch on your central heating system. See if the radiator now starts to get hot.
Flush out your radiator in case of an air lock
If your radiator is still not getting hot after loosening the pin on your TRV, then you could try flushing out your radiator in case there is an air lock in the system.
If you have some plumbing experience, this is something you could tackle yourself, though you may wish to bring in a professional plumber:
Shut the TRV and the lockshield valve.
Get a small towel and put it under the air bleed and open it up with a radiator key. That will help to dissipate the pressure in the radiator.
Remove the whole air bleed assembly.
Add a 1/2 inch male connection that will allow you to connect to a garden hose.
Now turn your heating system off.
Connect the hose so that it goes ideally outside or into a large container.
Open up the thermostatic radiator valve. A large body of water will then flow out of the top of the radiator and out through the hosepipe.
Switch your heating back on to see if the radiator gets hot.
Balance your heating system
If you've done all of the above and your radiator is still cold, it may be the case that the flow of water around your system is not even, in which case you need to balance your heating system.
A balanced heating system means that the flow of water from the boiler and the pump goes into each radiator in your house evenly.
The radiator that is at the far end of your heating system (furthest away from the boiler) is often the radiator that won't get hot if your system is unbalanced.
To fix this problem and get your radiator hot again, you can follow the step-by-step guide from Jimmy the professional plumber in our video below.
---
Replace your thermostatic radiator valve (TRV)
Another explanation for a radiator that is cold even though the heating system is switched on is the possibility that your TRV needs to be replaced.
We discussed earlier in the article that TRV pins sometimes get stuck into the shut position and can often be sorted out with a quick wiggle of pin in order to free it up.
However, thermostatic radiator valves can degrade over time, especially if they have had a lot of use. The pin in the valve may have corroded, worn away or is simply too stiff for you to free up.
In this case, it's probably a good idea to replace the radiator valve. Not only will this likely solve the problem of a cold radiator, but a new set of valves can give a new lease of life to radiators and add a smarter and fresher look to your room.
In the video below you can view an easy to follow guide on how to replace your TRV safely and effectively.

Heating system maintenance
If all these suggestions still haven't solved the issue of your cold radiator, then it's time to call in a Gas Safe Registered plumber to check over your system and see if there is a more serious underlying problem.
Central heating specialist, Julie Boyle, highlights the importance of regular heating system maintenance:
"Getting in a professional once a year to inspect your boiler, pump and other parts of your system is a good habit to get into as it can save you from having a costly breakdown when you most need it. A lot of boiler warranties and insurance terms and conditions actually insist on customers' having maintenance carried out on their systems, so it's worth doing so that you don't invalidate your warranty or fail to get an insurance payout should the worst happen."
Chemical inhibitor
If you do get a professional to come and look at your heating system, then they should check the inhibitor levels in your heating system as a matter of course.
However, if you are doing a lot of the work yourself, then chemical inhibitor can be a very important factor that is easy to overlook.
Over time, the water that flows through your heating system can react with the metallic internal components. This causes corrosion where bits of metal can flake off into your pipes and radiators, narrowing the flow of the water and causing a sludge to appear in the bottom of your rads.
This makes your boiler and pump work harder and harder to push the water around the system and, if left unchecked, can cause your boiler to breakdown completely.
Adding a chemical inhibitor to your system helps to prevent this corrosion from occurring, giving you a healthy heating system for years to come.
How to bleed a radiator with a combi boiler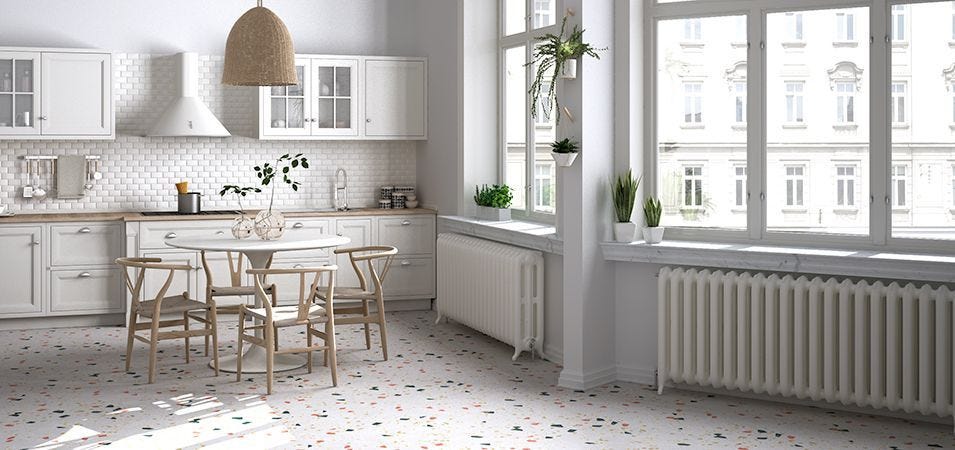 If you've got a radiator that needs bleeding, but you're concerned because you've got a combi boiler and a pressurised heating system, then read on. Below, we will explain how a combi boiler works and explain what a pressurised system is. We'll also take you through the process of bleeding your radiator so that you don't need to call in a professional to do it for you.
What is a combi boiler?
A 'combi' boiler is a single unit that provides a combination of two important functions.
Provides the hot water required for your central heating system.
Acts as a water heater for providing hot water to your taps and shower
They also come with several benefits:
Save space
The main benefit of a combi boiler is that they save a great deal of space because a separate water tank is not required to heat the water. Traditionally, an old tank-fed system would require a separate tank in the loft or in a cupboard (a.k.a. the airing cupboard).
Instead of needing a large, cumbersome water tank with an indirect coil or heat element running through it, a combi boiler heats up water directly using a plate heat exchanger.
Constant hot water supply
The plate heat exchanger is a very important component of a combi boiler because it has the ability to transfer heat from one body of water to another very quickly - almost in real time.
In basic terms, this means that cold water can be made hot very quickly and created on demand, without the need for it to be heated separately in a large tank.
Not only does this make combi boilers highly efficient, it also avoids that classic problem of busy households running out of hot water in which to shower.
Separate water for heating & washing
In order to combine its two important functions, a combi boiler allows water to flow through it in two different routes, depending on what the water will be used for. Neither flow of water will come into contact with the other.
Washing water - The cold water enters the boiler, through an isolating valve and flows across the pressure switch paddle which tells the boiler it needs to turn on. The cold water then enters the heat exchanger where it is heated up. The newly-formed hot water then leaves the heat exchanger, goes through a mixer and is distributed out to your taps.
Central heating water - This comes out of the top of the boiler, and can either go off to the heating system or back to the heat exchanger. It then flows down into the pump, through the heat exchanger and back out of the boiler into the return.
How to repressurise your combi boiler
Another benefit of combi boilers is that they are able to provide water to your taps and shower at the same pressure as the mains.
This means that you don't need a hot water pump in order to have a powerful shower, as the pressurised system provided by the boiler takes care of this for you. However, if you have air trapped in your radiators, it might be causing your central heating system to be overpressurised.
What does a 'pressurised system' mean?
If you look at the front of your combi boiler, you should see a gauge that denotes the pressure in your system. An ideal reading with everything off should be about 1 - 1.5 bar - bar being the metric units of pressure.
When cold water gets hot inside your heating system, the molecules expand. When the water expands, it needs somewhere to expand (move) into. In a pressurised system, this place is known as the expansion vessel.
Inside the expansion vessel is a rubber diaphragm. On one side of the diaphragm is theheating system water, on the other side is some compressed air.
As the heating water gets hot and expands, it can expand into the compressed air but without allowing air into the heating system due to the rubber diaphragm in the way.
For your heating system to operate correctly, when your heating is off and you are not running any water, this compressed air should be pressurised to 1 - 1.5 bar. If your reading is considerably higher than this, it quite possible that you need to bleed some air out of your radiators in order to bring the pressure reading down.
How to bleed your radiators with a combi boiler and pressurised system
Tools you'll need
A radiator key or flathead screwdriver
An old towel to protect your floor or carpet
A container to catch any escaping water
A pair of grips and/or spanner for the radiator valves
A cloth to clean up afterwards
Step 1. Find the bleed valve
At the top of each of your radiators will be a bleed valve. Depending on the type of bleed valve, you may need a radiator bleed key or a flat head screwdriver to undo it.
Step 2. Turn off your heating
The next thing to do is switch your heating system off completely so that no problems are created by bleeding the air out while it's still running.
Step 3. Open the radiator valves
Use a pair of grips to ensure that your valves at the bottom of your radiator are open so that water is able to flow into your radiator.
Step 4. Loosen the bleed valve
You can then slacken off your radiator's bleed valve with your radiator key or flathead screwdriver. If there is air in your radiator, as you slacken off the bleed valve, you will hear a hissing sound as the air escapes. Have a cloth ready to catch any drips that come out after the air escapes.
Step 5. Tighten the bleed valve
Once water starts coming out, you know that all of the air has been released from that radiator. Then tighten the bleed valve back up.
Step 6. Repeat the process
Go round each of your radiators and repeat the process as necessary and
Step 7. Check your boiler pressure
Switch your heating back on and check your radiators are getting warm all over. Also also check the pressure gauge on your combi boiler to see if it has returned to around 1 bar.
What if my heating pressure is too low?
If you've bled air out of your radiators but no water has come out and the pressure gauge on your boiler has dropped below half a bar, it is likely there is a another problem that is causing the pressure to be too low.
Below we'll look at the possible reasons for a pressure drop and how you can solve them.
A leak in your system
To check for a leak in your system, it's a good idea to look at all the valves on all the radiators in your house.
Lift up the heads with a pair of grips to check there's no leakage on top of the valves.
You should also ensure that the compression fittings on both side of each valve are fully tighten and that there is no moisture seeping out.
Boiler pump is set too high
Cavitation' is a situation where the pump is working too fast for the water to escape the boiler. The water and air is then separated and hydrogen is created.
The hydrogen will then travel round your system and escape out of the automatic air vent. This can then cause the pressure in your system to drop. This situation can be avoided by reducing the speed on your pump.
Expansion vessel issues
It's possible that the rubber diaphragm in your expansion vessel has perished and is no longer doing the job of keeping the hot water and compressed air separate.
You'll initially see an increase in pressure before the pressure release valve kicks in and drops the pressure very low.
You can check if the rubber diaphragm is the problem by locating the valve (like a valve on a tyre) on your expansion vessel and letting the air out. If water starts coming out, it is likely a problem with your rubber diaphragm and your vessel will probably need replacing.
If water doesn't come out, you can simply pump up the expansion vessel using a bicycle pump until the reading on your boiler is 1 - 1.5 bar again.
Pressure release valve issues
A pressure relief valve is a simple component that contains a rubber valve and a spring. If the water in your system gets up to a certain pressure, the water will force open the valve and the the water will flow through an escape pipe and be released somewhere outside.
Over time, the strength of the spring and the rubber can get less and less causing the valve to provide less resistance to the water flow, dropping the pressure in your system.
If you suspect any of these issues to be affecting your combi boiler and central heating system, then it's best to get the profesionals in to have a look.