Radiators are essential for maintaining a cosy home during colder months in the UK. However they often accumulate dust, debris and greasy fingerprints, which can impact their energy-efficiency, make them look a bit unsightly and can even cause them to smell when they get hot.
Cleaning radiators not only enhances their appearance but also significantly improves heating efficiency. By removing accumulated dirt, dust and grime, you can ensure that your heating system operates at its best, providing consistent warmth in every room.
Whether you're looking to save on energy bills, eliminate cold spots, or simply maintain a healthy living environment, this guide offers expert insights and step-by-step instructions to keep your radiators running smoothly and looking good.
How to clean a radiator - step by step
Tools you'll need
Soft sponge or microfibre cloths
Warm water
Gentle soap or white vinegar
Bucket
Towel
Radiator brush or long handled duster
Vacuum with brush attachment (optional)
Step 1 - Switch off the central heating
Turn off your heating system and allow the radiator to cool down before starting. Not only will you avoid burning yourself, but you'll be able to spend more time cleaning the radiator properly than if it was too hot.
Step 2 - Dust the radiator
If you have a vacuum cleaner with a brush attachment or a thin nozzle, use that to clean any dust, debris or cobwebs from the radiator. If you have a long handled duster or a radiator brush, then use those to remove dust in hard to reach places, such as behind the radiator or from the convector fins.
Step 3 - Mix your cleaning solution
In your bucket mix a small amount of mild soap, or some white vinegar, with some warm water. Make sure that the water isn't boiling hot so that you don't risk damaging th finish on the radiator, or scalding yourself.
Step 4 - Clean the surface of the radiator
Lay a towel or sheet on the ground to protect the floor. Then, dip a soft microfibre cloth into the soapy water solution. Wring it out to remove excess moisture and gently wipe down the radiator's surface, paying attention to any areas with stubborn dirt, grease, or stains.
Step 5 - Rinse and wipe the surface
With a clean, damp cloth, rinse the radiator by wiping it down with clean water. Ensure all soap residue is removed. Be cautious not to oversaturate the radiator in order to minimise water marks.
Step 6 - Dry the radiator
Use your towel carefully dry the radiator to prevent water marks or streaks. Ensure the radiator is completely dry and that you're happy with the results before turning the heating system back on.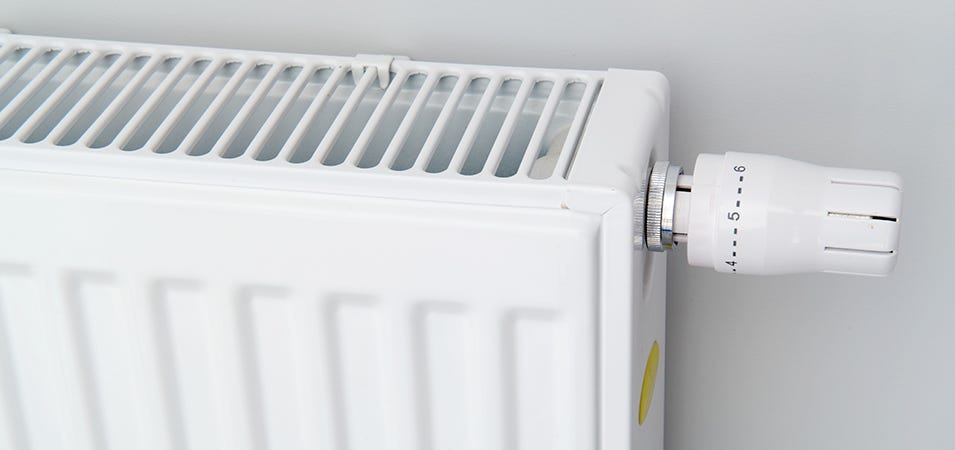 How to clean a radiator with a top grill
Standard, white panel radiators are increasingly being styled with side panels and top grills. Heating specialist, Julie Boyle, says there's a number of reasons for the increase in popularity of top grills on radiators.
"For many people, radiators are not always considered the most visually appealing fixtures in a room, even if we disgaree with this viewpoint! A top grill is designed to enhance the radiator's appearance and integrate it better with the room's decor. A top grill and side panels work well at disguising the convector fins, and that can give a cleaner, more streamlined look to a room. Top grills are also really useful if you have young children as they can act as a barrier to prevent objects, like small toys, from falling into the radiator and potentially causing blockages."
Though top grills definitely have their uses, they can make it difficult to keep dust out of the convector fins. Hot radiators naturally attract dust and the slots on the grill are too narrow to fit a traditional duster or a vacuum nozzle. So what can you do?
Use a radiator brush
Not all radiator top grills are easy to remove, so you'll be very pleased to know that it is possible to clean the dust out of the middle of your radiator without reoving the grill. A radiator brush is a specialised cleaning tool designed for cleaning the convector fins and other hard-to-reach areas of radiators. It is typically characterired by the following features:
Long & thin design - Radiator brushes are long and slender, making them ideal for reaching between the narrow gaps of the convector fins on a radiator. This design allows you to access areas that are difficult to reach with standard cleaning tools.
Soft bristles - The brush's bristles are usually soft and flexible to dislodge dust, debris, and cobwebs without causing damage to the delicate convector fins. The bristles are gentle enough to avoid bending or scratching the fins.
Long handle & grip - Many radiator brushes come with a long handle or grip that allows you to hold and manipulate the brush comfortably. This handle is often designed for ease of use and to provide control during cleaning.
Durable construction - Using a radiator brush can require a bit of brute force, particularly when you pull it back out of the convector fins and through the top grill. For this reason, radiator brushes are often constructed with durable materials to withstand frequent use. They are designed to last and endure the rigours of cleaning radiators over time.
Our heating expert, Nicholas Auckland, was recently quoted in an article in The Sun, and really made it clear just how important dusting your radiator's convector fins is for your heating bills. If you use a radiator brush to get rid of the dirt and debris that inevitably builds up in your convector fins, you could save in the range of £65 - £119 a year on your heating bills. For a relatively small outlay on buying the brush, it's well worth making the effort to buy and use one as you'll really feel the benefit financially over the course of a year.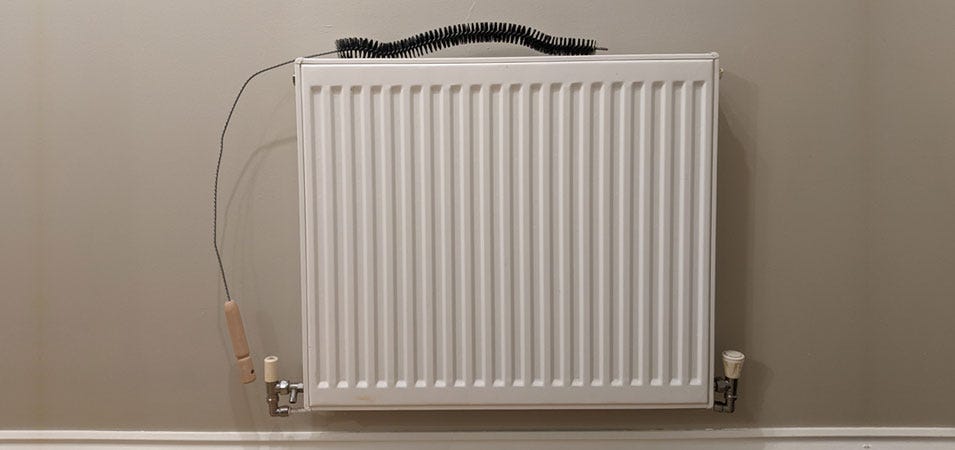 How to clean radiator fins
Radiator convector fins are the thin, metal plates that are attached to the back or centre of convector-type radiators, and are designed to enhance their heat exchange efficiency. These fins significantly increase the radiator's surface area, promoting more effective heat transfer from hot water to the surrounding air.
The arrangement of the fins creates channels for air circulation within the radiator. As the air near the fins heats up, it naturally rises, drawing in cooler air from below, which is a process known as convection. This convection-driven airflow helps distribute heat more evenly throughout a room.
Convector fins play a vital role in improving the radiator's efficiency, allowing it to generate heat quickly and maintain a comfortable indoor temperature with minimal energy consumption. However, they are well-known as a dust trap, so regular cleaning and maintenance of these fins are essential to ensure the radiator functions optimally, efficiently and without smelling.
Tools you'll need
Radiator brush or long handled duster
Vacuum cleaner
Screwdriver
Step 1 - Switch off your heating system
Making sure your radiator has cooled down before cleaning the convector fins will make the task much easier and will ensure you don't burn yourself on the hot surface.
Step 2 - Remove the top grill (if applicable)
If your radiator has a top grill, then see if you can remove it. Some types of convector radiator will allow you to pop off the side panels quite easily, making the top grill simple to lift off. Other types of radiator are a bit more difficult with the side panels being attached by a screw underneath the radiator. If it's too difficult to remove the top grill, leave it in place and move on.
Step 3 - Dust the fins
The best tool for cleaning convector fins, regardless of whether the top grill is in place, is a long handled radiator brush (described above). Use the radiator brush to gently brush the convector fins. Start from the top and work your way down to dislodge dust, debris, and any pet hair. Be gentle to avoid bending or damaging the fins.
Step 4 - Use the vacuum cleaner
It's likely that you've pushed a lot of dust onto the floor underneath the radiator. Use a vacuum cleaner with a brush attachment to remove the dislodged dust and debris from the floor and from as much of the convector fins as you can reach.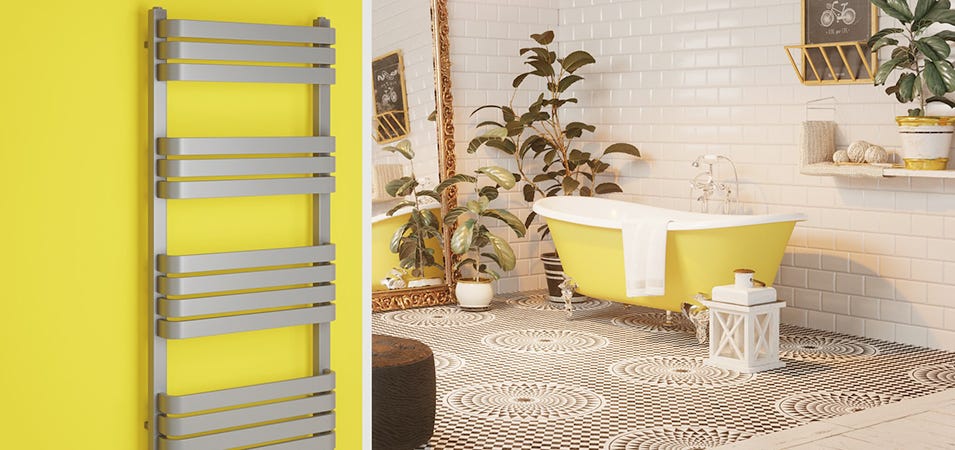 How to clean a chrome radiator
According to radiator expert, James Auckland, it's important to keep your chrome radiators clean, not only to keep them looking great, but also to ensure they remain energy-efficient.
"Radiators are almost constantly heating up and cooling down, which means it's inevitable that they will attract dirt over time. The highly polished nature of a chrome finish is one of its main attractions, so bringing it back to its best is important in keeping your chrome radiators looking great. Regular cleaning of your chrome radiator not only keeps it looking great but also helps ensure efficient heat transfer. Be gentle in your cleaning process to avoid damaging the chrome finish."
Below you'll find a step by step guide on how to clean your chrome radiator and leave it looking fantastic.
Tools you'll need
Duster
Radiator brush
Bucket
Microfibre cloths
Sponge
Warm soapy water
White vinegar
Towel
Step 1 - Turn off the heating
Ensure the radiator is completely cold and turned off before starting the cleaning process to prevent accidental burns.
Step 2 - Remove dust and loose debris
Use a soft duster or microfibre cloth to wipe away any loose dust and debris from the surface of the chrome radiator. This will prevent scratches during the actual cleaning process.
Step 3 - Prepare cleaning solution
Take your bucket and mix warm water with a small amount of mild soap. If your radiator has particularly stubborn stains, you can also add a small amount of white vinegar to the solution. It's very important not to use anything too abrasive so that you don't damage the chrome plating.
Step 4 - Gently clean the radiator
Dunk your microfibre cloth (or sponge) into the soapy water and vinegar solution. Wring it out to avoid excessive water. Gently wipe down the chrome surface of the radiator. Use a soft, circular motion to remove dirt, grime, and fingerprints. For intricate chrome designs, you can use a soft bristle brush.
Step 5 - Rinse and wipe the radiator
With a clean microfibre cloth (or sponge), rinse the radiator by wiping it with a separate cloth soaked in clean water. Ensure that all soap residue is removed. Chrome can show water spots, so thoroughly drying the radiator is important.
Step 6 - Towel dry the radiator
Using the towel, carefully dry the radiator to prevent water spots or streaky marks. Make sure that the radiator is completely dry and free of any moisture before turning the heating system back on.
Step 7 - Remove water marks
Evem after drying with a towel, they may still be some water marks on your chrome radiator, particularly if you live in a hard water area. Mix an equal amount of vinegar and water together and apply a small amount to a clean microfibre cloth. Gently rub the surface to remove any remaining marks.
Step 8 - Polish (optional)
To enhance the shine of your chrome radiator, you can use a clean, dry microfibre cloth to buff the surface gently. This step is optional but can make the radiator look more vibrant.
Top Tip - How to clean rust off a chrome radiator
Many radiators and heated towel rails are manufactured using mild steel. In order to provide a shiny and protective finish, a chrome plating is added over the top, which usually makes the rad or rail look more stylish.
However, over time, whether it's through leaks, condensation or lack of maintenance, rust can form on the surface of the chrome. This dulls the shiny effect of the chrome, making the finish look a little dirty and much less stylish.
Fortunately, as long as the rust hasn't gone deep down into the steel, it's fairly easy to get rust off your chrome radiator and make it look like new again.
Aluminium foil
Aluminium foil is a kind of secret weapon for removing rust from chrome surfaces and pipework on rads and rails. Aluminium is a softer metal than the chrome and when rubbed against it, causes a chemical reaction that removes the rust.
Take a piece of regular aluminium foil (the same stuff that you use in your kitchen to wrap or cover food) and add a few drops of water to it. You don't need a huge amount of water but a few drops helps as a lubricant between the foil and the chrome. This facilitates the aluminium oxide that actually removes the rust from the surface.
Rub the dampened aluminium foil up and down the chrome and you should start to see results pretty quickly, without needing to put in too much effort. You'll be surprised how well this works!
White vinegar
If you haven't got any foil, then the next best thing is white vinegar. White vinegar is an absolutely brilliant cleaner for all kinds of surfaces and works especially well on rusty chrome radiators. This is due to the acidic nature of vinegar which helps to eat into the rust.
Simply apply a small amount of white vinegar onto a small cloth and rub in to the chromework. You should start to see positive results almost immediately.
Microfibre cloth
Once you've used the foil or vinegar to remove the rust on your chrome rad, you may find that there are brownish streaks from where the rust has separated from the chrome surface.
Simply take a clean microfibre cloth and wipe away the traces of the rust. You can then use the other side of the cloth or a brand new one to give the chrome a final buff to ensure that it's gleaming and looking brand spanking new.
If you want, you can spraying a small amount of WD40 onto a clean cloth and wipe it onto the radiator. This helps form a protective layer that will reduce the chances of rust developing again in future.
How to clean behind a radiator
Radiator expert, Julie Boyle, explains exactly why it gets so dirty in that narrow area behind our radiators:
"Dust and dirt accumulate behind radiators due to air circulation patterns. As warm air rises, it carries airborne particles, like dust and pet hair, which settle behind the radiator. Additionally, radiators can sometimes generate static electricity, further attracting and trapping these particles, making the area prone to dust build up. So, it's a common place that we might want to clean, even if we don't do it as often as we should. Getting a brush specifically designed for cleaning radiators makes this job really easy and something you can start doing on a fairly regular basis."
Tools you'll need
Long handled duster or radiator brush
Vacuum cleaner with thin nozzle attachment
Old towel or sheet
Microfibre cloths
Warm, soapy water
Bucket
Step 1 - Make sure your radiator is cold
If you're cleaning the area behind your radiator then make sure that you've switched off your central heating system and allowed enough time for the radiator to cool down. If you try and do this job while the heating is running then you run the risk of burning yourself on the radiator.
Step 2 - Use your vacuum cleaner
Using the thin nozzle attachment on your vacuum cleaner, remove as much dust as you can from behind the radiator and on the floor beneath it. It's a good idea to put down an old towel or sheet on the ground to protect the floor from getting dirty.
Step 3 - Use your radiator brush
The best implement to get right down behind a radiator is a long, thin radiator brush, but a duster with a long handle will also do a sufficent job. Firmly but carefully poke your radiator brush down into the area at the back of your radiator. If the radiator has convector fins then use a bit of force to push the brush down into the narrow gaps. This will dislodge any dust, cobwebs, or other debris. Start from the top and work your way down.
Step 4 - Repeat vacuuming
Using your brush will have likely dislodged a lot of dust from the back of the radiator and may have deposited lumps of dirt on your floor. Use your vacuum to clean up the floor and remove as much dust and dirt from the area as you can.
Step 5 - Wipe the wall (optional)
If dust and cobwebs have been lurking down the back of your radiator for some time, then the wall may be a bit dirty. Mix a gentle soapy solution in your bucket and carefully wipe the part of the wall you can reach behind the radiator with a microfibre cloth. With the radiator in place, you'll obviously be limited as to how far down you can reach, but athe most important thing is that you clean the areas that are visible.
Step 6 - Dry the wall (optional)
If you did need to wipe the wall then it's a good idea to dry it with a towel or dry cloth as well. This will prevent an any moisture from reaching the radiator and will reduce the chances of small patches of rust from forming.
For full access the the wall behind the radiator, whether it be for cleaning or decorating, have a look at the video below. This runs you through the process of remving a radiator temporarily without needing to draining.
How to clean the inside of a radiator
If you've got a double panel radiator, then it's very likely that you have a couple of rows of convector fins inside the centre of the radiator.
Regular cleaning of these fins helps maintain the radiator's efficiency and ensures that it can heat your space effectively and efficiently. The frequency of cleaning may depend on factors like the amount of dust and debris in your home, but it's a good practice to clean the fins at least once a year for optimal performance.
You can follow the instructions in this guide for cleaning the inside and outside of your radiator.
Powerflushing radiators
If you are not referring to the convector fins, but are instead considering how to clean the internal chamber of the radiator, then you may wish to consider bringing in a professional to powerflush your radiators.
Powerflushing is a process used to clean and maintain a central heating radiator system, including the pipes and boiler. It is a method of removing debris, sludge, rust, and other contaminants from the system to improve its efficiency and performance. This is a task that should be done by a professional plumber or heatng enginneer.
Here's how powerflushing works:
Assessment
A heating engineer or plumber begins by assessing the condition of the central heating system. They may check for signs of reduced heating efficiency, uneven heating, or unusual noises, which can be indicative of sludge and debris buildup.
Isolation & connection
The engineer isolates the central heating system from the rest of the house, ensuring that only the heating circuit being cleaned is affected. They then connect a power flushing machine to the system. This machine is equipped with a pump, a large water reservoir, and a variety of valves.
Chemical treatment
A special chemical cleaning agent is added to the heating system. This chemical is designed to break down sludge, rust, and other contaminants. The chemical is circulated through the system, and it begins to loosen and dislodge these deposits.
High velocity flow
The power flushing machine generates a high-velocity flow of water that is sent through the radiators and pipes. This high-velocity flow dislodges the loosened debris and carries it into the machine's water reservoir, effectively flushing it out of the system.
Agitation
To further break down and remove sludge and debris, the engineer may use an agitator within the power flushing machine. The agitator helps to dislodge any stubborn deposits.
Draining and refilling
The dirty water containing the removed debris is drained from the system and discarded. The heating engineer may repeat the power flushing process until the drained water appears clean and free of contaminants.
Corrosion protecting inhibitor
After the powerflushing process is complete, an inhibitor or corrosion protector will be added to the system. This chemical helps prevent the buildup of rusty sludge and protects the heating system from future corrosion.
In the video below, a professional plumber explains exactly how inhibitor works to keep the inside of your radiators and heating system clean.