Over time, old radiators can become tired and a bit scruffy. White paint can turn yellow with age, and years and years of being situated in a busy household can also cause them to be chipped, scratched or rusty. If this is the case with the radiators in your home, you may well have looked at the dull paintwork and asked yourself the question 'can I paint my radiator?'
The good news is that it is possible to paint your radiators, particularly panel radiators, with relative ease. Giving an old radiator a fresh coat of paint can often give what was once an eyesore, a whole new lease of life. It can make a huge difference in revitalising your decor and can even make your rad a talking point of the room.
In this in-depth guide, we'll give you step-by-step instructions on how to do it, and cover a whole variety of questions and scenarios that you might come across during the process of painting your radiator.
What is the best radiator paint?
When painting a radiator, it's important to use a heat-resistant paint that can withstand high temperatures. Obviously, radiators can get quite hot, so regular paints are likely blister, peel, or discolour when exposed to the heat.
Radiator expert, James Auckland, has this to say if you're considering buying paint for your radiator:

"There are some well-known brands out there that make radiator-specific paint, especially designed for coping with high heats. Ronseal and Hammerite are some high-profile, recognisable options, but it's important you get something that's right for your personal budget. Before purchasing any brand of radiator paint, just be sure to read product labels, descriptions and reviews to ensure that the paint is specifically designed for high-temperature applications, such as on radiators."
Should I brush or spray paint?
How you actually apply the paint to the radiator is also something to think about as radiator paint is available in both pots and spray cans.
James says it depends on your circumstances and experience:
"Painting with a brush is great if the radiator is staying on the wall while you paint it. If you're inexperienced with painting and want to take your time getting the job right, then applying the paint with a brush is the most sensible option. Spray paint can provide quick and professional finish if you are removing the radiator and have the luxury of a well-ventilated space. However, it can easily go wrong and look a mess if you're not used to working with spray cans. There is a talent and knack to spraying, so you'll need to decide if it's worth taking the risk on your radiator."
Do I need to use a primer?
A primer traditionally provided a nice base layer to the metal so that the top coat of paint adherred to the surface, but James says times have changed:
"It used to be the case that you would need to paint a coat of primer onto the radiator before applying the top coat. However, paint technology has progressed and many of the popular brands can be painted straight to metal. You may still need to apply a second coat to achieve the best finish, but that makes the task much simpler than if you had to buy an additional primer. Of course, always be sure to check the instructions carefully before starting."
Should I sand my radiator before painting?
A really common question that many people have is whether it's worth bothering to sand your radiator before you paint it. According to radiators and interiors specialist, Julie Boyle, the answer is very clear.
"Yes, sanding your radiator before painting is really recommended. It serves several important purposes and can significantly improve the quality and durability of the paint job. It's a task that takes a little extra time up front, but you'll be really pleased you did after it's finished. A medium 120 - 180 grit sandpaper should be sufficient to get the finish you want. Sanding is definitely beneficial to the overall result."
The benefits of sanding down your radiator before painting it are the following:
Better paint adhesion - Sanding creates a slightly roughened surface on the radiator, which provides better adhesion for the primer and paint. This means that the paint will bond more effectively to the metal, reducing the risk of the paint peeling or chipping in the future.
Smoothes out imperfections - Radiators may have minor imperfections, such as rust, small dents, or uneven spots. Sanding can help smooth out these imperfections, resulting in a more even and attractive paint finish.
Removes loose paint - If there is old paint on the radiator that is already peeling or flaking, sanding will help remove these loose paint particles. Painting over loose paint can cause the new paint to peel or bubble.
Removes dirt - Radiators can accumulate dust, dirt, grease, and other contaminants over time. Sanding the surface helps remove these impurities, ensuring a clean and smooth surface for the paint to adhere to. Just remember to wipe the radiator down after sanding to remove any remaining paint particles.
How to paint a radiator step by step
Painting your radiator successfully is not a particularly challenging thing to do, but it does require a degree of concentration. This guide is for using a brush and a pot of paint, so the main thing when you get started is to take your time and don't be tempted to rush. You might also want to stop if you feel tired. Rushing and tiredness are the main causes for making a mistake, such as poor finishes, knocking paint over or accidentally slapping paint on somewhere other than the radiator. If in doubt, sit it out.
Follow these simple steps when painting your rad and you'll give yourself the best chance of getting a decent finish and the results you feel happy with.
Tools you'll need
Heat resistant radiator paint
Variety of sizes of paint brush
Medium-grit (120 - 180) sandpaper
Electric sander or sanding block
Soapy water and cloth for wiping down the radiator
Cloth for wiping drips
Masking tape, newspaper, old towels for protecting floor and walls
Receptical for when you need to put down the paint brush
Kneeling pad to protect your knees (optional)
Step 1 - Turn off your central heating
Make sure your radiator is cold before sanding or painting it. Radiators can get very hot so you don't want to burn yourself by accidentally touching the hot surface. Heat can also affect the way paint dries and adheres to a surface, so if you paint a radiator while it's hot, the paint may not adhere properly. Ensuring your radiator is cold will make it easier to paint, give you better results and keep paint fumes to a minimum.
Step 2 - Sand down your radiator
Use your medium-grit sandpaper to gently sand the surface, removing dirt, loose paint and imperfections. Sand evenly, creating a slightly roughened texture to improve paint adhesion. After sanding, wipe the radiator with a damp cloth and soapy water to remove dust and debris. You may wish to wipe the surface down a second time with unsoaped, warm water, just to ensure you've removed all particles and residue.
Step 3 - Protect surrounding area
If your radiator remains on the wall, then you'll want to proect the areas around the radiator to ensure that you don't splash paint unnecessarily. Put a sheet or old towel down on the floor underneath the radiator and tape some newspaper sheets on the wall around the radiator. You can also use masking tape to protect your radiator valves and pipes from accidentally getting paint on them.
Step 4 - Apply the paint
This assumes you're using a radiator paint that doesn't require a primer coat, though if you are using a primer, this technique will still be helpful.
To get the best finish, start with a high-quality brush designed for smooth surfaces. Have other size brushes on hand if there are harder-to-reach-areas on the radiator. Dip the brush into the paint, removing any excess by tapping it gently against the edge of the can of paint. Begin painting with long, smooth strokes in the direction of the radiator's grooves or ridges (if applicable), covering a small section at a time. Avoid overloading the brush, which can lead to drips and uneven application. Maintain a consistent pressure and overlap each stroke slightly to ensure an even coat.
Step 5 - Apply a second coat (if necessary)
Whether or not you need to apply a second coat depends on a few factors. You should always check the paint manufacturer's instructions to see what they recommend. Once the first coat has dried, stand back and look to see whether or not you are satisfied with the finish. If you sanded your radiator before painting and some of the bare metal was exposed, see if the metal is still visible through the first coat. If it is, then give the rad a second coat. It's usually worth putting on a second coat when painting a radiator, even if the first coat looks good. It will give a nicer finish and will provide a thicker layer of paint, reducing the chance of future knocks and scrapes being so visible.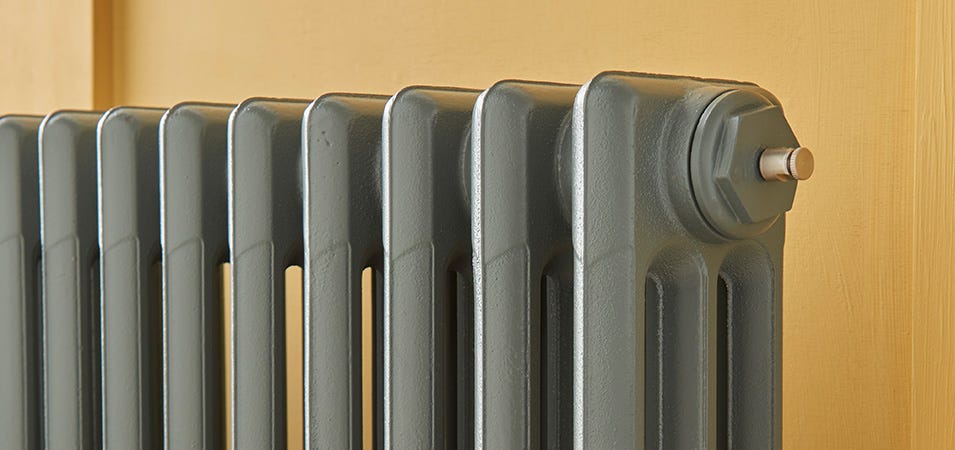 How to spray paint a radiator
The process of preparing a radiator to be painted is the same regardless of whether you are brush painting or spray painting it. However, using a spray can is a slightly more disciplined process that requires an extra degree of skill. For that reason, we have included our top tips below for getting the best result when spray painting your radiator. By following these detailed steps during the spray painting process, you can achieve a professional and long-lasting finish on your radiator with your heat-resistant paint.
Shake the paint can - Before you begin painting, it's essential to shake the heat-resistant spray paint can thoroughly. Read the manufacturer's instructions on the label for specific shaking recommendations. Properly mixing the paint ensures an even consistency and optimal performance.
Safety first - It's really important to wearing safety goggles and a face covering or mask when spray painting. These protective items shield your eyes and lungs from paint fumes, making the process safer.
Distance matters - Hold the spray paint can approximately 12 to 18 inches (30 to 45 centimeters) away from the radiator's surface. Maintaining this distance helps ensure an even application and minimizes the risk of overspraying or creating drips.
Smooth, even strokes - Begin spraying with smooth, consistent strokes, moving your arm steadily across the radiator's surface. Aim for overlapping strokes slightly to achieve complete coverage without leaving gaps or streaks. This technique guarantees an even coat of paint across the entire radiator.
Thin & even application - Keep the coats even and consistent. Avoid the temptation to apply too much paint in one go, as this can lead to drips, uneven coverage, and a longer drying time. Multiple thin coats are generally more effective than one thick coat.
Comprehensive coverage - Ensure that you cover all areas of the radiator, including the fins, crevices, and any intricate details. Pay extra attention to these features to achieve a uniform finish. Walk around the radiator, inspecting it from various angles to spot any missed spots.
Sufficient drying time - After applying the first coat, allow it to dry as per the manufacturer's instructions, which typically recommend waiting for at least a couple of hours. Proper drying time is essential for the paint to adhere and cure effectively.
Additional coats (if necessary) - After the first coat has dried, assess the paint's coverage and finish. If there are areas where the old paint or surface imperfections are still visible, or if you desire a smoother finish, consider applying a second coat. Repeat the spraying process, ensuring that each coat is thin and even.
Ventilation - Make sure adequate ventilation in the room where you're painting. Even if you are in a room without a window, switch on an extractor fan or at least keep the door open. Perhaps open a window in an adjoining room. Proper airflow helps disperse paint fumes, ensures a safer environment and will stop you feeling ill.
How to remove paint from a radiator
If you're considering giving your home a fresh look, one often-overlooked task is sprucing up your radiators. Over time, radiator paint can chip, peel, or simply lose its lustre, detracting from your interior's overall appeal. Removing old paint from a radiator is a straightforward process, and with a bit of patience and the right tools, you can achieve a clean surface that's ready for a fresh finish, enhancing your home's aesthetics. This guide is designed to help regular homeowners and DIY enthusiasts tackle the task with ease.
Tools you'll need
A putty knife or paint scraper
Sandpaper (medium grit)
Electric sander or sanding block
A bucket of soapy water
Clean cloth
Old towel, sheet or newspaper to protect the floor
Safety glasses (recommended)
Heat gun (optional)
Paint stripper (optional)
Kneeling pad (optional)
Step 1 - Soften the paint (optional)
If you're taking this really seriously and using a heat gun or paint stripper, carefully follow the manufacturer's instructions to soften the old paint. Hold the heat gun or apply the paint stripper to the painted surface, and keep it moving to avoid scorching or damaging the radiator.
Step 2 - Scrape off the paint (optional)
Gently scrape off the softened paint using a paint scraper or putty knife. Be careful not to scratch or damage the radiator surface. For delicate or difficult to reach areas areas, use a plastic scraper or even something like an old credit card. Repeat the process if there's stubborn paint or if the paint cools down before you've scraped it.
Step 3 - Sand the surface
If you've followed the first two steps and removed the majority of the paint, use medium-grit sandpaper to smooth the surface and remove any remaining traces of paint. Sand gently to avoid damaging the radiator. Alternatively, if you don't want to go through the effort of using a heat gun and scraping off the paint, you can start the process here. Use the sandpaper to roughen up the old point and remove any loose flakes of paint or rust. Using an electric sander will make the process easier, but using an old-fashioned block and doing it by hand will also be effective.
Step 4 - Clean the radiator
Wipe down the radiator with a clean, damp rag to remove dust and debris. You can use soapy water to also remove any dirt or grease. If you deem it necessary, you can wipe down the radiator again with clean, warm water to remove any soapy residue.
Step 5 - Paint the radiator
If the purpose of removing the paint was to repaint the radiator, then follow the steps outlined above to ensure you can a nice, smooth finish that you're happy with.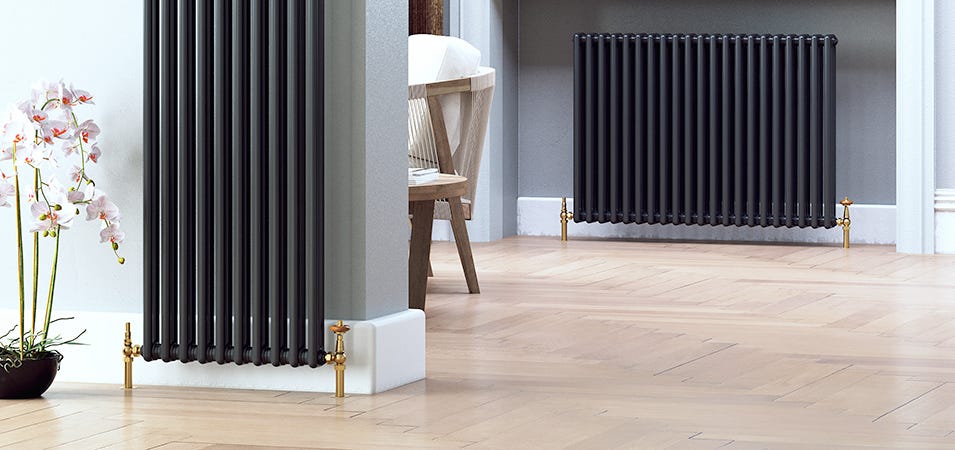 How to paint a radiator black
More and more people are opting for contemporary black radiators and radiator specialist, James Auckland, thinks there's a variety of factors at play informing this decision.
"Painting a radiator black can be an intriguing design choice for several reasons. First and foremost, black radiators provide a bold and striking contrast against lighter wall colours, adding a dramatic focal point to your interior decor. Black radiators also exude a modern and sleek aesthetic, fitting well with contemporary and industrial-style interiors. Secondly, black paint can be more forgiving in terms of showing dust and imperfections, making maintenance easier. Additionally, black radiators might help absorb and emit heat more efficiently, improving their performance. Overall, choosing to paint a radiator black is not only about style but also functionality and versatility in home design."
How to choose your black radiator paint
Paint type: Radiators get hot, so it's important that you choose a black paint that is heat resistant, rather than paint that is suitable for walls or ceilings, for example. Many paints are now labelled as 'radiator paint' which makes it very helpful when choosing.
Finish - Decide on the finish and sheen you want. Common options include matt, satin, or glossy black. Consider the aesthetic you're aiming for and the maintenance level you're comfortable with.
Brand & budget - Always choose a black paint that is suitable for your budget. Well-known brands like Hammerite and Ronseal produce good quality radiator paints, but always do your own research, look at user reviews and keep to a price you can afford.
Quantity - Radiator paints come in different sizes, so decide how much you need befor purchasing. If you're painting 8 radiators, you're obviously going to need a lot more black paint than if you were just painting one. Many big brands have paint calculators on their websites, so you can input the surface area (and some other variables) and be told approximately how much paint you need.
Testing - If small tester pots are available, then that's a great way of checking you are happy with the shade and finish before committing. It is less common to find tester pots for radiator paint, so always paint a small, out-of-the-way area on your radiator before committing to painting the whole radiator. This is the best way to avoid any nasty surprises.
Tools you'll need
Heat resistant black radiator paint
Paint brushes
120 - 180 grit sandpaper
Sanding block or electric sander
Cloth for wiping up paint drips
Soapy water and clean cloth for wiping down the radiator
Masking tape, newspaper and old towel for protecting floor and walls
Kneeling pad to protect your knees (optional)
Step 1 - Start with a cold radiator
Switch off your heating and ensure your radiator has cooled down completely before beginning any sanding or painting. Radiators can become scalding hot, posing a risk of burns if touched accidentally. Also, high temperatures can adversely affect paint adhesion and drying. Painting a hot radiator may result in poor adhesion and a less-than-desirable finish. By ensuring your radiator is cool, you not only reduce safety hazards but also create a more favourable environment for achieving optimal painting results while minimising the release of paint-related fumes.
Step 2 - Sand your radiator
With your electric sander or sanding block, take your medium-grit sandpaper and softly sand the surface of the radiator, eliminating dirt, loose paint, and any imperfections. Maintain even strokes to establish a subtly roughened texture that enhances paint adhesion. After sanding, use a damp cloth and soapy water to thoroughly clean the radiator, removing any dust and debris. For added assurance, consider a secondary wipe-down with clean, warm water to ensure the complete removal of all particles and residues. This xtra effort put into surface preparation lays the foundation for a great finish with your black paint.
Step 3 - Mask up the surrounding area
When your radiator remains mounted on the wall, it's essential to shield surrounding areas to prevent unintended black paint splatters. Place a sheet or an old towel on the floor beneath the radiator, and affix newspaper sheets to the wall around the radiator using tape. Make use of masking tape to safeguard your radiator valves and pipes, preventing accidental black paint contact on these components. These protective measures ensure a neat and controlled painting process while giving your floor and walls protection from any unintended paint mishaps.
Step 4 - Apply the black paint
For an optimal finish, paint with a top-quality brush that isn't going to shed its bristles. Ensure you have various brush sizes available for tackling any intricate radiator areas. Dip the brush into the paint, gently tapping off any excess against the paint can's edge. Begin the painting process with long, seamless strokes, following the radiator's grooves or ridges (if present), while focusing on a small section at a time. Exercise caution to prevent overloading the brush with black paint, which may result in drips or uneven application. Maintain a uniform pressure and slightly overlap each stroke to guarantee a consistently even coating.
Step 5 - Apply the second coat (optional)
Determining the necessity of a second coat rests on several considerations. Just to be sure, always consult the paint manufacturer's guidelines for their specific recommendations. After the first coat has dried, take a step back to assess your satisfaction with the finish. If you had previously sanded the radiator and some exposed metal is still visible through the first coat of black paint, consider applying a second one. Generally, it's advisable to go ahead with a second coat when painting a radiator, even if the initial coat appears satisfactory. This additional layer not only enhances the finish but also provides added durability, reducing the visibility of future scuffs and scrapes.
How to paint behind a radiator
The area behind a radiator is usually very hard to reach and, as a result, people often end up with a bit of undecorated wall that's a completely different colour from the rest of your interior design plan. It's annoying and gives you a nagging sense of a job unfinished. Below, we'll look at the best way you can paint that hard-to-reach area behind your rad, without removing it from the wall.
Step 1 - Ensure the radiator's cold
For safety reasons, make sure your radiator is cold before painting the area behind it. You're going to be reaching into a very narrow gap so it's almost inevitable that you'll make some sort of contact with the surface of the radiator. Starting with a cold, or cool, radiator will ensure you don't get burnt or scalded while you're painting.
Step 2 - Prepare the area
The area behind an radiator can get quite dusty and dirty, so it's worth using a long, thin radiator brush to poke out any dust onto the floor below. You can also reach as far as you can and give the wall a wipe with a damp cloth to ensure the best finish possible when you paint the wall. It's also recommended to mask off the sides of the radiator and the valves so that you don't accidentally get paint on them. Additionally, putting down a sheet or old towel to protect the floor is always a good idea.
Step 3 - Select your painting tool
The best implement for reaching into that narrow gap beind the radiator to get paint on the wall is usually a long-handled mini-roller. A mini roller will make the job easier as you'll be able to cover lots of the wall with less effort, than if you used a brush. Those narrow gaps often require standing at an odd angle so getting the job done as quickly as possible before you give yourself a bad back is definitely preferable. However, if you don't have a mini roller, a long-handled, angled brush will also do the job well. If you're reaching behind a tall vertical radiator, consider adding an extension pole to the mini roller's handle, to give you more control.
Step 4 - Apply paint to the wall
If using a mini roller, carefully load up your roller without overloading on paint. Roll paint onto the wall behind the radiator, starting from the top and working your way down, around the perimeter of the radiator. Roll in as far as you can until you feel the brackets. If using a brush, carefully apply paint to the wall behind the radiator, ensuring even coverage. Use smooth strokes and avoid overloading the brush to prevent drips.
Step 5 - Apply second coat (if necessary)
Follow the paint manufacturer's guidance and wait the recommended amount of time for the first coat of paint to dry. Assess the results and apply a second coat if necessary, following the instructions above.
How to remove a radiator without draining it
You might not be happy with leaving the radiator on the wall while you paint the area behind it. Instead you may prefer to take the radiator off the wall to give yourself full, unhindered access to a part of the wall that would otherwise be very difficult to reach.
Home heating expert, Nicholas Auckland, says removing a radiator is perfectly achieveable as long as you familiarise yourself with the process first:
"Whether you're planning to install a new radiator or you want to take your existing one off the wall for decorating puposes, knowing how to remove a radiator is a great thing to know how to do. It's not a particularly difficult DIY job once you understand what to do, but it's worth following some simple instructions if you've never done it before. This will ensure you do the job properly and don't create any unnecessary problems for yourself."
In the video below, a professional plumber goes step by step through the process of taking a radiator off the wall without draining it. This is a very helpful video to watch as you will understand how to safely and easily remove the radiator yourself, allowing yourself full access to the wall.
How to remove a radiator from the wall completely
If you would prefer to fully remove your radiator from the wall and don't mind draining it, you can also do that by following the instructions below.
Tools you'll need
Radiator bleed key
Adjustable grips
Adjustable spanner
Old cloth, towel or rag
Plastic bucket or washing up bowl
Step 1 - Switch off your heating
The first thing to do is to switch off your heating system and allow it to cool. This will ensure that your radiator is cool to the touch and won't burn you when you touch it and remove it from the wall.
Step 2 - Close both valves
This will likely to be your lockshield valve and your manual or thermostatic radiator valve. Close your valves by turning them clockwise.
Step 3 - Bleed the radiator
Take your radiator bleed key and attach it to the bleed valve. Undo the valve and if there's some air trapped in the rad, you'll hear hissing as it escapes. Have your old cloth or rag on hand to catch any drops of water whiich may come out once the air has been released.
Step 4 - Loosen valve and drain
Using your grips and spanner, hold the one of the valves while you loosen the nut. Tip the water from your radiator into your bucket and get rid of the dirty water. Continue to do this until the radiator is empty. You may want to put your old towel on the floor to protect it from any spilling water.
Step 5 - Loosen other valve and remove
You'll next need to loosen the other valve in preparation for removing the radiator. Try tipping it towards your bucket again in case there is any water left inside. You can then gently lift the radiator off the wall and place it somewhere out of the way. You should now have successfully removed your radiator and can now prepare to paint the exposed wall.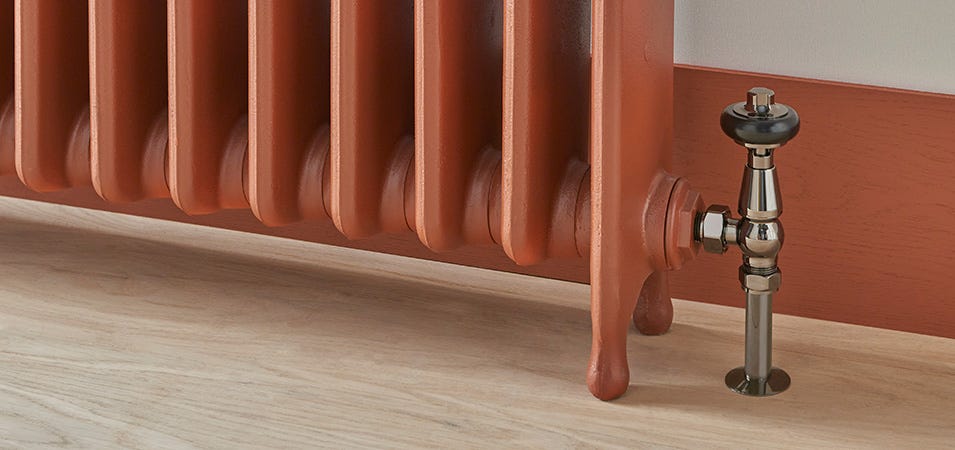 Radiators at TradeRadiators.com