The top 5 best low-level radiators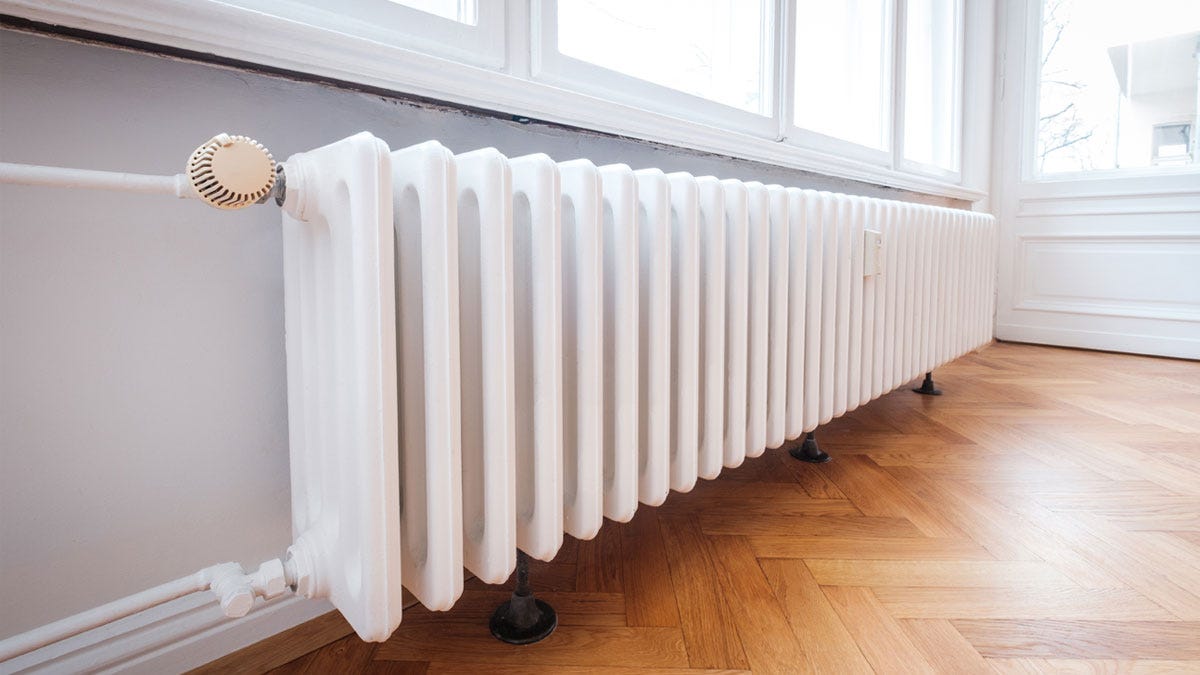 There might be areas in your home that could really benefit from the heat of a radiator, yet you thought it would be impossible to fit one in such a small space. However, there are now more and more radiators available have dimensions making them perfectly suited to 'low-level' areas such as underneath windows. These space-saving rads are a fantastic way of getting heat into tiny spaces and even allow people to plan radiator installation around pieces of furniture or artwork, rather than the other way around. In this article, we'll look at the top 5 low-level radiators from the Trade Radiators catalogue so that you can choose the best one to fit your particular space.
What are low-level radiators?
There's nothing that really differentiates a low-level rad from a standard radiator other than the dimensions. A typical low-level radiator will be quite wide but not very tall (high). This means you can get all the benefits of high heat outputs necessary to heat a room, but with a height and width that keeps the radiator low to the ground. A ideal example for usage of a low-level radiator would be in a conservatory where the room is predominantly glazed but heat is still needed in a way that isn't obtrusive to the space and won't get in the way of the view.
They are installed and connected up to the central heating system in the same way as other conventional radiators and are available in a very wide range of finishes, styles and colours.
Are low-level radiators suitable for bay windows?
Bay windows look great and always provide an extra element of character to a room. However, because of their design, it makes fitting standard radiators into the curved space below the windows notoriously difficult. The low-level radiators in this list are not suited to tradition bay windows, but we do have a specific section on our site dedicated to a great choice of curved bay window convector radiators.
The top 5 low level radiators
Below are our favourite low-profile radiators on our website. All are linked to their product page where you can order the size and finish of your choice and get free UK delivery.
#5 - DQ Delta Horizontal Radiators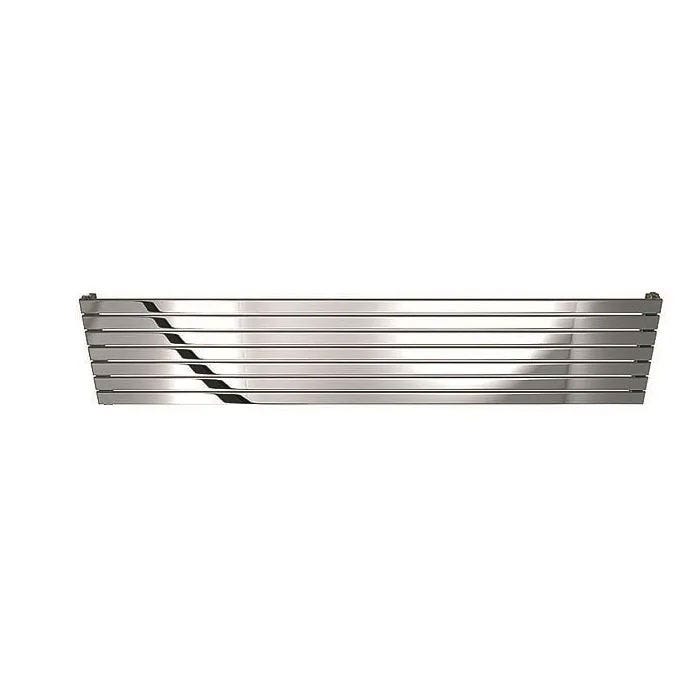 The Delta range of radiators from the well-established and respected brand, DQ Heating, are a fantastic option for very low spaces. The height of this range is as low as 230mm with widths choices in 1600mm, 1800mm and 2000mm, making them perfect for short, wide spaces, such as under a large window.
The Delta rads are manufactured from high quality stainless steel, making them excellent heat conductors while also being incredibly stylish. The choice between highly polished or satin finishes makes them a modern and contemporary radiator with the close-kinit, horizontal bar design allowing them to be a real focal point of any room they're installed in.
View these low-level radiators
#4 - Paladin Churchill Cast Iron Radiators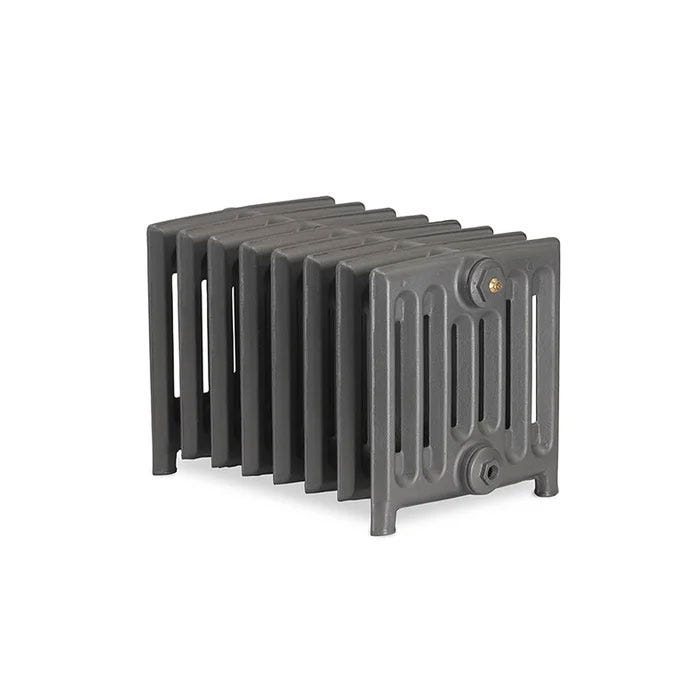 If you have a period property or are simply looking for a very traditional radiator that reminds you of a bygone era, the Churchill from Paladin is a stunning, low-level option.
These beautiful cast iron radiators are short and squat but come with a whopping 7 columns. This means they really pack a punch when it comes to emitting heat but they are still small enough to fit into the tiniest of areas.
Each Churchill radiator is hand made to order an can be optioned in a range of set finishes or we allow you to provide your own Farrow and Ball reference number for a custom colour of your choice. These low-profile radiators can be order and you'll be confident you'll be getting a high-quality yet individually unique product.
View these low-level radiators
#3 - Trade Direct Saturn Horizontal Radiator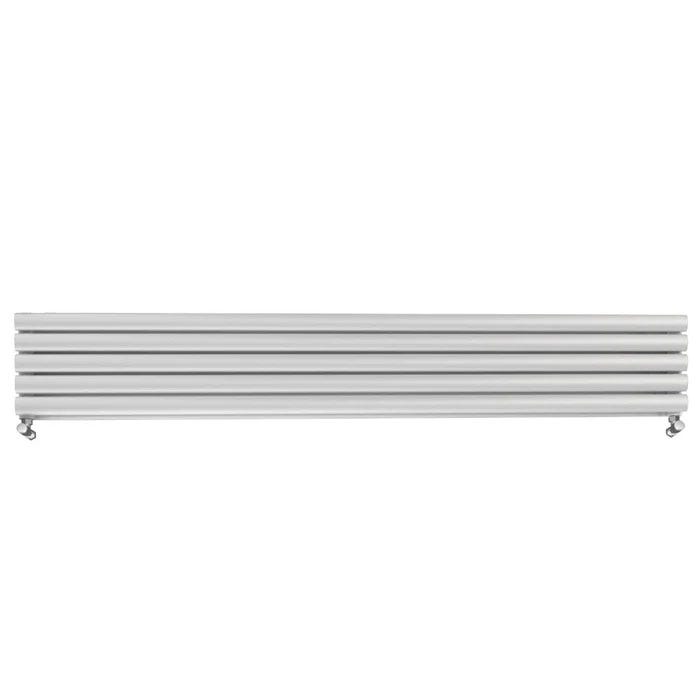 The Saturn, from our Trade Direct in-house brand, is a model that provides a lot of heat output for a seriously affordable price, thanks to its double panel design. With heights as low as 290mm and widths up to 1800mm, the Saturns are a stylish option if you're considering a low-level radiator for a room in your home.
The cylindrical horizontal bars display lines of clean design, making them suitable for a wide range of settings and design tastes. Easy to mount on the wall, the Saturn is a very popular radiator that adds a lovely finishing touch to a room, particularly when installed under a window. You can choose from powder coat finishes in white, black or anthracite.
Our unique Trade Direct line allows these rads to be priced really competitively and their long guarantees are testament to their high quality manufacture. Be sure not to miss out on this unbeatable price while stocks last.
View these low-level radiators
#2 - Stelrad Compact Horizontal Radiators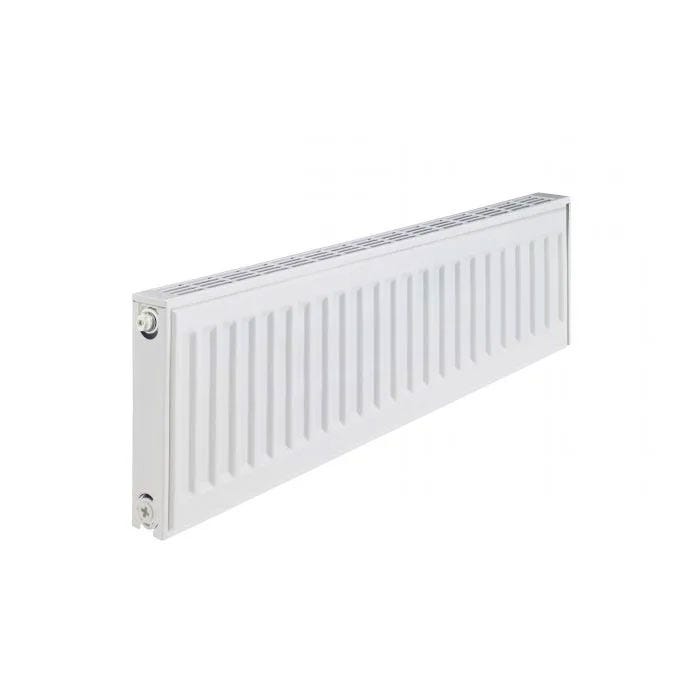 If you're in the market for a straightforward, low-level convector radiator, then the Stelrad Compacts are the ideal option for you. High quality construction with a no-nonsense grooved, white frontage, these radiators start with a low height of 300mm and can go as wide as 1600mm.
Stelrad are well-known for making quality convector radiators and these ones certainly live up to that reputation, being available with single or double panels and convector fins. This stylish and highly-regarded compact model also has an integrated top grille and side panels for a secure fit at all times
The Stelrad Compacts are efficient and affordable heating at its very best and are very popular among those who want a simple heating solution without designer frills or price tags.
View these low-level radiators
#1 - Trade Direct Horizontal Column Radiators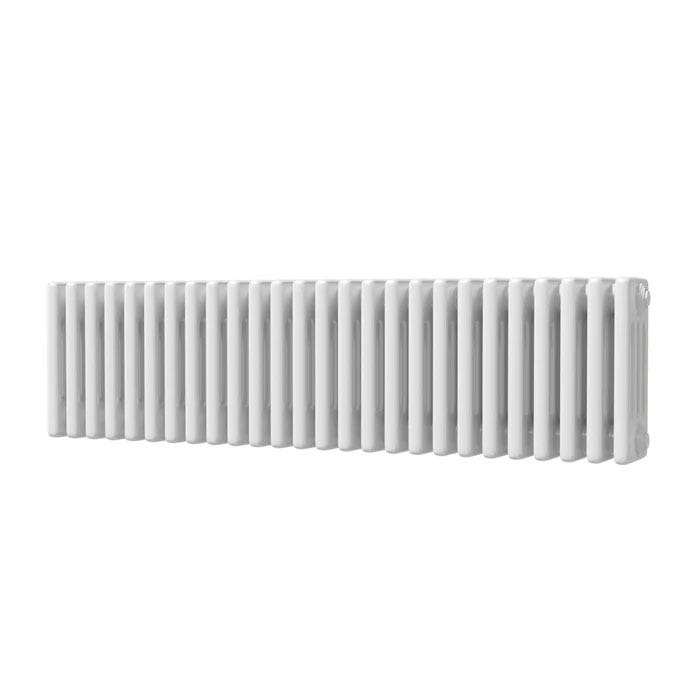 Column radiators comfortably bridge the gap between basic convectors and more ornate cast-iron radiators. The multi-column design looks amazing regardless of the age or style of your property and manage to look contemporary and traditional all at the same time. It is for this reason that our Trade Direct Column radiators are consistently among the most popular on our entire website.
The low-profile section of these type of radiators is fairly extensive with heights of 300mm and widths ranging from 988mm to 1340mm. Available with 3 or 4 columns, you're able to install what are actually quite small radiators and get a massive heat output out of them, all without breaking the bank. The fact that they come in finishes of black, white, anthracite and even raw metal, means you can choose a low-profile radiator that really matches perfectly with your interior design plan.
These are manufactured with high quality steel, as evidenced by the long and comprehensive guarantees that their provided with. Free, fast delivery to mainland UK addresses, these column radiators from our Trade Direct range should be a serious consideration if you need to install low-level radiators in your home.
View these low-level radiators