The top 5 best vertical radiators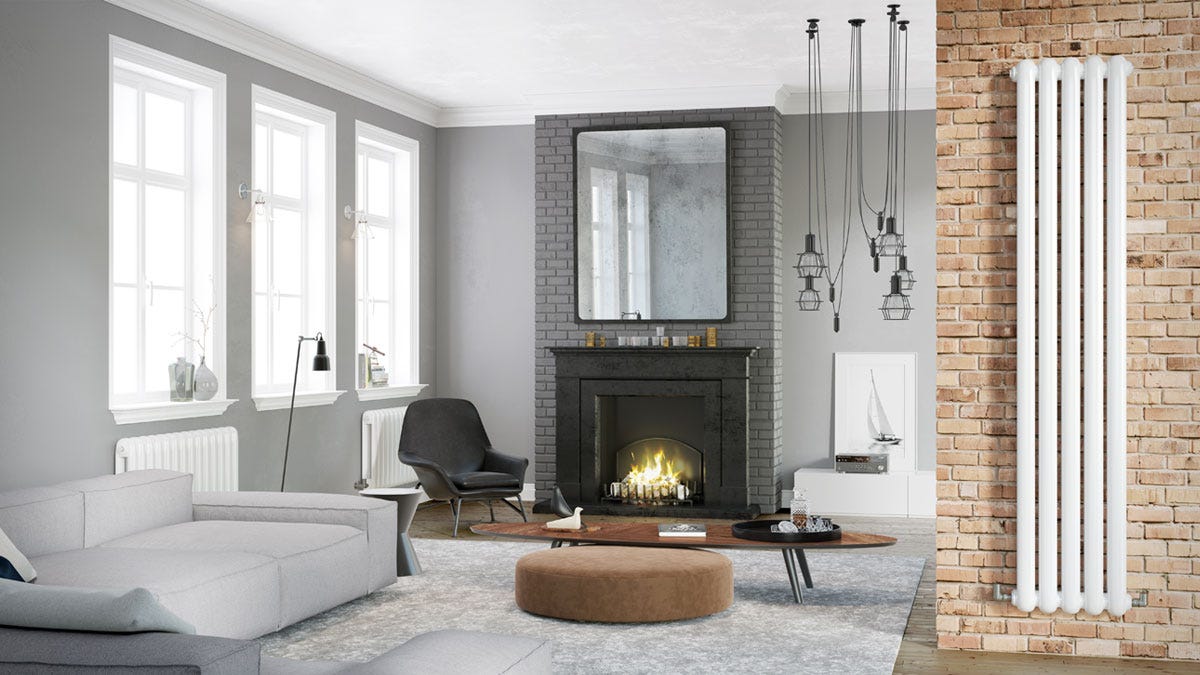 Ask the average person to close their eyes and think of a radiator, they are very likely to describe a white, horizontally-orientated rectangle with a vertically-grooved front panel. This is completely understandable as that description is of a standard convector radiator which, for many years, was the only option that people in the UK had when wanting to centrally heat their homes.
Convector rads are still among the top-selling in our catalogue and we absolutely love them, however, over the last couple of decades, radiator technology and design has grown exponentially and we now have a massive range of radiator alternatives that offer different options for all types of living space.
One of the most popular, stylish and functional radiators that has emerged over recent years is the vertical radiator.
Why might you choose a vertical radiator?
With the increase in popularity of vertical radiators, here we take a look at some of their benefits and reasons why people are having them installed.
Maximise upward wall space
One of the main drawbacks of having horizontal radiators is that it severely limits where you can place your furniture. In order to get the most heat you possibility can, it's recommended that you don't place large items of furniture in front of your rads.
Heating up the back of your sofa is not the most efficient use of your central heating and you might find that you can't help but turn up the temperature in order to compensate. In this era of high energy prices, turning up your heating could be a more expensive decision that you anticipated.
No matter how small the room, there is usually no shortage of upward space that can be utilised to fit a vertical radiator. Narrow walls or small spaces next to windows for example are a great place to install a vertical rad. These areas would have previously been unsuitable for a horizontal radiator and you may have struggled to adequately heat the space, but with the introduction of a vertical radiator, you can get ample heat into all sorts of areas.
More room for furniture
By installing some strategically-placed vertical radiators around your home, you'll find that you increase your floor space and your areas where you can put furniture. If space is freed up underneath a window, you can make a useful feature of this space without the concern about blocking the heat source.
Kitchens and bathrooms are also places that benefit greatly from vertical radiators because these are usually the rooms where horizontal wall space is at a premium.
Going upwards with your heat can suddenly open up new possibilities and much-needed usable space that didn't previously exist.
Stylish focal point
Advancements in design have meant that vertical radiators now come in a range of styles, making it easy for you to find an energy-efficient rad that also fits in with your interior design plan and the space available.
These days, in addition to plain or grooved flat panel radiators, more and more designer vertical rads are being made available, which include squared and rounded stylings.
Having the ability to match your rad with the decor, it has made homeowners much more interested in choosing their own radiator, rather than the traditional practise of letting the plumber or heating engineer pick the rad from a limited range of styles.
A vertical radiator will naturally provide a focal point to your room as they are so aesthetically different from a horizontal one. Many people choose a vertical rad simply for this reason.
The top 5 best vertical radiators
At Trade Radiators, we have a wide range of tall and vertical radiators in a variety of styles, finishes and sizes. You should give some thought as to what the function of every radiator in your home should be as how you heat your home is a very important component of life that deserves attention and shouldn't be merely an afterthought.
Below we've included some of our favourite vertical radiators that we think you'll find inspiring. However, make sure you browse our entire range of vertical radiators so that your find the perfect vertical radiator for every space requiring heat in your home.
We have a wide range of vertical radiators, including:
Silver Vertical Radiators
Aluminium Vertical Radiators
Vertical Designer Radiators
You can view our full range of vertical radiators here.
#1 - Trade Direct Vertical Column Radiators - White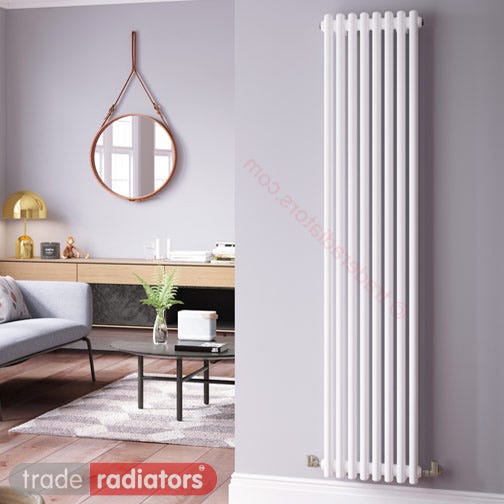 As a fantastic example of how stylish vertical radiators don't need to be expensive, you can't get better that the white column rads from our affordable Trade Direct range. These beautiful examples of radiator design really add and element of class and sophistication to any room and have the added flexibility of looking great in any type of property.
Classic column radiators like this are very versatile as they can look superb in a contemporary setting, but also provide a more practical and cost-effective alternative to cast-iron radiators. Though many people like the look of cast-iron rads, they often have a reluctance to actually fit them beause of their heavy weight and higher purchase point. Our Trade Direct whte column rads are therefore a discerning option to go for
These vertical column rads are consistently in our list of best sellers, and as they're available in a big range of sizes, you're likely to find the vertical radiator to fit any space in need of heat in your home. Coming with the options of 2 or 3 column options will provide you with more than enough heat output to comfortably heat the space.
#2 - Reina Neva Designer Vertical Radiators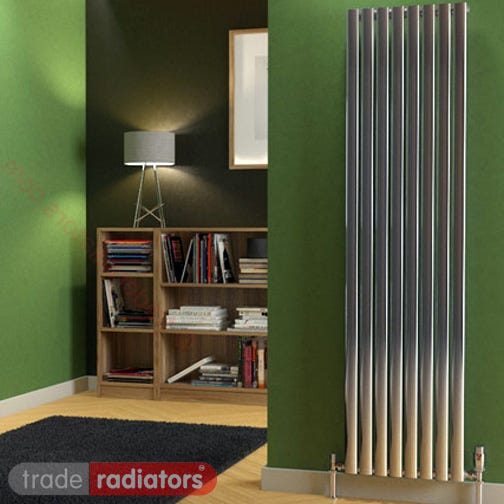 If you're wanting a stylish and contemporary look, then choosing a Reina Neva vertical radiator could be the answer to your heat-realated prayers. Reina are well-known for making beautiful vertical radiators and the Neva is no exception. All of our the Neva vertical rads come in stunning white, anthracite or chrome finishes and and available in several different sizes.
While the Reina Neva rads are great in any room, they are particularly popular for installation in bathrooms, kitchens and hallways due to their elegant and narrow dimensions. If you are thinking about those rooms then please note these rads are all 1800mm tall so you should make your necessary measurements to ensure these radiators are suitable.
The Reina Neva vertical rads are manufactured from the highest quality mild steel complete with a comprehensive guarantees. They also benefit from the ability to have chrome robe hooks or towel bars fitted to them, which further adds to their suitability and popularity in bathrooms.
#3 - Apollo Ferrara Stainless Steel Vertical Radiators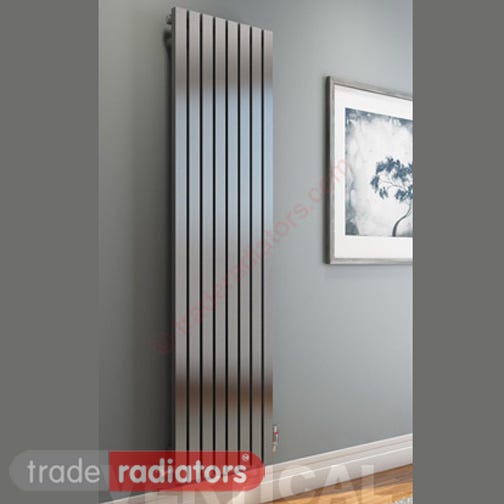 The minimalist lines and uniform, stylish finish make the Apollo Ferrara radiator one of the most attractive radiators available. Whether you choose to keep it in the vertical position on your wall or position it horizontally, this design will always add en eye-catching element to any room it's installed in.
Manufacturered from thehighest quality 504 grade stainless steel, you can be certain this rad is very durable and less prone to corrosion that naturally takes place inside radiators than most other metals. These sturdy vertical radiators are actually well-suited to smaller rooms due to their projection from the wall of only 70mm. However with a wide range of sizes available, you can find an Apollo Ferrara Vertical Stainless Steel Radiator that will be suitable for any room or space in your home.
Coming with high BTU output, reassuringly long guarantee and free fast delivery to mainland UK addresses, the Apollo Ferrera Vertical Radiator would be a great option for any space in need of heat in a busy family home.
#4 - Trade Direct Saturn Vertical Radiators - Anthracite
Another entry from our own-brand Trade Direct line, the Saturn vertical radiators are modern in style with the choice of single and double panel design. These unique rads seamlessly mix the traditional benefits of a column radiator with the cutting edge of radiator tech and design.
Although these rads are also available in white or black, we are specifically bringing your attention to the stunning and increasingly-popular anthracite version of the Saturn. More and more people are opting for anthracite as their colour choice for radiators, as the charcoal-grey with a hint of silver provides a beautiful and imaginative alternative to black.
The sophisticated, vertical tube design of the Saturn has proved a hit with many customers looking to upgrade the heating arrangements in their living rooms. People keep coming back to the anthracite version of this popular rad and with their gorgeous aesthetic, we're sure you'll be as equally delighted with these vertical radiators for years to come. Available with free, fast delivery.
#5 - DQ Vela Aluminium Vertical Radiators
At the premium end of our catalogue is the formiddable Vela Aluminium Rad by DQ which offers a fantastic combination of style, heat output and efficiency. We're big fans of the radiators manufactured by the well-respected DQ Heating and if you're looking for a designer vertical radiator that has no trouble in heating up a larger space, you need look n further than this incredible radiator.
Aluminium is an amazing conductor of heat which means they can get up to your desired temperature very quickly while keeping energy wastage to a minimum. This will have a positive impact on your energy bills and is why more and more people are opting for aluminium radiators, such as the DQ Vela, in their homes. A sizeable percentage of the radiator is made from recycled aluminium and, once the radiator eventually reaches the end of oits natural life, the aluminium can continue to be recylced and used for something else in future. This is increasingly imprtant for environmentally-conscious shoppers.
The DQ Vela is available in anthracite or white and can be fitted with optional polished aluminium towel rails, making these rads great at emiting heat into the room and also a functional place to warm and dry a towel. We often see the Vela being installed in an open-plan kitchen with the useful towel rail added in for good measure.
---
---