It's quite possible that you have a period property that you want to modernise and bring up to date. It's also quite likely that you want to do this while maintaining the old character and charm that made you fall in love with your home in the first place. One fantastic way to do this is by installing some of our beautiful
cast iron radiators
. Our cast iron rads have all the classic attributes of periods gone by, but benefit from being made with up-to-date manufacturing materials and processes. In this article, we will show you our Top 5 Cast Iron radiator ranges that hopefully inspire you to delve deeper into a world of classic central heating that you perhaps did not know existed. Cast iron radiators are works of art in their own right and we hope, after reading this article, you'll be as passionate and excited about them as we are!
The Victorian Range
The Knightsbridge Range
The Oxford Range
The Georgian Range
The Southbank Range
---
THE VICTORIAN RANGE - CAST IRON RADIATORS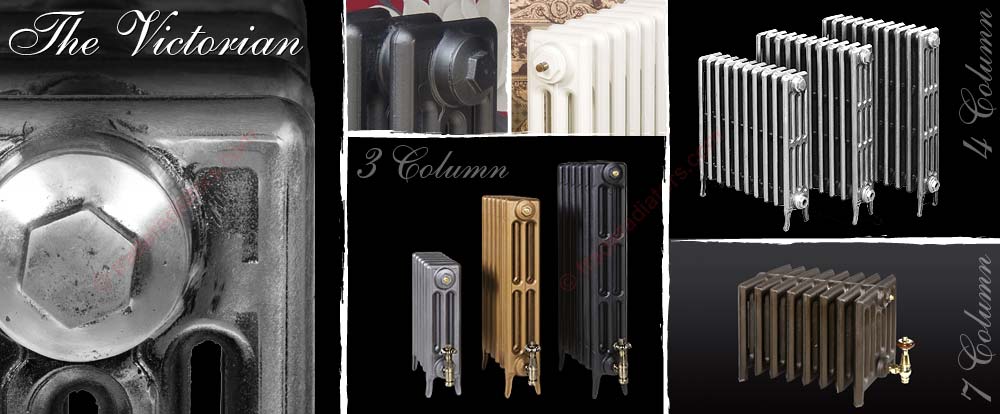 If your property or you style choices take their cue from late-1800s Britain, then our stunning Victorian cast iron radiator range could be the heat emitters for you. Even though these rads have the appearance of sheer opulence, those of you on a budget might be pleasantly surprised at the affordability of these beauts. The Victorian range have become our best-selling range of cast-iron radiators as a result. Available in 5 different heights and in multiple lengths, you get a choice of 3, 4 or a massive 7 columns, meaning these rads are capable of putting out some serious heat. You can also choose from a lovely variety of lovely colours for your Victorian radiator and we also provide a custom colour painting service if you have specific requirements.
---
THE KNIGHTSBRIDGE RANGE - CAST IRON RADIATORS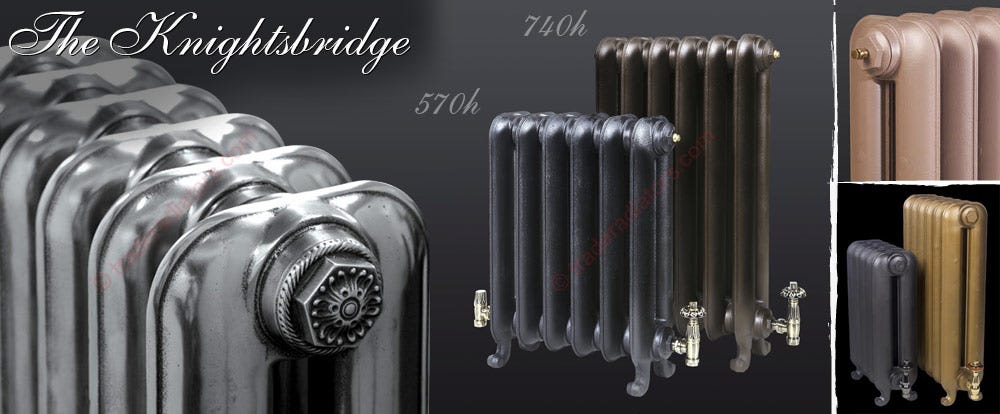 Named after the exclusive London district that is home to such classic shops as Harrods and Harvey Nicks, our Knightsbridge range of cast iron radiators are equally as smooth and sophisticated. Compared to some of our other cast iron ranges, the Knightsbridge is a fairly simple design, reminiscent of a hospital or old boarding school radiator. When you started thinking about installing cast iron radiators in your home, this design is so classic that these are probably the types of cast iron rad you were thinking of. Available in 2 different heights and a great choice of lengths and columns, these great radiators come with steel wall stays, free delivery and 10 year guarantee, which is testament to the quality of their manufacture.
---
THE OXFORD RANGE - CAST IRON RADIATORS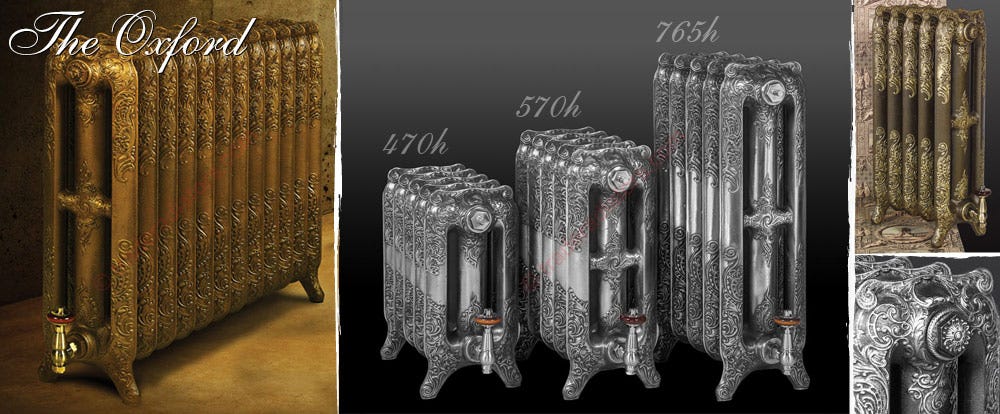 Oxford - the home of tradition, intelligence, Morse, Lewis and one of the best and most famous universities in the world. You know that any range of cast iron radiators named after one of England's most prestigious cities is going to be something special. Our Oxford range definitely do not disappoint in terms of their style and elegance. They're also contain one of the most intricate patterns in our entire cast iron range. The ornate and striking detailing means that you will create a real centre-piece in any room that one of these bad boys gets installed in. Visitors won't be able to help themselves from going in for closer inspection and making these delightful radiators a focal point of the pre-dinner small talk. Three different height options, a great choice of widths and a variety of very grand and popular colours to choose from make the Oxford range an excellent choice for those wanting to make a statement with their cast iron radiators.
---
THE GEORGIAN RANGE - CAST IRON RADIATORS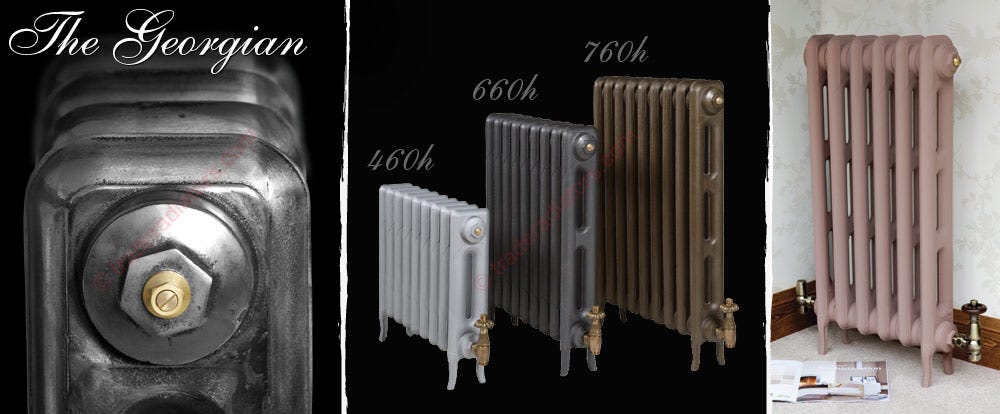 The Georgian architectural movement occurred in Britain between around 1714 - 1830 during the reigns of George's I - IV and much of this amazing architecture remains and permeates British culture today. Synonymous with beautifully classic style, our Georgian range of cast iron rads are very aptly named, reflecting all the traditional elements of this revered time period. The unique selling point about these particular cast iron radiators is that they go down to very narrow width measurements. This makes them perfect for installation in areas where space is tight, such as behind a door, in a narrow hallway or small bathroom. This allows you the double benefit of maintaining traditional styling and the practicality that small radiators brings. Free delivery and provided with steel wall stays and 10 year guarantee, you're also able to specify your desired colour, making these rads an excellent and realistic choice for creating a traditional environment in your home.
---
THE SOUTHBANK RANGE - CAST IRON RADIATORS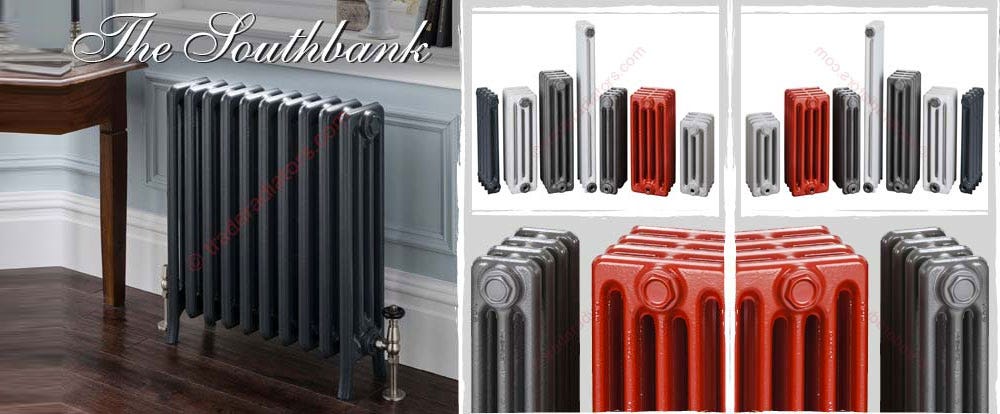 Named after that narrow strip of land next to the River Thames in the London Boroughs of Lambeth and Southwark, our Southbank range of cast iron radiators are at the budget end of our catalogue. If you're hoping to inject some traditional style into your living space but are operating on a budget, then you could do worse than take a look at the Southbank range. Very simply designed and complete in a smooth powder coat finish, these cast iron radiators are manufactured to the highest quality but are available in a limited choice of finishes, hence the reason they can be offered at a lower price. Available in one height but with a variety of widths, you also get the choice of 2, 3, 4 or 5 columns. This means that you can get a traditionally styled cast iron radiator capable of emitting enough heat to comfortably warm virtually any room in need of heat. Free delivery and comprehensive guarantee make these a great solution if you're adding cast iron radiators at the end of the decorating process and need to keep your costs down.
---
RELATED ARTICLES
•
Are cast iron radiators as efficient as modern radiators?
•
How colour and finish adds to the appeal of radiators
•
How we can help if you have a large radiator project
---