When buying new radiators for your home, it can be easy to overlook the importance of the accompanying valves. Your old radiator may already have some valves with it, but we're will to bet that that these will be tired, discoloured and boring when compared with what is available on our website. There's also no guarantee that your old valves will match or even fit your new one. There's no point in purchasing a new radiator only to undermine it's stylishness by having old or mismatched valves. It's like buying a new suit but wearing the same shoes you've had for 10 years.
What type of valve do you need?
You might be surprised to learn that there are a whole range of different styles of radiator valves available. In fact there are probably almost as many types of valve as there are radiators! The type of valve you choose is dependent on your style preference, but also governed by how your pipes connect to your radiator. Straight valves, angled valves and corner valves are the most common types of valves for radiators. What you need for your particular radiator/pipe set up can be established from the diagram below. If you aren't sure, please consult a professional or contact us before placing your order.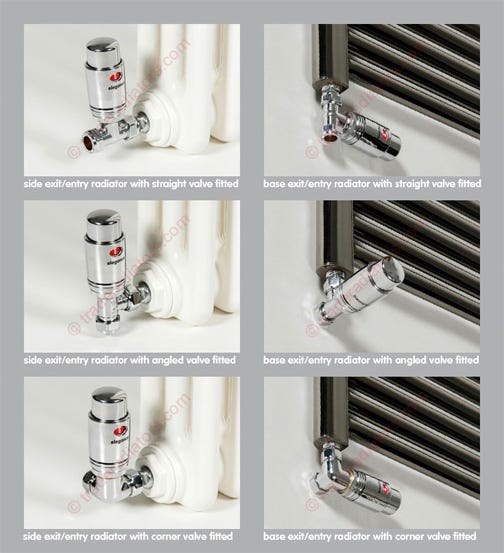 What are non-thermostatic and thermostatic radiator valves?
In terms of temperature, there are two types of valve that are most prominent: non-thermostatic and thermostatic radiator valves. Non-thermostatic (or standard) radiator valves allow the radiator to operate at a single temperature. There is no on/off switch so they will allow the radiator to heat up automatically as soon as the central heating is switched on. Non-thermostatic radiator valves are normally very affordable and very easy to install and operate. Thermostatic radiator valves (aka TRVs) allow you to control the temperature on each individual radiator, normally on settings between 0 - 3 or 0 - 5. 0 means the radiator is switched off, 5 allowing the maximum amount of hot water into the radiator to heat the room. TRVs are popular among people who wish to have more control over their central heating system. They're very useful for being able to heat rooms that are used frequently, while not wasting energy in rooms that do not need heating up so often.
What style of radiator valves do I need?
It's really a case of what style looks right with your interior design plan as there are a range of valve styles available. There are different shapes such as square valves or oval valves, plus you can choose whether you want clean minimalist lines or something more detailed. There's also a good choice of colours, including white, chrome, black, anthracite, nickel, brass, copper and more. We offer the whole range, you can just decide what colour you'd like. If you like the more traditional, detailed style of radiator valves, we offer our 5 best in the list below.
---
1. CHROME PLATED TRADITIONAL RADIATOR VALVES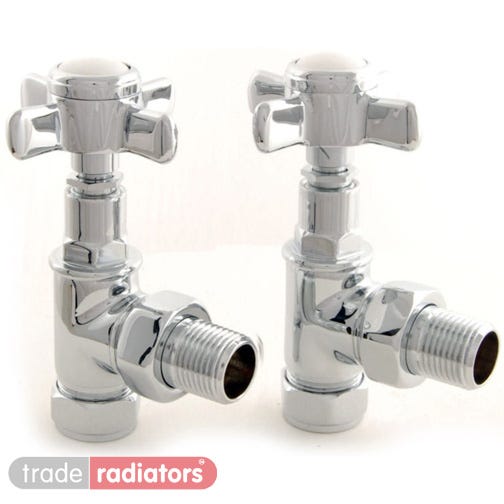 If you're looking to straddle that fine line between simple and fancy, then these chrome-plated traditional valves could be the solution for you. One of the most affordable pairs of valves in our catalogue, these are nonetheless constructed from the highest quality brass with a polished chrome finish. These valves come with a stunning manual tap-style design, allowing you to easily switch them on and off. They look great with virtually any type of radiator but also have the ability the elevate your decor from simply average to the sublime. These designer traditional radiator valves are available with the optional extras of chrome pipe sleeves are compatible with a micro-bore reducer.
---
2. ANTIQUE BRASS 'BALMORAL' TRADITIONAL RADIATOR VALVES
You can tell from the fact that these traditional radiator valves are from our 'Balmoral' range that they radiate a certain high class and sophistication. Manufactured from the highest quality brass and given a stunning antique finish, these beautiful valves have been given a lovely attention to detail in their construction. They are especially popular for those living in period properties who wish to extend the glamour of a cast iron radiator with valves to match, though they would also look good with a more modern style of radiator for a unique contemporary twist. With more of a mid-range price tag, these are traditional radiator valves for those happy to spend the extra in order to get the overall look to their heating system just right.
---
3. BLACK NICKEL 'BELGRAVIA' TRADITIONAL RADIATOR VALVES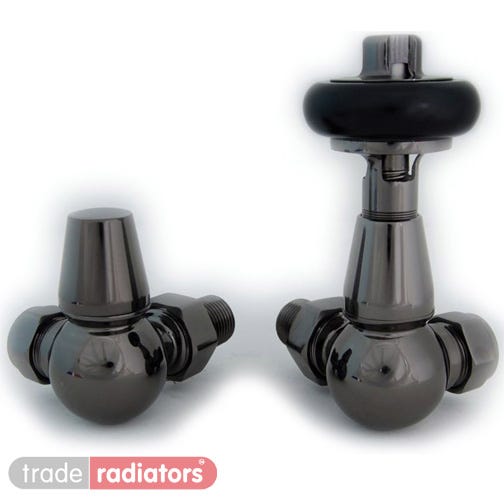 An outrageously beautiful combination of traditional and modern, these amazing radiator valves are only for those who want to add a real air of sophistication to their interiors. With a shiny black nickel finish, these valves would look great in a period property but would definitely add some class and character to a more contemporary living space. Complete with a real wood handle, these traditional thermostatic radiator valves would allow you to control your heat output with a serious amount of style. From our higher budget choice of radiator valves, the Belgravia selection are the perfect choice for anyone wanting to have a subtly eye-catching addition to their radiators.
---
4. ANTIQUE BRASS THERMOSTATIC RADIATOR VALVES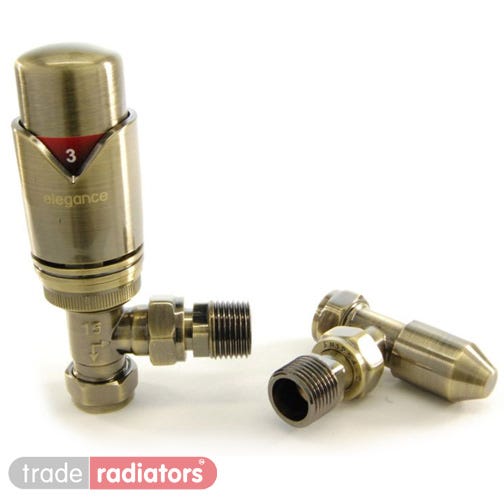 In any other colour (chrome, black, white - which we also stock) these thermostatic radiator valves would probably be considered modern. However, give them an antique brass finish and you've got a contemporary valve with a traditional twist. This makes them especially popular for those who have a traditional radiator, but want all the benefits of a modern and efficient thermostatic radiator valve to control the temperature. That said, they also look great when paired with something super-modern, especially with black or anthracite radiators that are in need of contrast with a traditionally-coloured valve. Great value for money and finished to an incredibly high standard, these antique brass TRVs are a very stylish and versatile option for virtually any living space.
---
5. SATIN NICKEL 'STIRLING' TRADITIONAL RADIATOR VALVES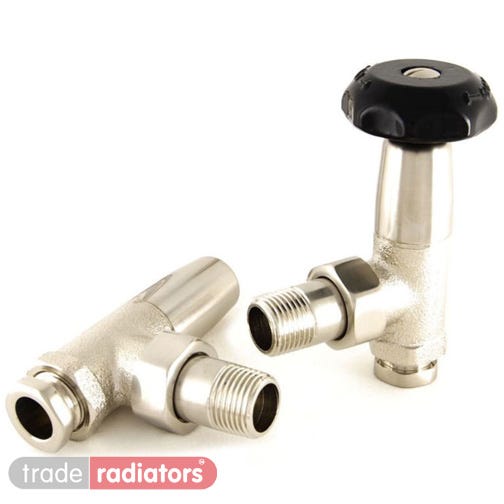 Our manual Stirling Traditional Radiator Valves are finished in a lovely satin-nickel and are specifically designed to be paired with a beautiful designer radiator. Versatile enough to be paired with virtually any radiator in our designer section, these stunning valves are manufactured from a unique electro-plating technique. Because they feature both nickel and black colouring, they look particularly good with black, anthracite or chrome radiators, gently complementing your rads without completely stealing the limelight. These traditional radiator valves come with free delivery, a comprehensive 2 year guarantee and are also compatible with matching pipe sleeves and a micro-bore pipe reducer.
---
RELATED ARTICLES
•
The Ultimate Guide to thermostatic radiator valves
•
How to change a thermostatic radiator valve
•
Why it's essential to make TRVs accessible to everyone
---