If you're looking for radiator ideas for your kitchen, then look no further than this inspiring article.
The kitchen can be one of those tricky areas where heat is very important but your options may be limited because of a lack of horizontal wall space.
This is particularly the case in smaller kitchens where you often want to maximise on cupboard space but without scrimping on central heating either.
In this article, we'll show you our favourite radiator options for your kitchen.
1. White column radiators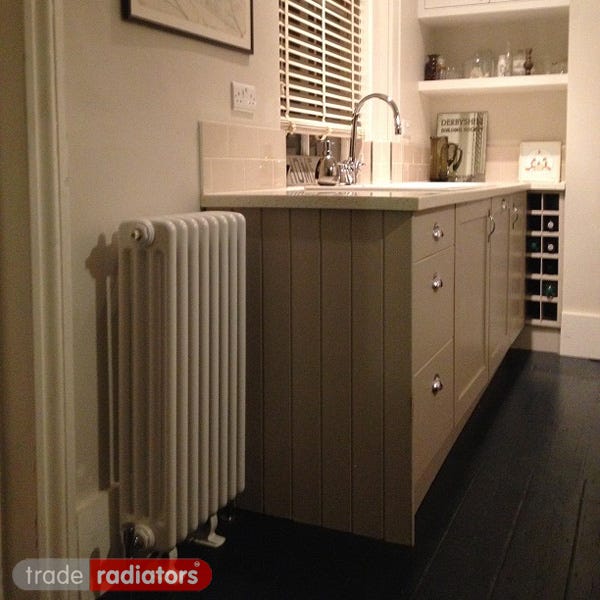 As you can see from this photo, a column radiator can give an incredibly classy look to a kitchen.
With the magnolia walls and stone-coloured cupboards, the smooth rounded edges of this beautiful white radiator look amazing.
This radiator slots perfectly in the area between the doorway and end of the work-surface and is chunky enough to emit a necessary amount of heat to warm up this kitchen nicely.
If you're looking for a horizontal radiator for your kitchen then a white column radiator could be a fantastic option.
View All Our White Column Radiators
2. Chrome vertical radiators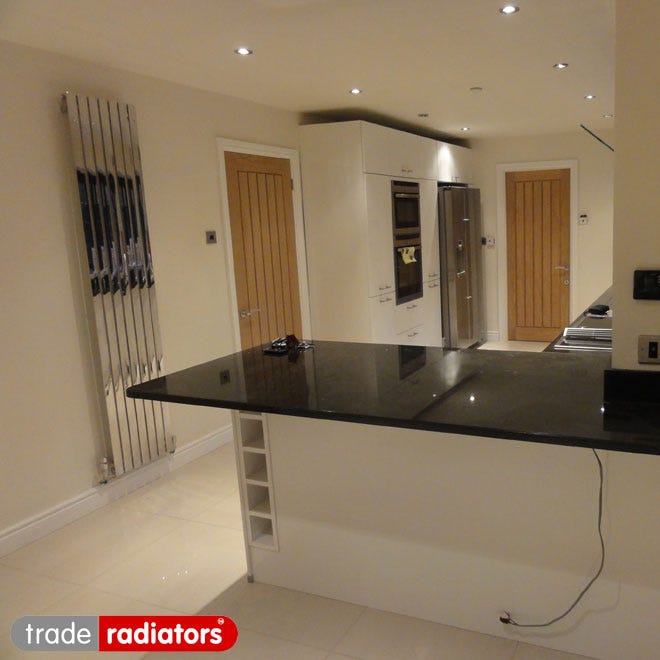 If you're considering going really snazzy in your kitchen, then a great radiator choice could be a chrome vertical radiator.
Chrome radiators always look good in kitchens because they match up nicely with the other chrome or stainless steel fixtures in the room, such as taps, ovens, handles and light fittings.
The image above demonstrates what a powerful look this can create in a kitchen, especially as the grooved doors tie in with the grooves on the radiator!
View All Our Chrome Vertical Radiators
3. Anthracite vertical radiators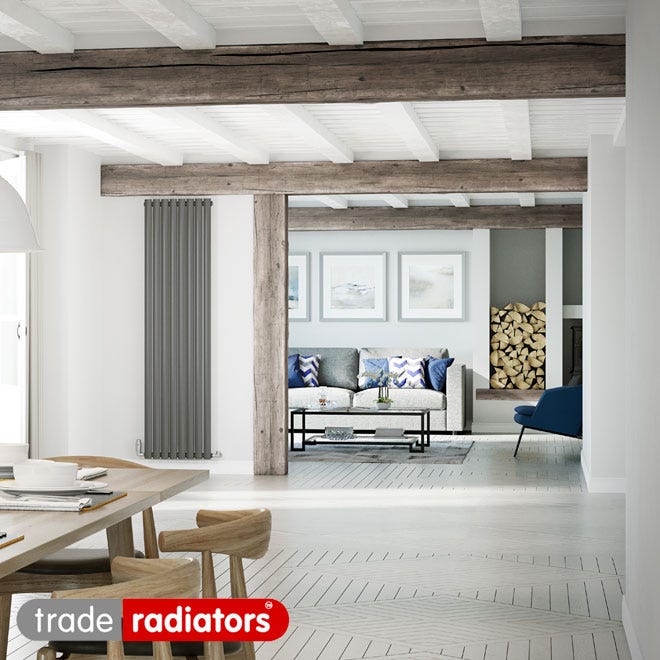 Anthracite radiators have seen a surge in popularity in recent years, yet they still have the ability to seriously impress when installed in a kitchen.
Anthracite is more charcoal than black and contains some hints of silver that can really catch the light delightfully.
In this picture, the combination of the wooden beams and white walls lays a lovely canvass for the anthracite radiator to be laid in on top, completing a lovely room with neutral tones.
If you're considering making a feature wall in your kitchen, then an anthracite radiator could be the finishing touch you need.
View All Our Anthracite Vertical Radiators
4. White vertical radiators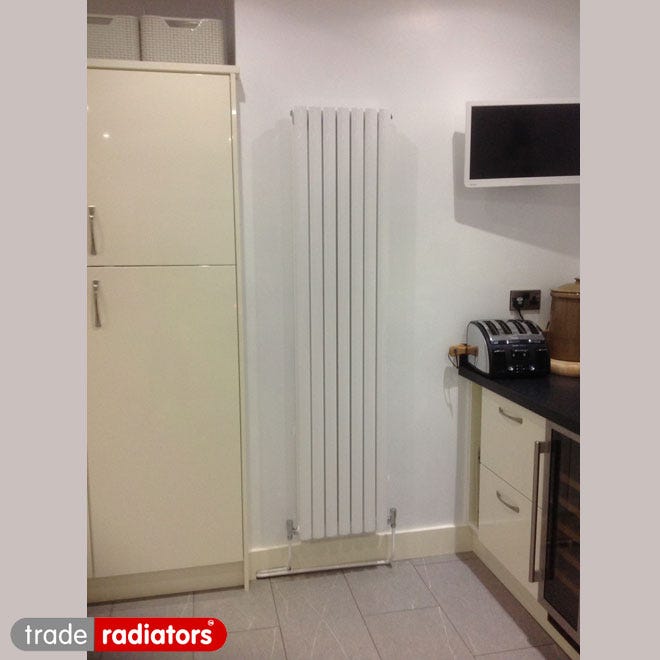 When horizontal wall space is tight, the best way to get around this problem is by installing a vertical radiator. Vertical rads make the most of upwards space, allowing more room for kitchen cupboards and furniture.
As a result, more and more people are choosing to install vertical radiators in their kitchens. You get the same heat outputs as horizontal rads, but in a more convenient orientation for the room, so it's a perfectly sensible decision.
If you're a traditionalist, then selecting a white vertical rad for your kitchen makes sense. The white of the rad, combined with other white goods such as the fridge, microwave or cooker can provide a sense of organisation and cleanliness - perfect for a busy kitchen.
View All Our White Vertical Radiators
5. White compact convector radiators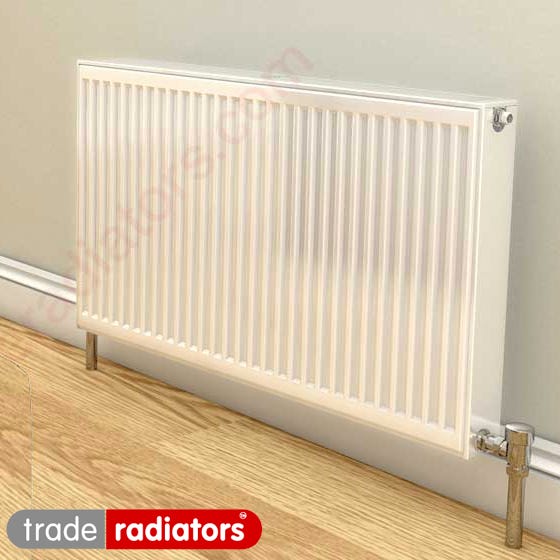 Sometimes you don't want to complicate things with fancy designer radiators and would prefer to stick with something tried and tested.
With a brand new compact convector radiator, you know you're getting something that is economical, efficient and, providing you choose the right size, will have something that heats your kitchen comfortably.
As you can see from the photo, installing a standard convector radiator won't get you many admiring comments from visitors, but they will do the job smartly and without fuss. And sometimes that's exactly what you want from your heating system!
View All Our White Compact Radiators
RELATED ARTICLES
• How to install a vertical radiator in a kitchen
• Horizontal or vertical? Choosing the right radiator for you