A recent survey by NatWest Bank showed over 70% of people who took part had either upgraded or planned to upgrade their bathrooms. It makes sense because the bathroom (and ensuite) is the room in the house that constantly takes a battering from the whole family, all day, every day. It therefore makes sense to upgrade your bathroom to match your living environment and personal needs and tastes. While many people seek to modernise their bathrooms in a very contemporary style, there are also a great deal who are looking back to a bygone age and outfitting their washrooms with traditional fixtures and fittings. For the last 15 years, watch an interior design show and you're almost guaranteed to see a modern, chrome-plated ladder style rail installed in the bathroom. However, more recently, it has become much more noticeable that people are opting for traditional heated towel rails, and it's easy to see why... A traditional heated towel rail is one of the easiest ways to inject some period style into your bathroom, ensuite or cloakroom.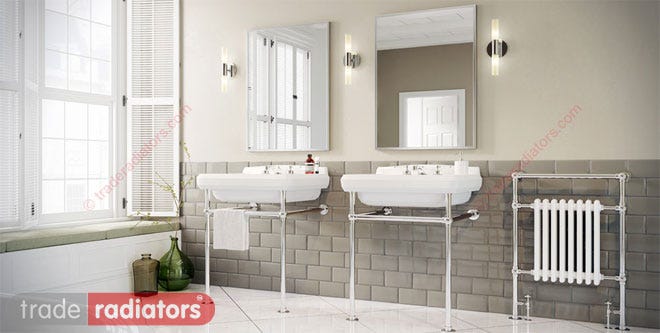 As well as their obvious traditional design aesthetic, the traditional towel radiator is also very functional, combining the classic-columned tank that emits a great deal of heat, with the polished pipework, perfect to hang a towel to warm it and stop it from being damp. Combine them with some
traditional radiator valves
and you'll have a focal point to your bathroom that transports the user to days gone by, especially the Victorian era when the humble towel radiator was first invented. We have a lovely range of traditional heated towel rails to choose from, including our most popular Avon and Wessex varieties. Both types of radiator come with beautiful 32mm chrome-plated, mild steel pipework, perfect for hanging and drying towels. Both styles also have very stylish column tanks that are available in a crisp white finish or in a smooth and sophisticated anthracite for a modern twist.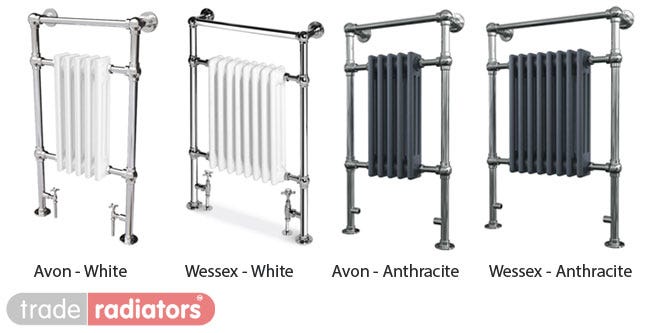 The Avon Traditional Towel Rail measures in 960mm x 540mm with a heat output of 2640 BTUs, while the slightly wider Wessex radiator has dimensions of 960mm x 675mm and a heat output of 3504 BTUs, allowing you the flexibility to get exactly what you require for your bathroom. The Avon and Wessex Traditional Heated Towel Rails are a superb way to style your bathroom in a traditional manner, offering you the benefits of sophisticated old school design, while proving all the energy efficiency of a modern radiator. Additionally, if you do not have a conventional hot water central heating system, the Avon and Wessex rads are also available in electric or dual fuel options, making them an incredibly versatile choice for your home.
---
RELATED ARTICLES
•
Our Top 6 Best Bathroom Radiators
•
How much does it cost to install a heated towel rail?
•
Photos of traditional heated towel rails from our customers
---