What size radiator do I need?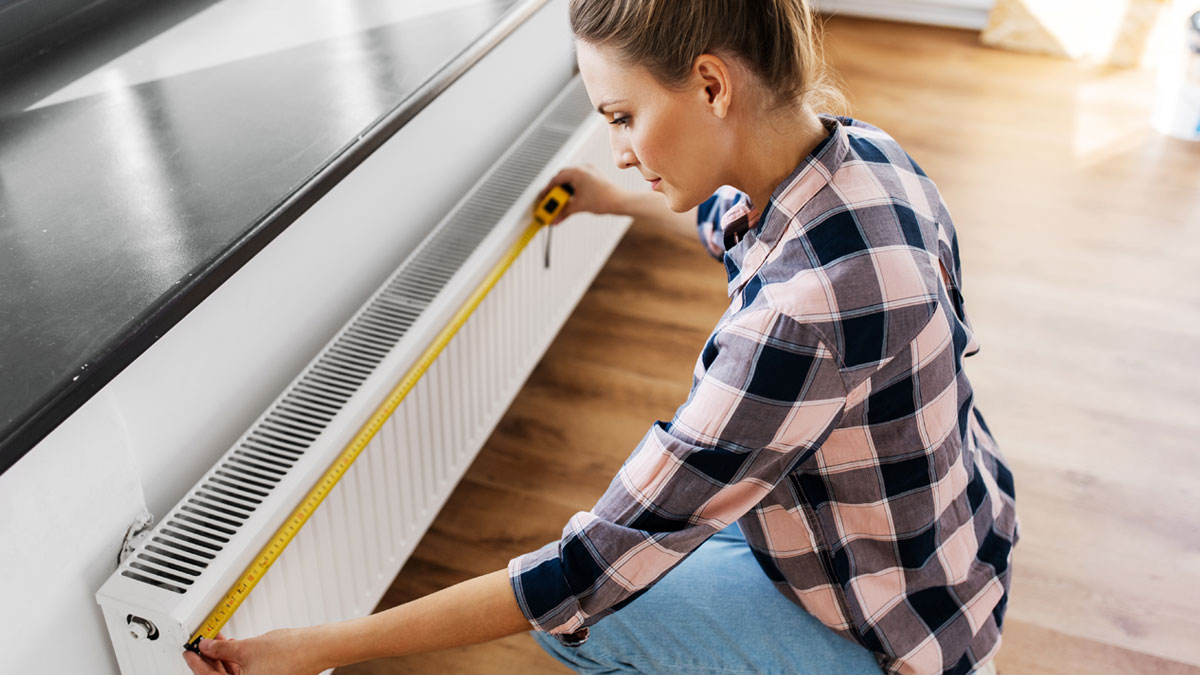 When choosing a radiator to be installed in a room, it's very important that you choose the right size. Too small and the rad might struggle to heat the room to a comfortable temperature. Too large and you might overheat the room and risk unnecessarily large heating bills, so it's worth taking the time to get the size of you radiator correct.
In this article, we'll go through the steps you can take to ensure that you are getting the right radiator for the right room, ensuring you strike that healthy balance between staying warm and (relatively) reasonable energy bills.
Radiator heat output
The best way to understand how much heat your room needs in order to keep you warm during the coldest months is to use our very handy Trade Radiators Heating Calculator.
Take out your tape measure and measure the height, width and length of all your rooms in which you intend to put a new radiator. You should also measure the windows and provide as much information as you can about your room in the answers to our additional questions.
Using the heat calculator is a really simple process and it's well worth taking this small extra step as it will give you the BTU heat output you need in order to heat each room in your home. We display all of the BTU heat outputs for each individual radiator on our website to make the process of choosing the right radiator as easy as possible for you.
Radiator height and width
Wall space is another important consideration when deciding on the right size radiator for your room. For example, if there is limited horizontal space in the room then a very popular solution is to choose a vertical radiator.
Many people forget about about vertical radiators during the planning process and sometimes struggle to find a horizontal radiator that will both fit the available space and heat the room up adequately. Vertical radiators solve this problem easily.
If choosing a horizontal radiator then make sure the you measure the area of wall space and then select the size of radiator accordingly to ensure it will fit comfortably.
Radiator pipe centres
If you've got a conventional, hot water central heating system that is powered by a gas-fired boiler, then you need to pay attention to the 'pipe centres' measurement of your new radiator so that you radiator slots nicely onto your pipework.
The pipe centres measurement is the distance between the central points of the two pipe inlets on your radiator, where the rad connects to the valves and pipes.
If you are replacing an existing radiator then a really easy thing to do is to measure the pipe centres on your old radiator and simply choose a new radiator with the same measurements. Assuming the new radiator has the right amount of BTU heat output for your room, doing a like-for-like sway is the easiest way to choose a new radiator.
Alternatively, if you are choosing a wider or narrower radiator to fit the space then you don't need to pay as much attention to the pipe centres measurement, as your pipework will need to be rerouted regardless in order to connect up to the new radiator and valves.
Radiator projection
Another measurement to consider when choosing the right-sized radiator is the projection from the wall, or, how much the radiator sticks out from the wall into the room.
This is an important point because the projection measurement for your new radiator will really depend on the room in which you are installing a radiator. If you have a large rectangular bedroom for example, then there is likely to be plenty of space for the radiator to stick out into the room without causing any issues. However, if a narrow landing or hallway needs a new radiator, then you will want to choose a slim radiator with as small a projection measurement as possible. Otherwise you risk the radiator taking up too much space and awkwardly protruding into the room.
If you are looking at column and cast iron radiators for your home, then these can get quite chunky depending on the amount of column rows you choose. These radiators can vary in depth from 2 - 6 rows of columns, with the greater the columns, the more heat output and the greater the projection measurement. Do your own measurements to decide how much space you can afford for your radiator to jut out into the room. We display the projection measurement in millimetres (mm) on all of our radiators.
Get the right size at Trade Radiators

Getting the size wrong means you could end up with a rad that either doesn't heat the room, unnecessarily uses too much energy, sticks out too far or simply looks too big/small for the space. It's definitely worth taking the time to plan what radiator would work best in each room in your home before making a purchase, otherwise you have to live with the wrong radiator or go through the expense of rectifying it.
At Trade Radiators, we make the process of getting the right radiator for your home as simple as possible with our Heating Calculator and clearly displaying all the information you need to know on every radiator on our website.
If you're stuck and can't decide on the best radiator for your room, then please feel free to get in touch on 0141 225 0430 and speak to one of our helpful team. We are used to helping people decide on heat outputs, dimensions and styles so please don't be afraid to contact us for some extra advice.
We all know no two homes are created equal, and one of the biggest challenges this brings up is knowing what sized radiator a room needs. We have plenty of experience in helping UK customers find the right sized radiator for every scenario; from studio apartments with only one spot for a radiator to open office floors that need heat all day long, so don't hesitate to contact us or browse all our radiators and heated towel rails on our website.