The colour white ("
White's not a colour!
") is always going to be a popular choice for interiors. Whether it's crisp white tiling, a white-washed floor or plain emulsioned walls, white gives an interior a feeling of cleanliness, organisation and minimalism. So it's no surprise that the most popular colour for radiators is still white. It radiates heat nicely into the room and is a safe and non-confrontational choice that suits virtually any space in need of heat. In this article, we'll take a look at the top white heated towel rails from our catalogue so you can make an informed decision about what's best for your bathroom.
Nevo Offset white heated towel rails
Saturn Offset white heated towel rails
Trade Direct white heated towel rails
Saturn Bar white heated towel rails
Wessex traditional white heated towel rail
---
NEVO OFFSET WHITE HEATED TOWEL RAILS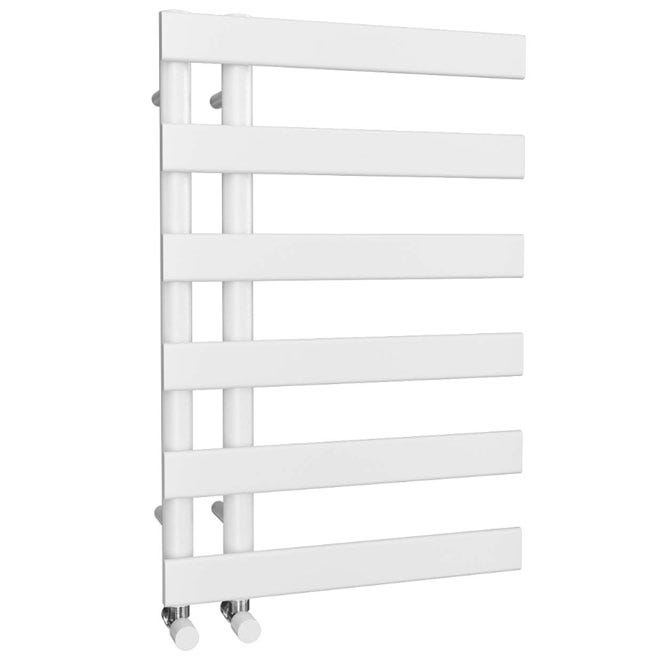 The Nevo Offset range of heated towel rails are a stunning example of imaginative design, as evidenced by their vertical bars set to one side. Not only do the offset bars make for an eye-catching design, they also serve a very practical purpose too. Towels can easily be slid on and off the bars as required without any need for delicate folding and tuckage that often accompany other designs of towel rail. The Nevo Offsets come in 3 sizes - 748 x 500mm, 1156 x 500mm, 1564 x 500mm and are available for standard, electric or dual fuel central heating systems. Manufactured from high quality mild steel and covered in a swish white powder coat, the Nevo Offset towel rails are provided with 15 year guarantee, all wall fixings and free delivery to mainland UK addresses.
---
SATURN OFFSET WHITE HEATED TOWEL RAILS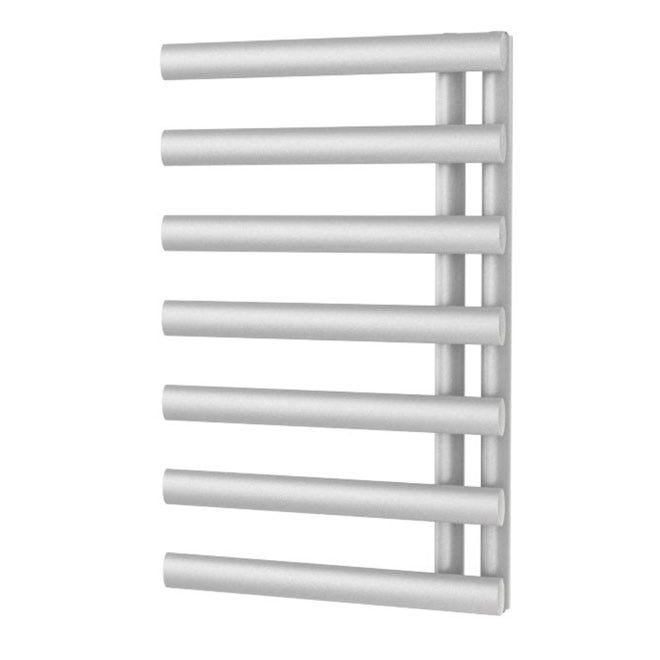 These Saturn Offset white heated towel rails offer another variation on the twinned vertical side bar design. The show-stopping stylishness is available in abundance, with the smooth, slightly rounded horizontal bars adding an extra layer of ease to the process of placing and removing towels from the rail. These beautiful examples of radiator design come in three very useful sizes - 760 x 500mm, 1240 x 500mm and 1595 x 500mm, with heat outputs of 1046, 1655 and 2111 BTUs respectively. If you have a bathroom, cloakroom or ensuite that needs jazzing up, without being overpowering, then the Saturn Offset heated towel rails would be an excellent choice. Conveniently, these rails are suitable for standard, electric or dual fuel systems, so no matter what type of central heating you have, these designer rails will be suitable.
---
TRADE DIRECT WHITE HEATED TOWEL RAILS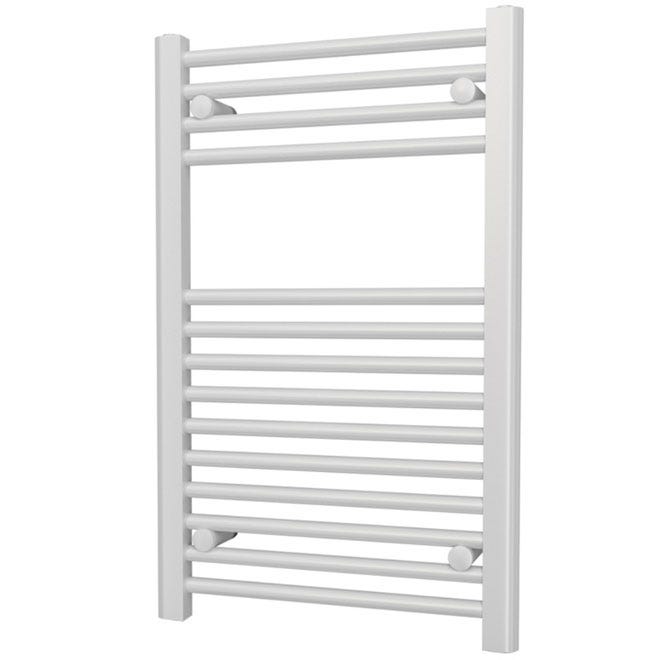 It might be the case that you're not interested in reinventing the wheel by hanging an attention-seeking design on the wall of your bathroom. You may want something that's no nonsense and functional, similar to the one your saw in your hotel during your last holiday. And that's perfectly fine. Our Trade Direct white heated towel rails are perfect if you're looking for a standard, economical rail that quietly does it's job of heating towel in your bathroom. This range are incredibly popular and come in a huge range of sizes, ensuring that you will find something to fit your bathroom no matter how large or small the space. Manufactured from high quality mild steel with a slick white powder coating, these rails are very affordable to buy, cheap to install and suitable for any type of heating system. Due to their affordability, these rails are particularly popular among buy to let owners, property renovators and those with multiple properties that need new central heating systems installed.
---
SATURN BAR WHITE HEATED TOWEL RAILS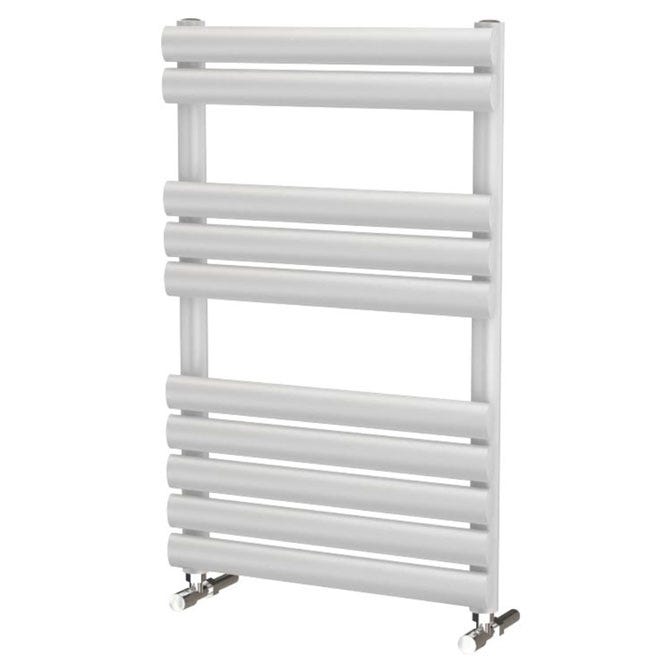 A slight twist on the conventional ladder-style heated towel rail are these lovely offerings from our Saturn Bar range. Equipped with the standard set-up of vertical bars at each end with a nice amount of horizontal bars parked across, these particular towel rads are raised above the norm by the clustered nature of their latitudinal bar design. Providing a satisfying sense of slick uniformity while still being incredibly functional, the Saturn Bar rails would make a fantastic addition to any bathroom, no matter what type of property they are being installed in. Available in sizes of 830 x 500mm, 1120 x 500mm and 1595 x 500mm, these rails are also available for standard hot water, electric or dual fuel central heating systems. The accompanying comprehensive 15 year guarantee is testament to their high quality build and exquisite glossy finish. The Saturn Bar Range of heated towel rails are provided with free delivery to all mainland UK addresses and come with everything you need to hang them on the wall.
---
WESSEX WHITE TRADITIONAL HEATED TOWEL RAILS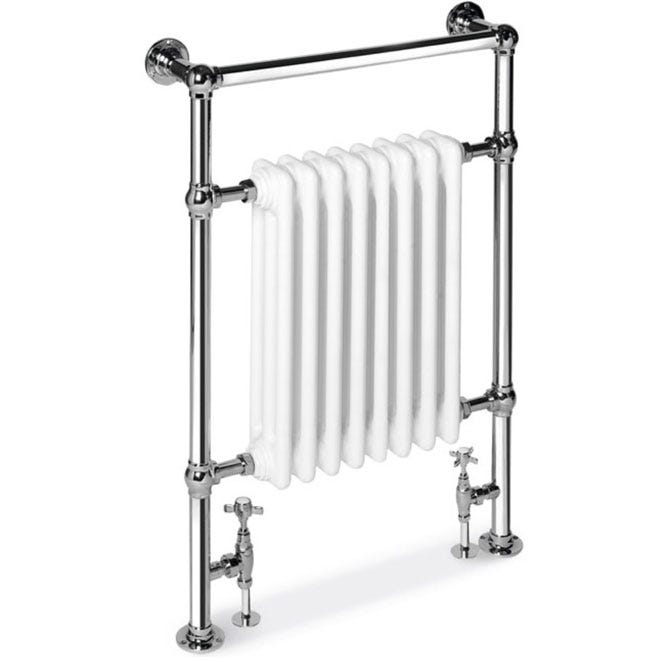 Providing a completely different option to the other rails on this list is the Wessex traditional heated towel rail. If you have a period property or are looking to add some instantaneous character to your bathroom, then the Wessex trad rad is a heat emitter definitely worthy of your consideration. The combination of the white and chrome finish give it a element of classic style, while the typical radiator body coupled with an overhanging rail affords you the heat output of a full blown radiator, with the convenience of a standard heated towel rail. The best of both world, if you will. The Wessex is available in one size only (though we do have other sizes in the traditional range), which is 960 x 675mm and a heat output of 3504. When paired with some traditional radiator valves, the Wessex is a real stunner that is sure to generate complimentary comments from your guests as well as putting a smile on your face every time you walk in the room.
---
RELATED ARTICLES
•
How to style a bathroom with black heated towel rails
•
Why white radiators will never go out of style
•
Interior design inspiration: Heated towel rails
---