17 January 2023
6 min read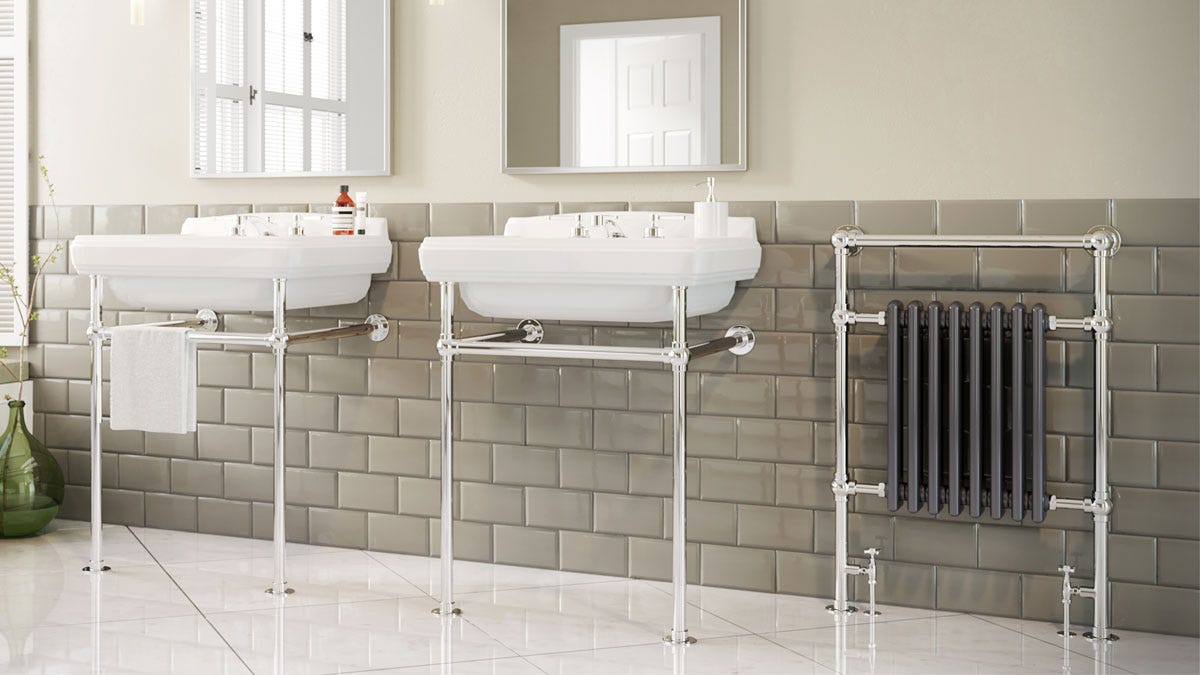 Times are changing and here at Trade Radiators we believe in the future. With the advent of designer radiators, you now see a large and varied selection of different styles, shapes, sizes and colours to personalise and complement your home setting.
The reason that the matt anthracite finish is more appealing than ever before comes down to its neutral but sophisticated look. More understated than other colours, this particular finish is not overbearing and gives more distinctive shapes the chance to breath.
Trade Radiators are particularly fond of this finish and try to promote it at all times, especially within our Trade Direct line of products.
1. Choosing an anthracite heated towel rail or bathroom heater
More and more people are turning to the anthracite finish in their bathrooms as it has a calming effect and works well in contrast to other more vibrant hues, such as warm wood tones or whites to create a modern elegance that is gaining in popularity and is fast becoming an industry standard.
Because so many people have standard white bathroom suites these days, an anthracite heated towel rail provides a stylish counterpoint, as well as providing the important function of drying wet towels and providing a convenient place to store them neatly.
2. Choosing an anthracite radiator for your kitchen or living room
As a colour, grey not only has a universal appeal, it is also dynamic and inspiring whether you choose to be bright and beautiful or dark and dramatic with your interior. Within the dining room, grey should be a considered choice if you are going for a neutral palette. Medium to dark greys exceed expectations and work well with other hues such as whites or other warm neutrals. Some may consider it a bold step to use grey but we believe that it is the way forward.
3. Where should I fit my anthracite radiator?
These days the most suitable place to install your radiator is not necessarily under a window or against your exterior wall. Due to insulation and double glazing, the options for placement have become endless. Obviously try not to hide your stunning product and stay away from curtains but beyond these two concerns the choice is definitely yours.
Gone are the days when piping was also an issue and with this in mind, feel free to create your own personalised radiator zone with or without professional help. Installation has become so simple that it gives you the opportunity to get creative with where you place your heater.
4. How do I specify the correct size of radiator?
To get the most out of your radiator and central heating system, select a radiator or heated towel rail that has the adequate heat output for the space it's been selected to live in and don't worry about getting the right heat output either.
Once you have assessed the floor space, vertical height and whether or not the room has external walls, consider what is above and below you too – is there much insulation, what type of roof do you have and then also if the room has a heated floor or wooden floor for example.
We have found that the best way to work out your BTU and narrow your choices down is to use our tried and tested heating calculator – to save you money, time and effort in making that all important decision. Trade Radiators are confident that you will find the size and shape as well as colour and other considerations easy to navigate, when you buy direct from our extensive product range. If we can't find you the right radiator for your living space - then nobody can.
5. What Anthracite Radiators do you do stock?
We stock a wide range of products in this finish from elegant designer towel rails through cutting-edge aluminium designs all the way to traditional column-style radiators. All with quick, free delivery. Our anthracite designer towel rails from our fantastic designer range conjure up a contemporary and unique atmosphere in any bathroom, en-suite or kitchen. They really enhance your living space while helping to keep things inviting and cosy, as well as providing the very useful function of keeping your towels warm and dry.
Within our anthracite designer radiator collection, you'll find unequalled good looks and a unique way of combining style and functionality into your living space. No matter whether you have limited wall space or intend on creating a full feature wall, make the most of our bold designs and you'll be sure to find something you desire.
We've got a great range of anthracite-finished, aluminium radiators, which are lightweight, durable and brilliant heat conductors and with low water content. This makes them very efficient to run, helping to keep your heating bills lower and making a design statement at the same time. Aluminium radiators are becoming an increasingly popular choice in the UK. Match up any of the above radiators with anthracite valves in our extensive valve section.