Our Sustainability Promise
Here at Trade Radiators, we're always trying to find new ways to keep the UK nice and toasty. A big part of being a radiator company is striving to find advances in home heating technology which are more environmentally friendly.
On top of providing the best service and quality for our customers, any chance we have to provide low-energy products for customers who want eco-friendly products is a must.
We're already getting there with some of the improvements we've made in recent years. Like all good things at Trade Radiators, it starts with a good radiator. Here are some of the steps we're taking to as part of our sustainability promise.
1. Certified for Renewable Energy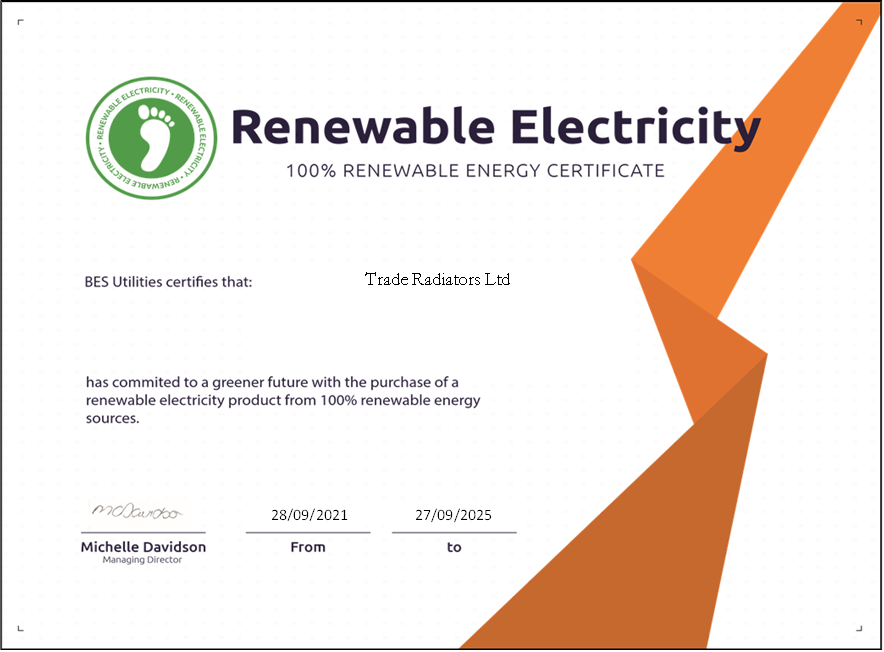 As of 2022, Trade Radiators will be using electricity that comes from renewable sources. We believe that it is important to not only provide products that can be used through renewable sources, but also to practice what we preach and use renewable ourselves. We have always held high standards for ourselves with comprehensive sustainability commitments and know that this is a move that will help us reduce our carbon footprint and improve as an environmentally friendly business.
2. We are Expanding Our Eco-Friendly Range

Traditionally, radiators have been clunky and a big consumer of fuel in the home. We're developing an ever-expanding range of products for customers who want to see better results while using less energy, be that with our eco-friendly ranges or electric radiators.
As we find new ways of heating homes, we can help customers feel confident they're lowering energy usage as a result.
3. We are Trying to Offset Where Possible

Shipping is a very intensive process and typically uses a lot of resources. That's why we pay certain offset charges to shipping lines and domestic couriers to enable greener transport of products.
We do this in a manner which means we do not pass these charges on to the customer.
4. We are Improving Packaging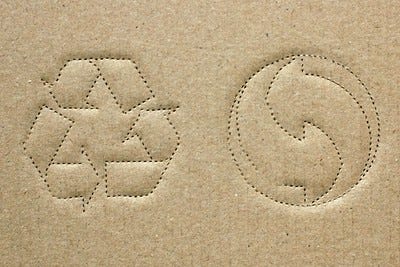 Everyone wants their radiators to arrive with all the bells and whistles attached for a smooth installation, but that doesn't mean you should be unwrapping layer after layer of plastic to open your order.
With our name brand Trade direct range, we're reducing the use of plastics where possible and using recyclable cardboard for packaging material. Steps we are taking include:
Replacing polystyrene with honeycomb cardboard in radiator packaging (excluding towel rails due to the nature of the product).
Using cardboard sheets instead of bubble wrap for panel rads.
Using cardboard boxes instead of plastic for accessories.
5. We Want Users to Get Smart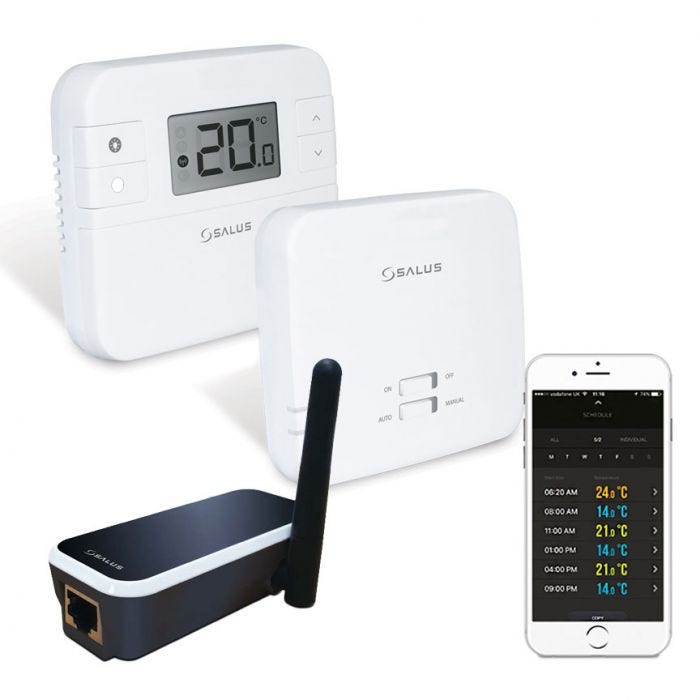 We believe that wasted fuel in this day and age shouldn't be a factor for any home, which is why we're recommending customers opt for smarter home heating controls where possible.
Not only does it reduce fuel wastage, but it also helps anyone get their favourite space heated just how they like it.
6. We are Sourcing Locally Where Possible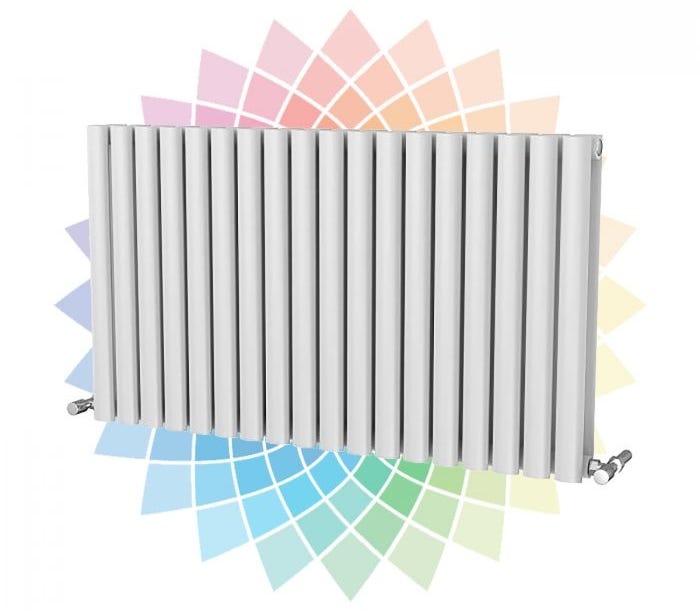 Every mile saved on the journey it takes for a radiator to get to your front door is worth it. That's why we try our best to stock radiators and towels from brands based in the UK and central Europe, such as Stelrad and Lazzarini
We also choose to apply our special finishes here in the UK to further reduce the need to have different radiator colours and designs provided to us from overseas. So whether you're opting for a classic lacquered metal finish or a unique custom colour option for your new radiator, you can place your order knowing it doesn't increase the carbon footprint one bit.
7. We are Using Recyclable Materials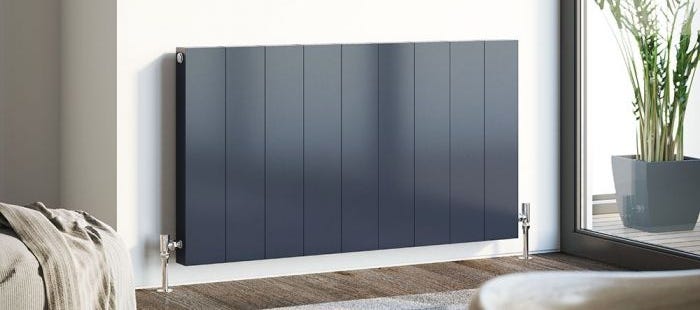 You can never recycle something into a radiator, right? Not true if you're buying products made from 100% recycled aluminium.
We have radiators from top-selling brands like DQ Heating which are made entirely from recycled aluminium. Add on to that that these kinds of radiators need less hot water to heat up, and you'll find yourself with a much more environmentally friendly product.
When it comes to products which would be deemed unsaleable, we do take measures to ensure those products are recycled.
8. We're Online-Only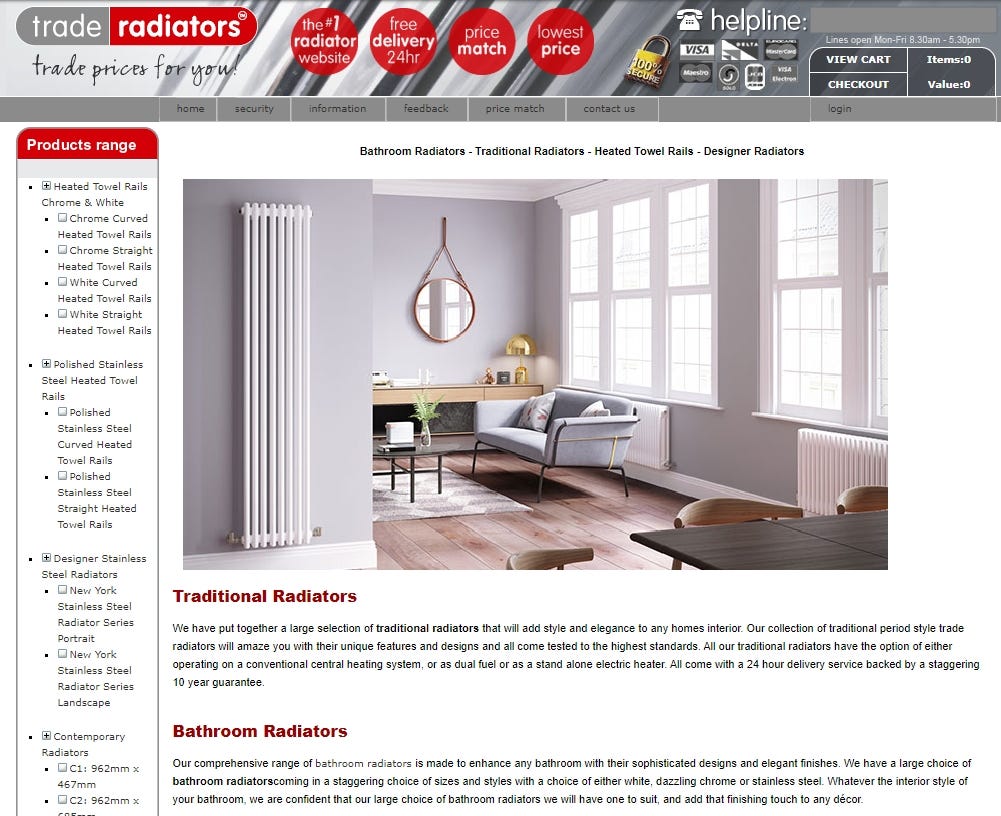 Our Homepage in 2008
Trade Radiators has always been an online-only radiator store. Not only has that seen us pass on savings to customers who want a good deal on a new radiator, but it also gives us practically no carbon footprint compared to other radiator suppliers and retailers with physical locations.
We also recycle products on-site, so pay higher costs for waste management rather than just sending materials to landfill.
9. We Stock Long-Lasting Products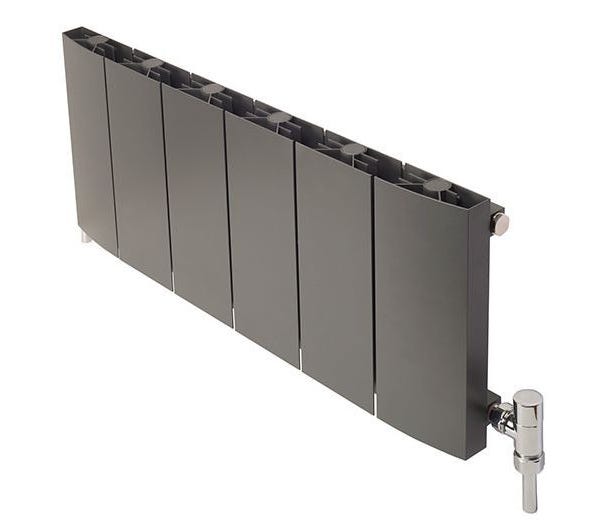 We believe that a long-lasting product is not only good for your home but helps reduce the amount of waste metal left in dumps and landfills.
We also list the guarantee of every radiator on-site, so you can find products which will never cause problems, with many having a guarantee of up to 25-years.
10. We're Always Changing

Any way we can become more environmentally friendly is always welcome. That's why we're always working towards more sustainable actions for staff and customers at Trade Radiators.