Victorian 3 Column Cast Iron Radiators
A range that is becoming increasingly popular with our customers, these Victorian 3 column radiators take a renowned classical radiator style and use the latest technology to create a modern radiator that can work wonders in any space.
We have a range that can fit in almost any room, especially if you're keen on having a striking black finish from your radiator that stands out.
If you're needing a different style or colour, take a look through our large selection of radiators to find the right one for you.
Shop the range and find out more about the fantastic range of Victorian 3 column cast iron radiators we currently have in stock.
What brands of Victorian 3 column cast iron radiators does Trade Radiators stock?
All of the radiators on this page have been created by Paladin. They are a UK based designer radiator brand we have stocked for years now as we think they make superior cast iron radiators and not many other brands come close to their level of detail.
While the radiators on this page are fantastic, if you've been thinking about getting a radiator with lots of columns, you might be interested in looking at Victorian 4 Column range and Neo Georgian 6 Column range.
What colours do these radiators come in?
All the radiators on this page have a black finish as standard.
If you were looking for a particular finish or shade on a cast iron radiator, we can make it happen. Take a look at our range of custom colour column radiators and see if the right make and model is available.
If you would like to view more types of radiators, click here. If you would like to view other cast iron radiators, click here.
How can I get a cheap column radiator?
Cast iron radiators take a lot of work to get right and look as good as they do. That's why they tend to have a higher price than other radiators with similar heat output. Radiators on this page start at around the £110 mark, increasing depending on the number of sections and height of the radiator.
There are some models on this page though that offer great value. The 745mm by 218mm radiator looks great in apartments and has a fantastic BTU of 1230 for its price, while the 460mm by 516 mm is a great boxy number that can reach up to 2192 BTU when you need a strong radiator to heat difficult spaces.
You can also check out our radiator clearance section. It has some added reductions on column radiators.
We have other types of radiators available as well, such as:
And more. You can view our full selection of radiators by clicking here.
Modern 3 column iron radiators for bedrooms
If you're considering this type of radiator for a small bedroom where space is at a premium, the 645mm by 215mm cast iron radiator with three sections would fit in quite nicely.
Modern 3 column cast iron radiators for living rooms
Many of the radiators on this page would be considered very wide. 745mm would be the widest size for a Victorian 3 column cast iron radiator, which is better suited to living rooms that have radiators in the 600mm-800mm width range.
If there's a particular size you're working with in your living room, you can check here for radiators by size and find the best fit.
Do the number of columns matter when choosing a radiator?
Columns mainly serve an aesthetic purpose, but it is good to know they can help heat rooms effectively.
It's also crucial to know that when we refer to columns, we're looking at the radiator side-on. If you were after a cast iron radiator with lots of columns when looking straight on, you'd be looking for a radiator with multiple sections.
Trade Radiators price promise
We want to give customers the best deal possible on their purchase. That's why we have a price promise in place. If you find the same make and model of radiator on another UK based site for a better total price (that includes delivery), let us know, and we'll match it.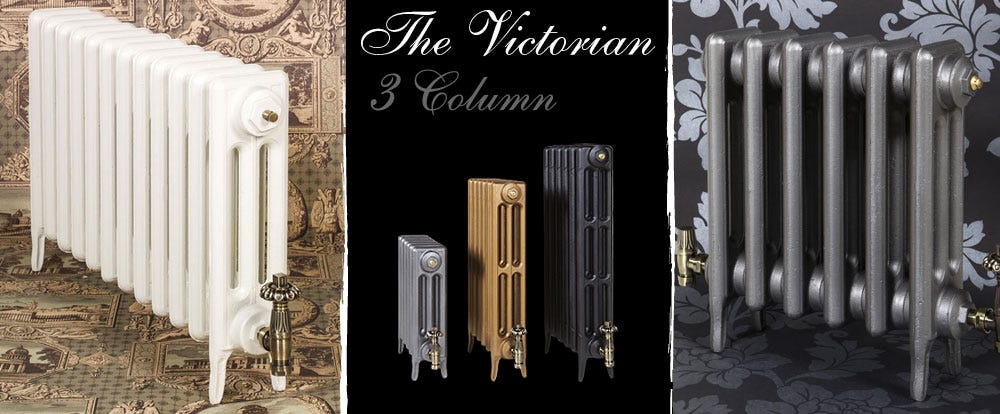 Page
You're currently reading page

2