Getting the right placement of radiators in your home is important because it's a decision that will dictate the heat in your home for years to come.
In this article, we'll take a look at the various radiator placement options and the different types of radiators that work in different rooms in your home.
What type of heating system do you have?
If you have a conventional, hot water central heating system and you've got some old radiators that need replacing, the simplest solution is to install new radiators in exactly the same place.
All standard radiators need to be connected to the copper pipe network that runs through your home and it's usually cheapest to replace old rads with new rads of exactly the same dimensions. The new rads can be slotted straight onto the existing pipework and normal service can resume.
However, there are times when your old radiator has been plumbed into an awkward space, or the pipework will only accommodate a radiator that is not large enough to heat the room (check our heating calculator to find the right heat output for your room).
If your new radiator needs to be installed in a different place, then a professional will need to reroute the pipework, which naturally increases the cost and potential for extra disruption. Worth bearing in mind.
If you are installing electric radiators in your home, then you have much more freedom to choose exactly where you want them as they only need to be connected to the electrical system, not copper pipes.
Is under the window the best place for a radiator?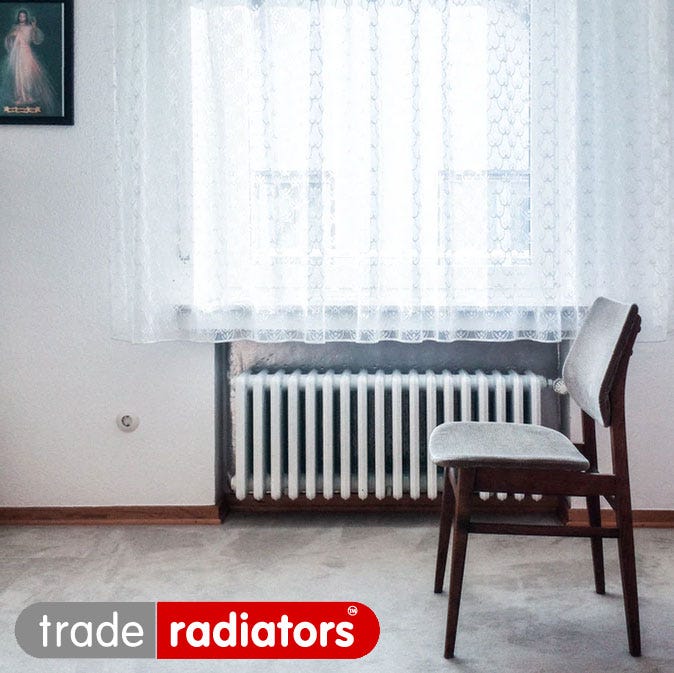 Traditional advice regarding positioning of radiators used the be that underneath windows was the optimum spot.
This was because, in the early days of mass home central heating, single-glazed windows were quite inefficient and allowed a lot of water air into the room. By placing radiators underneath windows, the cold air coming in could quickly be heated up, pushing the warm air into the room.
However, most modern houses are much more efficient with uPVC double glazing and wall and loft insulation a common feature helping to keep the cold air out and the warm air in.
While uPVC windows are not 100% efficient and below the window is still often a convenient spot, this position is no longer as necessary as it once one.
The versatility of vertical radiators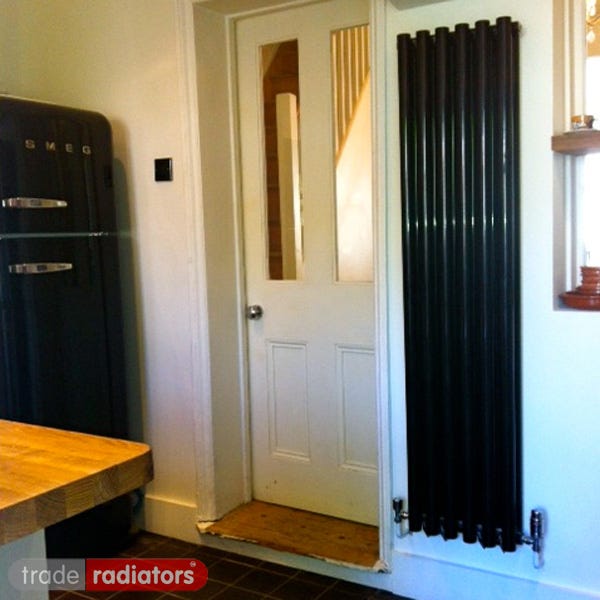 It used to be the case that the only choice of radiator available to householders was the standard white horizontal convector radiator, which often left people very limited in where they could put a rad.
The world of radiators is a very different place today and there are now a massive range of shapes and sizes of heat emitters available, the most game-changing of which is the vertical radiator.
As we are living in increasingly small homes and apartments, horizontal wall space is at a premium and there are often times where a small horizontal radiator is simply not large enough to emit the amount of heat required.
Vertical radiators make the most of upward space and are superb at getting heat into areas that don't have room for traditional horizontal rads. Kitchens, hallways, landings, utility rooms and ensuites are common narrow places where vertical rads can heat up a room comfortably with the minimum of fuss.
They also open up the option of using the space beside windows, allowing you the space underneath free for increased floor space or furniture.
If you haven't previously considered vertical radiators as an option, then now is a great time to start. It could open up a whole range of possibilities for the heating in any room in your home. We have a massive variety of rads to choose from, all with free delivery to mainland UK addresses.
Shop for radiators by room
RELATED ARTICLES
• Horizontal or vertical? Choosing the right radiator for you
• Why place radiators under windows?