Radbot Smart Thermostatic Valve, Head Only
More Information

| | |
| --- | --- |
| Delivery | Next day (if ordered before 3pm) |
| Size (mm) | Next day (if ordered before 3pm) (H) x 55 (W) |
| Delivery | Next day (if ordered before 3pm) |
| Size (mm) | 90 (H) x 55 (W) |
| Height (mm) | 90 |
| Width (mm) | 55 |
More Information

| | |
| --- | --- |
| RRP | £49.99 |
| Colour | White |
| Guarantee | 2 Years |
| Delivery | Next day (if ordered before 3pm) |
| Valve Type | Thermostatic |
| Brand | Radbot |
| Height (mm) | 90 |
| Width (mm) | 55 |
| Material | Plastic |
| Weight (kg) | 0.16 |
What is Included?
1 x Radbot valve
6 Valve adaptors
2 x AA batteries
Instruction manual
Quick reference guide
Meet Radbot
A new type of smart heating control that saves up to 30% on your heating bills by heating each room only when you need it
No more heating empty rooms! Wasted heat costs UK households £6 billion every year! Radbot learns your house patterns by detecting changes in light. It then heats each room only when needed. If a room is empty, Radbot simply reduces the temperature, saving you money and energy!
How Radbot Works from Erin Ericson on Vimeo.
How does it work?
Simply unscrew the existing TRV and fi t Radbot to the radiator. Radbot will learn your household patterns, heating rooms only when you need it and lowering the temperature when you don't.
Radbot works by monitoring changes in light, which it uses to build a pattern of occupancy. Radbot also learns how long it takes to warm the room in order to optimize comfort and savings.
Installing Radbot from Erin Ericson on Vimeo.
The Features
Fully automated - so no need for an app, wifi, or complex programming
Simple self-fit product that can be installed in minutes
Feeling chilly? Boost button provides 30 minutes of maximum heat
Works with almost any heating system that has domestic style TRVs
Allows you to set different temperatures in each room and prevents overheating
Built-in frost and humidity detection protects buildings from frozen pipes and damp
Zonal control to prevent overheating
SAP accreditation as a Time and Temperature Zoned Control (TTZC)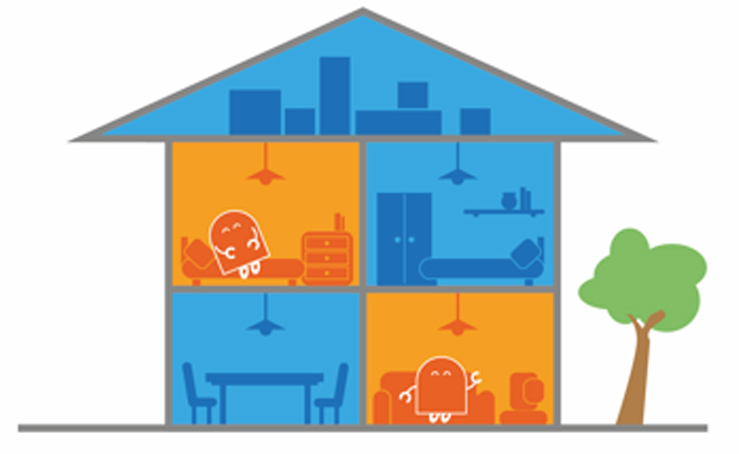 FAQ's
How is Radbot different from my existing TRVs?
You may be familiar with thermostatic radiator valves or TRVs (yes, that funny dial thing on your radiator). Radbot looks the same, so how is it different? TRVs control heat output in each room, but keep the temperature the same all the time. To achieve similar savings with TRVs you would need to remember to turn the dial up 1-2 hours before you enter each room and turn it back down every time you leave a room. Radbot automates this process saving you time and money.
How is Radbot different from a smart thermostat?
Smart thermostats like Nest and Hive control the heating for your whole house whereas Radbot heats rooms individually based on occupancy. You wouldn't turn all the lights on in your home with one switch, so why do it with heating?
Will Radbot work in my house?
Radbot works with all gas or oil central heating systems that use radiators. It doesn't work with systems using underfloor heating, electric storage heaters or heat pump systems.
I already have a smart thermostat; can I use Radbot with it?
Yes, each Radbot works completely independently to control the radiator it is installed on. Therefore, it will not interfere with the operation your smart home thermostat. We recommend you continue to use your smart thermostat as you have been. The temperature you set each Radbot at will effectively over-ride the smart thermostat for that room. This provides room by room temperature control, which can improve comfort and has the potential to offer additional energy savings.
Can I control my boiler/heating system with Radbot?
No, you will need to continue using your existing heating controls (programmer & room thermostat) to control the on/off times and other settings for your boiler/heating system.
Delivery Service
Deliveries are usually made by courier between the hours of 8am and 6pm Monday to Friday.
Delivery will vary depending on the product, delivery lead times are stated on each individual product listing on our website (below item description and also on the 'Specification' tab).
When your order is being dispatched you will receive a dispatch email with delivery tracking where possible.
Please note that couriers UK wide are only contracted/insured to deliver kerb/roadside therefore you may have to bring the radiator(s) into your property yourself and for large or heavy items you may require assistance.
IMPORTANT (non UK mainland) - We are currently unable to ship goods outside of the UK or to Northern Ireland (due to EU restrictions) with the exception of our Cast Iron radiators, Nordic radiators/valves, Supplies4Heat radiators and West valves/accessories only. Delivery to an address outwith UK mainland will incur a shipping charge which will be advised to you by email shortly after placing your online order, this applies to the above shippable products only (Cast Iron, Nordic, Supplies4Heat, West). If you wish to order products that we are unable to ship to you outwith the UK (Trade Direct, Apollo, Reina, DQ, Towelrads, Delonghi, Stelrad, K-Rad, Ultraheat, Lazzarini) then one option would be for you to (prior to ordering) arrange your own shipping company/courier and have us deliver to their UK mainland address (they then ship on to you), to do this simply fill in the 'shipping address' at checkout with their details, we then deliver to their UK maninland address for you free of charge.

'FREE Delivery' applies to UK mainland only.
Signing For Goods
Once the goods arrive with you, please remember to check that you are signing to certify items arrive in perfect condition. If the packaging looks damaged in any way, please open the item and check it whilst the driver is there to check for damage. If the item is damaged you should refuse the item. If you don't have time to check the parcel, you must sign for the item as 'UNCHECKED'. NOTE: Sorry, we will not accept returns for items that have been damaged by the courier and then signed for as in perfect condition, as we cannot claim for these damages. If in doubt ensure you sign for items as 'UNCHECKED'.
Damages or Missing Items
Please inspect all goods on arrival for any damages, faulty or missing items and notify us of any problems within 3 working days of receipt of your goods. Trade Radiators cannot be held responsible for damaged/missing/faulty items reported after this time as clearly stated in our Terms & Conditions.
Product Reviews