We are absolutely delighted to announce some exciting new additions to our online catalogue. For the first time in the history of Trade Radiators, we are able to offer you some designer aluminium heated towel rails! Our splendid and tremendous Trade Direct Aphex Aluminium Rails come in two sizes and are finished in a very trendy and cutting edge matt anthracite finish.
---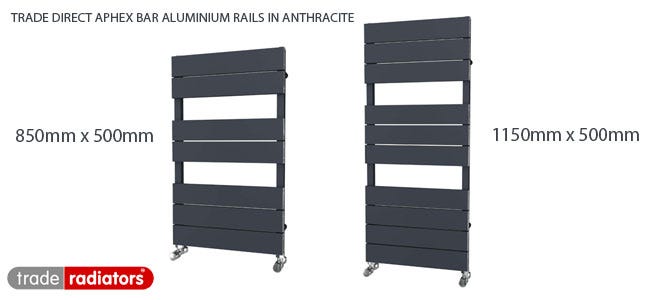 •
850 x 500mm - BTUs: 2140 - Projection: 108mm - Pipe Centres: 470mm
•
1150 x 500mm - BTUs: 3016 - Projection108mm - Pipe Centres: 470mm
---
These gorgeous aluminium rails are available for standard hot water central heating systems and for electric or dual fuel systems too. If requiring an electric or dual fuel rail, you also get the choice of a single or variable heat thermostat to go with it. A contemporary-styled heated towel rail, the colour anthracite adds a stylish and unique touch of class to your bathroom, while the strong heat outputs ensure that your towels and bathroom stay warm all year long. Aluminium is a fantastic heated towel rail material for a number of reasons: • It's lightweight, which makes the rail easy to transport and install • It's easy to recycle, so your towel rail is made from recycled aluminium and this will be able to recycled again at the end of it's life. • Most important, aluminium is an excellent conductor of heat, which means your towel rail will get up to your desired temperature without using unnecessary energy. Ultimately, this leads to lower heating bills than heated towel rails made from other materials. Our Aphex Bar Aluminium Anthracite Heated Towel Rails come with free UK delivery, comprehensive 15 year guarantee and are provided with everything you need to fix it to the wall. You can view our full range of
heated towel rails here
. We hope you're as excited as we are about these exciting new rails and we fully expect these to go flying off the shelves!
---
RELATED ARTICLES
•
The benefits of aluminium radiators
•
5 reasons to buy an aluminium radiator
•
Why are aluminium radiators so popular?
---