When we think of a radiator, we tend to think of the plain white convector-type radiator that hangs horizontally on a wall. If you try a bit harder, you might be able to think of some other more stylish designs that you've seen on interior design TV shows, magazines or blogs. However, you probably haven't considered what material radiators are actually made from. The manufacturing metal of a radiator can have more of an impact on it's performance than you may think. The white radiator that you originally thought of is manufactured from mild steel, normally with a glossy white coating. But there are a range of other types of metal than radiators are made from, including stainless steel, cast iron and - an increasingly popular radiator material - aluminium.
What are the benefits of aluminium radiators?
Aluminium rads are becoming more and more popular because they offer manufacturers and consumers a delightful range of positives:
1. Very energy efficient
Aluminium is an excellent conductor of heat, which makes it a brilliant metal to manufacture radiators out of. As aluminium conducts heat so well, it means that aluminium radiators can get up to your desired temperature more quickly than radiators made out of other materials. This can have a very positive impact on your heating bills because less energy is required getting the radiator up to optimum temperature. Not only will less gas be used in the process of heating your radiators, but also our aluminium radiators use a particularly low amount of water inside them. Less gas, less water and cheaper energy bills as a result. A fantastic reason for switching over to aluminium radiators.
2. Incredibly lightweight
Aluminium is a very light metal when compared to a metal like stainless steel which is 2.5 times denser, and therefore much heavier. In terms of radiator manufacture, the lightness of aluminium provides a number of benefits. One of the main positives is the fact that it is very light to transport. If a radiator is light to move around then this makes it less burdensome on couriers or other transportation companies. This often results in cheaper shipping costs which can then be passed onto the customer. We fully believe in providing this benefit down to our customers which is why you'll find that our
designer aluminium radiators
are among the best value you'll find in the UK. The lightweight nature of aluminium also makes them very easy for heating engineers, plumbers or yourself to install them. Other radiators, made from heavier metals, may require two people to lift it into a house, up the stairs or onto the actual wall. If paying a professional, this can make the installation costs much higher. An aluminium radiator is normally light enough for a plumber to move and install it alone.
3. Easy to recycle
In theory, aluminium is 100% recyclable and, while in reality this figure is slightly lower, a great deal of all products containing aluminium, contain the metal in a recycled form - and that includes our radiators. If you purchase one of our aluminium radiators, you'll know that you are buying an environmentally friendly heat emitter that can be passed down to future generations after your need for it is over. Although aluminium is one of the most abundant metals on Earth, it's only right that we treat this precious commodity with respect. Europe has been a word leader in recycling aluminium so we are proud to keep this tradition going and offer high quality aluminium radiators that have been manufactured from recycled metal.
4. Simple to shape
Steel is a very tough and resilient metal, however it cannot be bent, shaped and manipulated in the way that aluminium can. Aluminium's flexible properties allow it to be moulded into much more creative shapes than steel, making it a fantastic metal for creating eye-catching radiator designs. When you compare an aluminium radiator side by side with a mild steel radiator, it's often pretty easy to tell which is which. Anything that has smoothed, rounded, curved or other extravagant features to it will almost certainly be manufactured from aluminium. If you're looking to make a design statement in your home, then you may very well wish to consider one of our top quality designer aluminium radiators.
5. Beautiful design styles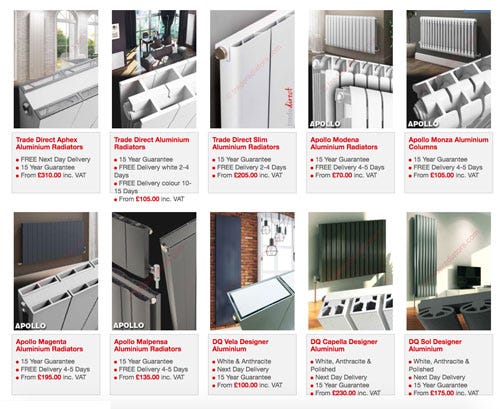 If you're appetite has been whetted then you really need to check out our range of beautifully designed aluminium radiators. With a vast array of options, we have sizes and styles to suit all needs, requirements and budgets.
---
Trade Direct Aluminium Radiators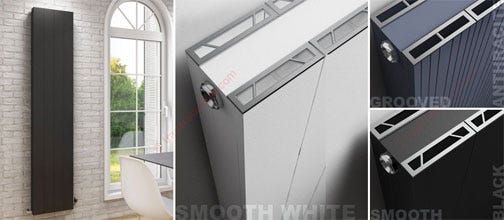 At the economical end, we have our
Trade Direct Aluminium Radiators
, which come in a variety of sizes in horizontal or vertical orientations. Available in white, anthracite, black or cream, we also offer a custom colour option so that your can request the exact colour you need to fit in with your unique interior design plan. Our Trade Direct 'alu-rads' offer fantastic value for money and come with a stylish minimalist design - absolutely brilliant for those wanting to bring heat into their homes in a sleek, efficient and affordable way.
---
Apollo Aluminium Radiators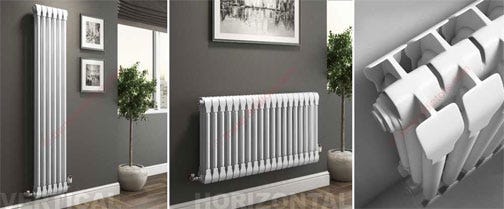 Our mid-price Apollo range of radiators are an amazing option if you're looking for something a little different from our entry level option. Apollo are a very well-respected radiator manufacturer and we are delighted to stock their very popular Modena, Monza, Malpensa and Magenta designs of aluminium rads. Each model offers a great amount of sizes, all featuring stylish minimalist designs that look great in any type of property. The Monza's offer a sweet variation on the classic column design, while the Malpensas come with a lovely choice of curved, waved or flat finishes. The flat panel Magenta rads come in white, silver or anthracite, with the Monzas being the most basic design with choices of a flat or curved finish.
DQ Aluminium Radiators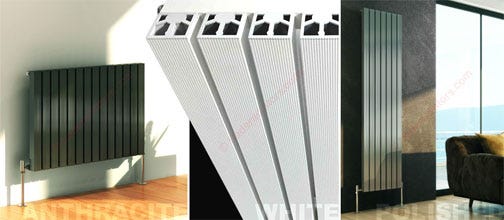 At the higher end of our aluminium radiator catalogue, we have have our stunning range from DQ, who are one of the leading British manufacturers of radiators in the UK. The lovely DQ Vela designer rads are made from 2mm extruded aluminium and come with a choice of white or anthracite matt finish. With a variety of different sizes in vertical and horizontal orientation, the Vela aluminium radiators would make a beautiful addition to any home or office space in need of stylish heat provision. The gorgeous DQ Capella model again comes with 2mm extruded aluminium and also have a unique design that would look amazing in any type of property. Finished in anthracite, white or mirror-polish, these lovely aluminium radiators are incredibly efficient, ensuring that your central heating system is not using energy unnecessarily. Finally, the British-made DQ Sol range not only come in a choice of white, anthracite or a polished finish, you also have the choice of single or double panels. This enables you to have a huge BTU capabilities, kicking out heat with maximum efficiency. The comprehensive 15 year guarantee that accompanies all DQ aluminium radiators is testament to their high quality materials and manufacturing process.
---
RELATED ARTICLES
•
The benefits of aluminium radiators
•
Our Top 5 most efficient aluminium radiators
•
Pictures of aluminium radiators installed in our customers' homes
---