We're always seeking to keep our catalogue fresh and up-to-date with modern demands, as well as the latest fashions and trends. This month is no exception and we're thrilled to announce that we have added some stylish new heated towel rails to give you even more choice when deciding how to heat your home! Heated towel rails are now a common fixture in bathrooms around the UK. However people are also appreciating the benefits of having them in the kitchen. Our new heated towel rails are suitable for all types of property and will look great wherever you decide to install them.
TRADE DIRECT NEVO TRIPLE HEATED TOWEL RAILS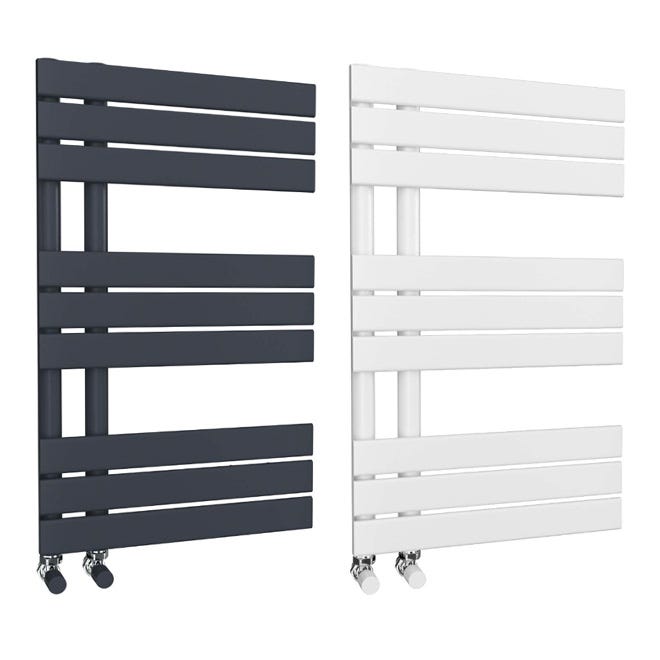 We're excited to add the Nevo Triple Heated Towel Rails to our collection because they look so good. With a flat panel styling, the bars are grouped in 3s and are offset to one side, with the valves being brought together to one side. Available in silver, anthracite, black or white, the Nevo Triple range come in three sizes: 816x500mm, 1292x500mm and 1564x500mm. With the ability to put out great heat outputs for their size, each heated towel rail is available for standard hot water central heating systems, or with an element for electric and dual fuel alternatives. Delivery is free to all mainland UK addresses and each rail comes with a comprehensive 15 year guarantee.
---
TRADE DIRECT NEVO OFFSET HEATED TOWEL RAILS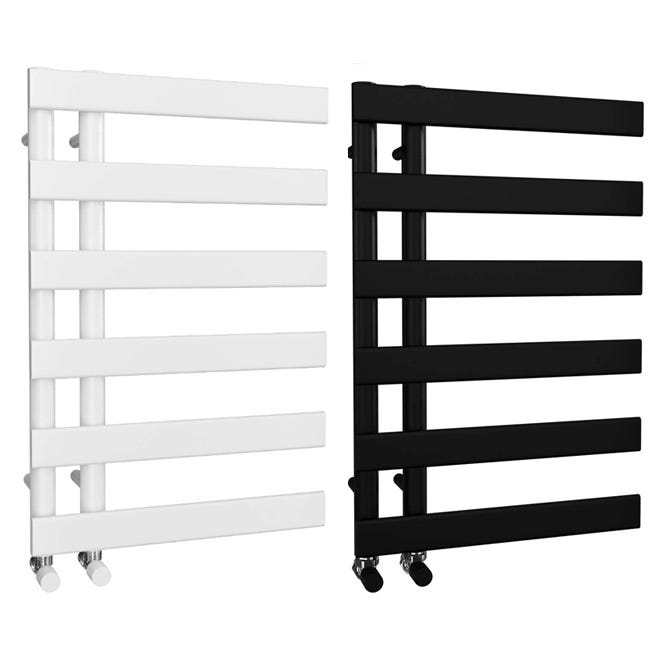 Nevo is a very reputable name in the designer radiator industry, so we're very pleased to make their offset heated towel rails available. Using the flat panel bar styling, these rails utilise an even-spacing bar design which makes these designer rails very practical for hanging multiple towels up to dry. If you like the uniformity of the evenly spaced bars, but want something slightly different from the norm, then the Nevo Offsets might just be the heated towel rails your home needs. Most ideal for bathrooms, ensuites or cloakrooms, there's no reason why the forward thinkers out there couldn't install these in a kitchen, combining style with practicality. Manufactured from high quality mild steel, these rails are available with white, anthracite, black or silver finishes and are provided with comprehensive 15 year guarantees and all you need to fix them to the wall.
---
TRADE DIRECT ANTHRACITE HEATED TOWEL RAILS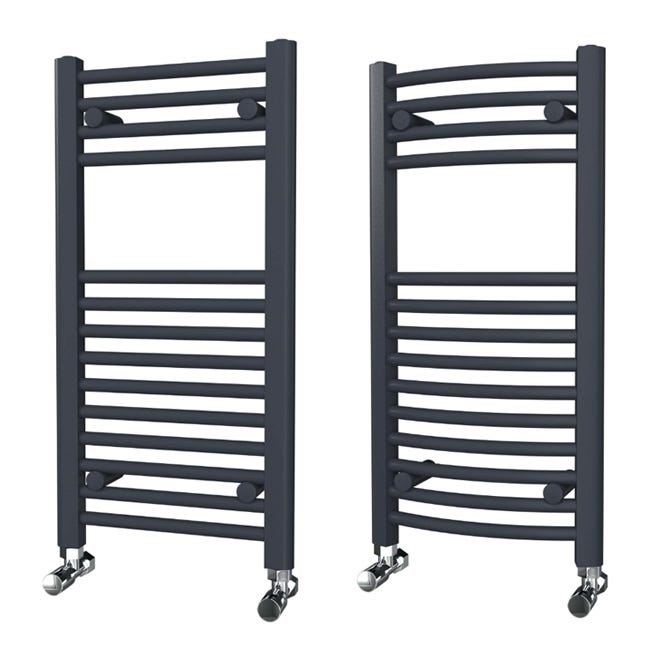 Our Trade Direct ladder-style range of heated rails are among the best selling products on our entire website. Because of their classic design and affordability, they are very popular with people wanting to add a heated towel rail to their bathroom for the very first time. This is why we're very pleased to announce that we have made these rails available with an anthracite finish, providing even more options for those wanting to get the most stylish look possible, at the best price. Suitable for standard, electric or dual fuel central heating systems, our Trade Direct Anthracite Heated Towel Rails are also available with a choice of straight or curved bars, helping you to get exactly what you want. Couple this with the fact that they're available in a wide variety of sizes, then you've got the option of getting a fantastic towel radiator for an absolutely amazing price. Free delivery to all mainland UK addresses, full 10 year guarantee and everything included for fixing the rail to the wall.
---
RELATED ARTICLES
•
Why are anthracite radiators becoming so popular?
•
LATEST: Anthracite Aluminium Heated Towel Rails
•
How to style a bathroom with black heated towel rails
---